Financial Literacy for Asian American and Pacific Islander Students
Learn how to improve your financial stability and independence. Check out these resources for AAPI students to build key financial education skills.
Image Credit: Six_Characters / E+ / Getty Images
---
Financial literacy improves money-management skills and supports financial stability.
Improving financial literacy skills could help AAPI students close the racial wealth gap.
Financial education is important for AAPI college students seeking financial independence.
Using financial-planning resources, AAPI students can improve their financial literacy.
---
Financial education is an important topic for college students to explore, especially for those who may have to navigate financial challenges and hardships while pursuing a college degree.
Many students from Asian American and Pacific Islander (AAPI) communities can benefit from learning skills in budgeting, saving, and investing — potentially creating generational wealth for students and their families long after college.
This guide aims to help AAPI students better understand the importance of boosting their financial literacy. It provides financial-planning tips and money-management resources.
What Is Financial Literacy?
Financial literacy includes knowledge and skills about money, budgeting, and investments.
Applying financial literacy in daily practices can support your ability to save money and build wealth opportunities. Asian American and Pacific Islander students who improve their financial literacy can help close the racial wealth gap and increase wealth accumulation in their families and communities.
AAPI college enrollment increased by 36% from 2000-2020. However, poverty rates among AAPI individuals increased by 38% from 2008-2015. Financial literacy is a tool that can increase financial stability within AAPI communities.
Why Financial Literacy Is Important for Asian American and Pacific Islander Students
High Unmet Financial Need Among Asian Americans
Regardless of their income level, Asian American students at four-year colleges and universities average higher amounts of unmet financial need — their college costs versus the financial resources available to them — than the average for all U.S. college students.
Many AAPI People Feel Disconnected From Financial Advice
In a recent National CAPACD study, 56% of AAPI respondents said they were unsure of where to turn for sound financial advice. Utilizing unreliable resources can prove risky and increase financial issues. Additionally, as of 2014, one in five Asian American and Pacific Islander households was impacted by linguistic isolation. In the U.S., where many financial services are offered in English, this could hinder a family's ability to access financial education.
Increasing Poverty Rates Among AAPI Populations
From 2007-2011, the percentage of AAPIs living in poverty increased by 38% — Native Hawaiian and Pacific Islanders saw a 60% increase. Additionally, Southeast Asian Americans hold one of the highest poverty rates among people of color nationwide. Increased poverty rates are linked to lower rates of degree attainment. Systemic changes are needed to address resource disparities like this, but AAPI individuals who develop their financial literacy skills can put themselves in a better position to help break the poverty cycle.
Roughly One-Third of Asian Americans Serve as Caregivers
Providing support to family members is important within many Asian American households. About 33% of Asian Americans report they are caregivers for a spouse, parent, or other relative, and 20% provide financial assistance to relatives. In comparison, only 22% and 6% of the general U.S. population provide these types of support. The ability to support family members can improve with increased financial education.
Refugee Status Impacts Education
Refugees from Southeast Asia and migrants from the Pacific Islands tend to have less education and lower English language development. These factors have an impact on income, economic resources, and familial wealth. Strengthening financial literacy can help establish practices that improve economic prospects for AAPI students and their families.
Why is financial literacy important for Asian American and Pacific Islander students to understand?
Marco Sison
The "independent" part of financial independence is not a cultural norm for many Asian American and Pacific Islander families — especially working-class immigrants from developing Southeast Asian countries, where the standard is the whole family pays for household expenses as a collective. Parents expect children to do their part to pay for family expenses, either through working in the family business or getting a job.
For many AAPI families, the expectation of supporting your family is culturally ingrained. One study by Prudential Financial found Asian Americans are over three times more likely to support a family member financially than the general U.S. population.
The pressure that "family takes care of family" can extend all the way to a parent's retirement, as many AAPI parents expect to move in with their adult children as they age.
It is substantially more difficult to achieve financial independence when your money is not yours. It is nearly impossible to save for your own retirement when you financially support your parents.
Explore more resources for our Asian American and Pacific Islander students
Supporting you at every step of your journey.
Discover Now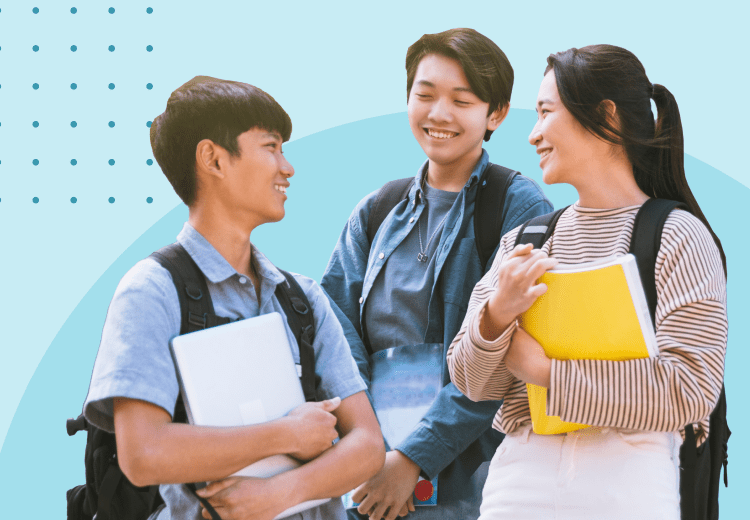 4 Factors to Consider for Financial Planning
Student Loans
Taking out student loans to pay for college often means repaying thousands of dollars after graduation. Leaving school in debt can contribute to long-term financial difficulties. Creating a payment plan while still in school can help improve financial stability in the long run.
Scholarships and Grants
Debt-free college funding can remove the immediate financial obstacles of debt repayment after graduation. Scholarships for AAPI students can provide financial support to help cover college expenses. Finding college grants to pay for tuition and fees can improve long-term financial stability.
Credit Cards
Student credit cards can help you establish credit while still in school. Good credit after school can help you save money on a home or even refinance your student loans to a lower rate. However, it's important to plan and prepare before opening a new credit card. Falling behind on credit card payments can increase your debt or make it difficult to build credit in the future.
Saving and Budgeting
Learning to budget in college is an important skill that will help you throughout your financial life. Downloading apps that help you save money can make financial planning easier. Beginning with daily college expenses, you can develop important financial literacy skills by budgeting and developing a savings plan.
What aspect of financial wellness impacts Asian American and Pacific Islander students the most?
Marco Sison
Retirement is the biggest issue. Many Asian parents have neglected their retirement savings. Their children are their "retirement fund," as they believe their children are obliged to support them as they age.
These parents are not deliberately selfish. Many AAPI first-generation and immigrant parents sacrificed their personal dreams, wants, and needs to give their children opportunities they never had. In nearly all AAPI cultures, abandoning your parents in a nursing home is the epitome of being ungrateful.
The learning doesn't need to stop here
Explore the rest of our collection of financial education resources to continue your journey to a healthy financial future.
Discover Now
Financial Literacy Resources for Asian American and Pacific Islander Students
What is the best financial literacy resource for Asian American and Pacific Islander students?
Marco Sison
Outside of my website, Nomadic FIRE, I recommend Kristy Shen and Bryce Leung, authors of "Quit Like a Millionaire." Shen and Leung are an Asian American couple who, similar to myself, retired early to travel the world.
While Nomadic FIRE emphasizes lifestyle design to achieve financial independence, Shen and Leung focus on the numbers, making "Quit Like a Millionaire" excellent for those just starting investing and budgeting.
Meet the Professional
Marco Sison
Marco Sison is a trusted expert on personal finance and living abroad topics for USA Today, U.S. News & World Report, MSN Money, Yahoo Finance, Huffington Post, and many other international publications. After graduating with an accounting degree from a top business school and grinding away for 16 years in corporate finance with several Fortune 50 companies, Sison escaped the rat race and retired at 41 years old to travel the world.
As a financial coach with Nomadic FIRE, Sison writes about the best ways to save, invest, and live in amazing countries for 70% less than the cost of living in the U.S.