Can You Use Your IEP in College?
Many high school students use IEP accommodations for a disability. Learn why IEPs don't work in college and what your options are.
---
Academic accommodations go through the disability services office on campus.
Self-advocacy during college is an important part of the process.
Communicate your needs to your professors so they can best support you during class.
---
You're headed to college with everything packed. But there's one thing you can't bring with you: an IEP.
What happens to the IEP accommodations you received in high school? Why don't they follow you to college? And how do you go about requesting disability accommodations?
Read on for answers to these questions and more.
What Is an IEP?
Let's start with a brief history lesson.
Reauthorized in 2004 and amended in 2015, the Individuals With Disabilities Education Act (IDEA) ensures that students ages 3-21 with disabilities in public schools receive appropriate special education and related services.
IDEA supports the development of an individualized education program (IEP). It is a legally binding document created by a team of individuals — usually the student's teachers, counselors, and parents or guardians — to help support a student with special needs in the classroom.
Students in pre-K through 12th grade receive the accommodations or modifications they need to help them succeed while in school. The IEP reviews goals, strengths, academic performance, behaviors, and more.
Can You Use Your IEP Accommodations in College?
The IEP process only applies to students in preschool up through 12th grade. In other words, once you graduate high school, your IEP will not follow you to college.
However, this does not mean colleges do not provide academic accommodations if students need them.
Under Section 504 of the Rehabilitation Act and the Americans With Disabilities Act (ADA), colleges are required to provide accommodations for students with disabilities. Students' rights are protected under these laws. They can't be denied access or discriminated against based on their disability.
How to Get Disability Accommodations in College
One of the main differences going from K-12 to college is that the responsibility of disability advocacy moves to the student.
Parents and other guardians who were involved in the IEP process are no longer privy to students' academic progress or needs. The student is responsible for requesting accommodations and initiating the disability services process.
Meet With Disability Services
To request disability accommodations in college, you should first meet with the disability services coordinator at your school.
The disability services office works with students — such as those with a learning disability, a sensory processing disorder, or attention deficit hyperactivity disorder — who require academic accommodations. The office also assists individuals with permanent and temporary physical impairments, autism spectrum disorder, and chronic health conditions.
Try to schedule this meeting before the first week of classes so the office can address your accommodation request as soon as possible. It's best to identify as a student with a disability on applications so that you can meet with someone from the disability office prior to orientation and the beginning of classes.
Bring any evaluation or assessment data with you when you meet with the disability services coordinator. Request any accommodations you may need for the meeting, such as modified text for paperwork.
What to Discuss at the Disability Services Meeting
This initial meeting will set the framework for your accommodation needs for your college experience. You want to ensure you're able to understand everything discussed. Be prepared to discuss the following:
Your disability and how it impacts your learning and daily life
Your strengths and skills
Your areas of need
Documentation and assessments related to your disability
A summary of accommodations and modifications you've used in the past that worked (and didn't work)
Each student is evaluated individually when meeting with the disability services office. Even though students may have the same disability, accommodations may differ to meet their individual needs. For example, one student may benefit from testing in a different room, while another may require more time to complete the test.
Students with disabilities can choose to remain anonymous in higher education, so self-advocacy is essential. It is up to the student to meet with the disabilities services office to start the process of obtaining accommodations.
If you're having difficulty in courses, struggling to manage your time, or feeling overwhelmed, it's recommended that you seek support from disability services.
What Are Some Common Accommodations in College?
Accommodations provide students with disabilities equitable access to the content that their college peers have.
This includes access to the content in class, coursework, resources, and assignments. Depending on coursework and areas of need, students may require different accommodations. Even if you're eligible for different accommodations, it's up to you to utilize them during classes and to keep the disability office apprised of any changes or challenges.
Most Common Accommodations in College
Here's a list of some of the most common accommodations used by college students:
Additional Time on Exams: Sometimes students are given time and a half to complete a test. For example, a student can take as long as 2.5 hours to complete an exam if that test normally takes an hour to complete.
Different Testing Location: This accommodation allows students to take an exam in a different learning environment, usually in a distraction-free space. Some colleges have testing centers specifically designed for this purpose.
Exam Reader: Special technology can read exam questions and prompts to you. For example, Microsoft's Immersive Reader can read the text aloud, highlight as it reads, and provide a picture dictionary.
Enlarged Print: Instead of using a 12- or 14-point font on an exam, assignment, or worksheet, you can ask for a larger font to make it easier to read.
Extra White Space on Exams: When given an exam, you can ask for extra space. So instead of having 10 problems on a page, you have two pages with five problems each. The white space can be useful for jotting down ideas, solving a problem, or working out an equation.
Preferred Seating: Sitting near the front or near the door during class to facilitate your learning is a common option for college students.
Note Taker: This accommodation allows someone to take notes for you during class. For example, if you have limited use of your hands, you can request a note-taker for your courses.
Digital Textbooks and Workbooks: Having a digital version of a textbook or workbook allows you to highlight, add notes, read aloud text to speech, zoom in, and use other digital accommodations. Some textbooks also have online portals that link to additional content, videos, and audio portions of the book.
Other accommodations to assist in accessing coursework can include the following:
Recorded lectures
Having a test that everyone else has but the test is given online or in a digital format — this option provides students with accessibility options such as using an e-reader to read the test aloud
Captioned media, recorded lectures, class transcripts, and/or real-time captioning
Access to presentations or lecture content ahead of time so it can be prepared on a screen or e-reader
Accessible housing, desk and classroom spaces, and buildings on campus
Assistive technology such as laptops, speech-to-text software, dictation software, adapted computer mouse or keyboard, Braillers, e-readers, digital note-taking tools, smart pens, audio recorders, and more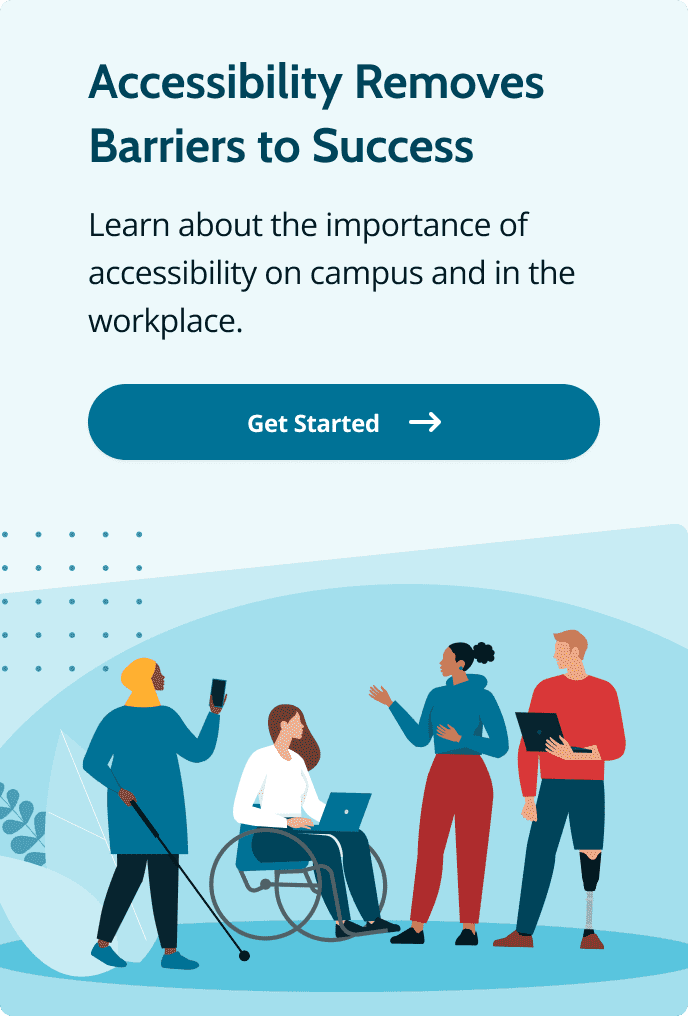 How to Tell a Professor You Require Accommodations
As a professor myself, I think it's very important to be transparent about your needs with your instructors. Our goal is to help you succeed in class — we are on your side. So please let us know how we can best assist you.
You can reach your professor via email or by visiting during office hours. You don't have to reveal the nature of your disability or identify your reasons for the accommodations to your instructor. Those things only need to be discussed with the disability office, and they keep that information private.
In addition to letting your professors know directly about your need for accommodations, ask your disability services coordinator to send a letter to your instructors explaining your needs.
Here's an example of how you could write an email letting your professor know you require disability accommodations:
Dear Dr. Rayes,
I'm Charlie Shephard, a student in SOC 101 on Monday, Wednesday, and Friday from 8 a.m. to 9 a.m. I'm reaching out to let you know that I'm currently receiving services from the office of disabilities.
The following accommodations are needed in your class: extended time on tests, testing in a separate room, and a test reader.
If you would like to discuss the accommodations, please let me know. Thank you.
Best,
Charlie Shephard
Remember to self-advocate for what you need and always be upfront with your professors. By using these tips and strategies, you can get the accommodations you need to succeed in college, even without an IEP.
---
DISCLAIMER: The information provided on this website is not intended or implied to be a substitute for professional medical advice, diagnosis, or treatment; instead, all information, content, and materials available on this site are for general informational purposes only. Readers of this website should consult with their physician to obtain advice with respect to any medical condition or treatment.
---
Feature Image: Kosamtu / E+ / Getty Images