The Bureau of Labor Statistics (BLS) projects that employment for educators will increase by 5% from 2018 to 2028, about as fast as the average for all occupations. In addition to excellent job prospects, careers in education also offer strong earning potential. For example, in 2018, the median salary for jobs in education was $49,700, roughly $11,000 more than the median annual pay for all other occupations.
The field of education encompasses a wide variety of professions. Special education teachers, for instance, offer instruction to students with mental, physical, or emotional disabilities. School principals manage all aspects of a school's operations, including hiring staff and ensuring a safe learning environment for students. Postsecondary education administrators work at colleges and universities, overseeing admissions, faculty research, student affairs, and other services. Depending on your education and experience, you may also find work as a school counselor, librarian, or instructional coordinator.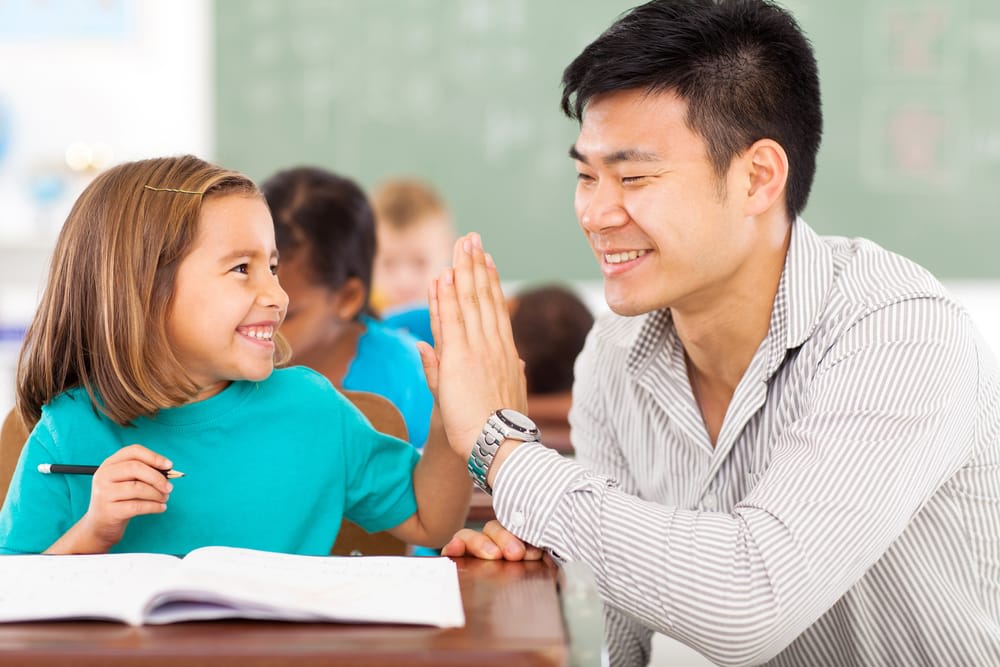 This page provides an overview of education careers, including information on state-level employment for teachers and education administrators, the degrees available to aspiring educators, and the career paths you can follow after graduation. It also includes a list of resources for both education students and current professionals.
Education Employment by State
Your employment and earning potential as an educator can vary considerably by location. For example, nearly 110,000 high school teachers worked in California in 2019, while Wyoming employed only 1,690. New York boasts the highest salaries for secondary school teachers, with an annual mean wage of $87,240 in 2018. By contrast, high school teachers in South Dakota earned an average of only $44,610 that year.
Generally, urban centers offer more jobs and higher salaries than rural areas. Smaller communities, however, often have a lower overall cost of living than larger cities. While the BLS projects a steady increase in national employment, local and state budget constraints may limit job growth in certain parts of the country.
Employment Data by State for Education, Training, and Library Occupations
Educational Paths to a Career in Education
With an associate degree in education, you can take on entry-level roles like preschool teacher or teaching assistant. Most full-time students graduate from an associate program in two years. However, all states require that K-12 public school teachers earn at least a bachelor's degree to qualify for licensure. Undergraduate programs in education typically combine classroom instruction and a period of supervised experience, commonly known as student teaching.
Specialized and supervisory roles may require additional education. For example, instructional coordinators and school principals typically need a master's degree in a relevant field. If you hope to teach or conduct educational research at a college or university, you generally must earn a doctorate.
Associate Degree
Preschool Teacher

Most preschool teachers need at least an associate degree, though 50% of federal Head Start learning centers now require their teachers to earn a bachelor's. An associate program in early childhood education features coursework in subjects like childhood development, curriculum design, and the use of technology in the classroom. Students usually need to also take general education classes in areas such as English composition and psychology.

Teacher Assistant

Depending on where they work, teaching assistants and teaching aides may need either a postsecondary certificate or an associate degree. Teaching assistant programs equip students with skills related to classroom management and instructional support. Students may also develop knowledge in a particular content area, such as reading or math. Additional education or certification may be required for teaching assistants who work with special needs students. Many assistants continue their education at a four-year institution to earn a bachelor's degree and ultimately become a licensed teacher.
Bachelor's Degree
Child Development

Undergraduate programs in child development provide instruction in subjects like the cognitive development of infants and young children, the foundations of play and learning, and behavioral psychology. These programs also require some form of field-based learning experience, such as an internship or practicum. While a bachelor's in child development may allow you to pursue an alternative pathway to teacher certification, aspiring kindergarten and elementary school teachers may benefit more from earning a degree in elementary education.

Adult Literacy

Earning a bachelor's in adult literacy or adult education prepares you to teach adult students seeking a high school diploma or GED. It also equips you with some of the skills and knowledge needed to teach English as a second language. Students in these programs explore topics like the foundations of continuing education and training, adult learning theory, and online instructional methods. They may also need to complete a student teaching experience to earn a state-issued teaching certificate.

Teaching

Many colleges and universities offer teacher preparation programs. Students generally choose to focus in either elementary or secondary education, although some will major in a specific content area, such as mathematics or history. Teacher preparation coursework may cover subjects like bilingual education, working with exceptional learners, or adolescent development. Students must also complete a period of supervised classroom teaching experience to gain licensure.
Master's Degree
Instructional Coordinator

Most instructional coordinator roles require a master's degree in education, curriculum and instruction, or another closely related field. Students pursuing a graduate degree in this area take courses in areas such as learning theories, educational psychology, and curriculum evaluation. They may also choose to further specialize in a field like educational technology or instructional design for special needs students. Many programs require students to complete a capstone project wherein they apply their classroom learning to a real-world challenge in curriculum design or assessment.

Librarian

Graduate programs in library science generally require 1-2 years of full-time study. Aspiring librarians explore topics such as critical perspectives on the information society, intellectual freedom in libraries, and inclusive practices in contemporary librarianship. In addition, students typically take multiple courses in statistics and research methods to prepare for their master's thesis. Some graduate schools may allow degree candidates to complete a more practice-oriented capstone project in lieu of a thesis.

Special Education

A master's degree in special education can help you secure a salary increase or a promotion to a lead teacher role. It also qualifies you for district-level administrative positions, such as director of special education. Topics covered within these programs may include multitiered educational support systems, targeted instructional strategies for students with disabilities, and incorporating exceptional learners into general education classrooms. Most students also participate in an internship with an educational or social service organization.
Career Paths in Education
While you may find work in childcare or early education with just an associate degree, most career paths in education require at least a bachelor's. In order to earn a teaching license, you typically need to hold a bachelor's, pass both a background check and certification exam, and complete some kind of supervised teaching experience.
A master's degree can open the door to more senior and lucrative positions. Instructional coordinators, for example, earned a median salary of $64,450 in 2018, nearly $26,000 more than the median annual pay for all other occupations. School principals earned a median salary of $95,310 that same year.
Careers Requiring an Associate Degree
Preschool Teacher

Median Annual Salary: $29,780
Minimum Degree: Associate
Job Growth Outlook (2018-28): 7%
Number of People Employed: 523,600

Preschool teachers care for and educate children before they enter kindergarten. They generally focus on helping students develop language, social, and motor skills through an exploration of foundational subjects like reading, math, music, and art. They must also monitor student learning and behavior to assist in the identification of developmental disorders.

Teacher Assistant

Median Annual Salary: $26,970
Minimum Degree: Some postsecondary education
Job Growth Outlook (2018-28): 4%
Number of People Employed: 1,380,300

Teaching assistants provide support to licensed teachers both in and outside of the classroom. For example, they may supervise the transportation of children to and from school. They may also provide follow-up instruction to individual students or small groups. Teaching assistants also perform a variety of administrative duties, including helping teachers grade homework and take attendance.
Careers Requiring a Bachelor's Degree
Adult Literacy and High School Equivalency Diploma Teacher

Median Annual Salary: $53,630
Minimum Degree: Bachelor's
Job Growth Outlook (2018-28): -10%
Number of People Employed: 67,200

Adult literacy and high school equivalency diploma teachers provide instruction to adult students in subjects like reading, writing, and speaking English. They may also assist students in preparing for a high school equivalency exam. Adult educators need strong assessment skills to understand student strengths and weaknesses and design instructional plans.

High School Teacher

Median Annual Salary: $60,320
Minimum Degree: Bachelor's
Job Growth Outlook (2018-28): 4%
Number of People Employed: 1,072,500

High school teachers generally work with students in grades 9-12. While they often specialize in a particular subject, such as biology or English literature, all high school teachers work to prepare students for college or careers. Secondary school teachers develop curricula and lesson plans, grade student assignments and exams, and discuss student progress with parents and other educators.

Career and Technical Education Teacher

Median Annual Salary: $56,750
Minimum Degree: Bachelor's
Job Growth Outlook (2018-28): -1%
Number of People Employed: 214,000

Career and technical education (CTE) teachers train students for specific professional roles, such as auto repair technician or restaurant chef. As a result, CTE lessons often incorporate experiential learning. Career and technical educators can work in public schools, for nonprofit organizations, or at community colleges and postsecondary vocational schools.

Kindergarten and Elementary School Teacher

Median Annual Salary: $57,980
Minimum Degree: Bachelor's
Job Growth Outlook (2018-28): 3%
Number of People Employed: 1,569,000

Kindergarten and elementary school teachers educate young children in foundational subjects like math, reading, and science. They may also assist their students in overcoming early learning challenges, administer state-mandated assessments, and help children develop social and interpersonal skills. All states require kindergarten and elementary school teachers to hold both a bachelor's degree and teaching license.

Middle School Teacher

Median Annual Salary: $58,600
Minimum Degree: Bachelor's
Job Growth Outlook (2018-28): 3%
Number of People Employed: 615,700

Middle school teachers usually work with students in grades 6-8. Rather than providing instruction across multiple subjects, teachers at this level tend to specialize in a content area, such as history or biology. Like many other educators, middle school teachers must create and deliver lessons, manage their classrooms, and provide targeted attention to individual students as needed.
Career Requiring a Master's Degree
Librarian

Median Annual Salary: $59,050
Minimum Degree: Master's
Job Growth Outlook (2018-28): 6%
Number of People Employed: 181,600

Librarians offer assistance to people conducting research or seeking specific printed or digital materials. Depending on the library type, they may oversee literacy programming for children, help graduate students identify and properly cite academic sources, or direct patients to information about a medical diagnosis. They may also specialize in a particular area of library work, such as providing online access to books.

Instructional Coordinator

Median Annual Salary: $64,450
Minimum Degree: Master's
Job Growth Outlook (2018-28): 6%
Number of People Employed: 181,600

Instructional coordinators develop school curricula, teaching standards, and instructional practices. They observe teachers in classrooms, review student data, and collaborate closely with school and district-level administrators. They also provide training and mentorship to teachers, create assessments to evaluate student learning in a subject area, and help ensure compliance with local, state, and federal regulations.
Careers Requiring a Doctoral Degree
Postsecondary Teacher

Median Annual Salary: $78,470
Minimum Degree: Master's or Doctorate
Job Growth Outlook (2018-28): 11%
Number of People Employed: 1,350,700

Postsecondary teachers instruct students and conduct research at colleges, universities, and trade schools. They also perform certain administrative duties, including chairing departments, overseeing the student admissions process, and reviewing candidates for open faculty positions. While some community colleges may hire professors with just a master's degree, most four-year institutions prefer to hire those with a doctorate in their area of expertise.
Additional Resources
Professional organizations provide a wealth of resources to educators. Many host regional and national events, giving you the chance to meet new colleagues, share best practices, and discuss the latest research. They may also provide online and in-person certification and professional development opportunities. In addition, many professional associations advertise job listings of interest to their members.
NEA represents more than 3 million education professionals working in the United States. The organization provides free lesson plans and classroom management tools, gives grants to aspiring and current teachers, and organizes research and networking conferences. NEA also hosts policy briefs on issues like college affordability and school emergency preparedness.
Originally founded in 1916, AFT now serves roughly 1.7 million teachers and educators across the country. While AFT primarily functions as a professional union, the federation also helps educators share lesson plans and classroom resources, publishes guides to help its members navigate professional development opportunities, and disseminates education news through a monthly magazine and a series of blogs.
ALA is the oldest and largest professional association for librarians in the world. In addition to organizing conferences, symposia, and networking events, the association provides scholarships to students pursuing a library science degree, hosts resources on subjects like banned books and intellectual freedom, and administers an annual leadership institute. The ALA website also features a national jobs board.
Formerly known as the Association for Supervision and Curriculum Development, ASCD aims to support educators as they design, refine, and implement highly effective learning systems. Members can review the latest research on topics such as differentiated instruction, social-emotional learning, and instructional leadership. They can also access a library of online professional development resources, including webinars, white papers, and full courses.
AAUP works to elevate and enhance the practices of higher education faculty and other academic professionals. The association publishes multiple scholarly journals, gives awards for exemplary service to the field, and provides guidance on issues like collective bargaining and the sanctuary campus movement. AAUP also advertises job opportunities and provides career advice to doctoral students and new faculty.