Entering the education field is a great way to make a positive impact on students of all ages. As older teachers retire and school districts work to comply with state and national curriculum standards, more jobs will be available for qualified educators. The demand is especially high for teachers who are certified in science and mathematics.
Teaching jobs are ideal for people who are enthusiastic, creative, patient, and encouraging. As a teacher, you must be able to juggle competing priorities, remain calm when you are frustrated, and manage your classroom in a way that makes learning fun without letting things get out of hand. Although teachers plan their lessons carefully, it's important to be flexible. Teaching may not be for you if you dislike interruptions or prefer to follow a step-by-step plan for each task.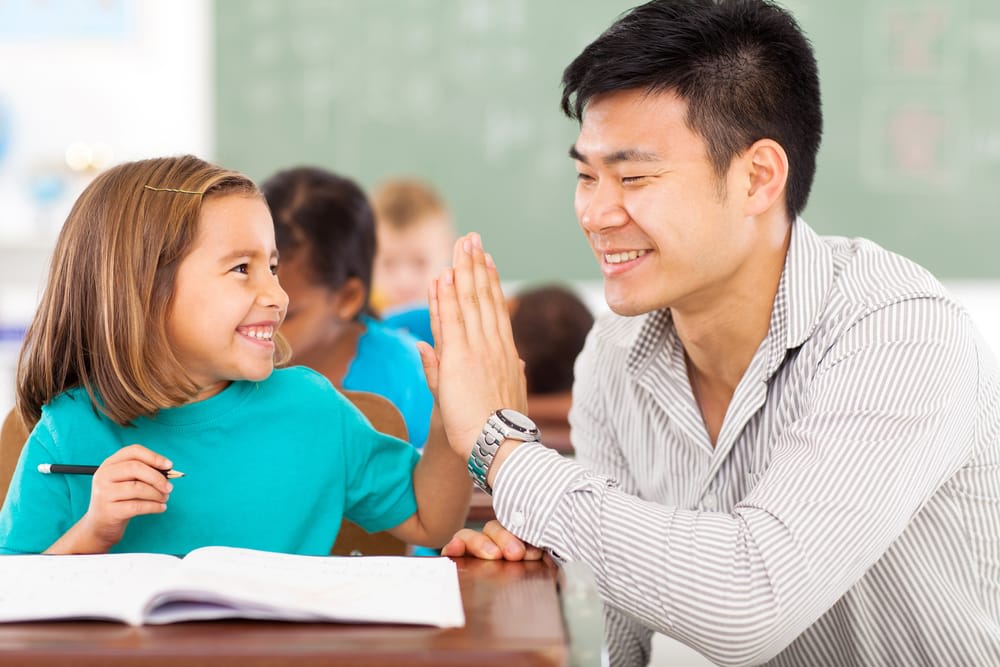 Educational Paths to Careers in Education
Most teaching jobs require a minimum of a bachelor's degree, but you don't have to major in education to get a teaching certificate. Some educators major in a subject area, such as biology or literature, then complete a post-baccalaureate teacher training program. If you are interested in studying educational theory, completing a bachelor's degree in elementary or secondary education gives you a solid foundation for starting your teaching career. If you have a bachelor's degree, you may even be able to apply for an emergency teaching certification if there is a shortage of teachers in your state.
Bachelor of Education

A bachelor's degree in education prepares you to teach children at the primary, middle, and secondary levels. Introductory courses focus on the history of education, basic educational theory, and effective learning strategies. Psychology and human development courses help entry-level teachers understand how children approach unfamiliar topics and learn new things. Upper-level courses typically focus on teaching methods and learning theories. Some programs have a technology requirement to introduce students to the use of multimedia materials in an educational setting.

After completing a bachelor's in education graduates either move into entry-level teaching jobs or take graduate courses. It usually takes four years to complete a bachelor's degree in education, but it may take longer if you plan to attend school part-time.

Featured Ranking

Master of Education (MEd)

A master's degree in education builds on the basic concepts you learned in your undergraduate program and gives you a chance to explore additional career opportunities. The curriculum varies by program, but it's common for master's programs to include coursework in instructional design, educational psychology, educational leadership, curriculum development, and classroom technology.

Depending on the type of degree you pursue, you may be required to conduct research and write a thesis before you graduate from a master's program. If your program has a thesis requirement, expect to spend two semesters conducting research, writing a first draft, and working with your advisor to polish the finished product. It typically takes two to three years to complete a master's degree in education, but it may take as little as 18 months if you take several classes each semester.

Featured Rankings

Doctor of Education (EdD)

EdD programs are designed for people who are interested in the practical applications of educational theory. Students in this type of program typically have several years of experience in the education field. Although a doctorate is not required for most teaching jobs, obtaining a doctorate early in your career can help you advance into administrative roles.

The first few courses in a doctoral program typically focus on leadership theory, research methods, human development, and curriculum development. As you advance in the program, you'll have the opportunity to choose an area of concentration aligned with your career goals. It may take up to six years to complete a doctoral degree depending on how many credits you complete each term and how long it takes to complete your final research project.
Career Paths in Education
There are dozens of education jobs at every level of the career path, from Spanish teachers to physics teachers. Although there are many opportunities for specialization, these are the general teaching levels available for qualified educators. All information below is based on facts and figures from the U.S. Bureau of Labor Statistics.
The Importance of Substitute Teachers
Substitute teachers play an important role in elementary school and secondary schools. If a teacher is absent, a substitute sits in on all of the teacher's classes for the day, ensuring students have proper supervision at all times. Because there is such a shortage of qualified substitute teachers, some schools are having a difficult time trying to arrange coverage for absent educators.
The requirements to become a substitute teacher vary by state, but most states require that you have a minimum of a bachelor's degree. A few states have such severe shortages that they are willing to accept substitute teachers who have not yet completed college. If you meet the minimum education requirements, the next step is usually a background check and fingerprinting. Once you have been cleared for jobs in education, you have to obtain a substitute teacher certification. Some school districts require that you take training courses or pass an exam, but others are willing to grant emergency certification due to a shortage of substitutes.
Please summarize your academic and professional experience
I come from a family of educators, and before I was even aware of it, education was the field I was meant to be in. I graduated from Boston College in 2009 with a BA in history and a minor in education. After graduation, I earned my teaching credential from California State University, Long Beach in 2011 and my MAEd in curriculum and instruction in 2013. Currently, I am working towards an administrative credential and an MA in education administration from California State University, Dominguez Hills. I have been teaching for four years and have had the privilege of working with some of the most innovative and professional educators in the country. I started my teaching career at the Orange County School of the Arts (OCSA), where I developed a high school preparatory curriculum called Skills Obtained for Academic Readiness (SOAR) and taught AP United States history. While at OCSA, I quickly saw the importance of getting involved in order to work towards improving the academic experience of the students. I was part of the Technology Committee as well as the Curriculum, Instruction, and Assessment Committee, and was co-facilitator of our history/social science curriculum team. This year I returned to my alma mater, Woodrow Wilson High School in Long Beach, CA, to teach AP United States history and AP seminar. Over the course of the year, my career path has taken me in new and exciting directions, including becoming the Chromebook/Edtech Coordinator and Linked Learning Pathways Coordinator for my school in addition to teaching AP research next year.
What factors should students take into account when considering a degree in education?
Education is much more than summer vacation. Educators have the privilege of working with the next generation of students to help them grow to be involved citizens, innovators, and compassionate human beings. If you are thinking about becoming a teacher, first ask yourself why you want to become a teacher. While the benefits are good and guaranteed breaks are nice, those things will not make the day-to-day experience enjoyable. If you are someone who wants to make a difference in the lives of others and be a positive role model in the lives of children, many of whom are looking to you for guidance, then you are on the right path. The next question to ask yourself is what you are passionate about. Whether you teach elementary or secondary school, you should enjoy the content that you are paid to teach. However, school is much more than just content acquisition. Think about what made school memorable for you. How can you promote a culture of learning and a growth mindset in your students? Take classes that inspire you and help you grow as a learner. If you are not a learner you can't expect your students to be.
What do you find most fulfilling about teaching?
It is hard to narrow it down to just one thing, but I will provide two aspects; one professional and one personal. Professionally, it may seem cliche, but it is really something when the students "get it". To see their growth over the course of the year and see them become self-directed learners is a beautiful thing. One of my main objectives as a teacher is to have my students become educated consumers of information and have the critical thinking skills and information gathering skills to be able to come to their own conclusions. As students get better at this skill, the class environment completely changes and they are flying on their own. Personally, teaching gives me the opportunity to get to know my students as human beings. I work with teenagers, and as much as they like to think that they are adults, there is still so much "child" in them, and to see them smile and laugh and be a kid is an amazing feeling. The students are the reason why I go to work every day and if I ever get to a place where that isn't the case, I need to find a new career.
What's the greatest day-to-day challenge you face as an educator?
The greatest challenge I have had to face as an educator is that change does not happen fast; change in the classroom, change in the school, or change in the system. As a "newer" teacher, I have many ideas and philosophies that I would like to share and implement and it can be frustrating to work against a system that sometimes is hesitant to change or doesn't work as fast as I would like. What I have learned is that I need to figure out how to navigate these waters, build consensus amongst my peers, and work with my administration and district staff to help them see my perspective and remain positive. As long as we continue to do what is best for students we will always be on the right path.
What type of person excels as a teacher?
The world of education needs people who are passionate about working with children and helping promote future generations to be more successful than us. A strong educator is someone who values failure as an opportunity to learn, is a learner themselves, is technologically aware and active user (it's the way of the future), and ultimately has a good soul. Despite the data, testing, standards, grades, and everything that make education very corporate, it is still a social profession where the number one responsibility you have is to be responsible for the well-being of another human being.
What additional advice can you give to someone pursuing a teaching career?
Don't be afraid to fail or be discouraged by a challenge. You will hear about the statistics of new teachers who change careers within the first five years of teaching, but don't let that deter you. In many cases, I believe, those are people who did not truthfully answer why they wanted to become a teacher and what they are passionate about. The system also can be a challenge but just like we tell our students, challenges are opportunities for growth, and successful people have failed more times than they have achieved. I welcome you to a career in education and I look forward to your success!