Scholarships for African American Students
Attending college and completing a degree are important academic goals for any student. Unfortunately, there is a pronounced racial gap in enrollment rates at top colleges and universities around the country. Data from the National Center for Education Statistics reveals that fewer than 65% of African American high school students attend college, compared to 70% of white students.
Affordability is a concern for all college-bound students, including African Americans. Fortunately, a number of scholarships and financial aid opportunities are earmarked specifically for their demographic. Several organizations offer even more specific aid opportunities, such as scholarships for African American women.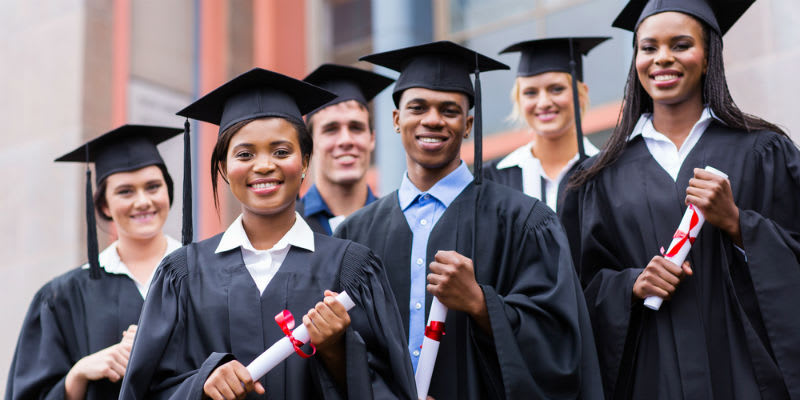 According to a report from Demos, African American students borrow money more often to complete their bachelor's degree at a public college than whites. Around 84% of African American graduates used Pell Grants to finance their education and only 60% of white students did the same. Additionally, nearly one in four black borrowers drops out of college, leaving them both in debt and without a degree. Obtaining financial aid can also be challenging. According to a study in The Journal of Blacks in Higher Education, whites are more likely to receive merit-based scholarships, even after accounting for different enrollment rates between the demographics. These statistics underline the importance of African American scholarships. These awards can help offset the cost of a college education, and leave students less dependent on loans. They also offer African Americans a unique opportunity to pursue financial aid without any strings attached, and without any racial biases favoring another demographic, intentionally or otherwise.
Around 84% of African American graduates used Pell Grants to finance their education and graduated with debt.
Since many African American students are also first-generation college students — a report by Georgetown University's McCourt School of Public Policy reveals that 32% of undergraduates are the first member of their family to attend school — they may feel more pressure to succeed academically and complete their degree in four years or less. Between the financial strain and the added pressure, many students drop out: three out of five first-generation college students do not complete a degree or obtain a credential within six years. Part of the problem is again financial: many first-generation students come from poor families and must rely on loans to fund school, placing them in seemingly-insurmountable debt with each passing year.
Scholarships
A scholarship is a monetary gift for students to use for funding their postsecondary education. Scholarships do not need to be paid back, making them a desirable alternative to student loans. Scholarships may be used to pay for education-related costs including tuition, books, and other course materials. Some scholarships may also be used to cover food, room-and-board, laundry, and day-to-day expenses.
Thousands of different scholarships are available. Merit-based scholarships are typically given to students with high GPAs or an extensive record of community service. Other scholarships may be allotted to certain groups of people, including women or minority students. There are also scholarship options for students who demonstrate financial need. Nonprofits and organizations that support the African American community, some colleges and universities, and even some major employers offer scholarships exclusively for African Americans and minorities.
In order to qualify for most scholarships, students must first complete an application. While the nature of these applications will vary by award, most will include the following general criteria:
Grades and Transcripts - Most scholarships (merit- and non-merit-based) require a minimum GPA for consideration; this minimum is usually 2.5 or higher. Additionally, some impose minimum scores on the SAT, ACT, or other college admissions tests.
Essay - Many scholarships require applicants to complete an original written testimonial explaining why they deserve the award.
Letters of Recommendation - A scholarship application may ask for letters of recommendation from teachers, school counselors, former employers, and other people who have interacted with the student in an educational or professional environment. These letters should not come from friends, relatives, or family acquaintances.
College Information - Many scholarships will only award money to applicants who have enrolled or plan to enroll in an accredited postsecondary institution within the following year. Some are only allotted to students who plan to pursue certain fields of study.
Other Financial Aid - For needs-based scholarships, applicants may need to prove they are not receiving federal financial aid, additional scholarships, grants, or other forms of monetary support.
External Scholarship Resources
Students who are unfamiliar with scholarship applications should seek advice from educational experts. Here are a few online resources for scholarship applicants to peruse:
How to Apply for a Scholarship
More tips on how to apply for a scholarship from The College Board.
How to Apply for Scholarships
Tips for getting organized and using scholarship search tools to find the right scholarship for you, provided by Sallie Mae.
Top Ten Scholarship Tips
Tips for perfecting the scholarship application process, including advice on people to reach out to.
5 Tips for Winning Scholarships
Tips for finding scholarships and screening available scholarships to find the most worthwhile and effective match for your interests and strengths.
Tips and Tricks
Students have plenty on their plate during their last two years of high school, but they shouldn't neglect applying for scholarships. Below are a few useful tips for students sifting through a variety of scholarship opportunities:
Outline Application Priorities
All scholarships have different eligibility criteria and requirements. Some ask for an essay on a particular topic while others require letters of recommendation. It's important for students to adhere to all requirements; submissions that ignore instructions will be discarded.
Create a Checklist with Due Dates
Make a checklist of to-do items for each scholarship, recording submission deadlines and specific instructions. Regardless of how many scholarships you are applying for, breaking down the applications into specific tasks can help you keep everything on track.
Make Time for the Essay
When a scholarship-granting organization asks for an essay, they want applicants to take their time reviewing the question and articulating an answer. It's important that students conduct the necessary research, and to write, edit, and proofread the essay before submitting it.
Follow Instructions to the Letter
This one speaks for itself: applications that do not follow instructions will be discarded, so be sure to provide whatever information and materials the award requests.
Make Copies Of All Submissions
Students should make copies of all materials they submit, in the event that the organization loses all or part of your application. Submitting applications early is advisable, in case your submission is returned or gets lost in the mail.
Scholarships for African American Students
Scholarships for African American Women
STEM Scholarships for African American Students
Scholarships for First Generation African American Students
Grants
In most cases, grants are awarded to further an organization's research efforts or to support a student that may have a vested interest in the organization itself. Grant recipients are not always limited to students and are not awarded based on need or merit. The U.S. Department of Education offers discretionary grants, formula grants, and student loans or grants, such as the Pell grant. Like scholarships, they do not need to be repaid.
DIFFERENT TYPES OF GRANTS
Federal Pell Grants
Pell grants are federal need-based grants designed to support low-income students. These grants are awarded by the U.S. Department of Education.
Grants from State Governments
Individual states may award state grants for local residents. These are typically awarded by institutions, such as the state's Department of Education, state Department of Grants Program, and other non-profit organizations.
Private Grants
Private foundations, community organizations, and individuals may award grants to support students. They are also awarded to those seeking a research grant that would benefit the organization.
Grants for African American Students
Much like scholarships, grants are monetary gifts for students to use for tuition, course fees, and living expenses while enrolled in a college program. Grants are usually need-based, and in some cases the recipient may be required to pay back unused funds upon graduation.
Other Ways to Save
Fee Waivers for Entrance Exams

Low-income high school students who are applying for the SAT and ACT exam can pursue a fee waiver. Eligibility criteria includes enrollment or eligibility to participate in the Federal Free and Reduced Lunch Program (FRPL) and meeting certain income eligibility requirements.

Apply for Early Admission

Students who already know which school they would automatically go to if they were accepted can apply early so they can get an answer before they start applying (and paying application fees) to other schools.

Employer Tuition Reimbursement

Through an employer tuition reimbursement program, employees of a participating corporation or organization may take college courses that are paid for by their employer. Employers may pay up to $5,250 in tax-free educational assistance per student per year. While these funds may be awarded to students who are non-degree-seeking, they can only be used for tuition, fees, books, supplies and equipment as related to direct education costs.

Use A Common App

Hundreds of colleges and universities allow students to submit an application to several colleges at once using a single, centralized application submission platform. Students only need to pay a one-time application fee to participate, which can save them hundreds of dollars on application fees and time spent submitting applications.
Additional Resources for African American Students
Additional Resources for First Generation Students
First In the Family: This comprehensive site features planning checklists, links, videos, and books for first-generation students seeking advice.
ImFirst.org: Students can join this online community to get support and find resources to plan their college career as a first-generation student.
FirstGen Fellows: Provides information about community, nonprofit, and other programs across the country that support low income and first-generation students.