Scholarships for Hispanic and Latino Students
College enrollment rates are rising among Hispanic men and women in the United States. Recent data from the National Center for Education Statistics shows that 3.4 million Hispanic students were enrolled in degree-granting postsecondary institutions in 2018; this figure represents a 148% increase since 2000.
This rise in postsecondary attendance is largely attributable to the nation's growing Hispanic population and a sharp decline in the high school dropout rate of Hispanic students. According to the National Center of Education Statistics, the percentage of college students who identify as Hispanic rose from 4% to 19% between 1976 and 2017. Additionally, the U.S. Census Bureau projects that more than 33% of the total U.S. population under the age of 18 will be of Hispanic origin by 2060.
Persistent educational challenges continue to affect the Hispanic community, however. Many college-bound Hispanic men and women come from low-income families, and tuition rates for in-state students at public universities rose 242% between 1998 and 2019. Consequently, many of these students are forced to take out student loans to afford their degree. These loans often carry steep monthly minimum payments and interest rates that can affect borrowers for decades.
Unique Challenges
The Pew Charitable Trusts shows that 30% of Hispanic households with some college or an associate degree have outstanding student debt. That figure rises to 42% among Hispanic households with a bachelor's degree or higher. Additionally, the median income of Hispanic households is $47,675, which is significantly lower than the average household income of $59,039.
Additionally, 52% of Hispanic students complete their education at a two-year community or technical college, according to the American Association of Community Colleges. These programs tend to be significantly less expensive than four-year programs, but they are also less likely to help students secure meaningful employment after graduation. As of 2017, only 18.5% of Hispanics ages 25-29 held a bachelor's degree in any subject.
Family Needs
Family obligations present another challenge to Hispanic learners. A 2014 survey by the National Journal found that two-thirds of Hispanic men and women who sought full-time work or joined the military after high school claimed to have done so in order to financially support their loved ones. By comparison, only 39% of white men and women who bypassed college made the same claim.
First-Generation College Students
First-generation Hispanic college students face additional obstacles. According to Excelencia, nearly half of Hispanic students (44%) are first-generation college students. What's more, less than half (47%) of these students were eligible to receive federal Pell Grants.
Many educational experts agree that parents without a college background are unable to adequately prepare their children for the rigorous academics and the social pressures of institutionalized higher education. "Without family background in the college experience," the study notes, "these students may find it difficult to fully engage in college life, which can lead them to drop out and not complete a degree."
English as a Second Language
Language barriers are another factor affecting postsecondary education rates of Hispanic students. Individuals with Hispanic or Latino/a origins made up 44% of all U.S. immigrants in 2018, according to data from the Migration Policy Institute. Additionally, the National Education Association notes that roughly 80% of the country's English Language Learners (ELLs) identify as Hispanic.
Despite a widespread emphasis on English instruction in U.S. public schools, however, eighth grade ELL students continue to score well below the National Assessment of Educational Progress average reading score, and nearly 17% lower than their non-ELL counterparts. The lack of English speakers in the home is undoubtedly a major influence on this trend.
Children of Migrant Workers
Another underrepresented group are the children of Hispanic migrant workers. Each year, the U.S. Department of Education's Migrant Education Program serves approximately 225,000 students between the ages of three and 21 — most of them Hispanic or Latino/a. The College Assistance Migrant Program offers financial support for first-year college students, along with five-year tuition grants. However, because migrant families are constantly on the move, these students often perform poorly in the classroom. Additionally, their secondary school dropout rates are higher than those of nonmigrant students.
Financial Aid for Undocumented Students
Roughly 65,000 undocumented students graduate from U.S. high schools each year. The U.S. Department of Education guarantees public education for undocumented children through grade 12. Additionally, there are no federal or state laws prohibiting undocumented men and women from applying to, enrolling in, and graduating from public or private colleges. A survey by the National Association of Student Financial Aid Administrators found that 32% of public postsecondary institutions admitted undocumented student applicants.
However, many schools categorize undocumented students as "foreign," making them ineligible for both federal financial aid and in-state reduced tuition rates.
Check out our College Guide for Undocumented Students for more information on the various resources available to help this population obtain a postsecondary education.
Deferred Action for Childhood Arrivals
Students in the U.S. must be classified as permanent residents before they can receive federal financial aid. Most immigrants earn permanent residency by applying for a Green Card, but current laws stipulate that undocumented citizens are unable to take this path; they must instead leave the U.S. and apply for permanent residency from a consulate office in their home country.
The Deferred Action for Childhood Arrivals program, or DACA, seeks to ease college admission challenges for undocumented students. Under DACA, undocumented children who enter the U.S. prior to age 16 receive "deferred action status" and are categorized as DACA students. They may also be able to obtain a social security number (SSN). While DACA students are still ineligible for federal financial aid, those with a valid SSN are able to fill out a Free Application for Federal Student Aid (FAFSA), and they may receive state- or institution-sponsored funding.
Undocumented students should meet with their high school career counselor to discuss financial aid options for college.
DACA students may also qualify for reduced in-state tuition. Currently, 18 U.S. states offer provisions for undocumented students to receive discounted in-state tuition. These include California, Colorado, Connecticut, Florida, Illinois, Kansas, Maryland, Minnesota, Nebraska, New Mexico, New Jersey, New York, Oklahoma, Oregon, Rhode Island, Texas, Utah, and Washington. In contrast, three states have barred reduced in-state tuition for undocumented students: Arizona, Georgia, and Indiana. A third group, Alabama and South Carolina, have gone so far as to prohibit the enrollment of undocumented students at public postsecondary institutions. The remaining states are classified as unstipulated.
Undocumented students should meet with their high school career counselor to discuss financial aid options for college. Most DACA students with a valid SSN are urged to complete a FAFSA in order to learn about state- and institution-based financial aid options. The Department of Education offers the following tips for DACA students who wish to fill out a FAFSA.
How to Fill Out the FAFSA as an Undocumented Student
The FAFSA does not require the citizenship status of the applicant's parents, but it does request their SSNs. Applicants must write in "000-00-0000" as the SSN for any parent or legal guardian who is undocumented.
Applicants will encounter the following question: "Are you a U.S. citizen?" Undocumented students must check the box for "No, I am not a citizen or eligible noncitizen."
The form also features questions about the "legal state of residence" for the applicant and their parents. The correct answer will vary, as each U.S. state has different requirements for legal state residency. Applicants should consult their high school career counselor before completing this section.
The online FAFSA form features an IRS Data Retrieval tool that allows applicants to submit their tax information and that of their parents. If the applicant or their parents did not file an income tax return during the previous year, then tax information may be entered manually.
Hispanic-Serving Institutions
The Hispanic-Serving Institutions (HSI) program was enacted through Title V of the Higher Education Act of 1965. HSI status is conferred by the Department of Education on not-for-profit postsecondary institutions where at least 25% of full-time students identify as Hispanic.
Under Title V, eligible HSIs can receive grants from the U.S. Department of Education's Office of Postsecondary Education. These schools use these funds to build on-campus resources and bolster support services for Hispanic students. Today, HSIs are represented by the Hispanic Association of Colleges & Universities (HACU). Although HACU members comprise only 10% of U.S. postsecondary institutions, these colleges and universities are home to more than two-thirds of the nation's Hispanic student population.
The rising number of HSIs in the U.S. directly correlates with the increasing number of Hispanic students enrolling in accredited college programs. There were 245 recognized HSIs in 2005; as of 2017, there were 523 recognized HSIs that collectively enrolled nearly 3.5 million students. The states with the most HSIs are California with 163, Texas with 90, New York with 26, Florida with 25, and Illinois with 24. Additionally, Puerto Rico has 63 recognized HSIs.
Scholarship Basics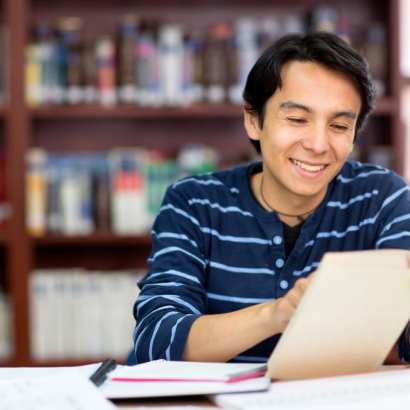 A scholarship is a monetary gift that students use to help fund their postsecondary education. Scholarships do not need to be paid back, making them a desirable alternative to student loans. Scholarships may be used to pay for a variety of education-related costs, including tuition, books, and other course materials. Some scholarships may also be used to cover food, room and board, laundry, and day-to-day expenses.
Thousands of different scholarships are available. Merit-based scholarships are typically given to students with high GPAs or an extensive record of community service. Other scholarships may be allotted to certain groups of people, like women or minority students. There are also scholarship options for students who demonstrate financial need.
In order to qualify for most scholarships, students must first complete an application. While the nature of these applications varies, most include the following general criteria:
Grades/Transcripts

Most scholarships (merit- and non-merit-based) require a minimum GPA for consideration; this minimum is usually 2.5 or higher. Additionally, some require minimum scores on the SAT, ACT, or other college admissions tests.

Essay

Many scholarships require applicants to complete an original written testimonial explaining why they deserve the award.

Letters of Recommendation

A scholarship application may ask for letters of recommendation from teachers, school counselors, former employers, and other people who have interacted with the student in an educational or professional environment. These letters should not come from friends, relatives, or family acquaintances.

College Information

Many scholarships only award money to applicants who have enrolled or plan to enroll in an accredited postsecondary institution within the following year. Additionally, some awards are only allotted to students who plan to pursue certain fields of study.

Other Financial Aid Information

For needs-based scholarships, applicants may need to prove they are not receiving federal financial aid, additional scholarships, grants, or other forms of monetary support.
Here are a few expert pieces of advice for filling out scholarship forms:
Begin your scholarship search during your first year of high school and compile an organized, comprehensive list of options before your senior year. Earning scholarship funding is essentially a numbers game; the more scholarships you apply to, the more financial support you are likely to receive.
Apply to every scholarship award for which you are eligible. Smaller scholarships are generally less competitive, and these awards can increase your overall support.
Fill out all applications in pencil and be sure to proofread each section for misspelled words, grammatical errors, and awkward phrasing.
Essays should be personal and heartfelt. Applicants should take this opportunity to demonstrate their writing skills and speak directly to the scholarship committee; be as expressive and direct as possible.
If an online option is unavailable, submit your application to the scholarship committee by direct mail. In either case, be sure to keep a copy for your records in case the original application is not received.
Be mindful of deadlines and make sure every application has been finished and submitted before its due date.
External Scholarship Resources
Students who are unfamiliar with scholarship applications should seek advice from educational experts. Here are a few online resources for scholarship applicants to peruse:
Some of the most common scholarships are awarded by:
Colleges and Universities

Most postsecondary institutions offer scholarships to current and prospective undergraduate and graduate students. Many scholarships are specific to major fields of study or offered exclusively to students in certain gender or minority groups.

Foundations

Students should explore scholarship opportunities offered by established businesses and professional organizations affiliated with their proposed field of study. Other foundational awards are available through women's or minority rights advocacy groups.

Local Community Organizations

Scholarships are often offered through community-based groups such as churches, youth centers, rotary clubs, and chambers of commerce. While these awards are usually smaller in monetary value, they also tend to be less competitive than national or statewide scholarships.
Scholarships
General Scholarships for Hispanic Students
Scholarships for Graduate Students
Scholarships for Hispanic Women
Scholarships for Undocumented Hispanic Students
Scholarships for First Generation Hispanic Students
Grants
Much like scholarships, grants are monetary gifts for students to use for tuition, course fees, and living expenses while enrolled in a college program. Grants are usually need-based, and in some cases the recipient may be required to pay back unused funds upon graduation.
Grants for Hispanic Students
Additional Resources
College Resources for Hispanic Students
Hispanic Scholarship Fund: In addition to the latest information on available scholarships, the HSF website offers an events calendar, an extensive blog, and resources to Hispanic students at all grade levels and their families.
'Colleges with the Most Hispanic Students': This 2020 article from U.S. News & World Report lists the 10 postsecondary institutions in the country with the highest Hispanic enrollment.
Latino Ed Beat: This branch of the Education Writers Association profiles notable figures and events affecting Hispanic students of all ages, from preschoolers to adolescents.
Home Room: The official blog of the U.S. Department of Education regularly covers trends and issues pertaining to Hispanic-American education.
Hispanic Voices Blog: This family- and student-oriented blog is maintained by the National Research Center on Hispanic Children & Families.
College Resources for Undocumented Students
College Resources for Students from Migrant Families
Migrant Education: This comprehensive fact sheet from the U.S. Department of Education covers current initiatives focused on migrant education at all grade levels.
Migrant Students Foundation: This nonprofit organization dedicated to migrant students of all ages features financial aid information, internship opportunities, and a job board for recent high school and college graduates.
'Meeting the Educational Needs of Migrant Students': This 2013 article from Education World examines unique academic challenges and solutions for migrant students.
College Resources for ESL/ELL Students
College Resources for First Generation Students
I'm First: This online community dedicated to first-generation college students features a college-finder, an extensive blog, and testimonials from past and current students.
'Prepare for College as a First-Generation Student': This 2015 article from U.S. News & World Report delves into the unique challenges and experiences faced by students who are the first in their family to attend college.