College Guide for Students With Learning Disabilities
Students with learning disabilities may find it difficult to acquire knowledge or skills in the same ways as their peers. This could mean they struggle to learn through traditional teaching methods, or that they wrestle with a curriculum designed for students their age.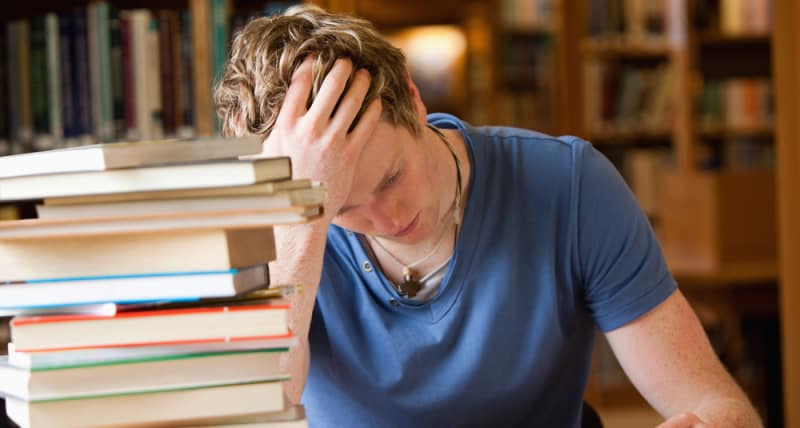 Common Learning Disabilities
Dyslexia - Connected to reading abilities
Dyscalculia - Associated with difficulties in math
Dysgraphia - Resulting in specific learning disabilities in writing
Auditory Processing Deficit - Characterized by a struggle to understand and use auditory information
Visual Processing Deficit - A weakness in taking on and using visual information
Attention Deficit/Hyperactivity Disorder - Characterized by high degrees of distraction or hyperactivity
According to the latest data provided by the National Center for Education Statistics, of undergraduate students self-reporting a disability, 11% reported having a learning disability. Enrollment statistics also listed by the NCES found that 20.4 million students were expected to attend an American college or university in the fall of 2017, meaning more than 200,000 students entering college have some type of learning disability.
More than 200,000 students entering college have some type of learning disability.
These figures are a strong indicator of what students are capable of regardless of disability. When students make use of the various resources for their specific learning needs, they find that they are able to excel in a classroom environment.
Transitioning to Higher Education
The National Center for Learning Disabilities reported in 2014 that among high school students with learning disabilities, 54% planned to attend a two-year or four-year college. Another 43% intended to complete a vocational training course.
College should be an exciting time for any incoming student, yet for those with learning disabilities it can create anxiety. Engaging with new faculty and classmates while also taking on more difficult coursework can be overwhelming if students don't have the proper support. 94% of high school students with learning disabilities receive some form of assistance. In contrast, only 17% of college students with learning disabilities take advantage of learning assistance resources at their school.
Only 17% of college students with learning disabilities take advantage of learning assistance resources at their school.
New students may be unfamiliar with the range of services offered by their school's disabilities services office, or they may feel embarrassed to reach out for assistance or accommodation. Unfortunately, students with learning disabilities have much higher rates of dropout than their counterparts. An NCES report found that only 34% of these students have completed a four-year degree eight years after their high school graduation. While students with learning disabilities may face extra challenges and hurdles, with modified teaching and learning techniques, technological advancements, and dedicated professionals, they don't have to be part of this statistic.
Accommodating Students with Learning Disabilities
Most college campuses have dedicated staff to help students with learning disabilities receive the resources and assistance they need to succeed in their educational journey. A number of different accommodations are available, enabling students to attend classes, complete coursework, and undertake exams in a way that suits them best. We cover some of the most common accommodations below:
Modifying Individual Course Instruction
Whether adjusting content, the presentation of content, or the learning environment, individual course instruction identifies specific needs of a learner and tailors information to make it more accessible while still presenting the same core content.
Alternative Forms of Coursework and Testing Material
This type of accommodation may rework an examination or culminating project in order to allow students different ways of expressing what they've learned. But while some courses only meet minimum legal accommodations, initiatives like the Universal Design of Instruction are urging educators to make exceptionally accessible courses that have an effect on every element of the learning process.
Adaptive/Assistive Software and Technology
Whether it's a program to help dyslexic students process text more easily, a stress management tool, or a recording device, the range of assistive technology catering to learning disabilities is expansive.
Different Types of On-Campus Support Centers
When researching prospective schools, students with learning disabilities and their families should pay special attention to the support offerings. Examples could include a disability services office, resident directors trained to support students with learning disabilities, or a student-led group. Students should take time to get to know the staff behind these initiatives, as they'll be much more likely to ask for help if they feel comfortable with the people assisting them.
Classroom Accommodations
These accommodations are wide ranging and could include providing a scribe or note taker, in-class assistants, accessible seating, or a quiet classroom for taking examinations.
Additional Time for Coursework, Testing and Assignments
Once a student has disclosed their disability to the proper office, they are often eligible to receive extra time for their coursework and exams. This could also translate into the school providing oral exams if the student responds better to this type of testing.
Disability Resource Centers
In addition to disability services on campus, students and families should research disability resource centers in the community surrounding a school. Often, these organizations will maintain partnerships with schools to provide individualized services for learning disabled students.
Assistive Technology (AT)
According to the Assistive Technology Industry Association, AT can be any equipment, software, product or system specifically designed to assist individuals with disabilities. As technology further integrates into everyday life, countless forms of assistive software and hardware are now available to help students learn in a way that suits them best. Some common forms of assistive technology include:
Talking Word Processors/Speech-to-Text - Speech-to-text technology is especially helpful for students with dyslexia or a physical impairment, as it allows them to dictate a paper or assignment and have it translated into a text document.
Digital Recorders - Students who struggle with ADHD and find themselves distracted in class often use digital recorders, allowing them to record lectures or classroom instruction and listen to it later in a space where they can concentrate.
Assistive Technology Centers - These centers typically provide a variety of services, including formatting materials or coursework to be accessible to students with different learning disabilities, training students or staff in the use of assistive technologies, and providing assistive technologies to those who require them.
Common Accessibility Apps
| | |
| --- | --- |
| | Available for all devices operating on Android 2.1 or higher, Big Launcher simplifies the user interface on your smartphone or tablet with enlarged, easy-to-read text and icons. Download the free demo version or upgrade to the full version ($9.99) for added features. |
| | Ideal for brainstorming and organizing concepts, Ideament lets you convert your charts and diagrams to text outlines (and vice versa). The Apple Store provides a free version and a paid version ($3.99) for both the iPhone and the iPad. |
| | Designed for those with dyslexia and dysgraphia, Ghotit Real Writer proofreads and spell-checks your writing using advanced grammar and phonetics capabilities. Features include speech feedback and integrated dictionaries. Available in the Apple Store for $99.99, this app requires iOS 9.0 or later. |
| | Available in English, French, and Spanish, Proloquo2Go helps those who struggle with language development and verbal communication by allowing them to use symbols to interact with others. With a variety of customization options, the app caters to a range of visual and cognitive skills. |
Wellness Strategies
Regardless of whether or not a student has a learning disability, college students are busy individuals with little time to ensure they are striking a balance between coursework and their own wellbeing. With a number of schools now hiring full-time staff trained to help students maintain healthy lifestyles, leaders in higher education are demonstrating their commitment to bettering the lives of all disabled students. Some of the services provided to help students with learning disabilities succeed include; learning access programs, counseling services, community wellness and health education, and assistive technology centers.
Examples of schools creating best practice models for incorporating wellness strategies include:
Meet Dr. Peter Eden
Prior to joining Landmark College, Dr. Peter Eden served as dean of arts and sciences and professor of biotechnology at Endicott College in Beverly, Massachusetts. He was a tenured associate professor and chair of the science department at Marywood University in Scranton, Pennsylvania. He was also a research fellow at the Jackson Laboratory and a visiting professor at the College of the Atlantic, both in Bar Harbor, Maine. Before that, he worked five years at Biomeasure, Inc. (Beaufour-IPSEN) in Milford, Massachusetts, and Paris, France, initially as a molecular biologist, then quickly advancing to research project director.
Dr. Eden earned his undergraduate degree at the University of Massachusetts Amherst. He completed his Ph.D. at the University of New Hampshire and his post-doctoral training at Massachusetts Institute of Technology in microbiology, molecular biology, and neurobiology.
He has published more than 20 scientific articles, received NIH and NSF grant funding for research, and led the development of innovative undergraduate and graduate academic programs.
What are the three most important attributes or characteristics a student with learning disabilities should consider when selecting a university experience and why?
1. Students should consider the breadth and depth of support for learning difficulties (LDs) - whether it's a learning disability such as dyslexia, or learning differences related to ADD/ADHD, or, autism spectrum disorder (ASD).
2. Make sure to read recent testimonials from students and/or graduates with a LD about their experiences at the institution. A student should be able to hear first-hand how similar learners succeeded at that particular institution; they should be able to gain clarity regarding the processes, growth, support, and which led to good outcomes. These outcomes could occur at any point in the path, and can be for big or small issues; all successes are important.
3. An ability to see evidence of how an institution integrates support for LDs in learning environments and across the residential areas is important. These should not simply be stacked on accommodation services or promises, but truly integrated curriculum-based programs and elements that are part of a larger, overall program ethos and operation.
How important is a university's community and resource availability for students with learning disabilities when deciding on a college?
This is critically important. If the community is not completely aware of the need to support students who learn and operate in adaptive and effective ways, the culture will not exist, and therefore students won't receive the comprehensive, 360-degree support they need in order to find success in and out of the classroom.
Resources are very important, but mean little if other elements engineered to help students avail themselves of resources are not present. This is why LD programs at traditional or mainstream institutions may be effective for quite a few neurodiverse students, but a dedicated LD model like at Landmark College (LC) is optimal for success.Seek evidence that the institution understands and incorporates elements of universal design for learning (UDL) into their curriculum. Not just in a few courses, but as part of an overall philosophy and operational tenet. The institution must recognize the importance of metacognition, i.e. the need for the students to be aware of and understand their own thought processes when it comes to learning in and out of the classroom on a college campus.
At LC, we have a dedicated advising model, coaching, and 360-degree support. While this level of infrastructure and programming is not available at nearly all other institutions, a college or university that recognizes, accepts, and enrolls students with LD, should have more than a modicum of understanding, expertise, and resources in these areas.
How do you suggest a student addresses stigmas that may be associated with learning disabilities on a college campus?
Self-advocacy is a core element of our program at LC. However, the students must be emboldened to advocate for themselves in a variety of settings. Students must feel the support of faculty and staff, and their peers. The entire institution must express its understanding that everyone is diverse in a variety of ways; neurodiversity is just one example.There is a growing body of research on stigma related to LDs, and students can take action by looking for ways to engage in this research. Ask what the school is doing to counteract LD stigma, and how they're incorporating students in the process.
What are some strategies to approach professors or campus resource centers if a student is feeling unsure?
At LC, the students have their dedicated advisor, often a coach, and certainly a number of residence hall-based Resident Deans and Resident Assistants for help in this area. At institutions lacking support infrastructure, I encourage students to use faculty office hours to build confidence in communicating with their instructors. Students should approach their professor or campus resource centers sooner rather than later, and assess how they can utilize any resources that are available. The student should talk with peers about campus resource centers and discuss it with any faculty or staff member they feel comfortable around.
What advice would you give to a student with a learning disability who is considering college?
Seek to understand your learning disability or difficulty from professionals who know you well. Learn how to appropriately advocate for yourself, or look for a college or university that will help you develop the skills you need for self-advocacy. Begin managing your own schedule. Make your own decisions about when to do homework. Also, make your own appointments with your teachers. Do as much as you can independently. It's okay to ask questions. Better stated, it is essential to ask questions.
What advice would you give students who don't believe they can attend college with a learning disability?
Be willing to change your own self-perception. Remember that it is often the environment for learning, not any weaknesses you may feel you have regarding learning, that is more important in terms of predictors for success. Tell yourself: "I don't know how to do this yet, but I believe I can attend college". Work to identify a goal or vision for yourself. Ask for assistance from educators or professionals and do not be afraid to set not just easily achievable goals, but also ambitious goals.
What are tools you see students with these challenges using to succeed once they get to college?
Assistive technologies, including text readers and speech to text software. As with any college student, a computer for academic purposes is needed; general technology use for managing communication including email, learning management systems, software, etc. A deliberate, omnipresent system will help students in organizing themselves and managing their time (electronic or paper planner). Students will benefit from what might be considered 360-degree support – for example, connecting with their professors and academic advisor, but also through coaches, residential staff, and other faculty.
What are some of the ways family and friends can support students with learning disabilities during this time of transition?
Check in. Take the time to talk with the student about their transition. Use curious questions such as "What have you tried?". Ask questions, consistently, such as "What are your ideas?" or "Who might you go to for help?". Focus on shared goals. Talk about ambitions for the future, even if they sound lofty. Also, work to leave the past behind and focus on the present. Encourage students to problem solve, using available resources within their institution.
What are ways a college should support students with learning disabilities? Where can students go for help if an issue does arise?
Make information accessible (over-communicate!) regarding the process of getting accommodations or information for support. Make this a part of orientation and every day support resources and messaging. If an issue arises, make sure students know who their 'team' members are. Here at LC, it would start with their advisor. If this issue is of a social or related nature, e.g. in the residence hall, the Resident Dean.
Scholarships
Additional Resources
AHEAD With a mission of helping students with learning disabilities achieve in higher education, AHEADD offers coaching, mentoring and self-advocacy skills for students with a variety of learning disabilities.
American Youth Policy Forum The AYPF maintains a series of webinars and YouTube videos that focus on helping students with disabilities transition to either college or a career.
Going to College This site specifically helps students with learning disabilities prepare for the transition from high school to college life.
The Viscardi Center Although the VC focuses on a lifetime's worth of programs and services for the disabled, they have a number of resources specific to college-aged students.
U.S. Department of Justice and Civil Rights Division The Americans with Disabilities Act provides a comprehensive description of Title II and how it serves and supports individuals with disabilities.
---
Editor's Note: This article contains general information and is not intended to be a substitute for professional advice. Please consult a professional advisor before making decisions about health-related issues.
---
Mississippi community colleges offer many educational opportunities. Find out more about these schools, the state, and in-demand occupations. Learn about online bachelor's in healthcare management programs, career opportunities, job growth projections, and salaries. South Carolina is a great place for students to attend community college and prepare for careers in high-growth industries like biotech and aerospace.