Resource Guide for Students with Learning Disabilities
Students with learning disabilities sometimes find college overwhelming. Find resources, and discover different types of learning disabilities.
Image Credit: Kemal Yildirim / E+ / Getty Images
---
Students with learning disabilities sometimes need extra support in school.
In 2021, nearly 20% of college undergraduates had learning disabilities.
Learning disabilities manifest in a variety of ways, including in social situations.
---
Learning disabilities often go undiagnosed until a person who is neurodivergent has been in a specific situation. For example, dyslexia was undetectable until societal demands required people to read. Now that a formal education requires significant reading, dyslexic students may experience disability at school.
In 2021, the National Center for Educational Statistics (NCES) reported that 19.4% of college undergraduates reported being disabled in 2015-2016. These students face various challenges, including comprehending verbal and nonverbal information, processing subject-specific concepts, and planning and organization. This resource guide illustrates the different types of learning disabilities and offers resources for students with disabilities.
What Are Common Learning Disabilities?
Dyslexia
Students with dyslexia experience challenges related to reading. While not all dyslexic students share the same experiences, these learners commonly have difficulty recognizing and breaking down the sounds of letters and retrieving previously-known words. Other common challenges include recalling phone numbers, addresses, and anything related to rote memory, spelling, and cursive writing.
Dyscalculia
Dyscalculic students struggle with math-related concepts. Otherwise known as "number dyslexia," dyscalculia might mean a student finds it difficult to count backward and forward. Dyscalculics commonly struggle to solve simple math problems, sequence numbers, connect numbers to amounts, and read analog clocks.
Dysgraphia
Students with dysgraphia are challenged with written expression. Holding a pen is difficult for many, making it difficult to stay within the margins. And many dysgraphics are challenged by grammar and sentence structure and find it difficult to organize their thoughts when writing. There is often a distinct difference between dysgraphic students' written and spoken experiences.
Attention-Deficit/Hyperactivity Disorder (ADHD)
Despite its name, ADHD is not solely a deficit in attention and not everyone with ADHD experiences hyperactivity. Learners with ADHD are often challenged by an abundance of attention, making it difficult to regulate and control their focus. They sometimes also have difficulty with executive functioning, sensory sensitivities, and social environments.
Nonverbal learning disability (NVLD)
NVLD affects social skills and abstract thinking, despite strong verbal skills. College students with NVLD may excel academically but struggle with executive functioning, sensory and social environments, and picking up on nonverbal cues. Teachers may miss signs of NVLD, leading to students being viewed as inattentive or defiant.
How do you suggest a student addresses stigmas associated with learning disabilities on a college campus?
"In order to eliminate and address stigmas that may be associated with learning disabilities on campus, a student can join a group or start an organization on campus that openly supports and respects everyone's understanding of learning disabilities. The student can utilize this platform to hold events and foster and cultivate a genuinely inclusive collegiate campus."
— Margaret Rose McDonnell
The Transition to Higher Education for Students with Learning Disabilities
Students with learning disabilities may face significant challenges in higher education, which could be minimized or eliminated if their environments allowed students, professors, and staff to access support or make effective accommodations. Some students may find social environments challenging. Others must manage sensory sensitivities or spatial unawareness.
And students with ADHD may have difficulty with executive functioning, which includes time management and planning abilities. Students who struggle with executive functioning may miss deadlines or classes. Dyslexic, dysgraphic, and dyscalculic students generally notice having difficulty in specific subject areas.
Due to the Americans with Disabilities Act (ADA), which prohibits disability discrimination by public entities, disabled students can access accommodations and other resources at their schools. The ADA offers a general definition of disability, which is an "impairment that substantially limits one or more major life activities." When considering that a lack of accommodation can be the impairment that makes a student's neurodivergence, disability, or characteristic a challenge, students may find it vital to become familiar with and use the protections the ADA provides.
What advice would you give to a student with learning disabilities who is considering college?
"First and foremost, I would encourage a student with learning disabilities to research and work with their guidance counselor and college coach in high school to become better acquainted with the various types of services offered at potential schools.
"A student should also attend college fairs to meet with prospective admissions specialists and to discover their academic offerings. At these fairs, a student can request if it is possible to speak with a fellow student to discuss and talk about their experiences and overall engagement in higher education.
"Equally important is for that student to schedule and attend a campus tour. Prior to attending this event, the student should request a meeting with various areas on campus that offer assistance and academic services to students with learning disabilities. This way, the student and their family members can receive greater knowledge on what types of on-campus support are offered."
— Margaret Rose McDonnell
What College Accommodations and Assistive Technology Are Available For Students with Learning Disabilities?
Assistive Software and Technology
Colleges and universities offer a wide range of adaptive technology for students facing challenges in traditional learning environments. These may include word-prediction apps to help dyslexic students process text, augmentative and alternative communication (AAC) software that speaks for nonverbal students, time-blocking software to help ADHD learners stay on task, and stress management tools.
Reduced Course Loads
Some schools offer reduced course loads for disabled students, including those who experience processing challenges and those with limited energy. This accommdation allows students to maintain full-time status while taking a smaller course load. Interested students should check with their school's disability services office.
Extra Time for Assignments and Tests
One common disability accommodation is extra time on tests. Students whose disabilities make it difficult to complete timed tests can request extra time. Some schools require documentation; others require students to have a lower-than-average speed in cognitive processing, such as slowness in reading comprehension as documented by standardized assessments.
Notetakers
Students who struggle to learn in traditional environments can request notetakers, which help give disabled students access to the information they would not have without support. Different schools have different notetaking policies. Some classes might have designated notetakers; in other cases, an instructor may share notes from their lectures.
Campus Resources
Students with learning disabilities may have access to on-campus support services. Schools' offices of disability services coordinate with instructors and other departments to provide accommodations. Disabled students can also seek out student groups to meet peers with similar disabilities. They can also find resident directors who are trained to support students with disabilities.
Hybrid Schedule / Adjusted Attendance Policy
Many students with learning disabilities benefit from online and hybrid learning environments. For example, remote learning offers flexibility and can help students avoid overwhelming or distracting environments. Learning from home makes higher education more accessible to students who experience bullying and other discrimination for their disabilities. Remote learning may also work well for students who need certain software or lighting and acoustic conditions.
Community Resources
Community-based organizations that support disabled students sometimes partner with colleges and universities. Students should research resources within the surrounding community in addition to campus disability services.
What are some strategies to approach professors or campus resource centers if a student is unsure about whether they should ask for support?
"When a student is feeling unsure or has experienced any difficulties, it is essential for them to articulate and discuss these issues with their professors. The first strategy I would encourage a student to do is schedule a meeting or drop by their professors' office and express precisely what they are feeling. Before or after class, a student can also talk with professors to request support or help.
"The same can be done for campus resource centers, but a student should be sure to seek out the director or manager of these departments to schedule a meeting. A student can also work with a peer mentor or support specialist to receive the resources and assistance they need to succeed in their educational journey."
— Margaret Rose McDonnell
Mobile Apps for Students With Learning Disabilities
Stay Focused is a Google Chrome extension that allows students to block time-wasting websites. This software uses task time tracking technology to break tasks into smaller, manageable portions. This can help students avoid social media and other time-wasting sites, boosting productivity.
Web Captioner provides real-time captioning, making lectures and events accessible to students who struggle to process speech. The captions appear within seconds, and the software is customizable, allowing students to change their language, font, color, background, and text position.
Powered by artificial intelligence, Ginger is a free writing assistant that provides context-based corrections in real time. Ginger is available both as a Google Chrome extension and as a desktop app. The software can help boost students' creativity and increase writing speed.
The Dyslexia Toolbox is a Google Chrome extension that facilitates reading for dyslexic students. The software changes website fonts to OpenDyslexic, a font made for students with dyslexia. It also hides portions of pages to allow users to concentrate on specific passages of text.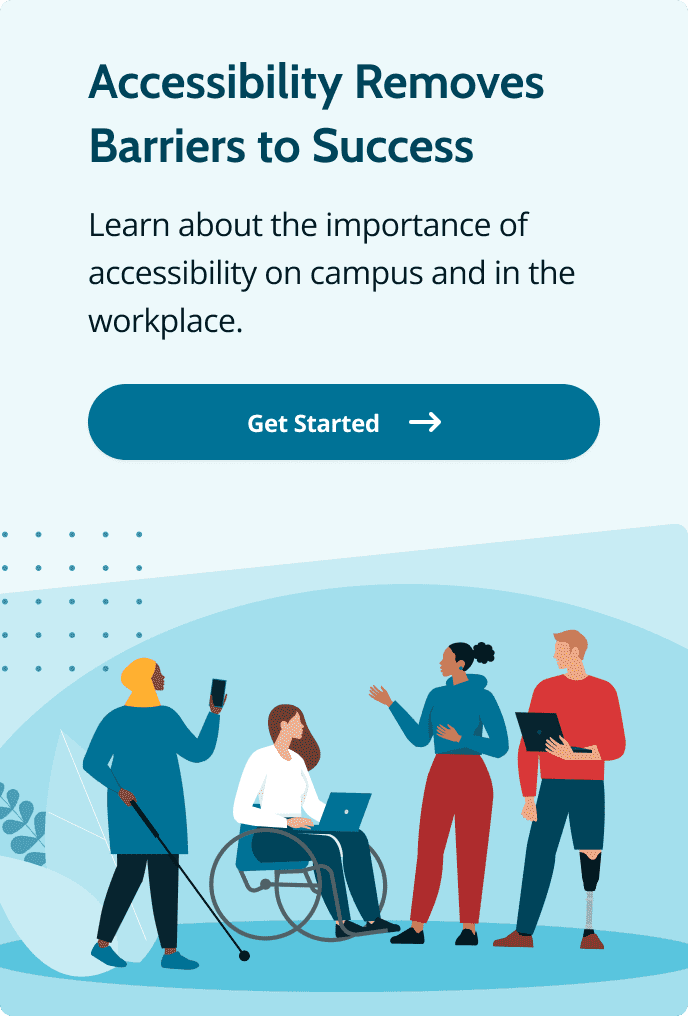 Resources For Students With Learning Disabilities
Frequently Asked Questions About Students With Learning Disabilities
Who are students with learning disabilities?
Students with learning disabilities are neurodivergent people enrolled in school and may struggle in certain subjects or environments.
What challenges do students with learning disabilities face?
The range of challenges students with learning disabilities experience includes math, reading, writing, planning, and organization. These learners may also face bullying and discrimination, especially in social settings. For students whose neurodivergences include sensory sensitivities, working well in traditional learning environments can be difficult.
Can you go to college if you have a learning disability?
Absolutely. According to the NCES, nearly 20% of undergraduates reported a disability during the 2015-2016 academic year. Those who choose to enroll in college and who have learning disabilities may find it useful to advocate for any needed changes in their environments. They can consult the ADA to make sure their colleges accommodate them and enable them to succeed.
Do colleges know if you had an IEP?
Colleges will only know if a student has an Individualized Education Plan (IEP) or 504 plan if they share this information with their school's disability services office. Colleges and universities do not use IEP or 504 plans as the Individuals with Disabilities Education Act (IDEA) doesn't apply to students who have graduated from high school.
With Advice From:
Margaret Rose McDonnell
Margaret Rose McDonnell has over 22 years of experience working in multicultural environments as an administrator, educator, speaker, and community liaison. Margaret Rose developed two distinct offices at Saint Xavier University: the Learning Center and Disability Services. These evolved from a small center for remedial tutoring and disability support into fundamental facilities for all students, with faculty involvement. Students who take advantage of these offices come from all ability levels, all programs, and all stages of their education (including graduate students).
Margaret Rose is the director of the Center for Accessibility Resources at Saint Xavier University. She works closely with students and faculty, providing services and academic assistance to students with disabilities. Margaret Rose received a BA and a M.Ed. from Saint Xavier University.