College Guide for Students with Visual Impairments
The National Federation for the Blind estimates, that in 2015, 7.29 million adults reported to have a visual disability. In 2015, 42% of blind or visually impaired individuals were in the workforce, but less than 15% had earned a bachelor's degree at an accredited higher learning institution. In contrast, more than a quarter do not finish high school. Data also suggests that as many as 29% of people who are blind or visually impaired currently live below the poverty line.
Individuals who are blind or visually impaired face unique challenges in the classroom. Instructors can ease these struggles by offering different accommodations for students with visual disabilities and structuring courses around these learners. Our guide for students with visual impairments explores the different accommodations and teaching strategies that allow these learners to receive a proper education and enter the job market as qualified professionals.
Defining Visual Impairment
First, let's discuss some fundamental terminology. Most individuals with a visual disability fall under one of three categories:
true
Visually Impaired
The American Foundation for the Blind (AFB) defines vision impairment as "a visual acuity of 20/70 or worse in the better eye with best correction, or a total field loss of 140 degrees." Visual impairment may also be affected by limited ability to adapt to light or darkness, sensitivity to light, light/dark contrasts or glare. Vision that falls between 20/200 and 20/400 is defined as severely impaired, while vision from 20/500 to 20/1000 is categorized as profoundly impaired.
The Royal Institute for Deaf and Blind Children notes that visual impairment most commonly affects visual acuity, sharpness or clarity of vision, visual range, and color perception. Possible causes of impairment include genetic conditions, in utero infections, birth complications, disease, trauma and old age. Visual impairment is also known as 'low vision'.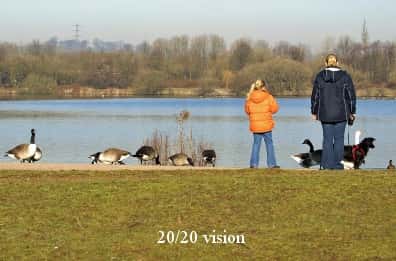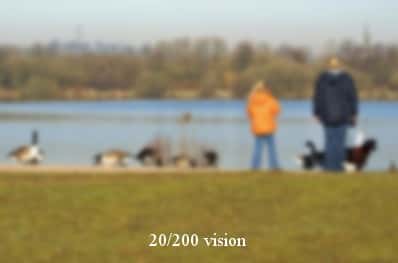 Legally Blind
Technically, legal blindness refers to any level of vision loss that qualifies an individual for specialized education, job training, accommodating devices, disability benefits and tax exemption. Individuals who are legally blind can typically use their vision to some extent.
According to the AFB, "the clinical diagnosis refers to a central visual acuity of 20/200 or less in the better eye with the best possible correction, and/or a visual field of 20 degrees or less." Visual acuity is a person's ability to distinguish objects from a certain distance and is measured using a Snellen Eye Chart; the smallest letter visible from 20 feet away to someone with 20/200 vision is discernible from 200 feet away to an individual with average vision. Visual field is the total area (in degrees) visible to an individual when facing forward without moving their eyes from side to side.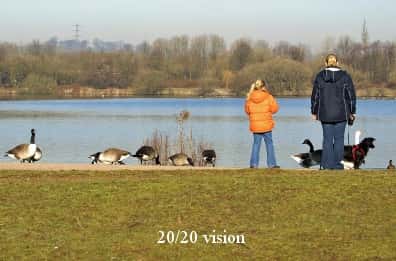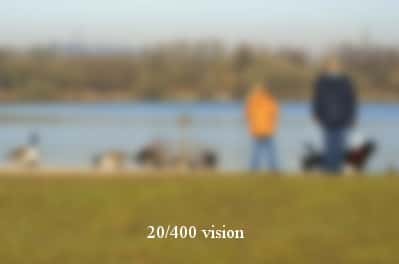 Total Blindness
The AFB defines total blindness as the "inability to see anything with either eye." This condition is normally caused by diseases of the eye, such as glaucoma, cataracts, Late-Onset Retinal Degeneration (L-ORD), and/or Stargardt's Disease. Advanced diabetes may also contribute to total blindness. Due to the lack of light perception, totally blind individuals may also develop Non-24, a disorder that affects daily circadian rhythm and causes them to fall asleep during the day.
The World Health Organization (WHO) estimates that there are 285 million visually impaired people in the world. The organization also estimates that 82% of people living with blindness are aged 50 and above.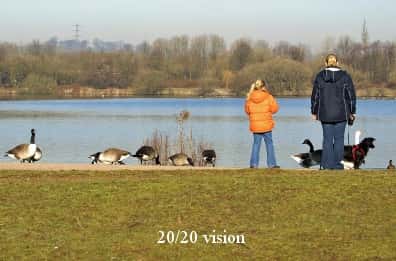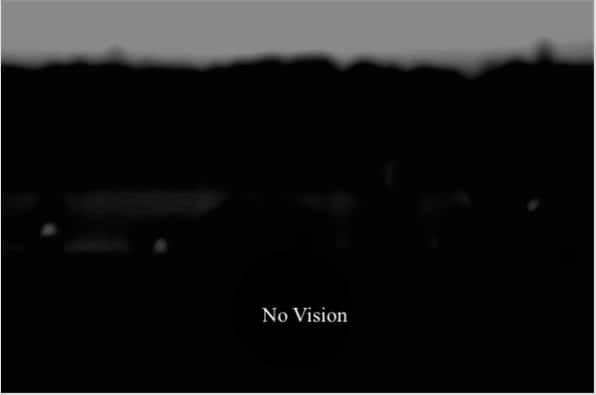 Data on Visual Disability in Colleges
62,528 U.S. students attended elementary or primary school in 2016 and qualified for Braille, large-print, or audio-based learning materials. Of these:
Additionally, a 2015 survey found there were 6,833,000 blind or visually impaired individuals in the U.S. between the ages of 16 and 75+ who were classified as 'non-institutionalized'. Of these:
Among all blind or visually impaired individuals in the U.S. between the ages of 21 and 64 who are classified as 'non-institutionalized':
Source: National Federation for the Blind
Statistics for blind/visually impaired individuals
in the U.S. 21-64 who are non-institutionalized:
The median annual income is $37,600
29% (1,052,500) live below the poverty line
42% (1,526,100) are employed in some capacity
1,019,100 are employed full-time
Transitioning to College
Transition planning is an important step for students who are classified as blind or visually impaired. According to Carmen Williams, a teacher of visually impaired students, most students with a visual disability are generally expected to be relatively independent learners by their senior year of high school. Those who use assistive technology should be able to operate and maintain their equipment without help from their instructor or other students in the classroom.
Ideally, the student will meet with a career counselor during this phase to develop an Individual Plan for Employment (IPE). A primary goal of the IPE is to explore different 'post-school activities' related to the individual's career plans; these activities commonly include:
A degree program at an accredited postsecondary institution
Job training
Integrated and/or supported employment
Adult services
Independent learning services; usually through a non-profit community organization
Most IPEs call for at least some college education. The Americans with Disabilities Act and Section 504 of the Rehabilitation Act require college campuses to offer learning facilities that are accessible to all students (regardless of disability) and educational devices designed to accommodate students with different disabilities. However, the quality and availability of these facilities and materials will vary from school to school. An article from Inside Higher Ed in 2013, examined a lawsuit against Louisiana Tech University after the school was accused of providing materials that limited accessibility for blind or visually impaired students.
Students who are blind or visually impaired face unique social challenges at higher learning institutions. A 2015 article from USA Today profiled legally blind college students across the U.S. who described awkward conversations with academic peers inside and outside the classroom. Mickey Damelio, a teacher for visually impaired students at Florida State University, emphasized the need for dedicated advocates for students with visual disabilities. "If vision teachers have done their job right, visually impaired students are going to experience the same things in college as sighted kids," he noted. "They'll be offered drugs and sex, and have the necessary skills to make the right choices, and not become a victim."
---
HOW SCHOOLS ACCOMMODATE STUDENTS WITH A VISUAL DISABILITY
Most academic experts agree that Universal Design of Learning (UDL) is key for integrating blind and visually impaired students into the college classroom dynamic. UDL addresses and modifies course curricula that exclude any student, particularly those with a disability that affects their ability to learn and/or receive instruction in a class setting. In order to create universally accessible courses, postsecondary institutions must take the following steps to ensure their classes and campuses are completely inclusive:
Modify course instruction to meet the needs of every individual learner. For blind and visually impaired students, this means the availability of auditory software, large-font presentations and/or Braille materials.
Allow students with special needs to complete coursework, give presentations and take exams using alternative formats.
Work with students with specific needs to gain access to adaptive software and technology that helps them learn effectively.
Appoint individuals who can assist these students as note-takers, readers, scribes or other essential roles.
Offer students with special needs additional time for assignments and tests, as well as getting to class.
Ensure all classrooms, dormitories, dining halls and other facilities are completely accessible to every student, regardless of disability.
Guide students with disabilities to specialized counselors, resource centers and other on-campus services dedicated to assisting these individuals.
---
Assistive Technology
Specialized software, devices and other forms of technology have removed many academic barriers and allowed students with disabilities to receive a proper education. As mentioned above, postsecondary institutions are required by federal law to offer accommodations to all students with disabilities; most campuses maintain assistive technology centers where these learners can acquire the necessary equipment and materials.
Some of the most common forms of adaptive technology for students who are blind or visually impaired include the following:
Popular Assistive Apps
| | |
| --- | --- |
| | Ariadne GPS features fingertip-accessible maps to help guide people with visual disabilities wherever they travel (as long as the area is covered by Google Maps). Special alerts indicate crosswalks, bus stops and other important landmarks. |
| | Using the same audio processing techniques employed by the ears, BioAid enhances sound clarity and adjusts the volume of ambient noise. |
Student Interview
We interviewed Robert Sabwami of Wright State University about his experience as a visually impaired student attending college. He offered some advice for other students.
What are some key factors in choosing the right school?
The number one factor to consider would be whether or not the school has an active office of disability services. It is my assumption that many schools have services for people with disabilities, however, the nature of services provided divides apples from oranges. Some institutions provide quality services, whereas others only offer generic services.
Another factor would be the number of people with disabilities attending the school. It is almost certain that schools with very few students with disabilities (or ones with none at all) will have basic to no services available. Indeed, it would be quite odd to find oneself as the only one with a disability out of an entire campus. Accessibility is yet another crucial factor to be considered while hunting for a school. Essentially, accessibility determines students' participation and success in a wide array of areas.
How is the accommodation process when working with professors/disability services?
In my experience, the process of communicating accommodation requests has been quite smooth. Most professors are cognizant of the needs of students with disabilities. I've only had a few incidents where professors appeared oblivious to the unique needs of students, or they decided to blatantly ignore them. Consequently, it's best if the Office of Disability Services also focuses on providing official communication regarding accommodations to faculty on campus on top of communicating with the students themselves.
What are key factors in your studies that make you successful?
In terms of success, my achievements squarely hinge on the services provided by the Office of Disability Services. Not only do reasonable accommodations count, the quality of the relationship between the student and staff means a lot. Of course self-determination, commitment, and the need to work hard cannot be overstated as important to my success.
You're the student, can you offer any additional advice to students?
First and foremost, my counsel would be to embrace patience as a virtue. I understand some of our concerns can be frustrating, however, the manner in which we present ourselves while waiting for services or intervention determines the kind of responses we get. It would be irrational to brush officials the wrong way while expecting quality services.
Another point is being proactive. As we expect services to come our way, it is important to take full responsibility of our education. This aspect has a direct bearing on grades. If, for whatever reason, something had to be done, and it wasn't, it should never turn out that it is because of our own negligence. Let it be that someone slept on their job and not you. I have always reminded myself that grades are permanent.
I cannot sign off without mentioning the importance of networking. I have come to appreciate the feeling of camaraderie, especially when faced with tough times in the college experience. It is very important to establish meaningful relationships that we carry on even after completing college. We ought not to be limited just to our close friends, we need to reach out to faculty and other professionals as well.
Summary & Wellness Strategies
Integration and inclusion are key to a successful college experience for any student who is blind or visually impaired. While federal regulations are in place to ensure accessibility and accommodation for all disabled students, college applicants should carefully research all of their prospective academic destinations in order to learn about campus services, dedicated personnel, available accommodations, and other resources. Once a choice has been made and an offer of acceptance has been granted, the student should immediately contact the school's office for disabled students. Depending on the institution, the student may be able to chat with their future disability counselor ahead of on-campus relocation.
Students with visual disabilities should also make time to speak with each professor at the beginning of every semester/quarter. These private conversations allow the student to ask questions, share concerns and inform the instructor about all of their specific classroom needs. These talks also open the door for further discussions about assistive technology and learning accommodations. Any blind or visually impaired student that enrolls in a class taught by an instructor who refuses to offer the required accommodations should immediately contact their disability counselor and/or the school's office for disabled students.
Life outside the classroom is just as crucial for college students. Blind or visually impaired learners are urged to frequently visit their school's disabled students center to learn about gatherings, trips, and other upcoming events that are designed to incorporate individuals with visual disabilities. Disability counselors can also assist these students with any personal or social issues that arise throughout their program.
Below you'll find a list of academic scholarships for blind and visually impaired students, as well some additional organizations dedicated to assisting visually disabled individuals and promoting their inclusion.
Scholarships
Additional Resources
The AFB fights stigma and promotes inclusion of Americans who identify as blind or visually impaired. The AFB was founded in 1921 and came to prominence when notable blindness advocate, Helen Keller, began to work with the organization in 1924.
The NFB seeks to eliminate society's reduced standards and low expectations of blind and visually impaired individuals in order for them to reach their full potential. The NFB was founded in 1940 and boasts 50,000 members, making it the largest organization in the country dedicated to visually disabled individuals.
Founded in 1961, the ACB strives to recognize the strengths of blind and visually impaired individuals nationwide. The organization has historically played a prominent role in promoting disability legislation (including Section 504 of the Rehabilitation Act) and advocating for changes in social security that benefit individuals with visual disabilities.
Founded in 1905, this organization provides a comprehensive database of healthcare providers and facilities that specialize in treating patients with visual disabilities. Health plans are also offered to qualifying individuals.
The USABA supports blind and visually impaired athletes of all ages. The organization is affiliated with the U.S. Olympic Committee and offers programs in a wide range of well-known Olympic sports, including goalball, a team sport designed for participants with visual disabilities.
---
Editor's Note: This article contains general information and is not intended to be a substitute for professional advice. Please consult a professional advisor before making decisions about health-related issues.
---
Learn about online bachelor's in healthcare management programs, career opportunities, job growth projections, and salaries. South Carolina is a great place for students to attend community college and prepare for careers in high-growth industries like biotech and aerospace. A guide to educational opportunities offered at the best community colleges in Oregon and career paths that await graduates.