Mental Health for Hispanic and Latino/a Students
Learn more about Latino/a mental health, what barriers can limit care, and how to find support and resources.
Image Credit: FilippoBacci / E+ / Getty Images
---
Latinos/as receive mental health support at lower rates than the national average.
Colleges may offer direct and indirect mental health services that lead to positive outcomes.
Latinos/as, like students from other population groups, face many mental health obstacles that impact their access to support.
In many Hispanic-serving institutions (HSIs), Latinos/as have access to specialized resources for information, guidance, and support.
---
According to Mental Health America (MHA), more than 10 million Latinos/as across the country reported having a mental health condition in 2017. That amounts to 16% of the Latino/a population. For comparison, 17% of all U.S. adults have a mental health condition, according to the American Psychiatric Association.
A national survey from the Substance Abuse and Mental Health Services Administration (SAMHSA) shows the instances of serious mental health disorders rising within the Hispanic 18-49 age group. However, only 34% of Latino/a adults receive treatment, compared to the 45% national average.
Hispanic mental health conditions stem from the same stressors faced by the general population. There are also additional contributing cultural and societal factors, such as contemporary and intergenerational trauma from immigration, acculturation, and racism. Economic Inequalities factor in as well. Like other groups, Latinos/as living in poverty report psychological distress at higher levels of those living over twice the poverty level, according to the Office of Minority Health.
While many schools support mental health in college students, some don't. In addition, these services are not one-size-fits-all. There is a significant need for specialized Latino/a mental health services, including culturally and linguistically appropriate programs. In an effort to increase visibility and access to specialized support channels, this guide highlights the mental health services and mental resources available to students.
How can Hispanic and Latino/a students find the right mental health care for their needs?
Angedith Poggi, DHSc & MPH
As a first-generation college graduate and Hispanic professional, I understand the importance of mental health among Hispanic/Latino and first-generation students in higher education. Self-evaluation is key to finding the right health care for our needs — mental health care is no exception. Health education is needed to understand the symptoms, feelings, and emotions that psychosocial stress may cause on your body. Do not be afraid of speaking about your needs. Seeking mental health support is not a weakness; it is a strength that shows you are putting yourself first.
Types of Mental Health Support for Students
Colleges can provide mental health support by offering access to support networks, centers, programs, and learning resources. Students can speak with in-person and teletherapists, find resources in libraries and counseling centers, and participate in support group discussions and health and wellness programs.
Schools have introduced mental health hotlines and websites, along with emergency response support channels for immediate help. Institutions may also provide mental health workshops for educators and staff, give students access to mental health screening tools, and run speaker series, seminars, and contact-based education.
Schools support mental health in college students indirectly as well, such as increasing mental awareness and reducing mental health stigma on campus. They achieve this by empowering students through mental health literacy and by endorsing student voices.
Your school's mental health resources might be found by asking for the mental health office, mental health clinic, or a mental health services building. Consider asking a dorm leader, professor, or college advisor for help in finding these campus mental health resources at your school.
For Latino/a mental health specifically, many schools also form community partnerships and run outreach programs.
Barriers to Mental Health Support for Hispanic and Latino/a Students
The disparity of access to mental health treatment among the Latino/a population compared to the national average highlights an unmet need. Latinos/as face a number of barriers that obstruct their access to mental health services. According to the American Heart Association, Latinos/as fear they will face discrimination for seeking help, possibly feeling more othered both inside and outside their community.
These fears are valid. According to the American Psychological Association, racial and ethnic minorities with serious mental illness experience higher rates of involuntary hospitalizations, over-diagnosis of schizophrenia, and higher antipsychotic medication dosages. The historical mistreatment of people of color has also contributed to a mistrust of American medicine for many Latino/a people.
When seeking help, the Latino/a population encounters language and cultural barriers from the predominantly white mental health field. This can lead to miscommunications and misdiagnoses. Having to communicate in English adds discomfort to an already unsettling situation, and a lack of familiarity with culture-bound syndromes among mental health professionals might cause misunderstandings.
Many Latino/a communities attach stigma to mental illness and treatment as well. Older Latinos/as may feel shame and embarrassment about mental illness, which prevents them from seeking help. Some Latino/a families deny the validity of mental illness, assigning it a religious meaning instead.
Latino/a mental health services also often face financial and legal barriers restricting access. According to the U.S. Census Bureau, Latinos/as live in poverty at twice the rate of white people and lack medical insurance at nearly three times the rate of white people, as of 2019. For undocumented Latino/a immigrants and their family members, an additional obstacle is the fear of deportation.
What barriers exist that prevent Hispanic and Latino/a students from finding mental health support?
Annia Palacios
One of the most significant barriers can often be the family we grew up in. Many families do not openly discuss mental health. Even if they do, they often see it as something that can be fixed within the family or their faith. Families do not always understand the signs, symptoms, and prevalence of things like anxiety or depression, so though they have good intentions to help, they can often respond by minimizing, invalidating, or trying to help [their children] "fix" themselves -- even when [conditions] might be best supported by a therapist or professional.
Choosing the Right Mental Health Support for You
Choosing the appropriate support channel can often be essential for positive Latino/a mental health outcomes. It can help to know what type of care you might need. This process starts by trying to understand what you are feeling. Finding a mental health professional from a similar ethnic background or who speaks the same native language might ease the transition.
You may wish to search for Latino/a or Hispanic mental health providers or look for professionals who work in Latino/a communities. Think about location, as travel time and expenses can become an obstacle over time. You should also consider cost and insurance coverage. Your insurance may only cover specific mental health services.
Some insurers go through the referral system from a primary care doctor. While you should do all the necessary preparation and research, you may need to speak to a few different professionals to find the most compatible option. If you experience a mental health crisis without the support of a professional, you can use mental health coping strategies or contact an emergency response line.
What advice would you give first-generation students seeking mental health support?
Annia Palacios
Mental health support is not something we need -- it is something we deserve. Just like we care for our physical health, we deserve to take the time to care for our mental health. There is no shame in seeking support and going to therapy. The right therapist for you is out there and you deserve to find support.
Angedith Poggi, DHSc & MPH
Become familiar with the effects of psychosocial stress on your health and well-being. Identify practices that you can start doing today to manage and control the stress and any other factor that affects your mental health. Practice healthy habits, such as eating healthy, sleeping well, starting a new hobby, enjoying quality time with your loved ones, and prioritizing self-care. Also, you may find mental health support from family and friends — be intentional about spending quality time with the positive people in your life, or enjoying your own company. When seeking mental health support from professionals, try to find health care professionals who understand your daily struggles as a Hispanic or Latino/a student.
Mental Health Resources for Hispanic and Latino/a Students
MHA provides information and resources on mental health for the Latino/a community. Visitors can find a wealth of Spanish language materials as well.
This resource helps Latinos/as find mental health professionals. Users can search the database and membership directory for professionals based on location, name, or insurance provider.
This organization aims to destigmatize mental illness in the Latino/a community by running workshops, podcasts, and speaker series. Visitors can also find a therapist directory and wellness resources.
On this website, visitors can find articles on self-care and mental health written by a Latina mental health professional.
This organization connects a network of long-term care and service providers to the Latino/a community. They also run advocacy programs and provide access to research and resources.
This agency strives to improve racial and ethnic minority health outcomes through policy development, programs and funding, and improved access to resources.
SAMHSA's Hispanic and Latino/a section provides access to healthcare information, programs and initiatives, and behavioral health resources.
The MTTC provides training to mental health professionals working with Latino/a and Hispanic communities. The network also provides resources, events, and ongoing projects.
NAMI provides information on Latino/a mental health, along with general mental health resources, education programs, and advocacy efforts.
The ASHP collaborates with mental health professionals to better serve the Latino/a communities. They advocate for improved policies and promote specialized research and education on Latino/a mental health.
Take Time to Prioritize Self-Care
Give yourself time and space to focus on you. Explore our collection of mental health resources to find support.
Learn More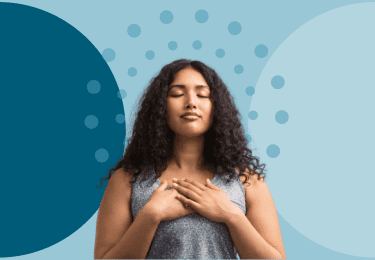 Frequently Asked Questions About Mental Health
How is mental health support viewed in the Hispanic community?
Sometimes, individuals within certain communities, including some of the Latino/a and Hispanic ones, perceive mental health issues with various levels and forms of hesitancy. There is a history of mistreatment of people of color in American medicine that gives the need for mental health support a negative reputation. Furthermore, Latinos/as often face discrimination, and the fear of adding to that can dissuade individuals from disclosing mental illness.
There may also be religious and cultural reasons why the Latino/a community may seek mental health support at lower rates than the national average. Mental illness may bring about feelings of embarrassment in some. Others simply do not believe in the medical causes and effects of mental illness.
What are the most common mental health problems?
According to a 2018 American College Health Association (ACHA) survey, the top mental health challenges for students included anxiety, depression, suicidal thoughts, panic attacks, and attention deficit disorders. Other common mental health disorders in college students include obsessive compulsive disorders, bipolar disorders, eating disorders, and addiction.
In the ACHA survey, more than 62% of respondents felt overwhelming anxiety in the previous 12 months. Over 41% of respondents were so depressed they found it hard to function. Furthermore, over 11% of respondents reported seriously considering suicide within the previous 12 months. If you or someone you know needs it, call the National Suicide Prevention Lifeline at 1-800-273-TALK (8255) or text HELLO to Crisis Text Line at 741741.
How does mental health affect social health?
Mental health issues can affect all aspects of a person's life, including their social relationships. Mental illness can lead to isolation, which breaks down bonds with family and friends and disrupts employment. This can distance the individual from the very people and functions that may be able to help them. Mental illness can also lead to behavioral issues, loneliness, and substance abuse.
Many social relationships come with health benefits as well, so mental health-induced isolation can have a negative compounding effect. Students should also be aware of how social media influences mental health perceptions. Manicured social profiles can mask mental health issues in the general public and cause social media users with mental illness to feel more alone and isolated.
With Advice From:
Annia Palacios
Annia Palacios is a Licensed Professional Counselor and owner of Tightrope Therapy, an online therapy and coaching practice. She is a first-generation Mexican-American and was the first in her family to pursue higher education in the United States.
Today, she is a mental health therapist working with many first-generation women and people of color as she helps them navigate the mental health challenges that come with life, work, and motherhood.
Angedith Poggi, DHSc & MPH
Angedith Poggi is a first-generation Latina professional and an educational consultant helping nontraditional college students achieve their academic and professional goals.
She has been an adjunct professor for over 5 years. Dr. Poggi holds a doctorate in Health Science with a concentration in Education and Global Health.
DISCLAIMER: The information provided on this website is not intended or implied to be a substitute for professional medical advice, diagnosis, or treatment; instead, all information, content, and materials available on this site are for general informational purposes only. Readers of this website should consult with their physician to obtain advice with respect to any medical condition or treatment.