How to Fund Technology for Your Online Education
Learning online helps students save money in many ways, but it can also be a financial strain in some ways. For example, students may need to spend money on a new computer, software, and a faster internet connection. These costs can easily exceed $1,000.
Luckily, many hardware and software companies provide valuable discounts to college students. This article introduces a few discounts on popular technology, including how much money you can save and what products and services can make your academic journey more successful. Use this article's embedded links to learn more about technology tools and discounts you can claim.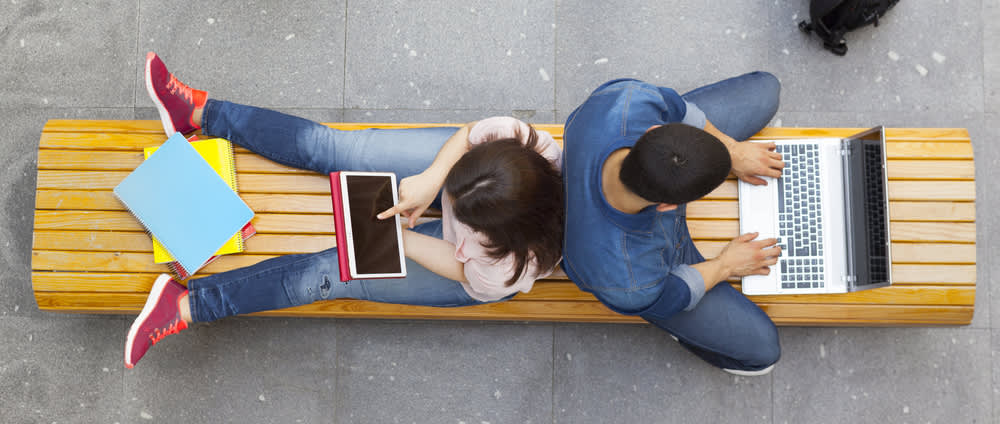 What Tech Can Students Get for Free or at a Discount?
Nearly all computer manufacturers offer hardware discounts to college students; you can learn more about these opportunities in this article's final section. Additionally, you can save even more money by looking for software discounts that target college students.
Microsoft offers students and teachers Office 365 Education at no charge, as well as one terabyte of cloud storage. College students also qualify for a 50% discount on Evernote -- a powerful note-taking tool that works on computers and mobile devices.
Outside of educational apps and software, college students should know how to manage money. A valuable money management tool -- You Need A Budget -- offers a one-year free subscription for students.
How Much Can Students Save By Taking Advantage of These Offerings?
Combined, the three discounts in the previous section can save learners over $200. This figure equates to 1-2 new college textbooks; a few months of high-speed internet service; or a good portion of the cost of a midrange, reliable laptop. For this reason alone, every college student -- not just online learners -- should research relevant discount programs. Individuals can access these discounts the moment they receive a college or university email address.
However, as you find new discounts, consider whether a product or service actually addresses your needs. You do not want to buy something that does not benefit you.
Tech That Makes Online Learning Easier
Preparing for online learning starts with buying a reliable laptop that can run the software your college or university requires. Make sure your computer has a webcam and microphone, as many college courses and services use videoconferencing. Fortunately, even relatively inexpensive laptops have this type of technology preinstalled.
Working on a laptop means you can take the classroom with you, but prolonged use can lead to health issues such as a sore neck and poor posture. Consider investing in a laptop stand, as well as a portable keyboard and mouse. Other accessories you should look into include a pair of noise-canceling headphones -- a wise investment if you have trouble finding a quiet place to study.
Your college should offer some tutoring support, if you find yourself struggling with a course. However, virtual tutoring sessions do not work well for all learners. Fortunately, free services like Khan Academy provide engaging lessons on hundreds of subjects.
Best Technology Discount Programs for Students
This list highlights some of the best hardware and software discount programs for college students.
College students can access Adobe Creative Cloud -- a service that combines Photoshop, Lightroom, and Illustrator, among other programs -- for only $19.99 per month. This equates to a 60% savings.

Amazon Student provides free Amazon Prime for six months -- a boon for new students who need materials quickly. After six months, learners receive 50% off Amazon Prime.

Through Apple, college students can receive a 10% discount on most new hardware and software. Apple also sells certified refurbished laptops at a discount.

Like Apple, Dell offers college students a discount on hardware and software. Dell boasts steeper discounts than many of its hardware competitors, sometimes providing up to 30% off select laptop models.

In addition to using Office 365 Education, degree-seekers should explore Microsoft's other student discounts. Like Apple, Microsoft caps most laptop and accessory discounts at 10%.
Related Resources
Free College Laptops Debt Free Degree Tuition Free Colleges Apps to Save Money
Hear from one of our experts on which factors are the most important for you to consider when choosing a college. Students launched the #BlackburnTakeover movement on October 12 with a sit-in and social media campaign documenting poor living conditions. The ruling was in response to a lawsuit filed by Students for Fair Admissions, a group founded by a conservative, anti-affirmative action activist.