The Debt-Free Degree
BestColleges.com is an advertising-supported site. Featured or trusted partner programs and all school search, finder, or match results are for schools that compensate us. This compensation does not influence our school rankings, resource guides, or other editorially-independent information published on this site.
Ready to start your journey?
As tuition prices rise throughout the country, more and more students are taking out loans to pay for school. So many students are borrowing money that student loans are now the second largest source of consumer debt in the country. In 2015, almost 71% of bachelor's degree recipients graduated with student loans, double the rate of graduates from 20 years ago. Over the past two decades, attendance and costs have skyrocketed, and federal aid hasn't kept up. Consequently, more students than ever must take out college loans to finance their post-secondary education.
In 2015, almost 71% of bachelor's degree recipients graduated with student loans, double the rate of graduates from 20 years ago
Recently, the student loan rate has crept even higher. According to a study conducted by the Bureau of Labor Statistics, the proportion of the U.S. population with student loans increased from about 7% in 2003 to 15% in 2012. Given that the average student leaves school owing over $28,000, graduating without debt may appear impossible. The 30% of students that do graduate without a loan demonstrate that it is possible to complete college debt free — it just takes a lot of creative thinking and bit of extra work.
The Short and Long-Term Consequences of Student Debt
While applying for scholarships, filling out grant applications, and working during school can be exhausting, the extra hours students spend proactively financing their education will pay off in the long run. Come graduation, students who avoided college loans receive a financially-burdenless bachelor's degree that allows them more freedom in their personal and professional life.
The importance of graduating debt free is clear. Students who take out college loans must spend their salaries on loan repayments instead of saving money, and they have to face the consequences of fees or bad credit ratings if they can't repay their loans. The impact that debt can have on a recent graduate should not be understated: the financial pressures of loan payments can influence where students live and work.
Living on a tight budget during college,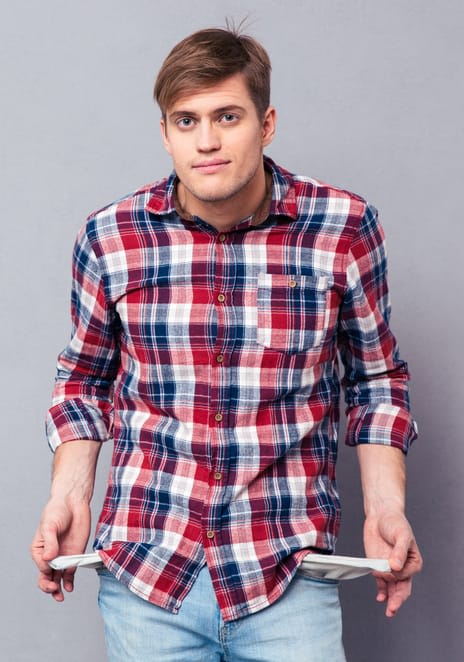 taking larger course loads, and working on top of school are short-terms sacrifices that come with avoiding student loans, but lead to a life-impacting financial savings and investment opportunities post-graduation. Those who face student loan repayment — which adds up to approximately $1.2 trillion in the U.S. — sacrifice financial investment opportunities and can receive poor credit ratings in the short and long term.
ACA International reported that 18% of student debt payers had to live paycheck to paycheck while paying off loans post-graduation, and 20% could not purchase a home in the years after graduation. The stifling cost of loan repayment results in lower homeownership, car ownership, and marriage rates among loan-paying graduates. Money pulled toward loan repayment post-college causes negative long-term financial impacts as well.
One's inability to make these large investments is not only due to their savings spent on debt repayment, but also because student loan debt can negatively impact one's credit. If graduates make their student loan payment late or not at all, their loan can go into default, which means their credit rating and future ability to take out loans deteriorates. Not paying student loans can also force payment through wages and withholding of tax refunds, further weakening one's financial future for years to come.
Finding the Right Financial Fit for You
To graduate debt free, or with limited debt, it is important to attend an affordable college. Private and public schools offer different tuition rates and resource, and it's important to find a school within your budget.
In-state tuition
In-state schools offer dramatically lower tuition prices than most private schools and schools from out of state. According to a survey conducted by U.S. News and World Report, the average college tuition for in-state students was about $10,000 less than out-of-state tuition in the 2012-13 school year. In 2015-16, the average four-year college's tuition and fees for in-state students ranged from $4,890 in Wyoming to $15,160 in New Hampshire.
Community College Transfer to Four Year Programs
Earning an associate degree in two years and then transferring to a four-year program could save students tens of thousands of dollars. Two-year schools are significantly less expensive, and they allow students the opportunity to complete nearly all degree prerequisites. Just 17% of community college students take out federal student loans, compared to 48% of students at four-year public institutions who use loans to finance their education.
Online Colleges
Rising tuition costs have made online programs, which generally feature lower tuition prices and fewer secondary costs, more enticing for traditional students. The average brick-and-mortar college degree costs a total of $85,000, while the average online degree costs approximately $30,000. Schools with on-campus and distance learning options often offer online courses for a lower price. Even if tuition is the same price, students can save on expenses by living at home. As online colleges become increasingly popular, more and more schools are putting their programs online, expanding the availability of degree programs in a variety of subjects.
"No-Loan" Colleges
"No-loan" colleges provide opportunities for students who meet financial aid criteria, such as being eligible for the Federal Pell Grant. Most colleges with these programs still allow students to take out loans, but at a significantly lower rate than most other loan structures. At some schools, students in no-loan programs are required to contribute to their tuition in the form of part-time student employment. In either case, the no-loan programs provide feasible funding and help reduce student debt.
Savings Strategies
Before College
Taking measures to save money before starting college is crucial for students who plan on graduating without debt. Arrangements for college savings and prior learning assessments should be made as soon as possible; the further in advance high school students plan, the more they can maximize their savings upon entering college.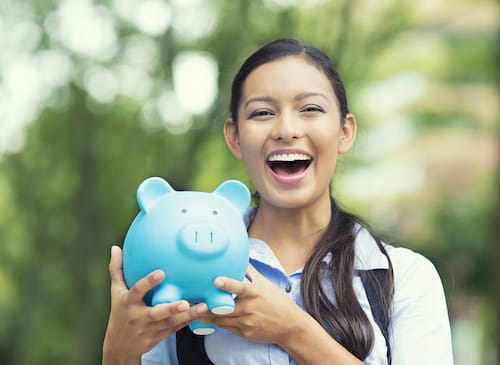 College Savings Options
Qualified tuition plans within the U.S. Securities and Exchange Commission's 529 plans provide financial savings opportunities to help people set aside future tuition money. There are two types of 529 plans: prepaid tuition plans and college savings plans, and every state supports at least one of these options. State officials can also be members of the College Savings Plans Network to promote legislation that will positively impact 529 plans, ensuring that students can viably pay for college. Another college savings option is to create an Education Savings Account, which allows contributors to save money for college tax-free.
Take Advantage of Prior Learning Assessments
Prior Learning Assessments (PLAs) allow students to gain college credit while in high school. The type of PLA varies depending on your high school, and can range from Advanced Placement (AP) courses and International Baccalaureate programs to CAEL portfolio submissions and non-standard learning credits taken through the American Council on Education. Across the board, the per-credit cost is significantly cheaper through these programs, which ultimately reduces the amount of time you need to spend in college. At many high schools, the only cost of AP courses is the $92 exam fee, which can be waived for students who demonstrate financial need. Research conducted by The College Board shows that students can save as much as $19,000 by taking AP courses.
Dual Enrollment Programs
Dual enrollment programs allow high school students to take college-level courses for credit. Most students eligible to enroll in dual enrollment programs are high school upperclassmen. According to the National Center for Education Statistics, at schools where dual enrollment programs are offered, 91% of juniors and 97% of seniors are allowed to take college courses during high school. Many students who commit to these programs attend class at their local community college alongside their high school courses. Ask your school counselor if any colleges offer dual enrollment programs at your school. Students in these programs often pay less than half the cost of tuition, and sometimes pay no fee at all. Students usually can transfer their credits and can earn up to two years of college credit (the equivalent of an associate degree), giving them the option of graduating from a four-year university two years early.
Set Yourself Up for Success
Setting yourself up for success in high school can benefit you not only academically, but also financially. Students with good grades and a history of participating in extracurricular activities are often rewarded with better merit grants and are viewed as competitive scholarship applicants. Programs, such as the National Merit Scholarship, provide college scholarships to high school students based on standardized test scores, GPA, extracurricular activities, leadership experience, and letters of recommendation. Proactively applying for these scholarships not only enhances your college applications, but also provides you secured funding for college a year or two in advance.
During College
You shouldn't stop trying to cut costs once you reach school. Below, you'll find several practical solutions to help reduce college expenses. As you try to save money, make sure you know your limits; school should remain your biggest priority and you should not cut corners just to save money.
Become a Residence Advisor
To save money on housing and food, students can become a Residence Advisor (RA) at their college. This part-time job often comes with free housing and a college meal plan. According to The College Board, the average cost of room and board for the 2015-2016 academic year was $10,138 at four-year public schools and $11,516 at private schools. At most colleges, RAs live with other students and can plan activities in their dorm, fostering a fun and welcoming environment. The job isn't for everyone, but many who work as an RA find it a productive way to save money while gaining work and leadership experience. Most RA applications at colleges are competitive and require students to apply up to a year in advance.
Credit Hour Overload
Students who can balance several classes should consider credit hour overload at their school. Depending on the college, credit hour overload provides students the option to take more classes per term than an average full-time student takes. For instance, at the University of Virginia, students can request permission to take between 17-21 credit hours per semester, which is above the standard 15 credits per semester. If students consistently overload their schedules, they might be able to graduate in three years instead of four.
Textbook Rentals
Tuition isn't the only expensive part of school: textbook prices are also rising quickly. According to the Bureau of Labor Statistics, print textbook costs have risen 82% in the last decade. The College Board estimates that the average student at a private university will spend over $1,000 on books and supplies. To mitigate that cost, companies like Amazon and Chegg offer textbook rentals to provide temporary reading materials to students at a fraction of the sticker price.
Make and Live on a Budget
Living on a budget develops healthy spending skills and teaches students to manage their finances. Students are encouraged to track of their major daily expenses (such as food and transportation) and stay abreast of their finances. Take advantage of student discounts and coupons, and identify restaurants and stores that offer good deals. Budgeting isn't always easy, but it can lead to fun, creative ways to spend your free time and get to know your surroundings. Below are some tips and tricks for budgeting in college.
Track your income and expenses. Budget for necessities and any discretionary income you plan to spend.
Use cash to pay for small expenses. Give yourself a certain budget for small expenses such as coffee and restaurant meals. Paying with cash forces you to be more conscious of how much spend, as opposed to credit cards or checks.
Use public transportation instead of a car. Car expenses — insurance, tune-ups, oil changes, parking fees, and gas — add up quickly and can eat away at your budget. If practical, take public transportation, bike, or walk.
When you do spend money on extracurricular activities, take advantage of student discounts. Museums, theaters, sporting events, and athletic centers are just a few places that may offer discounts to students. Bring your student identification card with you and save money on entertainment.
Find an affordable housing situation. Having a roommate and splitting rent, utilities, and internet can greatly reduce housing costs.
Financing College
Scholarships
Scholarships help students pay for college, and can be awarded to students for a variety of reasons. There are different eligibility requirements between scholarships, allowing students from all backgrounds to apply for awards that match their academic or extracurricular skills. The deadlines for scholarship applications vary, but are often due several months in advance of the school start date. Many applications require students to write an essay, provide letters of recommendation, and fill out financial aid information. It can be a lengthy process and you should approach it with the same seriousness you brought to applying to colleges or jobs. Receiving a scholarship can reduce or eliminate your dependence on loans.
Grants
Grants provide need-based funding to students. While scholarships are usually awarded on merit, grants are doled out as-needed to students for a specific purpose. Some grants, such as the TEACH Grant, require students to complete certain classes, maintain a predetermined level of academic achievement, and hold a specific job to prevent the grant from turning into a loan. Many grants are offered first-come, first-serve. Deadlines vary and applications are accepted throughout the year, depending on the organization. To ensure there is enough funding and that all money is allocated correctly, organizations often require students to apply up to a year in advance. Look for grants through your school, or on online grant databases, such as the Foundation Center.
Work-Study
Work study jobs are offered through a federally funded program. This program helps students earn financial funding through part-time work at their college. All students with demonstrable financial need are eligible. The various work study offerings provide opportunities for students to develop relevant professional experience while limiting their debt. Check with your school's financial aid office to find out if your school offers work study positions, and how you can apply. Often, schools offer work study jobs alongside campus employment opportunities. Outside organizations also may have agreements with your school to offer work study jobs; ask your school's financial aid office for a list of partnering organizations.
Summer Jobs
Working over the summer can help students save money when they are too busy to work during the school year. Below is a list of industries that hire seasonal summer employees.
Golf courses: During the summer, golf courses and country clubs have an influx in customers. Seasonal jobs open up, offering steady work for students in the summertime.
Hospitality: Tourism spikes during holidays and the summer, and many industries need seasonal staff workers. This includes hotels, shops, and many businesses in the entertainment industry.
Farming: Agricultural industries often need summer workers to complete various farming jobs and to keep up with crop production.
Parks: National parks see an uptick in visitors every summer. Jobs working at ticket booths, with tour groups, and in other positions, become available around May.
Outdoor recreation: From kayaking guides to soccer coaches, summer sports provide leadership opportunities for students seeking summer employment.
Employer Tuition Reimbursement
Employers with a tuition reimbursement program pay for some or all of their employee's tuition for coursework or training. Depending on the company, part-time and and full-time employees may both be eligible to apply. Most companies require workers to apply to the tuition reimbursement program before they have been accepted into their program of study, and after they have worked with the company for a certain amount of time. The application typically requires workers to demonstrate the relevance of the intended coursework and training to their prospective role within the company. Some programs may alter the amount of funding provided depending on GPA, number of credits taken per term, and whether or not the courses are taken online or in-person. Below are examples of companies that have employer tuition reimbursement programs.
Starbucks: provides free online education to full-time and part-time employees.
Apple: offers tuition reimbursement up to $5,000.
Gap: pays employees up to $5,000 annually for those who take courses relevant to their job.
Verizon Wireless: offers up to $8,000 per year for full-time employees and $4,000 for part-time employees to support their education.
Military Service
The federal government, along with many nonprofit organizations, helps military members and veterans afford college. Military members and their families can pursue scholarships, grants, and federal student loans specifically intended for them. The Post-9/11 G.I. Bill also allows military service members to use or transfer unused education benefits to immediate family members. Service members must have at least six years of service and commit to an additional four years of service in order to transfer benefits to a spouse or child.
So, You Still Had to Take Out Student Loans, That's OK.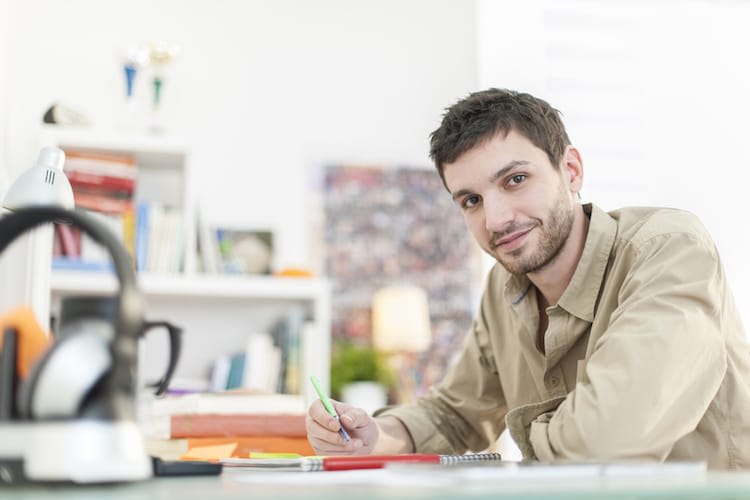 Even with strict budgeting, scholarships and part-time jobs, you still may need to take out a loan. That's not the end of the world: as long as you've done your best to limit the amount of money you need to borrow, you'll have significantly less to repay after college. The key is to avoid getting saddled with debt that will take more than a decade to pay off.
Before starting college, it is important to determine how much debt you can afford to take on. Calculate how much you'd have to pay per month — and for how long — to fully repay your loans. The amount of debt depends on a variety of factors, including the cost of tuition, housing expenses, and your job. Due to these circumstances, people have different capacities to manage debt, and should determine how much they can take out accordingly. A common guideline to heed is that your total debt upon graduation should be less than your annual starting salary; a debt of that size will allow you to comfortably repay what you owe in 10 years or less. If you have to borrow more money than that to finance college, consider looking into different schools. It is important to realize that there are ways to strategically save as you earn your degree, while still having a fulfilling and intellectually stimulating college experience.
Paying off student loans can lead to more financial freedom. Learn about options for student loan repayment and the best plan for you. Many students take out loans to help pay for college. This in-depth guide looks at the best student loans you can get and how to apply for them. Still paying off student loans? These nine hacks can help you speed up your loan repayment plan, save money, and become debt-free in no time.
BestColleges.com is an advertising-supported site. Featured or trusted partner programs and all school search, finder, or match results are for schools that compensate us. This compensation does not influence our school rankings, resource guides, or other editorially-independent information published on this site.
Compare your school options.
View the most relevant school for your interests and compare them by tuition, programs, acceptance rate, and other factors important to find your college home.