Finding and Applying to Colleges
Share on Social
Finding and Applying to Colleges
Which Resources or Services Have You Found Most Valuable When Helping Your Child Research and Choose a College?

| | |
| --- | --- |
| Services/resources offered through my child's prospective college (e.g., campus visits) | 44% |
| Services/resources offered through my child's high school (e.g., high school counselor) | 46% |
| Talking with other college students/parents of students | 34% |
| Books | 7% |
| Online resources | 42% |
Parents and students should begin the process of researching and comparing prospective schools as early as possible. We asked Becky Claster, founder of Claster Educational Services and a college counselor at Blyth-Templeton Academy in Washington, D.C., what timeline she recommends for students:
"Students should start exploring college in a broad way in the first half of high school… Once students have finished 10th grade, they should get more focused on researching specific colleges where they'll find the academic programs and campus environment they're looking for and where they might be competitive for admission. Students should have a tentative list [of colleges] by the end of their junior year."
BestColleges.com is an advertising-supported site. Featured or trusted partner programs and all school search, finder, or match results are for schools that compensate us. This compensation does not influence our school rankings, resource guides, or other editorially-independent information published on this site.
Ready to Start Your Journey?
The number of schools you apply to may depend on a few factors, such as your willingness to live in a new area. In general, though, more is better. "Most students are in good shape with a list of 6-10 colleges," Claster said. "I like most of a student's list to be in the 'target' category, which is where they have a good shot but are not quite certain of the outcome. Students should also have at least two 'safety' schools where they can be confident they'll be admitted, and at least one of these should also be a 'financial safety school' — a school where they can expect the cost of attendance to be manageable."
Of course, every student aspires to attend schools where they might not get in — the so-called "reach" schools. As Claster points out: "Students should certainly have high aspirations, so two, three, or possibly four 'reach' schools would be reasonable. But since these are schools that the student is unlikely to get into, these should not be the bulk of the list."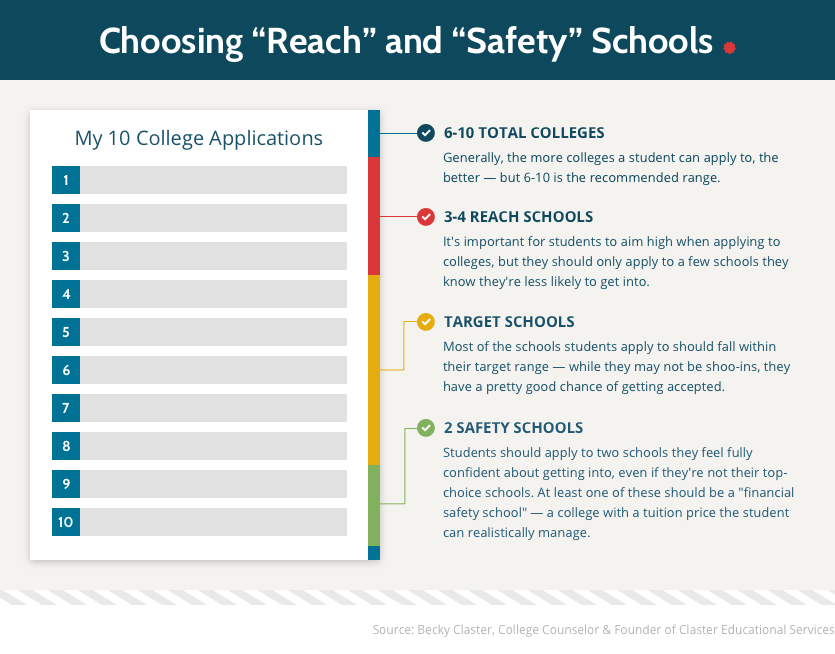 To determine whether schools are "reach" or "safety" schools, check out the school's profile on the College Board's BigFuture or The Princeton Review, or check the school's admissions webpage. A FAQ page will usually provide a glimpse into a typical student profile, including average test scores and GPAs. When asked which resources and services they found most helpful as they helped their children choose colleges, the top three responses from parents in our own College Prep Survey were:
Services or resources offered through their child's high school

Services or resources offered through their child's prospective college
If you're having a hard time comparing schools, don't sweat it. "I don't place a lot of value in an ideal number of schools or a mix of 'safe' and 'reach' schools," says Jeff Gant, the director of undergraduate admissions at Montclair State University. "What's important is to apply to schools where students feel there is a genuine fit and where they feel they will be set up for success."
In the following sections, we go over different resources for college planning and how they can help parents and students during their search.
High School Counselors
Most high schools have counselors or advisors on-site to help students navigate the college prep process. According to Mary Gamache, a college counselor at Randolph-Macon Academy, high school counselors play as central a role as parents: "Once the student begins examining college options, the counselor should be the overall facilitator in the college search and application process."
In general, counselors are very familiar with the college landscape, particularly in your region. Gamache added, "The counselor can help guide the discussion and offer suggestions about colleges he or she has visited or heard about." They also provide help in a number of other areas, including the following:
FAFSA/financial aid questions

Tracking graduation requirements

Securing recommendation letters

Sending transcripts to colleges
Unfortunately, high school counselors can sometimes be difficult to access. According to a report from the American School Counselor Association (ASCA), only two states maintain a counselor-to-student ratio lower than 250-to-1, the standard recommended by ASCA. This need for additional resources is mirrored in our own survey results that suggest parents want more informative and more accessible high school counseling services.
If your child doesn't have access to a high school counselor, or if you simply need additional support, you can consider an independent college counselor. For a fee, these professionals can help guide your child through the application process. However, this may not be necessary, according to Gamache:
"A lot of parents will go to independent educational consultants, but it is going to cost money to have a professional dedicate time to your college search and career path. I would suggest asking private school counselors in your area for assistance — I have helped students from our community with their college search. It gives me the experience of working with a different demographic."
Gamache also recommends the public library for college books or free online resources such as BestColleges and Khan Academy. In addition, the College Board provides BigFuture to help students find colleges. Lastly, there are books with worksheets for students and parents to work through. Gamache suggested a few of her own favorites:
"Sending Your Child to College: The Prepared Parent's Operational Manual" by Marie Pinak Carr

"Prepare, Compete, Win: The Ultimate College Planning Workbook for Students" by Peter Van Buskirk
College Fairs
College fairs are events that bring together admissions officers from colleges and universities around the country. School professionals at these events represent their respective colleges and provide informational overviews and printed resources; they are also available to answer questions from students and parents.
Claster, a college counselor, thinks college fairs are worth the time for some students: "Since many students can't make it to every campus they're interested in, college fairs and visits from campus representatives to the student's high school can be good alternatives." For example, NCAC hosts well-known national college fairs in different cities across the country starting every September.
Campus Visits
Campus visits may be the most valuable step in the college decision-making process. According to Claster, "campus visits are really the best way to get a feel for a particular campus and its culture or vibe, and whether you'll be happy there — whether it has those things you can't quantify that make for a great fit."
Not only do campus visits demonstrate interest in a college, which some schools factor into their admissions decisions, but they are also the only way to determine if a college meets all your wants and needs. In addition, these visits may be advisable for students applying to colleges that require in-person interviews, since these interviews are sometimes conducted on campus.
If you can't manage a visit before applying, Claster points out you can still check out campuses following acceptance: "Most schools have visit opportunities specifically for accepted students to help you make a final decision, and you should take advantage of these if at all possible. If the cost of travel is genuinely prohibitive, you might ask if there is financial assistance to make it workable."
In the end, students should consider the fact that they will be attending this college for 2-4 years of their lives. A campus visit is a negligible expense compared to making a wrong choice and needing to transfer colleges down the road.
"While it may not always be possible for every student to visit their future campus before committing, I do think it's important to try," explains Claster. "There are things you simply can't learn from a website or a view book. You can't tell how faculty and staff interact with students, how engaged students are with their peers, what the buzz on campus is like on game night, or how frustrating it is to find parking during peak hours. All of these things and more add up to a unique campus culture, and you want to have at least an understanding of what you're getting into before joining the community."
Best Books for College Planning
When it comes to college planning, there are many reputable and authoritative books and online resources. They are an inexpensive (and sometimes free) option for parents and students who may not be able to visit campus or attend college fairs.
"College Admission: From Application to Acceptance, Step by Step"
Featuring the wise counsel of more than 50 deans of admission across the country, "College Admission" by Robin Mamlet walks students through the importance of various admissions factors, including extracurricular activities, standardized tests, and athletics.
"College Match
A Blueprint for Choosing the Best School for You": This book has provided guidance to students and parents for over 27 years. "College Match" by Dr. Steven R. Antonoff debunks myths about the application process and leads you through some essential steps that can make college admissions less stressful.
"Conquering the College Admissions Essay in 10 Steps"
Written by Alan Gelb, a professional writer and college essay coach, this book helps students choose engaging topics and use creative writing techniques to compose college essays that reflect their individuality.
"College Essay Essentials: A Step-by-Step Guide to Writing a Successful College Admissions Essay"
There are really only four types of admissions essay, according to author and college counselor Ethan Sawyer. What kind should you write? This book guides you through the conceptualization, drafting, and revision process in a few easy steps.
"U.S. News Best Colleges 2020"
You can hardly begin the application process without knowing the full landscape of potential colleges. U.S. News & World Report publishes this annual compendium of the best colleges in the United States.
Online Resources for College Planning
This easy-to-use website from the College Board contains guides and databases that let students search for school profiles, create a college wish list, search for scholarships, and explore potential careers.
A staple resource among students and parents for decades, The Princeton Review can guide you through college prep with school profiles, admissions advice, private tutoring, and practice tests.
As a companion to the published guide, U.S. News & World Report provides an online platform with nearly 50 different types of numerical rankings to help students in their college search.
From the same company responsible for the beloved ACT test, ACT's college planning webpage is a step-by-step guide with application tips and a list of to-do's for each year of high school.
Last but not least, BestColleges' guides cover topics such as college applications, financial planning, and test preparation. The BestColleges "Office Hours" blog also provides personal insights from educators and students.
Helping Your Child Choose a College: What to Consider
Colleges are as diverse as the students who apply to them, and while they have many common attributes, there is a lot that can set one college apart from another. Gant, Montclair's director of undergraduate admissions, had some advice: "[Talk] with your student about what the family can afford and if the student will be taking on loans. If your student wants to go to school far from home, help them understand what that will be like by speaking openly about the challenges they'll face and by visiting schools farther afield."
When researching and comparing prospective colleges, it's good to keep a few things in mind. For example, most colleges can be grouped into certain categories that cater to the needs of particular student groups. Below, we've compiled a list of the most important factors to consider when researching and choosing a college.
Points to Consider When Choosing a College
Junior vs. Senior Colleges

One of the most basic decisions a student can make is whether to attend a two-year junior college or a four-year senior college. Junior colleges are typically community colleges and vocational schools that offer two-year associate degrees and certificates. These schools prepare students to enter the workforce or pursue a four-year degree. Junior colleges can also be a cheaper way to fulfill the core requirements of a typical four-year degree. Senior colleges are four-year institutions that offer bachelor's degrees and, often, graduate-level education.

Accredited vs. Unaccredited

In general, you should not attend an unaccredited college or university. Regional and national accreditation are essential processes that ensure schools meet basic educational standards. To check a school's accreditation status, check their website or search for the school in the Council for Higher Education Accreditation database.

Public vs. Private

Some students choose to attend a public college to remain in their home state, but deciding between a public or private college may also depend on your financial situation. Some private colleges, such as Ivy League institutions, offer plentiful need-based aid; others may offer no aid at all. Public college tuition for in-state residents tends to be more affordable for most families, but applying as an out-of-state student can substantially increase the cost of tuition.

Nonprofit vs. For-Profit

The majority of colleges and universities operate on a nonprofit basis, which means all of your expenses go toward providing quality education. However, some colleges make a profit off students that goes to executives and shareholders. While there are some legitimate for-profit institutions, students should check a school's accreditation status to ensure the for-profit school they are considering meets independent standards.

Large vs. Small

Attending a large or small school can depend on a student's temperament. Some students want the intimacy of a small liberal arts college; others want the excitement and opportunities of a large research institution. There are advantages and disadvantages to each, such as a high student-to-faculty ratio at large universities or fewer majors at small colleges.

Urban vs. Rural

Some students want to escape the confines of their hometown to find opportunities in the big city; others may come from large urban areas and desire a quiet campus atmosphere with pastoral charm. Urban campuses may provide greater access in terms of resources and networking, but rural campuses may be the right environment for some to prosper academically.

Liberal Arts vs. Research Universities

Some schools, particularly small ones, brand themselves as liberal arts colleges. While almost every university provides a broad-based liberal arts curriculum, these institutions focus on high-quality undergraduate education in subjects such as literature, philosophy, science, and fine arts over more professional or technical disciplines. Large research universities, by comparison, tend to excel in the STEM fields, rely heavily on graduate students, and provide extensive technical training and professional preparation.

Coed vs. Single-Sex

While increasingly rare, some colleges — mostly women's colleges — are single-sex. Notable examples include Wellesley College, Barnard College, and Smith College. And while most universities are coed, some offer single-sex housing. This may appeal to students who don't want the distraction from their studies or whose religious scruples prevent them from living with the opposite sex.

Religious vs. Secular

Choosing a religious or secular college is a deeply personal decision. There are colleges appealing to people of every religious stripe in the United States, including the Buddhist-inspired Naropa University in Colorado, the Jewish-affiliated Yeshiva University in New York, and an entire network of Catholic Jesuit universities such as Georgetown University in Washington, D.C. While some colleges are religiously affiliated but teach largely secular curricula and welcome students of every faith, other colleges (such as Bible colleges) make one religion a focus of their schooling.