College Preparation in High School
Share on Social
College Preparation in High School
Figuring out how to pay for your child's education may be one of the most daunting aspects of the college planning process, but there are ways parents can get involved early on that will make college easier and cheaper in the long run.
One of the best ways you can help is simply to encourage your child to take advantage of available resources. Many high schools offer college preparatory programs and activities to help give students a leg up in the application process -- but when it comes to identifying these resources, parents may feel like they're left in the dark.
BestColleges.com is an advertising-supported site. Featured or trusted partner programs and all school search, finder, or match results are for schools that compensate us. This compensation does not influence our school rankings, resource guides, or other editorially-independent information published on this site.
Ready to Start Your Journey?
When asked whether they were aware of all the types of college prep options available at their child's high school, 54% of parent-respondents in our College Prep Survey said they were "extremely aware" or "very aware." However, 46% of respondents fell into the range of feeling "somewhat unaware" to "not at all aware."
In the following sections, we discuss some common college prep options for high school students. Keep in mind that these do not represent all options available for students and that some high schools may not offer certain advanced coursework.
Advanced High School Coursework
One way parents can get involved early in a student's high school years is by encouraging them to take advanced coursework. The advantage of these classes is that they allow students to meet high school graduation requirements at the same time they qualify for college credit. In the table below, we outline some of the common options for high school students.
A standard high school curriculum meets all the basic requirements for college admission but doesn't necessarily make an applicant stand out to admissions officers at competitive colleges.
Performing well in honors coursework looks great on a college application. However, these courses do not provide college credit or specifically prepare students for exams that count for college credit.
Advanced Placement (AP) Courses
AP classes are one of the best ways to prepare for college and reflect favorably on students in admissions decisions. AP courses are offered in subjects such as English, biology, and calculus. Students who achieve a minimum passing score on AP exams may receive college credit.
International Baccalaureate (IB) Courses
A nonprofit foundation, International Baccalaureate maintains rigorous standards for IB courses at high schools worldwide and offers a diploma after completion of the program. Many colleges offer credit if a student achieves minimum passing scores on IB exams.
Dual and Concurrent Enrollment Courses
Dual enrollment courses allow students to take separate college classes (often at local community colleges) for credit prior to graduation. Concurrent enrollment allows students to earn both high school and college credit for the same courses.
Deciding between these options may depend on what is available at a given high school and the student's academic temperament. Each type of course comes with its own advantages, according to Virginia Ruehrwein, a college admissions consultant and Harvard graduate: "I personally have not seen a marked improvement in admissions for students who take IB classes over AP classes. When it comes to dual enrollment, it is a wonderful opportunity for students to experience college-level coursework while still in high school, and it shows initiative and motivation to colleges of application."
For high schools without college preparatory resources, motivated students can still get a head start on college. Ruehrwein points out that some local colleges allow students to enroll in courses even without a formal dual enrollment program, which can strengthen a college application. Moreover, she noted that students can take AP exams regardless of whether their school offers AP classes: "Passing an AP test has the same result for every student who takes one: It shows academic motivation and initiative, while also providing college credit for each test passed."
When it comes to college prep classes, though, Ruehrwein warns parents against pushing their children too hard: "My advice is for parents to encourage their children to take higher-level courses in the areas they are interested in and believe they can excel in based on past success, while also prioritizing emotional health and happiness throughout each school year. Keep in mind that striving toward perfection can sometimes result in excessive stress and the development of unhealthy habits. Life is a balancing act for kids as well as adults!"
Prior Learning Assessments (PLAs)
Advanced coursework is just one way students can earn college credit. Another way is through prior learning assessments (PLAs), which evaluate the knowledge a student has gained through high school, work experience, employer training programs, community and military service, and independent study.
There are several ways individuals can earn PLA credit. A common way is to take certain tests, such as CLEP or AP exams, to measure knowledge in a given subject. Individuals can also submit a portfolio that demonstrates mastery of a subject or apply for nonstandard learning credits from the American Council on Education.
For more information, check out the BestColleges guide to earning college credit with PLAs.
College Admissions Test Preparation
Taking college admissions tests such as the ACT and SAT is a major part of the college application process. Both exams are used to make admissions decisions and to award merit-based scholarships, although some schools — including prestigious ones like UChicago — have opted not to require standardized tests. Even so, Mai Jumamil, a teacher at Kaplan Test Prep, suggests that, "admissions officers consistently rank standardized test scores as one of the most important factors in college admissions."
Parents can play an important role in helping their child prepare for standardized tests. For starters, they can help decide which exam is the better choice based on the unique characteristics of each exam. However, students increasingly take both the ACT and SAT, according to The Princeton Review, and the exams have become more similar over time, allowing students to study for both tests simultaneously.
The best thing parents can do is to help their children develop a test-prep strategy. There are a variety of test-prep resources and services, including free practice tests. You can also pay for professional services like Khan Academy, Kaplan, or private tutors. And of course, BestColleges is always here to help: Check out our ACT Prep Guide and SAT Prep Guide for some tips and tricks.
Below, Jumamil, a UCLA grad with over six years of experience teaching students how to ace the ACT and SAT, outlines some of the best test-taking strategies for students.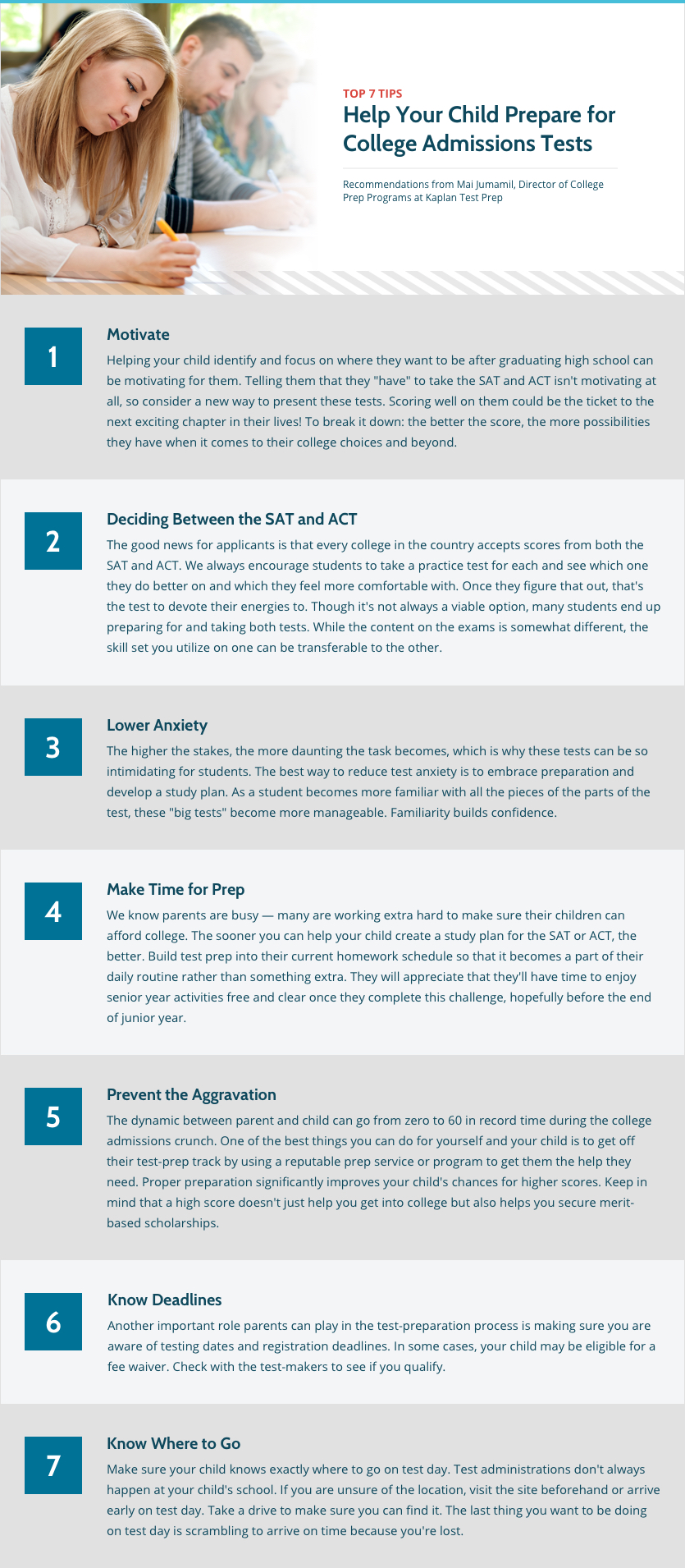 Extracurricular Activities and Volunteer Work
As part of the holistic admissions process, colleges increasingly consider extracurricular activities and volunteer work when evaluating applicants. According to Jeff Gant, director of undergraduate admissions at Montclair State University, "demonstrating that you are a fully engaged, well-rounded student is important and gives us a picture of who a student is beyond what we can see on a transcript."
Extracurriculars include a wide range of activities: athletics, clubs, student government, school newspapers, artistic pursuits, part-time jobs, and community service. And whether you're the captain of your tennis team or the lead in a high school play, leadership roles are particularly valuable on college applications. They demonstrate drive, intelligence, and confidence — qualities that are likely to fuel success in college.
While extracurricular activities won't necessarily eliminate the effect of poor grades or test scores, they reveal soft traits like personality and initiative that can boost a candidate's chances of admission. As Gant points out, "a long list of extracurricular activities is great, but it is most impactful when the GPA is strong."