Breaking Down Mental Health Stigmas in the Latino/a Community
Latino/a college students come from a diverse community with unique barriers to mental health treatment. Learn more on how to take care of your mental health.
Image Credit: Hill Street Studios / DigitalVision / Getty Images
---
Latino/a students are less likely than white students to seek mental health treatment.
Within the Latino/a community, immigration, poverty, and stigma can be barriers to treatment.
Latino/a students need competent care and medical professionals who understand their culture.
Latino/a college students can use books, podcasts, and social media to find support.
---
Taking care of your mental health may not always be at the top of your to-do list. However, your mental health can impact your emotional and physical health and your academic performance.
This is especially true for Latino/a college students. Many Latino/a college students have a lot on their plate. A 2019 Excelencia in Education study indicated that 44% of Latino/a students were the first in their families to attend college during the 2015-2016 academic year. According to a 2017 report by the Pew Research Center, nine out of ten Deferred Action for Childhood Arrivals (DACA) recipients were born in Latin America.
Pressure to do well in school, concerns over citizenship status, and other stressors have led to 65% of Latino/a college students having an untreated mental health issue, according to Salud America. These students are less likely to seek treatment than their white peers because the topic may be taboo in their communities.
Some in the Latino/a community experience unique barriers to treatment. There may also be stigmas about mental health conditions within some Latino/a communities. Consequently, some college students may find it hard to talk to friends or family about their mental health and may not feel comfortable reaching out to college professionals for support and advice. They may also have difficulty accessing competent care and medical professionals who understand challenges that are unique to the Latino/a community.
What Influences Mental Health Stigmas in the Latino/a Community?
While the Latino/a community is incredibly diverse, many Latinos/as report struggling to acknowledge mental health issues and find adequate care. Mental health and illness are frequently stigmatized in this community. Even Latino/a college students who eventually seek treatment often face institutional barriers and discrimination.
In the U.S. Surgeon General's report "Mental Health: Culture, Race, and Ethnicity," only 20% of Latinos/as with mental health conditions discuss them with their doctors, and just 10% seek treatment. This report also states that racism, immigration status, and poverty can directly affect mental health within the Latino/a community.
Historically, the Latino/a community has tended to view mental health as something that should be dealt with privately. Mental health may not be something Latino/a families and communities talk about openly because it is seen as a taboo subject.
Some Latinos/as may not ask for help or treatment because they believe they may be labeled as "crazy" and embarrass their family. Family members may also not know where to seek help for loved ones managing their mental health because it is so stigmatized.
Latino/a students may also find it challenging to find treatment because of discrimination, bias, or other barriers. Students could have limited access to care because of poverty, immigration status, or language barriers.
The Need for Competent Medical Care
According to the National Alliance on Mental Illness, stressors such as immigration, racism, and general conflicts can worsen a student's mental health, but because this topic has historically been stigmatized in the Latino/a community, students may not seek treatment on their own.
Friends and family may not be able to recognize the signs and symptoms of a mental health condition. They may also not know where to find resources and help because many in the community have traditionally viewed mental illness as something a person has to deal with alone.
Latino/a students may not be able to access treatment because of barriers such as citizenship status, adequate healthcare and insurance, and income.
But as with all learners, students within this community need competent care. Medical professionals must be able to help them overcome any barriers to treatment.
Competent care includes access to medical professionals who both understand this diverse demographic and can navigate a Latino/a college students' reluctance to seek mental health treatment.
How to Change Narrative About Latino/a Mental Health
Those managing their mental health need to know that they are not alone. Transitioning to college can be hard for Latino/a students, just as it is for students of all races and ethnicities. A strong support system would allow them to navigate any challenge that arises, including mental health struggles.
By providing successful treatment and encouraging resistance against stigma, college leaders and programs may empower Latino/a students, friends, and families to support each other. Communities can be supportive by providing resources that take into account the various barriers some Latinos/as face when seeking treatment.
Advocates for Latino/a mental health also need support from their communities in order to share their stories and resources with as many people as possible.
Mental Health Resources For Latino/a Students
Take Time to Prioritize Self-Care
Give yourself time and space to focus on you. Explore our collection of mental health resources to find support.
Learn More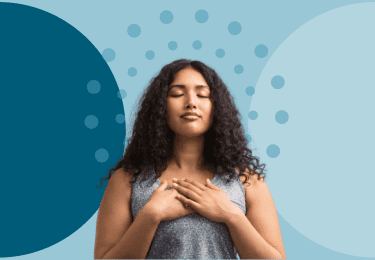 Frequently Asked Questions About Latino/a Mental Health
What's the difference between Hispanic and Latino/a?
The terms "Hispanic" and "Latino/a" are often used interchangeably to group together people from Latin America and their descendants. However, there are subtle differences between the two terms.
Hispanic refers to people from Spanish-speaking countries in Latin America, the Caribbean, and Spain. The term "Latino/a" is used for Americans with Latin American ancestry or heritage. Latino/a excludes Europeans, and some argue it also excludes people from the Caribbean.
Latino/a and Hispanic people can be of any race. Both terms are used to categorize an incredibly diverse group of people from all over the world. Millions of people with various cultures and traditions can be considered Hispanic or Latino/a.
What cultures are included in Latin American?
Latin American cultures are a blend of several cultures. Indigenous, Asian, European, and African languages and cultures are all included in Latin American cultures.
While the predominant language is Spanish, there are over 900 languages spoken in Latin and South America. There are also just as many traditions and cultural practices, and Latin Americans are of all races and ethnicities. There is no one way to be Hispanic or Latino/a.
While Latin American culture is a diverse blend of cultures from around the world, there are similarities that tie the community together. Many Latinos/as face similar barriers to mental health treatment, such as citizenship status, income, and language.
Why is mental health important?
Mental health is important because it affects your overall quality of life. Your mental health can have an impact on how you manage stress, relationships, and coursework.
Even people who do not struggle with mental health conditions can experience problems with their mental health if it is not managed well. We have to take care of our mental health much like we have to care for our physical health, and self-care can help you maintain mental wellness.
Taking care of your mental health can help you live a happier and healthier life. Finding a support system and healthy ways to manage stress can greatly improve your mental health.
DISCLAIMER: The information provided on this website is not intended or implied to be a substitute for professional medical advice, diagnosis, or treatment; instead, all information, content, and materials available on this site are for general informational purposes only. Readers of this website should consult with their physician to obtain advice with respect to any medical condition or treatment.