Mental Health for Native and Indigenous American Students
Culturally connected mental health resources can help boost academic success for Native and Indigenous American students.
Image Credit: eyecrave productions / E+ / Getty Images
---
Like other students, Indigenous American students experience mental health challenges on college campuses every year.
Historical trauma and decreased access to medical resources can lead to mental health conditions.
Culturally competent mental health support is important for Indigenous American students.
Beneficial mental health support connects the mind, body, and community.
---
College students tend to experience higher psychological distress, PTSD, and depression than the general population. According to the National Center for Education Statistics, Nineteen percent of higher education students identify as Indigenous Americans. It is critical that Indigenous American students understand what mental health resources and options are available.
Mental health services for Native and Indigenous American students that are culturally competent and connected acknowledge the diverse needs within the community. Awareness of historical health inequities within Indigenous communities allows support service providers opportunities to better understand and provide care for individuals seeking help.
In the United States, 19% of Indigenous American or Alaska Native individuals reported struggling with mental health challenges in the past year. In addition, historical and current racism, forced assimilation, and community isolation can limit access to mental health care. Students must connect with resources that support their mental health on and off campus.
"As a Native staff member, I encourage students to get involved with our cultural events as much as possible so that they can connect to their identity in a meaningful way and build relationships with their peers. Connecting to culture can really help students feel less isolated or homesick. It's also important to see others in your community practicing healthy habits, so my team really tries our best to model wellness in our own lives. In all, we keep wellness at the center of our work.
— Kristie Russette, Member of the Chippewa Cree Tribe of Rocky Boy, Montana
Types of Mental Health Support
College students face mental health challenges that might feel new or heightened compared to what they experienced in earlier stages of life. This requires a critical look at different ways to receive support.
While therapeutic support provided by a licensed professional cannot be replicated elsewhere, additional mental health resources can prove helpful. Podcasts, virtual and face-to-face support groups, self-care resources, and family therapy can provide important mental health support.
Colleges can show their support for students' mental health by offering a variety of programs and services on campus and online. Hosting proactive conversations during orientation sessions and throughout the semester can provide stability for students.
Counseling and psychological services offering individualized and group therapy give students choices in supporting their mental health. Teletherapy and text-based mental health support can connect students from any location, increasing their ability to receive help.
In addition, diverse hiring practices for counselors can encourage students to reach out for help and support from someone who relates to and understands their unique needs. Crisis intervention services and hotlines provide critical support in emergency situations.
Mindfulness and other relaxation techniques can provide mental health support to students and others. Whether on campus or in the community, proactive wellness programs can help students improve their mental health on a regular basis.
Barriers to Mental Health Support for Native and Indigenous American Students
The trauma of colonization is the root of many barriers faced by Native and Indigenous American students seeking mental health support. Forced assimilation through family separation, loss of language and cultural rituals, and geographical isolation have contributed to mistrust in government services and long-term health effects within Native and Indigenous communities.
The lack of trust caused by historical trauma has consequences in areas of mental health. Native and Indigenous Americans tend to feel greater attachments to alternative healing modalities — the interconnectedness of nature, community, and the past. Preferences for a more holistic approach can create a disconnect from more common mental health practices.
"Speaking from personal experience," Kristie Russette shared, "it can be difficult to seek mental health support due to the stigmas associated with mental illness. It's scary to seek counseling or support for the first time, but I try to remind students that mental wellness is just another part of taking care of yourself."
According to the National Tribal Behavioral Health Agenda, American Indian and Indigenous communities experience higher school dropout rates, unemployment, poverty, morbidity, and mortality rates than other identity groups. Distress, depression, substance abuse, and suicide can also accompany these experiences. In 2016, 21% of Indigenous American adults experienced mental health concerns, compared to 17% of the general population.
Nearly 15% of Indigenous Americans and Alaska Natives did not have health insurance in 2019, according to an Office of Minority Health report. Although not all mental health providers accept insurance to cover payments, not having health insurance limits the available options.
Other barriers to support for Indigenous Americans include language differences and lack of representation in mental health professions. About 26% of Native and Indigenous people speak a language other than English at home. Finding mental health practitioners who speak Native languages can prove difficult and limit support options.
On our campus at Montana State University, we try to normalize mental health support by incorporating traditional and cultural practices into our wellness programming. For example, we hold talking circles with our students where we can smudge, share a meal together, and discuss personal challenges in a comfortable setting. Of course, we have a mental health professional in attendance to offer additional guidance. We also routinely partner with our campus's Counseling & Psychological Services to coordinate community events so mental health professionals can build trusting relationships with our student community.
— Kristie Russette, Member of the Chippewa Cree Tribe of Rocky Boy, Montana
Choosing the Right Mental Health Support for You
As the impact of COVID-19 continues to create a need for mental health support on college campuses, it is critical that students develop coping strategies. There are several factors that Indigenous American students should consider when choosing a mental health support that best fits their needs.
Ask potential mental health providers about their experience working with Native and Indigenous Americans. It can be helpful to work with someone who is comfortable with alternative practices. Consider how their previous experiences may benefit you in their care. Positive interactions and strong communication are critical in building a trusting relationship with a mental health provider.
Health insurance coverage and location are two important aspects to consider when choosing a therapist or other mental health provider. Some health insurance plans provide benefits for mental health care, while others require that you pay all fees independently. Campus mental health services — individual therapy, group sessions, cultural activities, and affinity groups — may be included in tuition costs.
My advice to Native and/or Indigenous students is to remember that it's okay to not feel okay. Going through challenging times can be overwhelming, but many people on campus can help carry the load. Connect to your culture, find solace in the things that you love, and be gentle with yourself. You deserve to be healthy!
— Kristie Russette, Member of the Chippewa Cree Tribe of Rocky Boy, Montana
Mental Health Resources for Native and Indigenous American Students
Take Time to Prioritize Self-Care
Give yourself time and space to focus on you. Explore our collection of mental health resources to find support.
Learn More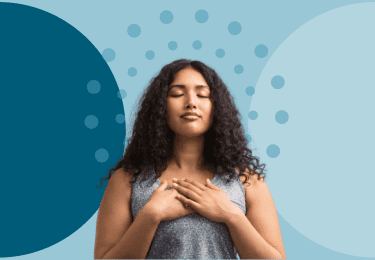 Frequently Asked Questions About Mental Health
How is mental health viewed in Naive American culture?
Mental health in Native and Indigenous American communities often focuses on how the mind and body are interconnected and how ancestral trauma affects your well-being. Native and Indigenous Americans are more likely to seek cultural healers that focus on spiritual and traditional medicine. The close-knit nature of the Indigenous American community means that family and cultural bonds are a high priority in mental health programming.
How do you define mental health?
Mental health involves emotional, psychological and social well being. Genetic characteristics and life experiences can influence mental health levels, affecting how we cope with life's stresses. Early signs of a mental health condition may include low interest in daily activities, changes to energy levels, varying sleep patterns, and increased substance use.
Mental well-being supports coping with life's challenges while maintaining a positive outlook and working productively. College students can experience challenges on all levels of mental health, including emotional and social pressures.
What are the most common mental health problems?
Anxiety and depression are the most common mental health conditions in the United States, according to the Office of Disease Prevention and Health Promotion. Because mental and physical health are linked, these problems are the driving force behind many serious chronic illnesses like diabetes, heart disease, and cancer.
Anxiety and depression can be aggravated by common college stressors such as lack of sleep, high-stakes academic requirements, and financial concerns. The results can include declining academic performance, substance abuse, or difficulties in personal relationships.
With Advice From:
Kristie Russette
Kristie Russette is a member of the Chippewa Cree tribe of Rocky Boy, Montana. She serves as Outreach Coordinator & Recruitment Specialist for the Office of American Indian/Alaska Native Student Success at Montana State University.
DISCLAIMER: The information provided on this website is not intended or implied to be a substitute for professional medical advice, diagnosis, or treatment; instead, all information, content, and materials available on this site are for general informational purposes only. Readers of this website should consult with their physician to obtain advice with respect to any medical condition or treatment.