Why Is Gender Diversity Important in STEM?
Image Credit: Charday Penn / E+ / Getty Images
---
Despite improvement in gender diversity in STEM fields over the past several decades, the gender gap continues to persist.
Cultural and societal stereotypes, gender bias, and lack of support from teachers, management, and peers perpetuate the gap.
Increasing gender diversity in the workplace brings diverse perspectives and builds a highly-skilled workforce.
---
Nikita Washington is a Black, transgender woman in UX design who empowers transgender sex workers to pursue tech careers. She said that because of the lack of gender diversity in tech, people are missing out on financial security, an accepting space, and a better future.
Washington believes that the more visibility gender-diverse people have in the field, the more people with diverse perspectives will get into STEM and tech.
We don't give hope the credit it deserves, Washington said. Simply knowing that there are people like them out there doing the damn thing really can be that glimmer of hope that can jumpstart someone else's journey.
Read on to learn why having more people like Washington in STEM is better for everyone.
What Is Gender Diversity?
Gender diversity is the equal representation of different genders — women, men, and nonbinary people — in academia and the workplace. Unfortunately, the STEM field has long lacked gender diversity. In the U.S., men received over 100,000 more bachelor's degrees in STEM fields in 2019-20 than women, according to the National Center for Education Statistics.
This disparity shows up in career data as well, with U.S. women making up 27% of STEM workers in 2019.
With a median annual wage of over $95,000, increasing the number of women and nonbinary people in STEM may help close the gender pay gap. Through visibility, encouragement in the classroom, and resisting sex and gender discrimination, STEM fields can bridge the gender diversity gap.
Why Is There a Gender Diversity Gap in STEM?
Some barriers in STEM include gender bias and stereotypes, gaps in pay, and lack of support from authority figures.
Gender Discrimination in STEM
Gender and sex discrimination is a large deterrent for women and nonbinary individuals entering STEM fields. According to a Pew Research Center survey, half of women in STEM jobs say they've been discriminated against.
If women are undervalued and face sexism, they're less likely to want to join STEM fields.
The STEM Pay Gap
Women in STEM only earn about 74% of men's median earnings, according to Pew Research. That's $66,200 for women compared to $90,000 for men.
Research has addressed how the gender pay gap may contribute to women internalizing cultural beliefs about men being more fit for STEM careers. This in turn leads to a confidence gap, which deters women from the higher-paying, more challenging jobs in STEM.
Lack of Support for Non-Male Youth in STEM
Male students receive more support and encouragement in STEM than female students. From a young age, boys receive more support in math and science from teachers than girls do, which affects their academic decisions and achievements.
One study found that teachers graded boys higher than girls on math tests that included the students' names, while external graders scored girls higher than boys on math tests that omitted names. Another study examining videos of classroom interactions between teachers and students found that girls who received less attention from teachers than their male classmates tended to have lower math scores.
Why Improving Gender Diversity in STEM Is Important
Gender diversity in the workplace has numerous benefits, including bringing new perspectives to STEM, filling gaps in a growing workforce with skilled workers, and growing the economy.
Gender Diversity Brings a Needed Perspective to STEM
Gender bias in science is when scientific studies represent only a single gender. This one-size-fits-all approach impacts marginalized communities because it ignores the different healthcare needs of women, nonbinary people, and racial and ethnic minorities.
In 1993, Congress passed legislation that required women and racial minorities to be included in clinical trials. While significant progress has been made toward gender-inclusive research, some scientists and medical researchers argue that gender bias still exists in clinical trials, particularly in regard to how men and women respond differently to medications. Bringing gender diversity to research teams leads to different perspectives, contributing to more diverse studies and outcomes.
STEM Fields Need More Professionals
Women now make up almost half of all math and life sciences workers, but only about 25% of computer workers and 15% of engineers. According to the U.S. Census Bureau, engineering jobs make up the majority (80%) of all STEM occupations. With STEM jobs projected to grow 11% over the next decade, women and nonbinary workers are needed to fill the growing STEM workforce gap.
Scholars who studied the lack of representation of women in engineering and computing suggested advancing research on:
Societal and cultural influences on girls
Strategies to overcome implicit bias
Influencing factors in K-12 classrooms and higher education
Strategies to recruit and retain women in the workplace
Some ways to build gender diversity in the growing STEM workforce include:
Introducing more coding camps for girls
Eliminating gender-biased language that describes STEM professions as male jobs
Encouraging mentoring relationships between teachers or professors and their non-male students
Having initiatives in workplaces to build female representation
Women and Nonbinary Students Are Highly Skilled and Qualified
Women are earning more bachelor's degrees in STEM fields than they were two decades ago and have made progress in some fields more than others. However, biases may discourage women and nonbinary people from entering STEM fields — even when they're qualified.
When health-related fields are included in the definition of STEM, women are the majority, with women earning 85% of health-related bachelor's degrees in 2018, according to a Pew Research study. Here's how those achievements line up in other majors:
Women earned the majority of bachelor's degrees in life sciences at 61%.
Women earned around 40% of math and physical sciences bachelor's degrees.
Women earned about 20% of engineering and computer science bachelor's degrees.
Research has studied the various factors that may lead women to leave STEM fields, including feeling a lack of self-confidence and belonging due to gender discrimination and stereotypes.
In a 2016 research study, students in an introductory biology course were given a survey to rate their peers on their class performance. It was found that the male students disproportionately nominate males as being knowledgeable about biology while females nominate males and females equally.
Gender Diversity in STEM Will Grow the Economy
Another benefit of gender diversity in STEM is the economic growth that can occur by filling gaps in the workforce. Specifically, the computing industry needs more workers due to the rapid projected job growth over the next decade.
A research report by Accenture and Girls Who Code argues that by having computing classes and a support system in place tailored specifically to girls in junior high and continuing through college, the number of women in computing jobs could grow from 24% to 39% and generate $299 billion in cumulative earnings.
In general, having more women in the workforce, leads to higher productivity and increased wages for both men and women, according to an analysis by a University of Akron economics professor, who found that for every 10% increase in women working between 1980 and 2010, there was a 5% increase in wages. Thus, it's likely that increasing gender diversity in STEM will have economic benefits for all genders and society as a whole.
More Gender Diversity in STEM Helps Marginalized Communities
Washington said that if more cis-women, transgender-women, and nonbinary individuals get into STEM and tech, it can help other people like them — like the transgender sex workers who Washington strives to help.
You have to move forward and understand that by breaking down those barriers, you're showing other people who are coming up under you that it's doable, Washington said.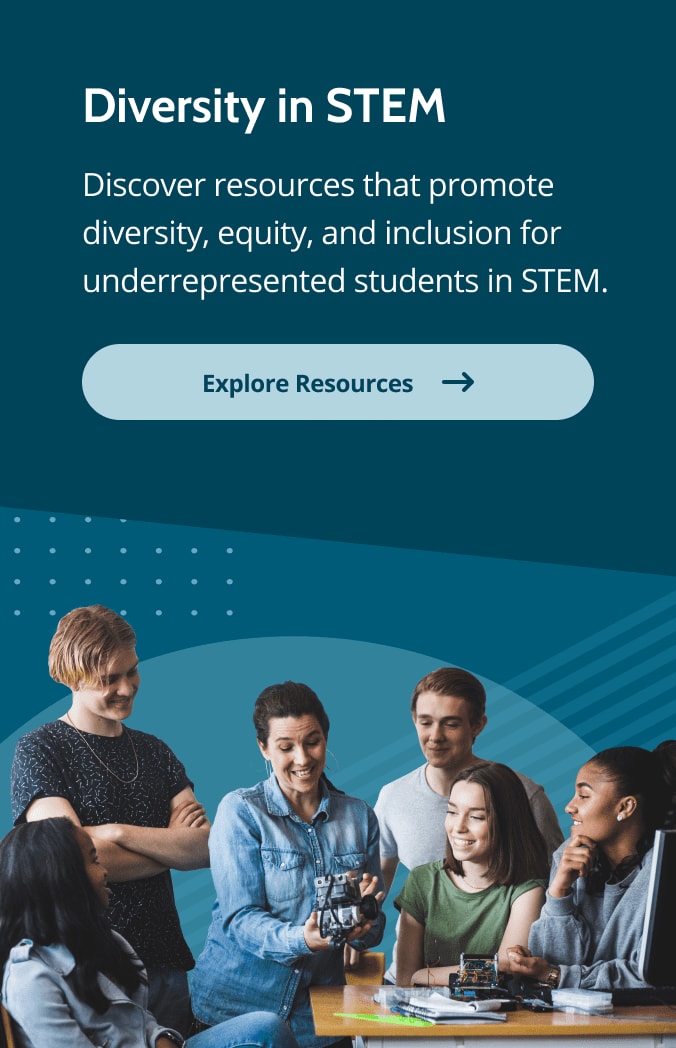 With Contributions By
Nikita Washington
Nikita Washington is a Senior UX Designer currently at Ally, a leading digital financial services company. Beyond the digital products she's shipped, Nikita is an active member of the design community and is often found speaking on panels, giving conference talks, and being a featured guest on podcasts to discuss experience pivoting from education to design as a Black Trans woman.
Nikita serves on the leadership team with Out in Tech, the world's largest non-profit community of LGBTQ+ tech leaders and is a community advisory board member with Trans Tech Social Enterprises whose mission is to empower, educate, and employ those facing barriers in education and in the workplace, as well as to reduce instances of discrimination, with a concentration on trans and gender nonconforming individuals.
Her design advocacy work is centered on championing early-career and underrepresented folx, helping them break into the world of design and demystifying an often gate-kept industry.