College Guide for Students With Psychiatric Disabilities
According to the latest statistics from the National Alliance on Mental Illness, 43.8 million Americans, or 18.5% of the national population, experience mental illness every year. Mental illness is a broad term defined by the Mayo Clinic as any disorder that affects one's mood, thinking, or behavior. When mental illness influences family life, work, education, and other aspects of day-to-day life, the condition is known as a psychiatric disability.
43.8 million Americans, or 18.5% of the national population, experience mental illness every year.
Psychiatric disabilities are persistent conditions that may have a significant, lifelong impact. Those diagnosed with a psychiatric disability may mitigate the effects of their condition with medication and/or ongoing psychotherapy. Even with treatment, many psychiatric disabilities will persist in some form.
College students with psychiatric disabilities face unique educational challenges. Dedicated mental health counselors and disability coordinators are available on most campuses, and students can typically seek medical attention. Many students, however, do not know how to get help for their problems. To help students get the assistance they need, we have examined instructional strategies, course accommodations, and other campus services designed to serve this population. Our goal is to provide a comprehensive resource for college-bound high school seniors and currently enrolled postsecondary students who struggle with mental illness.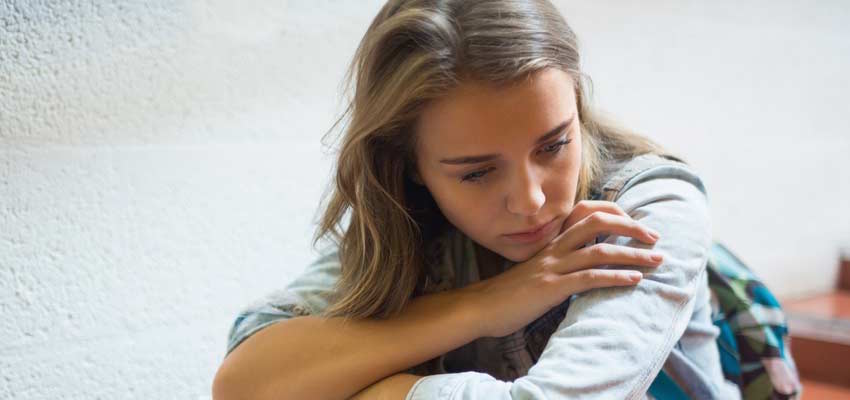 Disability in Colleges
Some psychiatric disabilities are more common than others among postsecondary students. A 2012 NAMI survey titled "College Students Speak" noted that:
27% of all respondents (male and female) said they lived with depression
24% said they lived with bipolar disorder
12% said they lived with "other conditions"; these include dysthymia, eating disorders, OCD and ASD
11% said they lived with anxiety
5% said they lived with ADHD
1% said they lived with substance abuse
In an article for Psychology Today, Gregg Henriques, Ph.D., notes that an increasing number of college students experience mental illness. He cites data from an NAMI survey, which found that half of all respondents did not receive any mental health education or evaluations prior to enrolling in college.
30% (of college students) struggled with schoolwork due to a mental illness, while one in four experienced suicidal thoughts, and one in seven engaged in reckless behavior.
Roughly 30% (of college students) struggled with schoolwork due to a mental illness, while one in four experienced suicidal thoughts, and one in seven engaged in reckless behavior. However, only 7% of parents surveyed believed their child was living with a mental health issue. An additional survey by the Association of University and College Counseling Center Directors found that 95% of the respondents believed the number of students with a mental illness and/or psychiatric disability was "a growing concern" at colleges. Henriques further noted that the suicide rate among 15 to 24 year olds has tripled since the 1950s.
Transitioning to College & Unique Challenges
Most college students struggle with the transition to some extent, but those living with a psychiatric disability face their own set of challenges and obstacles. Briana Boyington, of U.S. News & World Report, emphasizes the importance of selecting a college or university that offers all necessary services and accommodations. A student with OCD has different needs than one with ASD, and students should research whether their target schools have the services they need.
Boyington also highlights the need for supportive professors. Students who have been diagnosed with a psychiatric disability should meet with their current therapist or counselor to create a sustainable treatment plan. On-campus counseling and mental health services are also in place at most schools in order to help undiagnosed students.
How Schools Accommodate Students with Psychiatric Disabilities
Most academic experts agree that Universal Design of Learning (UDL) is key for integrating students with psychiatric disabilities into college classrooms. UDL seeks to address and modify course curricula that excludes any student, particularly those with a disability affecting their ability to learn and/or receive instruction in a class setting.
In order to create universally accessible courses, colleges must take the following steps to ensure their classes and campuses are completely inclusive:
Allow students with special needs to complete coursework, give presentations, and take exams using alternative formats.
Work with students with specific needs to gain access to adaptive software and technology that helps them learn effectively.
Appoint individuals who can assist these students as note-takers, readers, scribes, or other essential roles.
Offer students with special needs additional time for assignments and tests, as well as getting to class.
Guide students with disabilities to specialized counselors, resource centers, and other on-campus services dedicated to assisting these individuals.
Summary & Wellness Strategies
The most important thing for students with psychiatric disabilities to remember is that they are not alone. Many students have strong support systems that include friends and family members back home, though not all are so fortunate. Thankfully, college campuses are required by federal law to offer counseling and therapy services to anyone suffering from a mental illness. These resources are especially crucial for students who attend school far from their hometown.
Faculty members also play a crucial role in the college experience of students with psychiatric disabilities. If students are comfortable discussing their condition, they should meet with each professor for a one-on-one consultation at the outset of each semester or quarter. They can explore strategies for attending class, completing assignments, sitting for exams, and performing other required tasks within the bounds of the student's psychiatric disability. Students should discuss any accommodations or assistive technologies they may need over the course of the term during these meetings.
Students living with a psychiatric disability should also ensure they are only participating in social activities that will not trigger the negative effects of their mental illness. Living situations are key: students should make sure they live in a comfortable setting with minimal stress. For some, that means living alone instead of in a dorm; others may prefer to have people around at all times. Students with prescriptions should also avoid excessive drinking and drug use, as these substances can counteract the therapeutic effects of their medication and, in some cases, can lead to a dangerous overdose.
Scholarships
AAHD Frederick J. Krause Scholarship on Health and Disability

Business Plan Scholarship from Fit Small Business

Google Lime Scholarship

Learning Disabilities Association of Iowa Scholarship

Margaret Howard Hamilton Scholarship

National Center for Learning Disabilities

NIMH Scholarship

Organization for Autism Research Scholarship

RISE Scholarship Foundation
Additional Resources
National Institute of Mental Health (NIMH): The leading federal agency in the field of mental health research, NIMH is one of 27 branches of the National Institutes of Health. The NIMH website is a compendium of news, published reports, academic journals, data tables, and other academic resources.
National Alliance on Mental Illness (NAMI): Founded in 1979, NAMI is the nation's largest grassroots organization in the country that supports people living with mental illness. NAMI maintains a toll-free hotline to provide advice and medical referrals. Representatives from the organization also work closely with lawmakers nationwide to ensure fair and equal protection for people with mental health issues.
Treatment Advocacy Center (TAC): This nonprofit organization has worked to promote mental health treatment and fight social stigma related to mentally ill individuals for nearly 20 years. TAC also collaborates with researchers to publish the latest developments in medication and treatment for mental illnesses.
MentalHealth.gov: This website, maintained by the U.S. Department of Health and Human Services, maintains an up-to-date listing of toll-free hotlines accessible to people living with mental illness.
Shining a Light on Mental Illness: an Invisible Disability: This blog post from the World Bank explores various issues faced by people living with mental illness. Links to other related blogs and websites are included.
National Coalition for Mental Health Recovery: An organization of mental health consumers/survivors, leading the development and transformation of the mental health field through implementation of health care, mental health, and social policies.