Female students accounted for 56% of the total undergraduate enrollment in the fall of 2017, and as more and more women pursue degrees, the harsh reality of paying for an increasingly expensive college clouds the experience. In a time when student loan debt has skyrocketed to $1.5 trillion, reliable sources of financial aid are an essential part of containing student debt.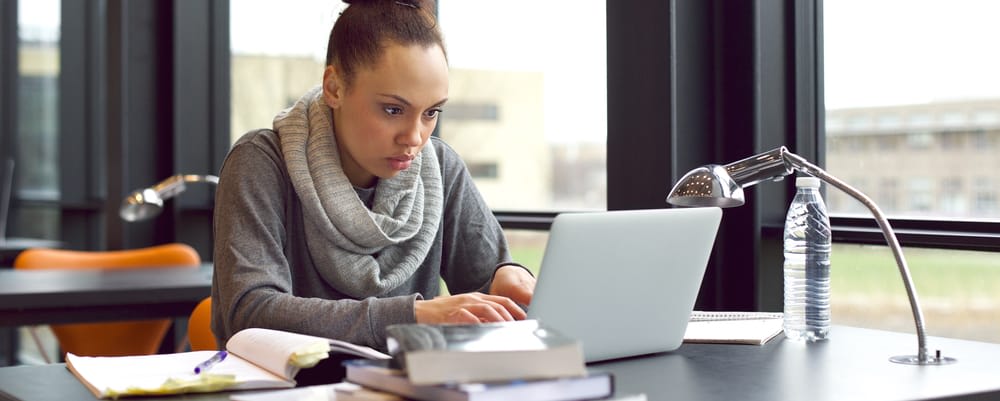 Student Loan Debt by Gender
According to the latest data provided by the National Center for Education Statistics, female students receive an average of $17,950 in financial aid per academic year, which is $610 less than their male counterparts. While these funds, which are made up of grants, loans, and work-study programs, partially offset the high cost of a degree, they are not enough to ensure that women graduate from college and enter the workforce without significant debt. Hence the importance of merit- and aid-based scholarships.
Unique Challenges
WOMEN ARE MUCH MORE LIKELY TO GRADUATE WITH DEBT THAN MEN.
Female students face unique financial challenges, both in college and throughout their professional lives.
Increased Student Debt
The American Association of University Women found that women are much more likely to graduate with debt than men, with 41% of female undergraduates taking on debt during the 2015-16 school year compared to 35% of male undergraduates. This leaves women with less money to pay for essentials such as health insurance, housing, and food. In long-term planning, it means they will wait longer to purchase a home, start a family, and have smaller retirement funds.
The Gender Gap
In as recent as 2015, women made just 82 cents for every dollar earned by a man. While federal and state laws have banned gender discrimination, inequality still exists.
Though both of these issues create substantial hurdles for women, maximizing aid and scholarships can significantly lessen the financial burden of higher education. However, many sources of aid go overlooked. Take work study programs. According to a report by the NCES, just 5% of students earn money through work-study, meaning tens of thousands of dollars in aid are left on the table every year.
Below, we investigate the major sources of financial aid awards, which, unlike loans, do not have to be repaid. We explain how scholarships, grants and fellowships work and then identify awards for women that are worth pursuing.
Scholarships
Similar to grants, scholarships are funds that students are not required to pay back. Often this form of funding comes with specific requirements of the student, such as maintaining a certain GPA, earning a specific degree, or living in a particular region. Any student can apply for a scholarship provided they meet the eligibility requirements. Scholarships are particularly valuable to female students, allowing them to offset costs while not going further into debt.
Although scholarship applications vary significantly among different organizations and foundations, they typically have similar baseline requirements:
Scholarship Application How-To
Essay
Whether writing about a time in life when you overcame a challenge or delineating what a college degree means to you, most scholarship applications require some written component.
Transcripts
Undergraduates should have access to their high school transcripts and any records of recently completed college coursework. Graduate students will need their undergraduate transcripts.
Letters
Students should have two to three former teachers, mentors or bosses who are able to speak to their qualifications in a letter of recommendation.
Tips and Tricks for Scholarship Applicants
Start Early
Even if you aren't planning on attending for another one to two years, get an idea of what's out there. Those who know the field best have the best chances.
Go Local
Although there are national scholarships abound, the same can be said for applicants. If there are scholarships specific to your city, state or region, go after these first. You'll have a better shot at securing an award.
Tailor
After a certain number of applications, it may be tempting to create generic answers and copy+paste them onto the form. Resist the urge, as individualizing your application to each organization or foundation will show you care about their goals and mission.
Gather Documents Early
It's vital that you don't put this off until the last minute, especially if you are relying on letters of recommendation. While you may be able to pull everything together in a rush, you expose yourself to mistakes and an overall dip in quality.
Respect the Deadline
While you may have found a scholarship that was tailor-made for you and crafted the best application imaginable, missing the deadline wastes your efforts. Make a calendar of all deadlines for scholarship to which you are applying, and make sure to send everything in on time.
Applicants seeking further advice can use the following resources:
Where to Find Scholarships
true
Women's organizations
Recognizing the unique challenges faced by female students, numerous prominent women's organizations have created scholarship funds to aid women of all ages in their pursuit of a degree. Students can research organizations such as the American Association of University Women, American Medical Women's Association, P.E.O. Sisterhood, and the American Business Women's Association, to name a few.
Your college or university
Female students can take advantage of a number of institutional scholarships, including those offered by specific programs or departments. Such scholarships can either be merit- or need-based.
Foundations
Thousands of foundations offer scholarships based on specific interests. Whether seeking exclusively female applicants, students with disabilities, students who plan to pursue a particular topic or career, or those with the highest GPAs, foundations are a vital source of scholarship funding.
Local community organizations
Groups like Lions Club International and Rotary International have thousands of chapters throughout the country and many provide local scholarships to graduating high school students. It's worth checking a directory of community organizations and researching which ones provide awards.
Scholarships for Women by Field of Study
The scholarships listed below are available every year. Students should bookmark any of interest and check back regularly for details about the next cycle of awards.
Arts and Humanities
Communication
AQHA Career Path Scholarship
Who's Eligible: Female students undertaking a degree in journalism or communications who plan to pursue a career related to horses.
Award Amount: Varies
Alliance for Women in Media Emerging Voices Scholarships
Who's Eligible: AWM partners with Ford Motor Company to offer this scholarship. Applicants must send in an essay to be considered.
Award Amount: $1,000 to $3,000
Engineering
Society of Women Engineers Scholarships
Who's Eligible: The SWE manages several awards, with varying eligibility and due dates. The SWE page linked above hosts a series of informational videos on how to pursue the society's awards.
Award Amount: $1,000 to $10,000
APA Foundation Scholarship
Who's Eligible: Students who want to focus on advancing social equity.
Award Amount: Varies
Auxiliary Legacy Scholarship
Who's Eligible: An undergraduate woman in her junior year of a four-year engineering program accredited by ABET.
Award Amount: $2,500
Medicine
American Chemistry Society's Priscilla Carney Jones Scholarship
Who's Eligible: Female undergraduates enrolled in a chemistry program, provided they are in their junior or senior year. They must also have a GPA of at least 3.25 and demonstrate financial need.
Award Amount: A minimum of $1,500
AAUW Selected Professions
Who's Eligible: Female students studying science, technology, law, business administration, and medicine at the graduate level.
Award Amount: $5,000 to $18,000
Stephen Bufton Memorial Educational Scholarships
Who's Eligible: The Stephen Bufton Memorial Education Fund offers multiple scholarships to women with varying awards.
Award Amount: $2,500 to $10,000
Science
National Oceanic and Atmospheric Administration's Dr. Nancy Foster Scholarship
Who's Eligible: Women with financial constraints pursuing a graduate degree in a science-related program.
Award Amount: Up to $42,000
American Physics Society's M. Hildred Blewett Scholarship
Who's Eligible: Female students who have completed a Ph.D. in physics and are pursuing research projects.
Award Amount: Up to $45,000
Women Chemists Committee Overcoming Challenges Scholarship
Who's Eligible: A woman enrolled in a two-year or four-year chemistry degree program at a school that does not grant doctoral chemistry diplomas. The applicant also needs to show that she has overcome hardships in her lifetime.
Award Amount: Up to $1,250
Grants for Women
Aside from scholarships, grants are another highly appealing form of funding for female college students. Typically need-based, grants may come from colleges, private organizations, or the government (both state and federal). Like scholarships, these funds do not have to be paid back at any point. Grants are also advantageous because they are open to almost any student who can show financial hardship. They exist at all levels of higher education and can be found at both the local and national level.
Where to Find Grants
Private Corporations
Typically offered for students with specific interests or career goals, private corporations often award grants to their employees to obtain further education in a field that will benefit the company.
Foundations
These types of grants are typically awarded to students who can demonstrate not only need, but also academic excellence and a proven dedication to their field. Numerous female-specific grants are available, particularly to students in graduate programs. The Foundation Center offers a database of foundation grants available to individuals.
Your University
With the goal of assisting students from low-income backgrounds, the majority of universities now offer some type of grant funding. The majority of these are awarded based on financial information students and their families provide on the FAFSA form, so filling out this document is crucial.
Fellowships for Women
Fellowships have long been an award coveted by graduate students, though increasingly more opportunities for students pursuing their baccalaureate degree are becoming available. Whether lasting a few months or a few years, fellowships help students develop professional or academic skills and are often sponsored by a specific educational department or organization looking to grow the leaders within that field. As with scholarships and grants, fellowships provide funds with no repayment strings attached.
Where to Find Fellowships
When seeking a fellowship, students should begin by speaking to the financial aid office, either at their current institution or a prospective school. The University of California at Berkeley provides an excellent example of the type of information fellowship applicants can hope to gain from a school. Interested candidates should also research professional organizations or associations within their field, as many of these provide fellowship opportunities. For example, a student pursuing a career in anthropology could apply for one of the American Anthropological Association's numerous fellowships.
American Association of University Women American Fellowships
Who's Eligible: Full-time female students working to complete a dissertation, conduct research, or prepare for publication.
Award Amount: Varies
Graduate Women in Science National Fellowship
Who's Eligible: Female students who have completed a degree and are performing hypothesis-driven graduate research.
Award Amount: Up to $10,000
Woodrow Wilson Dissertation Fellowship in Women's Studies
Who's Eligible: Ph.D. students working to complete their dissertations on a topic related to women's issues.
Award Amount: $5,000
Other Ways to Save
Cook at home. While it's tempting to go out for all your meals, cooking at home can save hundreds of dollars each month. If you've got roommates, it may even be worth getting a membership to a bulk goods store to save more.
Used is best. Rather than buying new textbooks at full price, shop the used books. The university bookstore often has a few copies at the start of the semester, but online retailers are also good sources.
Work (during the summer). If your schedule permits, landing a summer job and making some money while not in school will go a long way during the semester. If you can live with your family and save on rent and utilities, all the better.
Additional Resources
The AAUW works tirelessly on behalf of women in higher education, conducting important research and offering a variety of scholarships, grants and fellowships.
In addition to serving professional women working in business, the ABWA also has a student membership, allowing women to get involved in the business arena while still in school.
Many colleges have dedicated women's resource centers, as seen in this site for Saint Mary's College of California.
This nonprofit organization supports women working to complete their degrees at a community college.
The president confirmed free community college had been scrapped from his Build Back Better plan and proposed an increase in Pell Grant payments instead. Trade education is on the rise. Colleges should embrace transferrable and stackable credentials so students can transition easily between educational paths. Discover the strategies college students with disabilities can use to determine a career path, search for a job, and navigate barriers to employment.