Mental Health for Students With Disabilities
For students with disabilities, adequate care for mental health is a key component to academic success. Find independent support and campus services in this guide.
Image Credit: kali9 / E+ / Getty Images
---
College students with disabilities face stigma around mental health treatment and barriers to reasonable accommodations.
Some mental health conditions are protected under the Americans with Disabilities Act — colleges must provide services.
Students can access mental health support through counseling centers, peer support groups, and friends and family.
---
Transitioning to college life can be stressful for students. It can be especially difficult for individuals with disabilities dealing with mental health conditions. A disability is defined as any physical or mental condition that results in the restriction of a person's ability to participate in certain activities or the world around them.
College students may have a mental health disability, a physical disability, or both — all are protected under the Americans with Disabilities Act.
Disabled students often face barriers to treatment and adequate support on campus. They may deal with stigma, financial instability, and a general misunderstanding of how different mental health statuses can impact a student's academic performance. Prospective students should find out which support services are available on campus to help build mental health stability.
Types of Mental Health Support
Students living with mental health conditions may hesitate to seek help because of the stigma surrounding mental health conditions. And because the transition to college is not always an easy one, learners may adjust to their new environment better with support provided near or on campus, online, or through community networks.
When students first reach campus, they should seek out support from counseling centers, study groups, disability services, and other health and wellness programs offered by their school. Disabled college students can access many types of support. They can receive mental health support online or in person. Individual and group therapy options are also available.
Students with disabilities who wish to build their mental health foundation can find help through books, podcasts, and videos. Friends, family, and professors can provide more support and information on where to find professional or peer-based help.
"The COVID-19 pandemic has demonstrated to Americans that addressing one's mental health needs is essential," said Dr. Sharon Melisse McLennon-Wier, a certified rehabilitation counselor and licensed mental health counselor. "The option of telehealth services has allowed for immediate access to mental health providers who are licensed within your state. This allows for both the clinician and the client to work on addressing the clinical-presenting issue."
Dr. McLennon-Wier added, "A student with a disability can find a clinician online through their insurance provider, through a recommendation from their general practitioner, or by calling their local independent living center for a referral."
Barriers to Mental Health Support for Disabled Students
College students with disabilities may encounter barriers to mental health support due to limited support systems on campus, mental health stigma, and financial barriers. These barriers can impact a student's ability to find adequate care.
Disabled college students may also find it difficult to receive proper mental health care due to inadequate access to healthcare, lack of training among mental health providers, and discrimination and ableism in the healthcare system. Mental Health America's (MHA) 2021 report found that 70% of students surveyed believed their college did not provide adequate education on mental health disabilities and available campus services.
MHA's study also found that 87% of students ages 18-24 who were screened for depression showed moderate to severe symptoms of depression. The limited mental health care available on college campuses may be overburdened by the increased need for mental health support among college students. This can lead to additional barriers to support and treatment access.
A second MHA study found that college students had difficulty accessing disability services because the staff were either unaware of the available services or had stigmatizing beliefs about mental health conditions. Some students even reported that professors refused to accommodate their disabilities. The study also found that lengthy documentation and registration processes made receiving treatment almost impossible for students.
Choosing the Right Mental Health Support for You
Students are their own best advocates for their mental health needs and concerns. When choosing mental health support, college students with disabilities should consider the type of service they prefer, cost, location, competency of care, and personal compatibility. All of these factors determine mental health treatment's success, so students should carefully weigh their options.
Students with mental health disabilities must determine what services they can get within their budget. Where students will receive mental health support is also important to consider. Learners must balance treatment with class schedules, study time, and other campus activities. Students must also choose a mental health provider that can adequately listen to and address their concerns.
It's important for students with disabilities to choose the right mental health support for their needs to be successful in college. Students can also learn valuable mental health coping strategies to support their needs.
We asked Nandita Gupta, an accessibility program manager, about advice for disabled students seeking mental health support.
"The biggest piece of advice I can give students with disabilities seeking mental health support is to get started — don't wait until things get more difficult. There is no shame in seeking help and support, and everyone around us wants us to succeed. Think of mental health as another tool in this toolkit for success that will help propel you forward."
As a student, I found counseling services to be very valuable, as they gave me additional resources to not only cope with stress and anxiety but help me stay focused on things that were important to me."
Mental Health Resources for Students With Disabilities
Take Time to Prioritize Self-Care
Give yourself time and space to focus on you. Explore our collection of mental health resources to find support.
Learn More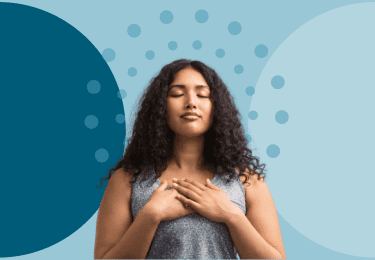 Frequently Asked Questions About Mental Health for Disabled Students
Do student disability services deal with mental health?
How does disability affect mental health?
Having a disability can affect mental health, and some mental health conditions are considered a disability. Students with disabilities are more likely to experience mental distress than their peers without disabilities. A study in 2018 found that almost 33% of adults with disabilities reported experiencing frequent mental distress, or feeling mentally unwell, for over two weeks in the last month.
Some disabled students may feel isolated from their peers and support systems because of their disability. Facing ableism and discrimination while navigating barriers to treatment can affect a disabled student's mental and emotional well-being.
What mental health disorders are considered disabilities?
There are several mental health conditions considered disabilities, including bipolar disorder, anxiety, and depression. Mental health disorders can affect a student's ability to participate in class and other campus activities. Students with mental health conditions may also struggle to complete coursework and assignments without additional support.
Transitioning to college can be a stressful life event that can worsen a student's mental health condition. Students with disabilities are protected under the Americans with Disabilities Act and have a right to reasonable accommodations. Colleges are required to provide accommodations to any student with a disability that affects their ability to function at school.
With Advice From:
Nandita Gupta
Nandita Gupta is an accessibility program manager at Microsoft where she works on a product that empowers users to create inclusive and accessible experiences. She has been named one of the Influential Women of Manufacturing 2019 by Putman Media and is a board member on different boards, including Lime Connect, an organization with a mission for rebranding disability through achievement. She also serves on the Accessibility Leadership Council for Disability—IN.
As a board member for the nonprofit organization Caroline Calouche & Co, Gupta leads the Diversity, Equity, and Inclusion Committee as the chair, where she is working on creating inclusive spaces within the dancing communities. She has been actively involved in various mentoring organizations and was inducted into the Susan M. Daniels Disability Mentoring Hall of Fame. She has also been a speaker at numerous conferences including Grace Hopper Celebration for Women in Computing, Assistive Technology Industry Association 2020, and World Information Architecture Day.
Dr. Sharon Melisse McLennon-Wier
Dr. Sharon Melisse McLennon-Wier has been working in the field of rehabilitation counseling and mental health for over 25 years. Dr. McLennon-Wier received her Ph.D. from Seton Hall University in counseling psychology in 2012. She obtained a U.S. law and methodology certificate from New York University's School of Continuing Education in 2003, her MS in rehabilitation counseling from Hunter College in 1998, and her BS in biology from Syracuse University in 1993.
Dr. McLennon-Wier is a certified rehabilitation counselor and a New York-licensed mental health counselor. Currently, she works for the Center for Independence of the Disabled, New York as the executive director. She has published several articles and book chapters regarding disability. In addition, she is a board member of both the National Rehabilitation Association's Metro New York chapter and the Lavelle Fund.
DISCLAIMER: The information provided on this website is not intended or implied to be a substitute for professional medical advice, diagnosis, or treatment; instead, all information, content, and materials available on this site are for general informational purposes only. Readers of this website should consult with their physician to obtain advice with respect to any medical condition or treatment.