College Guide for Students With Physical Disabilities
For students with physical disabilities, finding a suitable postsecondary institution can be difficult. Despite certain logistical challenges, however, students with disabilities are well represented on college campuses. And thanks to legislative efforts over the last 50 years, institutions of higher learning have considerably expanded campus resources for those with special needs. Key efforts include the Americans with Disabilities Act (ADA) of 1990 that prohibited discrimination on the basis of disability, the Assistive Technology Act that provided grant funding for technological aids, and Section 504 of the Rehabilitation Act of 1973 that provided equal benefits and services for students with disabilities at publicly funded colleges.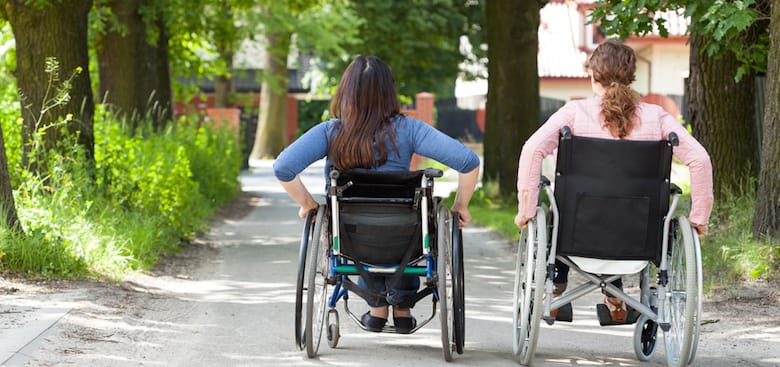 A 2013 National Center for Education Statistics (NCES) report concluded that 2,563,000 students with disabilities were enrolled in the 2011 to 2012 academic year, accounting for 11.1% of all undergraduates enrolled nationwide. Of those students, approximately half were enrolled in public two-year institutions. During that same period, 88% of two-year and four-year title IV degree granting postsecondary institutions reported enrolling students with disabilities.
There is, of course, no one-size-fits-all solution for students with disabilities. What remains consistent, however, are the widespread resources and accommodations given to students with special needs. The NCES report shows that a large percentage of institutions provide additional exam time, classroom note-taking assistants, personal attention from faculty, learning strategy and study skill help, alternative exam formats, and adaptive technology. Colleges are required to make accommodations for students with disabilities to a reasonable extent (i.e. one that does not fundamentally alter the program of study), but not all campuses and buildings are outfitted for special accessibility.
88% of two-year and four-year title IV degree granting postsecondary institutions reported enrolling students with disabilities
For example, a student with a walking disability may need to pay special attention to the layout of the campus to determine if a school is adequately accessible. They need to know where classes are held, how far apart they are, if there are any steep gradients or hills, and how best to be prepared for emergency exits. These are considerations that should be thoroughly researched in advance. If a student does decide to enroll, developing a relationship with the campus administrators and disability services staff as early as possible will be an important part in ensuring a comfortable campus experience.
Transitioning to Higher Education
For students with disabilities, successfully transitioning from high school to college rests heavily on understanding their personal needs, managing expectations, taking advantage of resources, and planning ahead. College is often the first time students live away from family, and this can prove especially challenging as they become immersed in a more rigorous and often less personalized academic environment.
In high school, students are usually in class all day and often have a high degree of contact with their teachers. In college, classes typically meet once or twice a week and teacher contact tends to be more limited, requiring students to schedule visits during office hours. Time management becomes more important and college students will be required to study and complete assignments on their own time (and over longer, unsupervised periods of time) without the benefit of supervised study hall or resource periods.
To prepare for the challenges ahead, it is imperative that students create a comprehensive transition plan prior to enrolling. Students who have an Individualized Education Program (IEP) in high school, for example, can rely on parents, teachers, and counselors to help them identify and outline collegiate goals. Planning well in advance can also give students a sense of independence; a vital trait in the less-forgiving world of higher education.
Students also need to learn how to advocate for themselves, meaning they must have a strong understanding of their interests, abilities, and needs; their situation; and how to voice their concerns. The process of developing these skills should begin as early as possible.
Accommodating Students with Physical Disabilities
Under the Americans With Disabilities Act and Section 504, schools that receive federal funding are not only prohibited from discriminating against individuals with disabilities, but are also required to provide equal academic opportunities to their students and reasonable accommodations for disabilities. These accommodations are determined on a case-by-case basis and may vary from school to school (such as in the approach at a public vs private school). Common accommodations include:
Additional Time
Students with visual or auditory impairments or learning disabilities may require extra time to complete assignments. Provisions might be handled by individual teachers or through recommendations by the student services department. This is often recommended for students with ADHD, visual or hearing impairment, health impairments, mental health issues, and severe physical disabilities.
Modified Courses
This accommodation is more prevalent at institutions designed specifically for students with disabilities than at traditional colleges where large class sizes and set curricula might make it difficult for teachers to provide personalized attention or to modify the class schedule. Modification of a student's curriculum depends upon the evaluations stipulated by Section 504: under this legislation, schools must provide a reasonable amount of accommodation as long as it doesn't fundamentally alter the nature of the academic program. But while some courses only meet the minimum legal accommodations, initiatives like the Universal Design of Instruction are urging educators to make accessible courses that have a greater effect on the various elements of the learning process.
Resource Center
Students with disabilities should seek the on-campus student services office that handles disability resources to learn about the availability of in-class aides, interpreters, note takers, and other academic resources. This is often the best way to identify specific accommodations during the application, enrollment, and attendance process. The extent of services offered by the department are a strong indicator of the overall quality of a school's disability support.
Disability Counselors
Often, prospective college students with disabilities will already be working with a personal counselor or case manager to design their IEP transition plan from high school to college. Once a student enrolls they should meet with the school's student services department, who will then be their primary point of contact. These counselors work with the administration to ensure the school's accommodation efforts comply with disability legislation. Counselors may also track a student through their academic career and assist them post-graduation.
Living Accommodations
Before applying to school, prospective students with disabilities should visit the school's dormitories to determine whether or not living accommodations will be appropriate. Considerations include the number of students per building, noise levels, physical access, and the availability of nearby guidance counseling. It is recommended that students contact the student housing services department for information on all available housing, accessible dining options, and parking.
Support Centers
These resources vary from school to school but a good way to find information is to search a college's website for student clubs, organizations, Facebook pages, distance learning options, and online courses designed for students with disabilities. Though teachers and counselors are often very sympathetic and accommodating to students with special needs, new students might benefit from finding a community of peers to help in the transition to college life.
Assistive Technology
Assistive technology includes apps, software, hardware, and other technological resources that are designed to aid students with physical or learning disabilities. This technology can help students complete work in the classroom, at home, or in any situation requiring additional organization and speed. Many schools offer assistive technology free of charge to students, enabling them to reach their full potential in the classroom. Useful technology for learning assistance includes visual imaging software and a communication board.
When choosing assistive technology it is important for students to find a system that plays to their strengths, addresses fundamental disability issues, and maintains a simple and easy-to-use interface. The technology itself might be complicated, but it is essential that it is relevant and intuitive, enhancing a student's time in the classroom or during study sessions.
Examples of assistive technology
Computer Mouse Alternatives: If dexterity is an issue in controlling a mouse, students can look to alternatives such as a touch pad that senses broad motion, a wireless USB trackball controller that alleviates stress on hands and wrists, or interactive projectors and styluses. A variety of ergonomic designs are also available, such as foot-activated mouse controllers.
Voice Recognition Software: Voice recognition software converts speech to text, which is helpful for physically disabled students who struggle with writing or are unable to. Premium dictation software is able to quickly and accurately do the following: select text, correct and format text, move the cursor, and input various punctuation commands. Other voice-activated tools include web search, customizable commands for your computer, voice and language training, support for foreign accents, and navigation of programs and folders.
Eye Tracking Software: Eye tracking software is an incredibly powerful tool that uses a person's eye movements to control a computer interface, much like a traditional mouse. This technology requires the ability to move the eye, but does not require the movement of any other muscles, making it a vital tool for thousands of people affected by paralysis, strain injuries, or motor disabilities. In a similar vein is eSight, a wearable high-speed camera that captures anything the user is looking at and sends it back in high-definition enhanced LED, enabling users with sight disabilities and low vision to register and control the visual image at various perspective lengths.
Ability Switches: These switches offer people with disabilities an alternate means of interacting with computers and other electronic interfaces. Common mechanisms include mechanical press switches, flat membrane switches, powered switches, wireless switches, or sip/puff switches.
Common Accessibility Apps
| | |
| --- | --- |
| | Wunderlist helps students stay on track by making it quick and easy to organize assignments, study dates, and more. Students can share lists with classmates and sync them between their phone, tablet, and computer. The app is free and offers a paid version as well. It's available on IOS and Android systems. |
| | Audio Note, a popular note-taking software, combines the functions of a notepad and audio recorder by syncing text and audio. Text cues link to the audio file, highlighting notes and photos in real-time. It is perfect for students who require organizational help mid-lecture. |
| | Penultimate is designed to be used with a stylus or iPad pen and allows the user to write notes as they would on a piece of paper. The program stores this text in a notebook folder and is great for organizing lecture notes, drawings, graphs, or equations. |
Meet Dr. Christopher McCulloh
Dr. Christopher McCulloh is a third-year surgical resident at Morristown Medical Center, part of Atlantic Health System, in Morristown, New Jersey. Dr. McCulloh is pursuing a career as a pediatric surgeon.
Following a brief career in IT and founding a cyber security start-up, Dr. McCulloh received his medical degree from Case Western Reserve University in Ohio. He then served as a post-doctoral research fellow at Nationwide Children's Hospital, where he researched treatments for Necrotizing Enterocolitis with stem cells and exosomes.
In August 2017, Dr. McCulloh was featured on ABC's 20/20 as one of only a handful of doctors in the nation who practice medicine with a physical disability. He is heavily involved with advocacy for those who have disabilities, and frequently lectures across the United States on this topic. In addition, he is active on social media at @McCullohMD and frequently mentors medical students in similar situations.
Can you tell us a little about your physical disability?
As the result of a fall, I have an incomplete C7 spinal cord injury (ASIA D). I use a wheelchair for mobility, and have complete use of my upper body, including full dexterity of my hands.
As a student with physical disabilities, what was the greatest challenge you faced during your transition to college?
The greatest challenge I faced during my transition to medical school, related to my disability, was moving to a new city and a new school, and being unfamiliar with my new day-to-day. I had to establish a new normal routine. That includes having to figure out if certain buildings were only accessible through specific entrances, if I couldn't take particular paths because of stairs, if particular elevators were slow or crowded and would significantly add to my travel time, and so forth. As anyone with a disability knows, anytime one goes somewhere new, a lot of details have to be thought about and planned beforehand that people without a disability don't have to consider.
How did you overcome this?
Six months prior to starting medical school, I visited the campus and the surrounding area. The administration had organized a meeting that included the deans, facilities engineering, disability services, and a physiatrist. We discussed what accommodations I might need and what challenges I might face. I also took the time to visit different options for housing, and scoped out different neighborhoods. I tried out different ways to get to and from the buildings I needed to use, figured out which entrances were and were not accessible, and tried to scope out any elevators that might or might not be useful (long waits, already full at certain times, etc).
What are the three most important attributes or characteristics you believe a student with physical disabilities should consider when selecting a university experience, and why?
Finding a university that frankly and easily discusses the student's unique challenges and needs is the most important thing. I have met with faculty at some places that were afraid to ask direct questions, as though it was improper. The best way to ensure a university can meet your needs is to pay close attention to how they frame the discussion. If it is frank and candid, and they are clearly hearing what you're saying, that's a great sign.
Finding a university with a well-established disability services department is hugely beneficial. Meet with them before selecting a school and see how well-established they are. If they have worked with a number of students with similar disabilities before, they are likely already facile at helping to acquire any necessary accommodations. However, if a school hasn't had as much experience with students with physical disabilities, I wouldn't necessarily rule them out.If they demonstrate a genuine and strong willingness to work with you and are doing everything they can to get ahead of any challenges, then that's a great sign. A motivated institution that communicates well can be more helpful to a student than a school with an unengaged disability services office. If a school isn't excited to work with you, then it might not be a good fit. Perhaps most important, and not specific to students with a disability, it is critical that you feel comfortable, welcome, and at-home in a chosen school. Feeling like a part of a community is more likely to lead to success and a positive experience.
How important is the university's community and resources for students with physical disabilities?
I think it's important that a university have the resources to ensure the success of its students, regardless of their physical abilities, but it becomes even more important for students with a disability. I would highly recommend connecting with disability services during the application process and setting up a meeting with them to discuss any specific needs and ensure that particular schools are able to meet those needs.
Do you think a sense of community with other students who have a physical disability is important when selecting a college to attend?
I think this is highly dependent upon the individual student. Some students thrive when connected to a community of other students who also have a disability. In my case, the class size in medical school was so small that such a community did not exist. While it no doubt existed in the university at large, time in grad school is spent closely with others in grad school. For me, this was not a concern -- however, I know a number of other people who felt differently and would have been frustrated with their university experiences if they were not connected to such a community.
What is the process like when working with university staff, professors, and disabilities services?
The process for me started before I arrived on campus. I met with university staff, professors, people from disability services, as well as engineering, six months prior to enrollment. We spent time in different parts of the school and campus where I would spend my time, and made sure they everything was accessible. They were ready to install power door openers, remove auditorium seats so there would be a space for a wheelchair, and make any other needed adjustments. The process could not have been more conscientious or well-orchestrated.
What advice would you give to a student with physical disabilities who is considering college?
Don't listen to people who tell you "no!".
Having a mentor is key for any student, and it becomes even more important for those with physical challenges. I was fortunate enough to find people along the way who were engaged in helping ensure I had the support and resources I needed to be successful. When you come across those people, make sure to keep them close.
What are some of the ways family and friends can support students with physical disabilities during this time of transition?
The biggest way I think family and friends can be supportive during the transition is to be present. Moving is frustrating and challenging for anybody, and it becomes even more difficult for those with physical disabilities. The best support I received was having people around to help with all of the little things that come up -- last minute packing, running to the store to pick up things that are needed, helping arrange furniture or hanging pictures, running other errands, etc. Those little things go a long way to help make the transition a lot smoother.
What are the ways a college should support students with physical disabilities? Where did you find you went for help if an issue did arise?
I think schools should do everything necessary to give the student with a physical disability every chance to be as successful as students without a disability. Providing resources is of course essential, but even more so is having the full support of faculty and administration. There will always be bumps in the road, and that isn't the true measure of what makes a university. What matters is how they respond to those bumps. I was fortunate enough to have administration and disability services offices that were very proactive and involved in ensuring the success of their students. I didn't have to go far, because they were with me every step of the way. They play such a critical role, which is why it's essential to reach out to them before even deciding on a particular school. If they're difficult to work with before you even apply, they aren't going to be any better once you're a student!
Scholarships
Additional Resources
This comprehensive site offers advice for students with physical disabilities and learning disabilities who are continuing on to higher education. The resource section covers college planning, admission procedures, and various advocacy groups for the disabled; the site also hosts a particularly notable guide for parents and students on planning and preparing for college.
The American Association of People with Disabilities is the largest disability rights organization in the country. Their work largely focuses on promoting equal opportunity, independent living and support for people with disabilities and their families. The AADP site offers a number of outstanding resources for students with disabilities applying for college, including links to postsecondary education networks, reports from the National Center for Special Education and Research and resources for finding disability-friendly colleges.
The website for the National Education Association of Disabled Students is an association of 40 campus-based student groups and committees. The mission of NEADS is to assist students with disabilities to "organize at the grassroots level."
The University of Washington's forward-looking Disabilities, Opportunities, Internetworking and Technology website offers resources and news for educators and students interested in creating accessible education for all. Their site offer resources for veterans, employers and over 20 programs for both college students and prospective students.
The federal website for information and resources for the disabled. Topics covered include disability benefits, healthcare, accessible housing and finding a job. Topics also cover civil rights, benefits, technology and education. The education page includes links to student financial aid, college preparation, and strategies for educating and assisting the disabled.
---
Editor's Note: This article contains general information and is not intended to be a substitute for professional advice. Please consult a professional advisor before making decisions about health-related issues.
---
National Student Clearinghouse Research Center data show enrollment down 6.5% since fall 2019, the sharpest two-year drop in the last 50 years. The Pay Down, Upskill Act would pay off up to $10,000 in undergraduate student loans per person. Many college students have an eating disorder or know someone who does. Use these resources to get support, help others, or find treatment.