Resource Guide for Students With Physical Disabilities
Thanks to disability laws, students with physical disabilities can achieve a college education. Read this guide to find resources for navigating higher education.
Image Credit: Andersen Ross Photography Inc / DigitalVision / Getty Images
---
---
According to the Centers for Disease Control and Prevention (CDC), 1 in 4 adults in the United States has a disability that impacts their lives. Mobility, the most common category of disability, includes activities like walking and climbing stairs.
Physical disabilities shouldn't stop a student from attending a college or university. In fact, laws and accommodations are in place to allow students with physical disabilities to pursue their college dreams alongside their peers.
Read on to learn about the transition to higher education and available accommodations and resources.
What Are Common Disabilities?
The Transition to Higher Education for Students with Physical Disabilities
Students with physical disabilities can face challenges as they transition to college. One immediate barrier is a loss of the support they may have received throughout their elementary and secondary school years.
Once they leave high school, students cannot benefit from Individualized Education Programs (IEPs) and 504 plans that may have supported them in those environments. IEPs and 504 plans are the result of parents, teachers, and counselors working together to help students with disabilities receive equal access to education.
In college, students must take the lead and work on accommodation plans with the office of disability services, sometimes called accessibility services, if those exist. College students with physical disabilities must learn self-advocacy and time-management skills.
Darrelle Radcliff, a student studying theater arts and liberal arts at Cuesta College in San Luis Obispo, California, says students should search for colleges that have a disability support services office. Once in college, she suggests speaking to professors about plans for your accommodations before the semester starts.
"The Cuesta College disabled students program services has adaptive equipment like lockers to store your books and backpacks in the daytime," Radcliff said. "They also have classroom and instructional support like note taker, preferential seating in the classroom, and adaptive furniture placement."
The World Health Organization identifies three aspects of disability: impairment, activity limitation, and participation restriction.
Included in activity limitation and participation restrictions are attitudinal barriers. Otherwise known as ableism, attitudinal barriers refer to the stigma or negative attitudes many in society have of people with disabilities. These stigmas and attitudes can also be a barrier for people with disabilities.
How Do Colleges Accommodate Students With Physical Disabilities?
Universal Design of Instruction (UDI)
Classroom instruction often leaves out students who struggle to learn in traditional learning environments.
Universal design of instruction is meant to reach all students. Instructors who apply UDI frameworks to their classrooms aim to create environments that are accessible to all students with a wide range of backgrounds and identities.
This way, students with various learning styles, physical abilities, reading levels, neurotypes, ethnicities, and more can learn together.
Disability Counselors
Many students with disabilities work with high school counselors or case managers while transitioning from high school to college.
In college, students begin working with counselors from student services or disability services. These professionals coordinate with the administration to ensure students are receiving appropriate accommodations in compliance with Americans with Disabilities Act (ADA) guidelines.
These counselors may guide students throughout their undergraduate studies and then help them transition into the workforce.
Extra Time
A common accommodation for students with disabilities includes additional time to complete assignments, including quizzes, tests, and in-class work.
While some instructors will accomodate students without a recommendation from disability services, students are more likely to receive these accommodations if they register their disability with the school. If required, this shows proof of their diagnosis. Disability services will work with instructors to coordinate accommodations.
Living Accommodations
Students with physical disabilities who plan to live on campus should learn about the accessibility of the school's dormitories and residential areas.
Contact disability or student services so they can provide information on housing accommodations and help you locate accessible housing.
When visiting a dormitory, it may be worthwhile to assess conditions related to all of a student's needs, including physical access, levels of noise and other potential sensory irritants or stressors, and proximity to bathrooms, food, counselors, and other relevant services.
Resource Centers
The department that manages accommodations and other resources for students with disabilities may be called disability services or accessibility services. Services may include assessing the availability of and assigning interpreters, note takers, and in-class aides. Other resource centers include: financial aid, dining services, and health services.
Support Centers
Each school offers different support centers. Students can learn about a school's support center by visiting the college's website to search for student clubs and organizations.
The university's social media channel may provide insight into these groups, as can the campus newspaper and conversations with counselors and students.
What Assistive Technology Is Available for Students with Physical Disabilities?
Ability switches enable students with movement limitations to use wheelchairs, computers, and other mobility and communication devices and electronics.
A variety of ability switches exist, though all switches are generally either electrical or mechanical. Electrical switches include sip-and-puff switches, brainwave switches, and optical (eye blink switches), while mechanical switches refer to joysticks, chin switches, and button switches, among others.
With eye-tracking software, students can control computers with their eyes, similar to a computer mouse. This software doesn't require the use of other body parts, so it can be helpful for students living with paralysis and other motor disabilities.
Students who face challenges writing due to physical disability can use voice recognition software to convert their speech. Voice recognition software, or dictation software, also allows students to move their mouse cursor, enabling them to select, correct, and format text, perform web searches, and navigate their computers' various folders and programs.
These apps are customizable, allowing students to create computer commands and engage in voice training.
Mobile Apps for Students With Physical Disabilities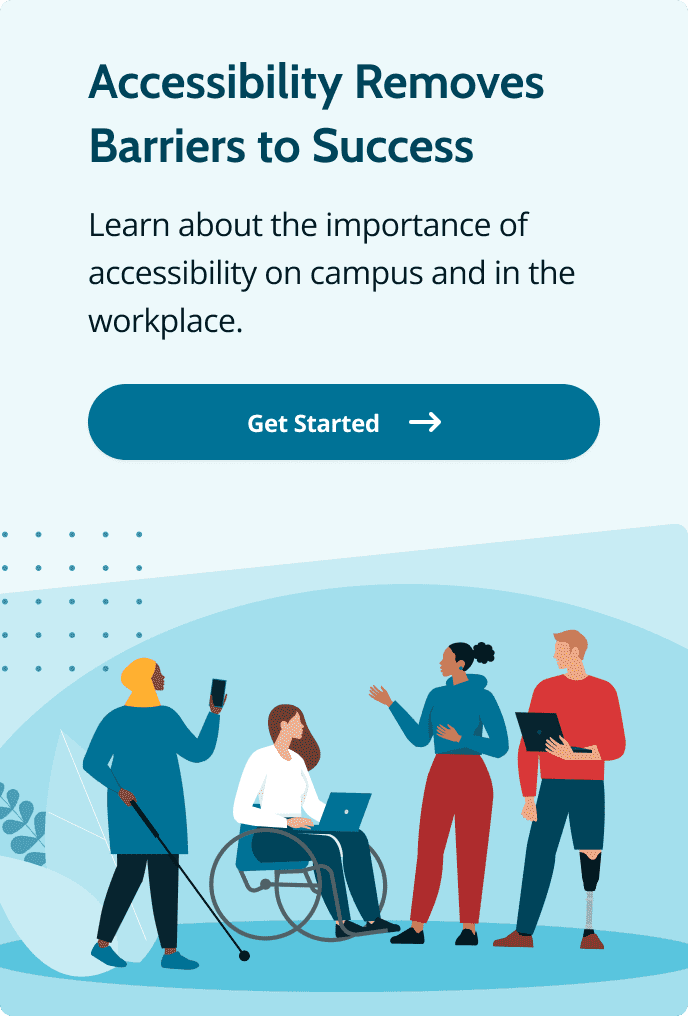 Resources for Students With Physical Disabilities
Frequently Asked Questions About Students With Physical Disabilities
How do you refer to students with disabilities?
The most inclusive approach is to ask each person what language they prefer. Many prefer identity-first language, while others prefer person-first language.
Examples of person-first language are: "people with disabilities" or "people with autism." Using identity-first language, you would use: "disabled people" or "autistic people."
Can I attend college with a disability?
Of course. With the right support and accommodations, you should be able to perform as well as you would like. Laws hold colleges responsible for providing accommodations and resources to assist students with physical disabilities.
Students with disabilities do attend and complete college and then go on to enter the workforce.
While deciding on a college, learn about the various types of support each college offers. The office of disability services can tell you about a school's specific policies and procedures.
How do people with a disability go to college?
While not all seek accommodations, many students with disabilities get assistance from the office of disability services and other campus resources.
Many schools are implementing the universal design of instruction, which allows students of any ability and identity to learn in the same environment.
Clubs and organizations for students with disabilities help participants find support from peers and build a community together.
How many college students have a physical disability?
It is difficult to tell. Not every student reports their disability to their school. Similarly, not every student may be aware of their disability.
In 2021, the National Center for Educational Statistics reported that in the 2015-2016 school year, 19.4% of college undergraduates reported their disabilities to their schools.
The prevalence of ableism, the social prejudice against people with disabilities, discourages many people from disclosing their disability.
Also, many college students aren't aware of the help their school's disability services office can provide. So many do not think to report their disability or seek accommodations.