How Do We Talk to Students About Suicide Rates in the Black Community?
Reducing Black suicide rates means discussing Black mental health. Learn more about suicide rates in the Black community.
Image Credit: gollykim / E+ / Getty Images
If you or someone you know is considering suicide, please contact the National Suicide Prevention Lifeline at 988 or 1-800-273-TALK (8255), available 24 hours a day, seven days a week. All calls are confidential, and anyone can use this service.
---
Nearly 50,000 people in the U.S. died by suicide in 2020.
Reports show that suicide rates are growing in the Black community.
Black college students commonly face discrimination, financial hardship, and other challenges.
More open discussion about Black mental health is needed on college campuses.
---
The Centers for Disease Control and Prevention (CDC) reports that nearly 46,000 people in the U.S. died by suicide in 2020.
And the Black community is not excluded from this. For example, a 2018 JAMA Pediatrics study found that 1,661 Black youths died by suicide from 2001-2015.
In addition to the lifestyle changes and academic pressures all college students face, many Black students also face challenges like bias, discrimination, and financial hardship.
To help reduce suicide numbers in the future, postsecondary institutions must promote open discussions about Black mental health.
Breaking Down the Numbers: Suicide Rates in the Black Community
According to a 2020 report from the CDC, 15% of Black participants seriously considered suicide within the 30 days prior to the survey. This compares to 8% of white survey participants and 11% of all participants who had also considered suicide.
Within the Black community, suicide rates differ between various demographics.
In 2021, The Trevor Project, in its national survey, reported disproportionate rates of suicide risk for Black transgender and nonbinary youths — 59% of this group seriously considered suicide. Also, 1 in 4 attempted suicide within the year prior to the survey.
The survey also found higher rates of attempted suicide among Black youths than white youths.
Out of the 35,000 LGBTQ youths The Trevor Project surveyed, 21% of Black queer youths attempted suicide in the year prior to survey compared to 12% of white queer youths.
Another study focused on the differences of rates of suicide attempts based on sex, race, and ethnicity.
In June 2021, JAMA published a study showing that males — in particular, Black male adolescents — have the "greatest need in terms of prevention of suicidal behaviors."
According to the study, Black men have the highest increase in suicide attempts (162.4%) between 1991 and 2019 when compared across sex, racial, and ethnic subgroups. The same study shows a 62.1% increase in suicide attempts for Black women.
Common Factors That Are Influencing Suicide Rates Among Black People
Stigma
A fear of being stigmatized keeps many Black people from pursuing diagnosis and care. Many choose to talk to their friends, family, church members, and other members of their communities rather than mental health providers. When people with mental health conditions avoid proper care, their conditions often worsen. Suicide may then become a temptation.
Dr. Donald E. Grant Jr. is a diversity, equity, and inclusion practitioner and mental health expert. In an interview with BestColleges, he stated that, "one of the primary misconceptions is the thought that mental illness is connected to personal weakness. It is critical to understand that our mental health works similarly to our physical health, in that the biological basis of mental disorders are real and need to be treated as such."
Financial Barriers
In addition to bigotry and discrimination — including hate crimes and neglect from college faculty and administration — many Black college students face economic barriers to mental healthcare. Lack of generational wealth is a major contributor to financial hardships for Black college students.
Underrepresentation
Many Black people avoid seeking help due to past negative experiences with mental health providers who lacked cultural competence. Each person is different, and people from historically excluded groups need providers they can trust. By demonstrating cultural competence, medical providers can make patients feel they have someone who is really listening to them.
Police Brutality
People in the United States — and many around the world — experienced collective distress over the killings of Trayvon Martin, Breonna Taylor, and other Black Americans. George Floyd's murder in May 2020, along with the coronavirus pandemic, further disrupted life for many Americans. Protests took place around the U.S. as many Black Americans began to fear for their safety.
Coronavirus Pandemic
Suicide rate increases have also been linked, in part, to the COVID-19 pandemic. Psychological distress — caused by isolation, unemployment and financial insecurity, mass illness, and death — was on the rise. Black people, many of whom don't have generational wealth like their white counterparts, were hit harder with job and food insecurity. They had no financial cushions to support them.
A Student's Perspective

The factor that impacted me the most was underrepresentation. Coming from an area that's densely populated by Black individuals and coming into a PWI was a challenge and culture shock. This meant being the only black individual in your classrooms or your sports team and feeling like you had to represent your whole community all the time. This meant feeling alone most of the time and feeling like you're misunderstood.

— Biko Gayman, graduate student at Clark University
Why This Should Matter to Black Students
Black mental health matters because suicide rates in the Black community are growing.
These suicide rates result from many factors, including bias, racism, and discrimination, which are common challenges for many Black students. Black students also commonly experience larger financial burdens than their white peers.
Generational wealth in the Black community is low. The rates at which Black students take out federal student loans to fund tuition at four-year public colleges is higher than other groups.
For example, around 87% of Black students borrow federal student loans to fund tuition at four-year public colleges, compared to about 58% of white students. The national average for all students is 60%. The financial burden to get funding for their education and then the struggle many face repaying their loans can take a heavy toll.
Disabled, neurodivergent, and LGBTQIA+ students, who live on multiple intersections, face diverse stressors.
Neurodivergences like autism, attention-deficit/hyperactivity disorder, dyslexia, dyspraxia, and dyscalculia often mean a person can struggle to find an adequate provider. Especially students who may be unaware of their neurodivergence.
The COVID-19 pandemic affected Black students as well.
In fall 2020, compared to the year before, the drop in undergraduate enrollment for Black students nearly doubled the drop for all students, according to the National Student Clearinghouse.
Black students were already underrepresented on many college campuses, especially in STEM majors. They represent a bit more than 12% of the undergraduate population, as of February 2022.
Take Time to Prioritize Self-Care
Give yourself time and space to focus on you. Explore our collection of mental health resources to find support.
Learn More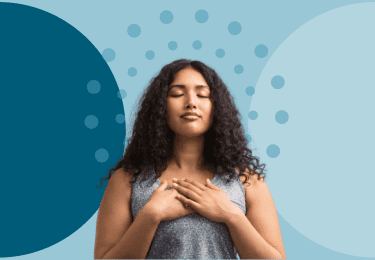 What Can Colleges and Students Do to Address This Issue?
Reduce Stigma
U.S. society is flooded with mental health-related myths and stigmas. Postsecondary institutions can help decrease stigma by talking publicly about mental health and suicide. They can encourage others to share their stories and coping methods.
Increase Representation
Colleges can make Black students feel comfortable enough to seek mental healthcare by hiring a diverse staff — people from various identities, orientations, neurotypes, and backgrounds.
Gralen Vereen Jr., a senior at Clark University and fellow at the Mosakowski Institute for Public Enterprise, has built a positive peer community of Black Men and women at his school and seeking to create similar mentorship for future Black men and women. " The Institute gave the opportunity to meet a multitude of Black men excelling in their respective fields; most of which have obtained their doctorates. Those men expressed not only the importance of school, but the benefit of having such certificates and titles under their belts" said Vereen. "To help forge future connections, my educated brothers and I are establishing a group called 'Kings of the Round Table' which will conduct a series of interventions for upcoming young Black men."
Promote Telemedicine
The rise of telemedicine and virtual appointments, which was spurred by the pandemic, has helped expand the reach of mental healthcare. Telemedicine is also a good option for students with disabilities, neurodivergent students, and those who are uncomfortable visiting a mental health clinic in person.
Share Free Helplines
All students should be aware of and have access to free helplines like the National Suicide Prevention Lifeline, The Trevor Project Teen Line, and the Crisis Text Line, where students can connect with crisis counselors. Suicide.org offers a full list of mental health hotlines by state.
Conclusion
People die by suicide due to a variety of reasons. Many may feel they lack support. Or they may not know what resources are available to help.
Reducing suicide rates requires open conversations about mental health. However, the stigma around mental health often keeps many Black students from seeking help.
Due to significant lifestyle changes and often hostile environments, Black college students need culturally sensitive mental health providers. These providers understand the challenges Black students encounter in society.
They then can help Black college students manage the unique mental health challenges they face as they navigate higher education.
---
DISCLAIMER: The information provided on this website is not intended or implied to be a substitute for professional medical advice, diagnosis, or treatment; instead, all information, content, and materials available on this site are for general informational purposes only. Readers of this website should consult with their physician to obtain advice with respect to any medical condition or treatment.
---
With Advice From:
Dr. Donald E. Grant Jr.
Dr. Donald E. Grant Jr. is an equity, diversity and inclusion practitioner and mental health expert who serves as the Executive Director for his boutique training and consulting firm Mindful Training Solutions. Dr Grant has a long history of direct mental health service delivery and administrative oversight for foster care systems, child welfare programs, education systems and homeless mental wellness services. He is an international speaker and workshop facilitator, film and TV consultant and published author.
Biko Gayman
Greetings, my name is Biko Gayman (he/him). I'm a graduate student at Clark University currently in the Master of Health Science (MHS) program for Community and Global Health. I was born and raised in Fort Pierce, Florida, and that's where I've spent most of my life. I'm a part of the Men's basketball program and also a fellow at the Mosakowski Institute for Public Enterprise. My research at the Institute consists of researching the philanthropic efforts of the Divine Nine Fraternities and the mentorship they provide to assist in the development of youth in their respective communities. The second half of my research involves developing an app that dives into the mental health challenges that athletes encounter while "in-season" and addresses these needs in a unique way that involves art and inspiration.
Gralen Vereen Jr.
Gralen Vereen Jr. is a young Black man, who was born and raised in the state of New Jersey. Gralen is a senior at Clark University where he became very involved with the campus community. While pursuing a bachelor's degree in Business Management, Gralen has become a member of the Men's Basketball team, a fellow of both the Difficult Dialogue committee and the Mosakowski Institute for Public Enterprise. Through the institute, Gralen and his peers have assembled a young men of color group that is designed to help other young men maximize their potential in life by offering community, support, and mentorship. The group virtually congregates biweekly for debriefing sessions as a way to experience relief and seek guidance.