Black, Queer Professor Promotes Diversity in STEM Through TikTok
Dr. Andre Isaacs isn't your average STEM professor. Here's why he and his students say that's a good thing.
Dr. André Isaacs is a Black, queer, immigrant chemistry professor who wears a tie-dye, rainbow lab coat while recording TikTok videos in his College of the Holy Cross lab. He does it to show BIPOC and LGBTQ+ students that they belong in STEM.
Students are drawn to that authenticity — it allows them to realize that they can bring themselves fully to the field, Isaacs said. And that's what I've been hoping to showcase with my TikToks. That you belong, and no matter who you are or how you identify, there's a space for you, and your contributions are valuable.
Isaacs believes biases against marginalized folks are holding science back, and diversity in STEM is a strength that the field should prioritize.
Why BIPOC and Queer Visibility in STEM Matters
LGBTQ+ and BIPOC students need to see more people like them succeed in STEM. Kathleen Segal, a senior chemistry major and research assistant in Isaacs's lab, said it could stop students from giving up on their goals.
Chemistry is hard, and if you don't see other people like you being successful in the field, or if you feel like you're not supported because of your identity, I think it's pretty much impossible to continue onwards, Segal said.
Marginalized Students Might Fear STEM
Isaacs started his TikTok for fun during the pandemic, but then he noticed that his content could help make STEM more accessible to students who might see it as exclusionary.
I realized that a lot of students who were Black and queer were gravitating towards me once I was a bit more vulnerable, showing I was a Black, queer scientist, Isaacs said. My social media platform kind of evolved to showcase a way of existing in that space to help students who have those intersectional identities to realize they do belong in STEM.
Segal said that Isaacs's TikTok makes chemistry seem more welcoming to students.
Having so many different people in his videos, you get to see a variety of students who do chemistry and research, Segal said. Seeing that kind of representation is encouraging to younger students and makes it less intimidating.
Data Shows Diversity in STEM Is a Strength
If young BIPOC and queer students are motivated to get into STEM, Isaacs says we'll see better outcomes.
The National Bureau of Economic Research studied 2.5 million scientific papers and found that papers with diverse authorship were cited more often and in higher-impact journals. This finding suggests diversity leads to greater scientific contributions.
If we're not tapping into diversity, we're limiting the scientific discoveries that we make, Isaacs said. If we have different people from different backgrounds and cultures, that makes us ask better questions and find better solutions. And the data shows that that's a fact — diversity is a strength and something we should all embrace.
Marginalized Students Face Issues Other STEM Majors Don't
Omar Afifi, a junior chemistry major and a member of Isaacs' lab, is an immigrant from Egypt. He said that because Isaacs is also an immigrant in STEM, he understands students' struggles better.
I'm an immigrant, so I'd definitely say I'm not the stereotypical STEM student, Afifi said. I think Dr. Isaacs understands the cultural differences a lot more. He understands that sometimes it can be difficult to assimilate or fit in.
Bridging the Diversity Gap in STEM
Isaacs said that even though the field is slow to accept diversity, institutions can take steps to help close the diversity gap in college STEM.
Supporting Marginalized Students
Public high schools are under-resourced and often don't provide historically excluded students with the skills they need to succeed in college STEM. Isaacs said professors and institutions need to find ways to support students and provide them with the foundational knowledge to propel them forward in their courses.
Otherwise, we're going to reinforce the status quo where students who have the ability, but are coming in with a weaker background, aren't making it through, Isaacs said. And it's not because they can't — we aren't providing them with the chance to meet their potential.
Writing Inclusive Curriculum
In his chemistry courses and labs, Isaacs highlights successful chemists who fall outside of the white, cisgender, heterosexual norm. He says this shows students that they are part of a community, they're valued, and they'll be able to thrive.
Highlighting chemists of diverse backgrounds in the classroom is very important, Segal said. It can be easy for chemistry professors to just teach the standard reactions they always do and not question the fact that they're coming from a bunch of white guys and the impact that could have on students.
Creating a Safe Environment
To ensure that STEM is a space that's welcoming to everyone, professors need to be allies. Isaacs urges professors to consider:
How they develop and reinforce the culture in their labs
Who they give research projects to
How they hold students accountable for microaggressions they observe
The methods they use to bring diversity to their courses
What voices they highlight in the field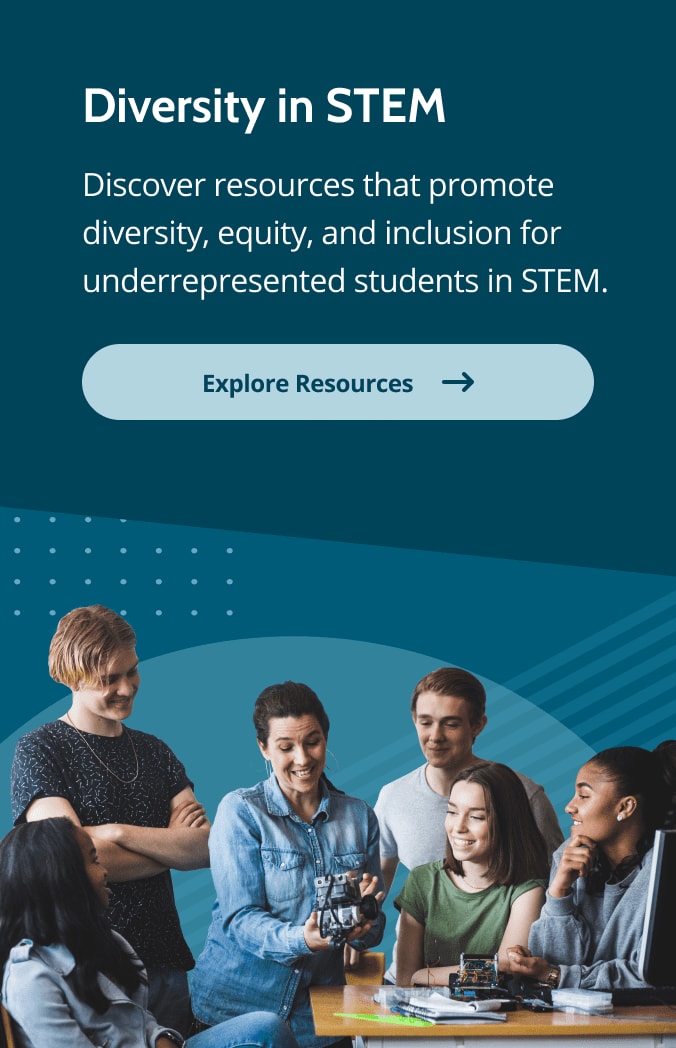 How LGBTQ+ and BIPOC Students Can Succeed in STEM
Here's Isaacs's advice from his experience navigating higher education with an intersectional identity.
Remember That People Like You Succeed — And So Can You
Isaacs wants STEM students to remember that there are many successful scientists with historically excluded identities. He says keeping this in mind helps students visualize what they can do for the field.
You are not alone, Isaacs said. There are marginalized folks in STEM that are getting recognized and doing excellent work.
For example, Carolyn Bertozzi became the first queer woman to win a Nobel prize in chemistry in 2022.
Use the Resources Available to You
Isaacs said he owes much of his success to his mentors, who helped him get through his education.
My success in navigating the field with my different identities is, in part, due to my advisors that I worked with over the years, and I think it would've been much more challenging without them, Isaacs said.
Isaacs added that going to therapy helped him overcome personal issues of being a marginalized individual in STEM. Most college campuses have mental health services to help students. Take advantage of them!
Find Your Community
Finding a support system in college is important for any student, but it's crucial for LGBTQ+ or BIPOC students in STEM. Whether it's a campus club or friends in your major, finding support matters.
Segal and Afifi say Isaacs creates a safe environment for his students to learn and thrive.
Being in a lab where there's this innate acceptance of who you are as a person, you know that if you work hard, you can become a chemist, no matter your identity, Segal said.
With Contributions By:
Dr. André Isaacs
A native of Jamaica, André moved to the U.S. to attend the College of the Holy Cross where he received his BA in chemistry in 2005. He received his Ph.D. from the University of Pennsylvania in 2011. In 2012, Andre accepted a tenure-track position at the College of the Holy Cross. In 2018, Andre was promoted to the rank of associate professor with tenure. In addition to teaching courses in organic chemistry, Andre conducts research utilizing copper-mediated organic transformations. He is one of the co-founding members of Outfront, the college's LGBTQ faculty and staff alliance and serves as faculty advisor to a number of student groups, including the Caribbean African Students' Assemblage, acapella group Fools on the Hill, and Club Tennis.
Omar Afifi
Omar Afifi is a junior chemistry major at the College of the Holy Cross. He's an organic chemistry researcher in Professor Isaacs's lab, working on synthesizing a naturally occurring molecule found in a plant seed. Afifi is also the co-chair of HCF1RST, the college's first-generation college student organization, and a volunteer with the Student Programs for Urban Development (SPUD). Outside of academics, Afifi enjoys hanging out with friends, exercising, and playing volleyball.
Kathleen Segal
Kathleen Segal is a senior chemistry major at the College of the Holy Cross from Wellesley, MA. She began work in Professor André Isaacs's organic chemistry lab in June 2021 and has worked on a project involving the synthesis of Indolizines since as an undergraduate research assistant. Outside of the lab, Kathleen works as a head resident assistant, plays the clarinet in the orchestra and jazz band, and watches Love Island in her free time. You can find her in Professor Isaacs' tik toks, where she puts her dancing skills to use.