As either an active-duty or retired servicemember, you are an individual who has demonstrated the ability to persevere, meeting the challenges of service and maintaining focus on your aspirations. A number of public and private organizations provide financial aid and unique services to active-duty and veteran servicemembers to help them pursue higher education and adapt to civilian life.
Many military members learn skills that are applicable outside of the military, including engineering, vehicle maintenance, and utilities and resource maintenance.
When leaving the military, it's important to take advantage of training, skills assessment testing, and certification opportunities that can be transferred towards civilian licenses and designations. In the Education and Training Commands section of this guide, we direct you to the services within each branch of the military that can help you to make the most out of your military duties.
The purpose of this guide is to identify specific programs, based on your contribution to the U.S. Armed Forces, that will further your education. We will also look at how to get the most out of those services.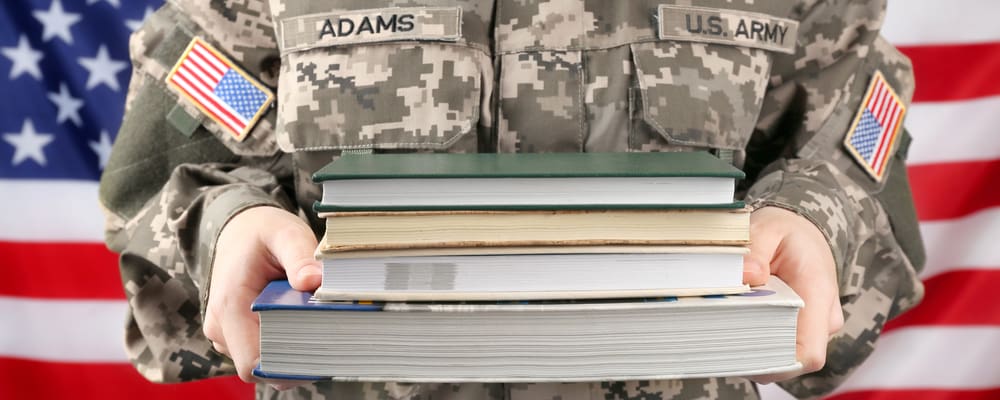 From Enlistment to Enrollment
Today's all volunteer military offers qualifying high school graduates the opportunity to gain academic and life experience while serving their country. In order to enlist in the military, recruits should possess either a high school diploma or GED. While completing high school or its equivalent is not mandatory for all branches of the military, not doing so may limit your opportunities. In order to enlist, you must either be a U.S. Citizen or permanent resident of the United States, and you must be at least 17 years old.
The GI Bill
The Servicemen's Readjustment Act, commonly referred to as the GI Bill of Rights, was enacted in 1944. Since its creation, multiple chapters have been added, providing active-duty servicemembers and veterans more opportunities to enroll in higher education. Other chapters include the Montgomery GI Bill, the Vocational Rehabilitation Program, and Post 9/11. The bill's most recent expansion, the Post-9/11 GI Bill, provides more educational benefits to servicemembers and veterans who have 90 or more days of active duty on, or after, 9/11/01. Added coverage for the Post-9/11 GI Bill includes a living allowance, money for books, and the ability to transfer unused education benefits to spouses and children. All honorably discharged servicemembers, along with those who have been discharged due to a service-related disability, are eligible for GI benefits. Among the benefits granted to servicemembers under the bill is college tuition assistance.
Since being implemented in Aug. 1, 2009, the Post-9/11 GI Bill has provided benefits to 773,000 veterans. The National Center for Education Statistics reported an increase of veteran and active-duty students after the release of the Post-9/11 GI Bill, most of which attended two-year and four-year programs. GI benefits are awarded on a sliding scale based on your length of service, as detailed below.
| Length of Service | Percentage of Maximum Benefit |
| --- | --- |
| 36 Months or Longer | 100 % |
| 30 Days of continuous service and discharge due to service related disability | 100 % |
| Between 31 months and 36 months | 90 % |
| Between 24 months and 30 months | 80 % |
| Between 18 months and 24 months | 70 % |
| Between 12 months and 18 months | 60 % |
| Between 6 months and 12 months | 50 % |
| At least 90 days and less than 6 months | 40 % |
You can learn all about the specifics of Post-9/11 GI Bill distribution and enforcement in our military financial aid guide.
Program Directory
In addition to Post-9/11 GI Bill benefits, each branch of the military has internal programs available to its veterans. Before diving into greater details on specific programs and opportunities, we've provided a quick-reference directory of some of the key programs specific to each branch and links to their homepages.
U.S. Army

U.S. Navy

U.S. Air Force

U.S. Marine Corps

National Guard

Coast Guard
Combining Service and Education
There are a range of academic options that active duty and reserve soldiers, sailors, and airmen can take advantage of, including online programs, military academies, military sponsored community colleges, and regional and national universities.
The advantages of earning a degree while enlisted revolve around the impact on the total cost of your education. Active duty servicemembers can take advantage of up to $18,000 in tuition assistance, paid over four years. When combined with federal aid, state aid, and scholarships, there is a distinct possibility that the aid you receive will be enough to cover the bulk, if not all, of a four-year education.
The negatives to earning a degree while on active duty involve the pursuit of excellence amidst the stressors of active service and the rigors of your academics. While the military prides itself on allotting time for servicemembers to pursue a degree concurrently with service, earning one may not always be a practical affair.
With mandatory class time and a suggested two hours of prep for every hour spent in class, college can be incredibly time consuming. And while you may want to strike a balance between active duty and education, your commitment to the military takes precedent. Active servicemembers always face the possibility of immediate deployment, with little or no warning, and certainly without regard to your class schedule.
While most colleges make allowances for unexpected deployments, the sudden change can prove incredibly stressful. Military students should keep this in mind when determining how many credits to take per semester or the amount of coursework you expect you'll need to take to complete your degree.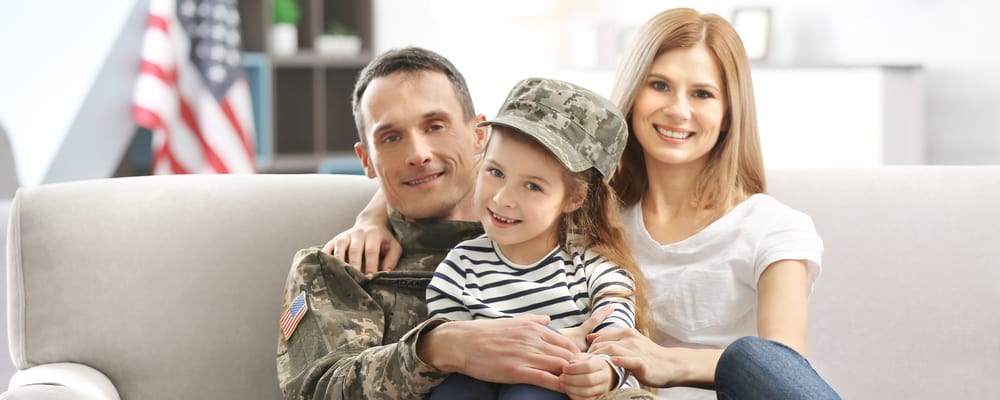 Active Duty Education by Branch
The Army, Air Force, and Navy (including the Marine Corps) each offer servicemembers the opportunity to earn college credits and, in some cases, degrees while serving. These programs are usually offered in partnership with non-military educational institutions and often come in the form of online coursework. Unlike the programs that inactive servicemembers and veterans take, these programs are generally administered by the military branch themselves. We've identified some of the most common education portals available to active servicemembers:
Education for Discharged or Retired Servicemembers
If you were recently discharged or retired and are now ready to begin or complete your education, there are some things you will need to do in order to ensure you are ready to take full advantage of your military status.
You should collect all military paperwork for the application process, which includes:
A valid civilian id
Your discharge papers
All documentation related to courses, certificates, and degrees earned while enlisted
The branch you have served under can provide much of this documentation. Be sure to communicate with the particular administrators within the branch well ahead of any application deadlines – financial aid included. The school may require test scores, high school transcripts, recommendations, and writing samples.
Your experience in the military will impact the number of credits and particular courses you are required to take within a program. Know what your credit-earning opportunities are prior to enrollment and make sure you have all required coursework.
Never underestimate the complexity of the application or transfer application process, especially when you need to coordinate multiple benefit programs, such as arranging your Post-9/11 GI Bill benefits, FAFSA application, and scholarship money. Many institutions have a veterans center that can help with any issues.
Wil Williamson, Director of Veterans Initiatives for Prudential Financial
Wil Williamson is a retired United States Marine and the current Director of Veterans Initiatives for Prudential Financial. While serving in the Marine Corps, he attended the School of Infantry, Communications and Electronics School, and Recruiter's School.
During his 21 years of service, he deployed to several countries including Haiti and Somalia, where he assisted in humanitarian efforts. Wil received the Navy & Marine Corps Commendation Medal, Navy & Marine Corps Achievement Medal, Marine Corps Good Conduct Medal, Recruiting Ribbon, and the Sea Service Deployment Ribbon.
Wil joined Prudential Financial in 2015 and worked in Staffing Organization and Diversity Recruiting for one year before moving into his current role in Veterans Initiatives. He is earning a bachelor of science in Labor Studies and Employment Relations from the Rutgers University School of Management and Labor Relations in New Brunswick, N.J.

Can you tell us about your military background and your path to attending college?

I joined the United States Marine Corps at age 17 after completing a semester of college. During my military career, I took college courses only sporadically due to the demanding operational requirements of my job. I have always been a non-traditional student, balancing my career and academics simultaneously.

What was the driving force behind you returning back to school after serving in the military?

The requirements needed for my career goals inspired me to return to college. I had to find an academic institution that would support a veteran and non-traditional student, and I was fortunate to have the support of Prudential, an employer that encourages professional development.

What are the three most important attributes or characteristics a veteran should consider when selecting a university experience and why?

Reputation – It is important to consider the university's academic reputation, employer outreach, and support system for veterans.
Veteran Support – Look for a university with a veteran's affairs office on campus. At Rutgers, there is an Office of Veteran and Military Programs and Services. Ann Treadaway and her superior leadership team support student veterans with a variety of programs.
Diversity – Consider a university that supports and encourages diversity and inclusion. Rutgers University is the most diverse academic institution I have attended in my entire academic career, and that was important to me.

How important is a university's sense of community for veterans for them when deciding on a college?

A sense of community is extremely important, both on- and off-campus. Select a university with community involvement opportunities and strategic partners to strengthen the outreach.

How does the GI Bill influence a veteran or service members higher education decisions?

The GI Bill is extremely influential as it helps to alleviate the financial burden associated with attending college. A veteran's affairs office can assist in this regard as well, by helping to find and interpret the applicable programs available.

What advice would you give students who don't believe they can attend college as a veteran?

I would advise a veteran to visit a college campus like Rutgers and engage with other student veterans who are currently attending that school. You will be able to feel, in an academic setting, the camaraderie once experienced in the military.

What advice would you give to a student who is a veteran and considering attending college and is in the first stages of the college search?

I would recommend assessing the college's student veteran outreach, and the support that is available to this unique population. In addition, I would have the university evaluate your military experience. Ask if any of the experience/education translates into college credits.

What are some of the ways family and friends can support student veterans during this time of transition?

Family and friends need to support the veteran as they would any student entering academia for the first time. There will be many long nights of studying and completing homework assignments. However, the end result will be beneficial. As veterans, we have served to help others, and this is a unique opportunity to invest in our own human capital.
Specific Academic Programs
Here we'll survey a series of programs and requirements of the education process, which servicemembers, both active and retired, should be mindful of as they undertake their coursework.
DANTES
As part of the Department of Defense's commitment to assisting active, reserve and veteran members of the military achieve their goals, it has instituted the Defense Activity for Nontraditional Education Support (DANTES) program. In effect, DANTES allows students to obtain college and career training credits through testing. Such tests are intended to measure and give credit for knowledge acquired through military experience and training. The tests are administered on military bases and national testing facilities. While there are varying fees to take a test, funding is available for active duty, National Guard, and reserve troops; see the links to funding eligibility charts under exam descriptions to learn more. DANTES programs are typically comprised of two types of tests that award credit:
DSST Exams: There are over 30 different DSST exams, all of which are intended to measure knowledge gained outside of a traditional classroom setting. Tests are divided into six categories: business, humanities, math, physical science, social science, and technology. Learn more about exam funding.
CLEP Exams: The CLEP (College Level Examination Program) was developed by the College Board to enable colleges and universities to measure a student's understanding of the coursework typically taken by first or second year students. Passing a CLEP examination means you can earn anywhere from 3 to 12 college credits, depending on how high you scored. The 33 CLEP tests fall into five areas: history and social sciences, composition and literature, science and math, and business and world languages. Learn more about exam funding.
Troops to Teachers
This program was developed by the Department of Defense as a way of encouraging and assisting qualified veterans to make the transition from the military to serving as a public school teacher. The program incorporates educational counseling and guidance on the steps needed to obtain certification; financial assistance; prep for Praxis Series tests, which are required for teacher certification; and job placement. In order to register for the program you need the following documented:
Military service information (including warzone information)
Current level of education
Teaching certification (if applicable)
Your K-12 employment history
The DANTES program has counselors available to aid active and transitioning members of the armed forces in navigating the DANTES system as they plan their post service education and career objectives.
Beyond the exam prep and the actual tests administered, DANTES also offers its own brand of distance learning. Active and inactive servicemembers interested in distance learning opportunities are first advised to take the DANTES Self Assessment test in order to gauge their readiness for the requirements of a distance learning environment.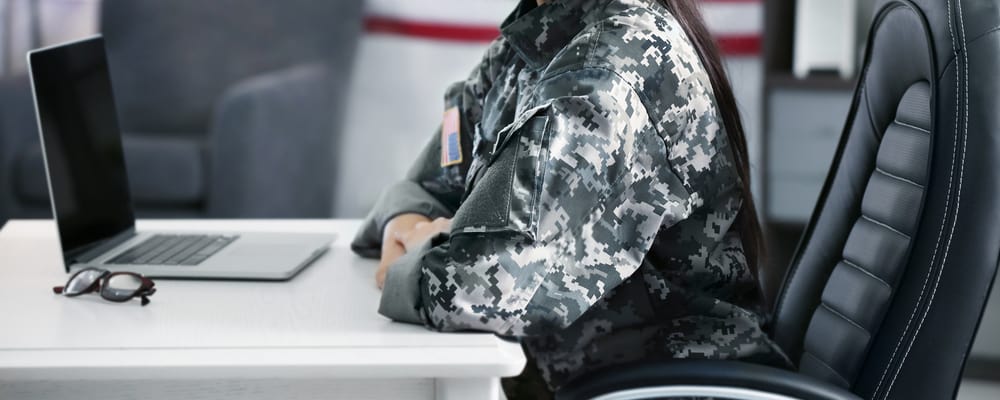 Servicemembers Opportunity Colleges Degree Network System
The SOC program is intended to meet the needs of servicemembers and their families who would like to attend college but find it difficult due to the highly mobile nature of military service. Founded in 1972, the program works closely with multiple higher education associations, the DOD, and active and reserve components of each branch of service to develop and enhance access to higher education.
The SOC system was divided into separate programs for each division of the military, as of January 1st, 2015, the DOD consolidated the various SOC branches into a single degree network system. The main purpose of the system is to ensure that any course taken through SOC is fully transferrable, sparing students and their family members the hardship of lost credits due to frequent transfers. The consortium works closely with more than 1,700 schools, serving hundreds of thousands of military students.
American Council on Education
DANTES has formed a partnership with the American Council on Education (ACE) in order to ensure that active duty and separated military servicemembers can earn academic credit for the knowledge and training received during their service. ACE acts as an advocate on behalf of current and former servicemembers by:
Acting as a point of contact with government agencies, including Congress, on matters of higher education
Working to keep colleges and universities informed of important public policy issues affecting higher education
Actively promoting innovation in the advancement of adult learning in general and for veterans in particular
ACE works in conjunction with the DOD's Joint Services Transcript program to coordinate and consolidate the efforts of each of the service branches to provide a record of veterans and active duty servicemembers training and experience. JST transcripts are accepted by 2,400 institutions, which is about 34% of all colleges. Universities and servicemembers are advised to check with prospective schools before relying on JST transcripts for credit. The following are sample JST transcripts for each branch of the military:
College of the American Soldier
The College of the American Soldier provides two distinct education programs for active duty Army soldiers, including reserves and National Guard members. The college operates in conjunction with more than two dozen higher education institutions to provide individualized academic tracks for enlisted servicemembers and NCOs.
NCO Program: The NCO program is built on a base of civilian degrees that incorporate components essential to military career advancement. All credits earned in the program are completely transferable; credits earned and reported on JST transcripts are also accepted.
Enlisted Education Program: The Enlisted Education program of the College of the American Soldier is intended for entry-level servicemembers who have limited or no college background. It allows servicemembers to complete an associate degree during their first enlistment. As with the NCO program, all credits are fully transferable among the more than two dozen participating schools. The Enlisted Education Program also participates in ACE sponsored Joint Services Transcripts.
Education and Training Commands by Branch
A major part of the military experience is a formal and informal education in technical skills. Education and Training Command services specific to each branch allow servicemembers to actively pursue a specific vocational or practical military skill under that branch's unique tutelage. While this work does not necessarily carry over to formal class time or credits, it is a valuable resource for all members of the military who are eager to refine a service-based expertise.
Meet Dr. Laura Douglass, Dean of Professional Studies at Endicott College
Dr. Laura Douglass is the Dean of Professional Studies at Endicott College's Van Loan School, where she also serves as the faculty advisor for the Veteran's Club. She is an interdisciplinary scholar with research interests in trauma, eating disorders, and the integration of yoga as pedagogy in higher education settings. Her interest in serving non-traditional students has resulted in a robust bachelor degree completion program that is well suited to veterans and active duty military.
She received a bachelor of arts in anthropology and fine arts from the University of South Florida and a doctorate in interdisciplinary educational studies from Lesley University. Her publications can be found in Eating Disorders: The Journal of Treatment and Prevention, International Journal of Yoga Therapy, Pedagogy, Pluralism and Practice, Journal of Online Education, and Religion & Education, among others. She currently serves on the board of the Beverly Children's Learning Center and is a peer reviewer for the academic journal Eating Disorders: The Journal of Treatment and Prevention.
Can you tell us about your background working with veterans who are attending college?

I started working with veterans at Endicott College in 2012. We had several students who had to stop classes due to feeling suicidal. These were my brightest, funniest, and most engaged students – but they were struggling. Veterans Affairs reported in 2014 that the rate of suicide among male veterans was 37 per 100,000. This number has slowly gone up over the years. Both of my grandfathers served in the military, and they both committed suicide. With my brother and father also being veterans, I felt genuinely dedicated to making a difference. Endicott College has a long tradition of serving veterans and military students and I knew there was something more that we could do to serve our students and help support their transition to civilian life.

In 2014, Endicott College brought the Veterans Initiative Towards Academic Leadership to campus. This project coordinates VA services for Endicott College veterans – social work, academic support, and peer tutoring. In 2015, we founded a veterans club to bring more community to this group of students; they became a chapter of the Student Veterans of America in 2016. We also began a VA work study in 2016 as a way to integrate more opportunities for our veteran students to earn money while being full-time students. Additionally, this will be the second year we run a 3 credit class that helps military students translate their military leadership skills to the academic setting.

Dr. Wylie, the President of Endicott College, was serving veterans long before I got to the college. This tradition of serving military and veteran students is shown through Professor at Sea programs, classes at the Coast Guard stations in SW Harbor and Boston's North end, as well as regular classes at the Military Education Processing Station (MEPS) building in Boston. I've been honored to continue these programs through the Van Loan School at Endicott, and to build on them by adding additional academic support.

A big part of our continued success is our partner, Kristine Babcock at North Shore Community College. Every year she spends at least an hour with me, letting us know where our school can go next to serve veterans. Additionally, we are active members in the North Shore Veterans Collaborative, a local group dedicated to serving military families in the area. I'm alert to ideas and concerns that we hear at these meetings and I'm ready to implement as many good ideas as possible.

What are the three most important attributes a veteran should consider when selecting an undergraduate university experience and why?

1. Academic Programming. The school needs to have relevant academic programs that align with student interests. The degree options need to match the student's area of interest and propel them towards careers that will make life meaningful. Understanding how the academic program supports your career goals is significant. If students would benefit from a supported transition into a civilian career, they should choose a school like Endicott that provides life-long career support, help with resume writing, and has a veterans networking event at the annual career fair. Students should think about whether they want a school that is large, or whether they would thrive in a small program like Endicott College/Van Loan School where they receive personal attention, tutoring, and support.

Veterans should chose a program where they feel comfortable stating any concerns they may have; where they will be challenged, but also supported.

2. Advising and Support. There are a lot of issues that come up for veteran students in college. One of my students shared, "I just got back from five years in Afghanistan and you wanted me to write a 5-page paper. After finishing my senior thesis, 150 pages, I realize that's not much – but at the time I needed the Writing Center and professor encouragement to even approach that first paper." Faculty support is central for every student completing their degree.

Veterans should ask, will my Joint Service Transcripts be accepted as credits? Is there peer mentoring or a veterans club on campus? If they are active duty military students, it is important that they not be penalized for being called to active duty; who can help them process these claims? It's easier if the school has a one-stop-shop advisor or veterans center who can help the student access all the things they need including withdrawing from a class, speaking up to a professor, or postponing their degree due to active military service.

3. Ability for the school to process Tuition Assistance and GI Benefits. Veterans are often using Post 9-11 GI Benefits, and this includes a housing stipend. The school they choose needs to be efficient at processing these benefits. If the benefits aren't processed, the student could lose housing dollars and that is extremely stressful. Everyone wants the money they are depending on to be predictable. They should call the certifying official at the school and make sure they are accessible and pleasant to work with.

How important is a university's sense of community for veterans when deciding on a college?

A sense of community is essential for all students, but particularly for veteran students. The military is a tight group of mission-driven individuals who are committed to seeing projects through together. We've had students who literally order books for the entire class so they can get good rates for everyone or pick up a student who is having a hard time getting to class. Community matters to these individuals, many of whom are natural leaders and exceptionally service driven. Figuring out how one can contribute to a school is central to these students finding a sense of place.

Combat veterans may need an opportunity to connect with other combat veterans. In a school environment, they are in class with civilians, non-combat veterans, and active military; this can be extremely stressful to combat veterans. Combat veterans are used to following orders and not speaking their minds freely – ideas from their peers that are wrong, incomplete, or still forming can be extremely triggering because in combat zones, wrong information leads to death. In higher education, exploration of ideas is encouraged and mistakes are rarely that costly. Being able to speak to each other, their advisor, and faculty about their issues is central to continuing their education.

In 2016, Dr. Wylie and the ROTC of Endicott College commemorated a permanent tribute to those who serve with a sculpture that overlooks the ponds of Endicott. The five military branches and first responders are each represented. Permanent memorials like this send a message to veterans and military students that they are appreciated; we are aware that the privilege of learning rests on the sacrifices they and their families make.

How have you seen the GI Bill influence a veteran or service member's higher education decisions?

The GI Bill is a huge factor in many students being able to attend school. It can determine how many years of schooling they have, their housing allowance, and whether they have to work full-time while they're in school. For veterans without a civilian career lined up, they may go to school because it is the most affordable solution for them. In these instances, it is central to inspire students to understand why they are in school, and how to thrive in an educational environment.

Endicott College has a reduced rate for active military students who receive Tuition Assistance through their branch of service. This means that while they are in the service they don't have to pay for tuition. We've been working with the National Guard and Coast Guard to get students enrolled in programs as enlisted soldiers. If they follow this advice, not only do they advance in rank within their service, but they can transfer their GI Benefits to their partner, or children – that's a huge benefit!

We've seen many students use Voc Rehab benefits to complete graduate education as well. This benefit pays for books, computers, and other things individuals need to meet their career goals. Students need to work with the VA to come up with a solid career plan that is approved for full funding. Endicott students have the added advantage of working with our robust Career Center. The Dean, Eric Hall, has organized trainings throughout the year that can help students make the career connections they need to succeed.

What advice would you give students who don't believe they can attend college as a veteran?

Students who are uncertain should try to aim for a small school where they will get specialized attention. We have classes at the MEPS building in downtown Boston for veteran students, which allows students an opportunity to see if they are a good fit for college, with the safety of being in class with other veterans. They can speak freely, and develop a strong sense of community that enables them to succeed. This building also has security, so for students returning from combat, these classes can help them focus on learning.

Veteran and military students are strong, resilient leaders who bring real world experience to the classroom. I've been in International Conflicts classes where every single student had been to either Korea, Afghanistan, Iraq, or Somalia. This makes for extremely interesting and robust conversations. The single biggest mistake students make in returning to college is thinking they can go it alone. Ask for an extension from your faculty, ask for help understanding a problem, and speak up when you feel a peer is off base. The college experience is about sharing the whole of who you are — find a community where who you are as a person is encouraged and uplifted.

Another myth is that those who felt called to serve did so because they were not naturally good students. We just haven't seen this. These students are disciplined leaders who truly desire to transition back into civilian life. The change from soldier to civilian is not an easy one because the cultural anchors are all different. College can be the place where self-exploration happens so these veterans can truly understand the complex gifts they have to offer.

What advice would you give to a student who is a veteran and considering attending college and is in the first stages of the college search?

Call an academic advisor from an accredited, non-profit school. Our advisors will help you find a match that is right for you. If we aren't a good fit, maybe U Mass Lowell is. Good schools are dedicated to education and to helping each student succeed, no matter where they decide to go to school.

Before you meet with your advisor, think about what is most important to you. College is a time for self-exploration. Some veterans think they need to know exactly what they want to do, but it's natural to change course in an undergraduate degree. The more classes you take, the more you realize what is satisfying to you. This will direct your choice of classes, degree, and career pursuits.

What are some common difficulties Veterans face as they enter college? What are some tactics you've seen help them overcome these problems?

Veteran students really dislike being looked at as in need of support. We recently ran a student lecture series that we called "Student Support Nights" and the President of the Veterans Club, Jason Donovan, immediately renamed them "Student Leadership Circles." This signifies one of the biggest challenges for veteran students – finding ways they can truly lead the educational communities that they are a part of. They aren't satisfied being consumers of services; they want to change the communities they are a part of.

Combat veterans sometimes really struggle with some of the actions they have had to take to survive. We have a veteran's representative, Jeff DaSilva, who is a VA employee and combat veteran – he has given a talk to faculty at the Van Loan School as a way to clarify challenges that combat veterans face. This has gone a long way in making the entire school military-friendly.

Active military students have a different burden – being called back into service. We recently had a student sign up for a full semester of classes, who was called to help the hurricane victims in Texas. She got back in time for fall classes, but was then called down to Florida. It helps that Endicott's policy does not penalize students for dropping classes due to military service. It also helps that we have accelerated classes, as this student was able to start classes in our second session of the fall. In other schools, she would have missed an entire semester of classes.

What are ways a college should support students who are veterans? Where can students go for help if an issue does arise?

We have a peer tutor who is available to all students in case they experience mental health challenges, physical illness, or economic issues. The peer tutor can connect them with services to make sure their needs are met. We also provide the local ESO's number, Dave Perinchief. David is an excellent local resource that often knows of grants and other services that may benefit veterans and their families. If there are issues with housing benefits our certifying official, Susan Abate can help. The great thing about Endicott College is that every administrator and faculty member is ready to serve student needs. We are small, and truly care that each concern is addressed.

A dream of our veterans club is to find funding for a veteran's center. This would be a one stop shop so that students could have one contact that would help them navigate the college experience. If there is anyone out there who would like to meet with our club and help with funding, they would be very appreciative.

What are tools you see veterans using to succeed once they get to college?

Writing Center Our veteran students like the writing center. The writing center will connect with students from anywhere in the world. If they are deployed in Iraq, they can still set up a time to get support from the writing center tutors.

Library Research Support I tell every class that I teach to reach out to the library – librarians love to get research questions and to help students. When students finally do reach out to the library (available in person, on the phone, or through email), they are shocked at how true this is. Students always say, "I thought you were kidding! But they really do love answering research questions." I had a Coast Guard student who was working all day on base and worked in the evening on his school projects. He said his wife was mad that he was having such a good time talking to someone at 11PM; he had to convince her it really was the librarian. Helping students become lifelong learners is a passion of mine; and it happens by connecting them with a community that is dedicated to learning.

Veterans Club The veterans club is a great way to connect with other students. They are a dedicated group of students who really want to support one another. I keep encouraging them to just go to the beach, hang out, have some fun – but that's more difficult for this service-oriented group of students.

Any last thoughts?

Research shows that veterans have the most difficulty of any minority group in completing an undergraduate degree. The challenge I've seen is that students don't see how a degree is going to help them and honestly, they may need help in leveraging a college education for maximum impact. Some of these students are first generation college students, balancing family with work and school, and dealing with PTSD or TBI.

Veterans are leaders and caretakers; they are incredibly used to giving to others. Veteran students need to learn how to receive as much as they give; this balance is important for them or they will burn out. Veterans can be so mission driven that they forget to have fun. I'm not kidding! The veterans club wants to do fundraisers, support others – but rarely think to just get together for dinner and a game of pool. This sounds like it would be easy to convince people to do, but it's simply not. Take time to enjoy your life, or bring your whole family to campus for an event or lecture. Other undergraduates may need reminders to get to class, to volunteer, but veterans need reminders to enjoy themselves — get to one of the three private beaches at Endicott! Find a school that is going to care about you – and let yourself be cared about.
Leveraging Military Experience and Service in College
As an active duty or separated military servicemember, your place on a college campus is unique, given that most young college students have experienced little beyond their lives as students. Even in adult learning settings, your past or present military service will provide you with a singular perspective.
The training, discipline, and commitment that's essential to your service, combined with any foreign service you may have experienced, has exposed you to cultures and locales far removed from civilian life. These experiences can be communicated as insights and opinions your peers may never have considered, the sort of meaningful contribution welcomed throughout collegiate academics.
That being said, it is equally important to understand that when you attend classes, you are not in a military environment. The attitudes and behavior of your peers, sometimes much younger than you in both age and maturity, may differ from your own. While the serious, business-minded attitude developed during service is valuable, you should keep in mind that not everyone will appreciate or respond to a militaristic demeanor. Moderating your attitude can go a long way towards a more positive assimilation into an undergraduate or graduate classroom.
Campus life can offer you opportunities to put your leadership training and skills to good use. Social and civic student organizations can benefit from your example and experiences as a member of the Armed Forces.
Practically speaking, your experiences may also provide an edge in landing private sector internships, which must oftentimes be sought out with little help from your college or university. Such extracurricular pursuits can provide more career opportunities.
Financing Your Education
Aside from the Post-9/11 GI Bill, it's important to remember that veterans can also apply for financial aid. Reporting income can be a bit confusing at first for new civilians, but the resources that become available after successfully completing the FAFSA are worth it. Veterans may qualify for unsubsidized loans and pell grants. Veterans should also know that they are eligible to apply for many scholarships, some of which are specific to military members.
Servicemembers should look for schools that are part of the Yellow Ribbon Program. Military members who apply to schools in this program receive additional funds without having to charge their GI Bill entitlement. This allows military students to afford programs that the Post-9/11 GI Bill may not fully cover. The U.S. Department of Veteran Affairs reports that about 1,770 universities and colleges are part of the Yellow Ribbon Program.
The Post-9/11 GI Bill's benefits are finite. You must request your benefits within 15 years of your discharge or you will lose them forever, and the bill only pays for 36 months of your education. Consult our guide that's dedicated entirely to the financial aid opportunities that all members of the military should consider.