The College Guide for Servicemembers and Veterans
A number of public and private organizations provide financial aid and unique services to active-duty and veteran service members to help them pursue higher education and adapt back to civilian life. Many military members learn skills that are applicable outside of the military, including engineering, vehicle maintenance, and utilities and resource maintenance.
When leaving the military, it's important to take advantage of training, skills assessment testing, and certification opportunities that can be applied towards civilian licenses and designations. In the Education and Training Commands section of this guide, we direct you to the services within each branch of the military that can help you to make the most out of your military duties.
The purpose of this guide is to identify specific programs, based on your contribution to the U.S. armed forces, that will further your education. We will also look at how to get the most out of the services available to you.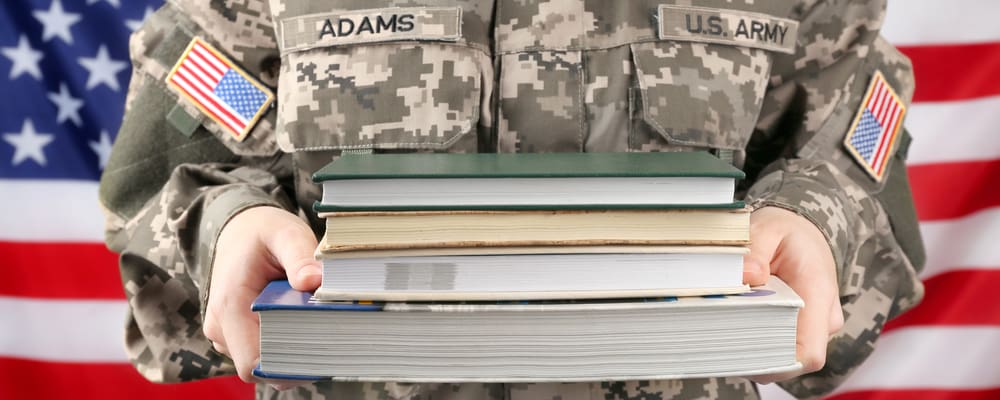 From Enlistment to Enrollment
Today's military offers qualifying high school graduates the opportunity to gain academic and life experience while serving their country. To enlist in the military, you must either be a U.S. citizen or permanent resident of the U.S. and be at least 17 years old. Some branches also require recruits to have either a high school diploma or GED. While this isn't mandatory in all branches, not doing so may limit your opportunities.
The GI Bill
The Servicemen's Readjustment Act, commonly referred to as the GI Bill of Rights, was enacted in 1944. Since its creation, multiple chapters have been added, providing active-duty service members and veterans to pursue more opportunities in higher education. Other chapters include the Montgomery GI Bill, the Vocational Rehabilitation Program, and Post 9/11. The bill's most recent expansion, the Post-9/11 GI Bill, provides more educational benefits to service members and veterans who have 90 or more days of active-duty on or after September 11th, 2001.
Added coverage for the Post-9/11 GI Bill includes a living allowance, money for books, and the ability to transfer unused education benefits to spouses and children. All honorably discharged service members, along with those who have been discharged due to a service-related disability, are eligible for GI benefits. College tuition assistance is one of the included benefits.
Since being implemented on August 1st, 2009, the Post-9/11 GI Bill has provided benefits to 773,000 veterans. The National Center for Education Statistics reported an increase of veteran and active-duty students after the release of the Post-9/11 GI Bill, most of which attended two-year and four-year programs. GI benefits are awarded on a sliding scale based on your length of service, as detailed below.
| Length of Service | Percentage of Maximum Benefit |
| --- | --- |
| 36 Months or Longer | 100% |
| 30 Days of Continuous Service and Discharge Due to Service Related Disability | 100% |
| Between 31 Months and 36 Months | 90% |
| Between 24 Months and 30 Months | 80% |
| Between 18 Months and 24 Months | 70% |
| Between 12 Months and 18 Months | 60% |
| Between 6 Months and 12 Months | 50% |
| At Least 90 Days and Less Than 6 Months | 40% |
You can learn all about the specifics of Post-9/11 GI Bill distribution and enforcement in our military financial aid guide.
Program Directory
In addition to Post-9/11 GI Bill benefits, each branch of the military has internal programs available to its veterans. Before diving into greater details on specific programs and opportunities, we've provided a quick-reference directory of some of the key programs for each branch and links to their homepages.
U.S. Army

U.S. Navy

U.S. Air Force

U.S. Marine Corps

National Guard

Coast Guard
Combining Service and Education
There are a range of academic options that active-duty and reserve soldiers, sailors, and airmen can take advantage of, including online programs, military academies, military sponsored community colleges, and regional and national universities.
The advantages of earning a degree while enlisted revolve around the total cost of your education. Active-duty service members can take advantage of up to $18,000 in tuition assistance, paid over four years. When combined with federal aid, state aid, and scholarships, there is a distinct possibility that the aid you receive will be enough to cover the bulk, if not all, of a four-year education.
The drawbacks to earning a degree while on active-duty involve the pursuit of excellence amidst the stressors of active service and the rigors of your academics. While the military prides itself on allotting time for service members to pursue a degree concurrently with service, earning one may not always be a practical affair.
Collegiate study can be incredibly time consuming, with mandatory class time and a suggested two hours of prep for every hour spent in class. And while you may want to strike a balance between active-duty service and education, your commitment to the military takes precedent. Active-duty service members always face the possibility of immediate deployment with little or no warning, and certainly without regard to your class schedule.
While most colleges make allowances for unexpected deployments, the sudden change can prove incredibly stressful. Military students should keep this in mind when determining how many credits to take per semester or the amount of coursework you expect you'll need to take to earn your degree.
Active Duty Education by Branch
The Army, Air Force, and Navy (including the Marine Corps) each offer service members the opportunity to earn college credits and, in some cases, degrees while serving. These programs are usually offered in partnership with non-military educational institutions and often come in the form of online coursework. Unlike the programs that inactive service members and veterans take, these programs are generally administered by the military branch themselves. We've identified some of the most common education portals available to active-duty service members:
Education for Discharged or Retired Servicemembers
If you were recently discharged or retired and are now ready to begin or complete your education, then there are some things you will need to do in order to ensure you are ready to take full advantage of your military status.
You should collect all military paperwork for the application process, which includes:
A valid civilian id
Your discharge papers
All documentation related to courses, certificates, and degrees earned while enlisted
The branch you have served under can provide much of this documentation. Be sure to communicate with the particular administrators within your branch well ahead of any application deadlines -- financial aid included. The school may require test scores, high school transcripts, recommendations, and writing samples.
Never underestimate the complexity of the application or transfer application process, especially when you need to coordinate multiple benefit programs, such as arranging your Post-9/11 GI Bill benefits, FAFSA application, and scholarship money. Many institutions have a veterans center that can help with any issues.
Specific Academic Programs
Next, we will survey a series of programs and requirements of the education process, which service members should be mindful of as they undertake their coursework.
DANTES
As part of the Department of Defense's commitment to assisting active-duty, reserve, and veteran members of the military achieve their goals, it has instituted the Defense Activity for Nontraditional Education Support (DANTES) program. In effect, DANTES allows students to obtain college and career training credits through testing. Such tests are intended to measure and provide credit for their knowledge acquired through military experience and training. These tests are administered on military bases and national testing facilities. While testing fees vary, funding is available for active-duty, National Guard, and reserve troops; see the links to funding eligibility charts under exam descriptions to learn more. DANTES programs are typically comprised of two types of tests that award credit:
DSST Exams: There are over 30 different DSST exams, all of which measure knowledge gained outside of a traditional classroom setting. Tests are divided into six categories: business, humanities, math, physical science, social science, and technology. Learn more about exam funding.
CLEP Exams: The CLEP (College Level Examination Program) was developed by the College Board to enable colleges and universities to measure a student's understanding of the coursework typically taken by first or second year students. Passing a CLEP examination means you can earn anywhere from 3 to 12 college credits, depending on how high you scored. The 33 CLEP tests fall into five areas: history and social sciences, composition and literature, science and math, and business and world languages. Learn more about exam funding.
Troops to Teachers
This program was developed by the Department of Defense as a way of encouraging and assisting qualified veterans to make the transition from the military to serving as a public school teacher. The program incorporates educational counseling and guidance on the steps needed to obtain certification; financial assistance; prep for Praxis Series tests, which are required for teacher certification; and job placement. In order to register for the program you need the following documented:
Military service information (including warzone information)
Current level of education
Teaching certification (if applicable)
Your K-12 employment history
The DANTES program has counselors available to aid active and transitioning members of the armed forces in navigating the DANTES system as they plan their education and career objectives. DANTES also offers its own brand of distance learning. Service members interested in distance learning opportunities are first advised to take the DANTES Self Assessment test in order to gauge their readiness for the requirements of a distance learning environment.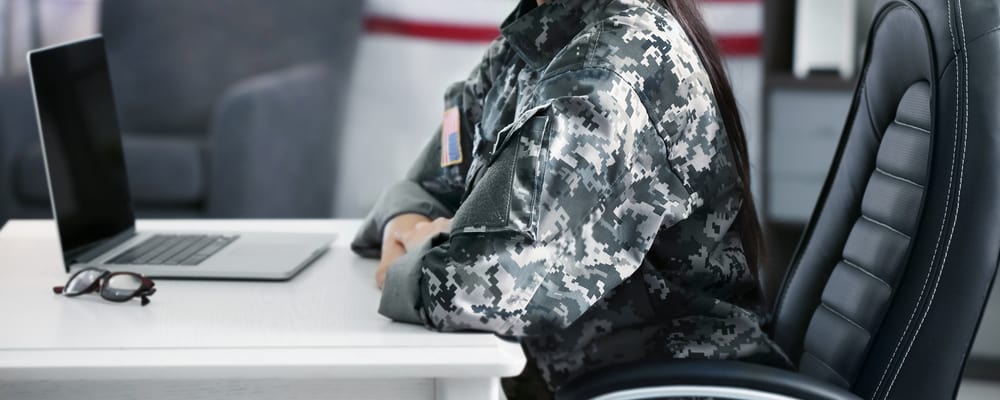 Servicemembers Opportunity Colleges Degree Network System
The SOC program meets the needs of service members and their families who would like to attend college but find it difficult due to the highly mobile nature of military service. The program was founded in 1972 and works closely with multiple higher education associations, the DOD, and active and reserve components of each branch of service to develop and enhance access to higher education.
The SOC system was divided into separate programs for each division of the military. As of January 1st, 2015 the DOD consolidated the various SOC branches into a single degree network system. The main purpose of the system is to ensure that any course taken through SOC is fully transferable, sparing students and their family members the hardship of lost credits due to frequent transfers. The consortium works closely with more than 1,700 schools, serving hundreds of thousands of military students.
American Council on Education
DANTES has formed a partnership with the American Council on Education (ACE) in order to ensure that active-duty and separated military service members can earn academic credit for the knowledge and training received during their service. ACE acts as an advocate on behalf of current and former service members by:
Acting as a point of contact with government agencies, including Congress, on matters of higher education
Working to keep colleges and universities informed of important public policy issues affecting higher education
Actively promoting innovation in the advancement of adult learning in general and for veterans in particular


ACE works in conjunction with the DOD's Joint Services Transcript program to coordinate and consolidate the efforts of each of the service branches to provide a record of veterans and active-duty service members training and experience. JST transcripts are accepted by 2,400 institutions, which is about 34% of all colleges. Universities and service members are advised to check with prospective schools before relying on JST transcripts for credit. The following are sample JST transcripts for each branch of the military:
College of the American Soldier
The College of the American Soldier provides two distinct education programs for active-duty Army soldiers, including reserves and National Guard members. The college operates in conjunction with more than two dozen higher education institutions to provide individualized academic tracks for enlisted service members and NCOs.
NCO Program: The NCO program is built on a base of civilian degrees that incorporate components essential to military career advancement. All credits earned in the program are completely transferable; credits earned and reported on JST transcripts are also accepted.
Enlisted Education Program: The Enlisted Education program is ideal for entry-level service members who have limited or no college background. It allows service members to complete an associate degree during their first enlistment. As with the NCO program, all credits are fully transferable among the more than two dozen participating schools. The Enlisted Education Program also participates in ACE sponsored Joint Services Transcripts.
Education and Training Commands by Branch
A major part of the military experience is a formal and informal education in technical skills. Education and Training Command services specific to each branch allow service members to actively pursue a specific vocational or practical military skill under that branch's unique tutelage. While this work does not necessarily carry over to formal class time or credits, it is a valuable resource for all members of the military who are eager to refine a service-based expertise.
Leveraging Military Experience and Service in College
As an active-duty or separated military service member, your place on a college campus is unique, given that most young college students have experienced little beyond their lives as students. Even in adult learning settings, your past or present military service will provide you with a singular perspective.
The training, discipline, and commitment that's essential to your service, combined with any foreign service you may have experienced, has exposed you to cultures and locales far removed from civilian life. These experiences can be communicated as insights and opinions your peers may never have considered, the sort of meaningful contribution welcomed throughout collegiate academics.
That being said, it is equally important to understand that when you attend classes, you are not in a military environment. The attitudes and behavior of your peers, sometimes much younger than you in both age and maturity, may differ from your own. While the serious, business-minded attitude developed during service is valuable, you should keep in mind that not everyone will appreciate or respond to a militaristic demeanor. Moderating your attitude can go a long way towards a more positive assimilation into an undergraduate or graduate classroom.
Campus life can offer you opportunities to put your leadership training and skills to good use. Social and civic student organizations can benefit from your example and experiences as a member of the armed forces.
Practically speaking, your experiences may also provide an edge in landing private sector internships, which must oftentimes be sought out with little help from your college or university. Such extracurricular pursuits can provide more career opportunities.
Financing Your Education
Aside from the Post-9/11 GI Bill, it's important to remember that veterans can also apply for financial aid. Reporting income can be a bit confusing at first for new civilians, but the resources that become available after successfully completing the FAFSA are worth it. Veterans may qualify for unsubsidized loans and pell grants. Veterans should also know that they are eligible to apply for many scholarships, some of which are specific to military members.
Service members should look for schools that are part of the Yellow Ribbon Program. Military members who apply to schools in this program receive additional funds without having to charge their GI Bill entitlement. This allows military students to afford programs that the Post-9/11 GI Bill may not fully cover. The U.S. Department of Veteran Affairs reports that about 1,770 universities and colleges are part of the Yellow Ribbon Program.
The Post-9/11 GI Bill's benefits are finite. You must request your benefits within 15 years of your discharge or you will lose them forever, and the bill only pays for 36 months of your education. Consult our guide that's dedicated entirely to the financial aid opportunities that all members of the military should consider.
Hear From the Experts
Interviews
Scroll through the interviews below to learn more about how veterans can attain their degrees after their service. Hear advice from people who've been there and those that have helped them along the way.
Contact
If you have questions or feedback about this collection, or would like to be a participant in a future panel, please contact us using the link below.
Contact us