6 Ways College Finances Affect Mental Health
Stressed about student loans? Finances impact students' mental health. Find resources to support your wallet and your well-being.
Image Credit: Carol Yepes / Moment / Getty Images
---
Financial stress can affect college students' mental health.
They may worry about the cost of college, student loans, and balancing work with school.
Resources exist to support students' finances and their well-being.
---
During Mental Health Awareness Month, we've been sharing stories about how students fight stigma and seek help for mental health challenges. But there's another aspect of well-being we can't avoid talking about: financial stress.
"At the beginning of college, I was actually very financially stressed out," class of 2021 graduate Mahir Morar said. "I had no idea what types of student loans I was taking out, how to manage my finances, or what steps to take to make sure my future self was financially stable."
Despite being confused, Morar felt embarrassed to consult his friends because he thought finances were common sense.
But financial literacy isn't always obvious — and financial distress can impact students' mental health.
According to a 2021 study by the American Institute of CPAs, 75% of Americans ages 18-34 have been at least somewhat stressed about their finances during the pandemic. Further, 91% said their financial worries negatively impacted their mental health. They felt more down than usual and had trouble sleeping.
In this article, we'll address the link between financial stress and mental health and share some ways students can manage.
6 Ways Financial Stress Impacts Mental Health
Students have a lot on their minds, from balancing work with school to planning for loan payments. Learn how students' financial stress can affect their mental health.
1. It's Virtually Impossible to Pay for College Anymore
College used to be way cheaper. The average tuition of all higher education instutions has more than doubled since 1990, according to the National Center for Education Statistics (NCES).
The rising cost of college is just one reason 42% of high school students are concerned about their financial futures.
High schoolers are reassessing their dreams for higher education. In a 2022 survey by Citizens Financial Group and Junior Achievement, nearly 70% of the teen respondents said rising tuition costs altered their college plans.
Some are choosing to live at home instead of on campus or pursue a two-year degree over a bachelor's.
2. Working While Attending Classes Causes Stress
When Kayli Burke started her marine science master's degree in 2019, she balanced being a full-time student with three part-time jobs. Those jobs disappeared during the pandemic. Eventually, Burke found a job as a Walmart cashier, but that came with a new set of challenges.
"It was really exhausting, and people were not always friendly or understanding toward the cashiers during this time," she said. "I was burned out."
After getting a new job as a veterinary technician, her work impacted her studies. She said she'd come home with no desire to work on her master's thesis. Eventually, Burke left that job, too, primarily for mental health reasons.
Many students hold a job. According to NCES, 81% of part-time students and 43% of full-time students were employed in 2018.
Some reports tout the benefits of working while in school. However, a 2018 Georgetown University analysis found that's not always the case. Mainly higher-income students benefit from working. In addition, low-income students who work more than 15 hours a week may be more likely to drop out.
3. Many Students Struggle to Make Ends Meet
Even students who have access to scholarships and other financial aid may struggle to pay for day-to-day expenses. In 2019, the American Psychological Association reported that over one-third of U.S. college students lack stable food and housing.
Since the onset of the COVID-19 pandemic, food insecurity has risen among college students. How can students thrive socially, emotionally, and academically if they can't meet their basic needs?
Some help exists, including scholarships for students experiencing homelessness. But laws prohibit some students from accessing important nutrition benefits, such as SNAP. Congress must pass new legislation to improve access to SNAP for almost 7 million students.
4. Financial Anxiety May Be Greater for First-Generation Students
First-generation college students face unique challenges in college. Financial anxiety may be greater for these students who tend to make lower incomes, incur more debt, and have less access to generational wealth.
A 2020 Journal of Financial Counseling and Planning study found first-generation students who compared their finances to their peers' tended to experience greater anxiety.
When feelings of shame or impostor syndrome creep up, it can keep you from seeking the financial help you need. But there's no shame in using your school's resources for first-generation students, such as financial aid and mental health resources.
5. Stressing About Student Loans Leads to Putting Off Financial Goals
In a 2021 BestColleges survey, almost 60% of people who borrowed student loans said they've missed out on something because of their payments, such as postponing buying a house, repairing their cars, or going back to school.
It's no wonder, then, that more than 60% of graduates with student loan debt said it's negatively affected their mental health, according to CNBC.
"My goal after college was to enjoy life and use my money to travel the world," Morar said. "But because I have loans to pay off, I now have to prioritize that."
Morar puts $600 a month toward student loans. He holds a part-time job and two tutoring jobs to help pay.
"My true worry with how much student loan debt I have accumulated is that it will prevent me from being able to buy a new car or a home someday," said Burke. "But I guess I'll cross that bridge when I get there?"
6. Drinking to Forget Your Finances Leads to a Cycle of Stress
Some students under pressure turn to coping strategies that cause more harm than good.
In a 2017 Community Mental Health Journal study of British students, learners who struggled to pay their bills reported higher levels of depression, anxiety, and alcohol dependence. In turn, students with poorer mental health and greater alcohol dependence had difficulty paying bills.
If you're stuck in a spiral of financial depression and alcohol use, help is out there. Your college counselors may have training to assist learners dealing with substance misuse.
In addition, the Substance Abuse and Mental Health Services Association operates a 24/7 national helpline to offer information and refer people to treatment.
How Students Can Manage Financial Stress and Mental Health
College finances may be a source of stress for you — and for good reason. But you don't have to struggle alone. Here are strategies for supporting your mental and financial health.
Educate Yourself Early
"Throughout school, we were taught about how important the quadratic equation was in order to be successful in life, whereas in reality, I wish we learned how to do our taxes or developed good financial habits," Morar said.
Get knowledgeable about basic finances and how loans work. Here are some resources to get you started:
Get Help
Morar says he overcame his financial anxiety by opening up to others about his fears.
"After talking to my friends and dad, I was able to get a better grasp of how student loans work, how to manage and invest my money smarter, how to budget, and how to do my taxes," Morar said.
You can find help outside your friends and family, too. Know your resources:
Take Time to Prioritize Self-Care
Give yourself time and space to focus on you. Explore our collection of mental health resources to find support.
Learn More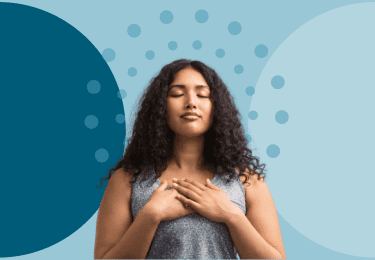 Find a Budget That Works for You
At a minimum, budgeting in college involves tracking your income and your expenses. But how you create a budget may depend on your financial situation and personal style.
Morar prefers Excel.
"Having my money on a spreadsheet and learning to keep track of all my expenses really helped me develop financial discipline," he said. "It also reduced my stress dramatically."
Experiment to find a technique or budgeting tool you can commit to. Apps like Mint and Fudget are free. If you prefer a low-tech approach, you might like envelope budgeting: When you get paid, you allocate cash to envelopes for designated expenses like groceries and going out so you don't overspend.
Check out these budgeting tips for students for more ideas.
Tend to Your Mental Health
Don't neglect your mental health while you're working on your finances. Students can turn to low-cost ways to relax, like self-care.
"Some of my biggest stress relievers are dancing and working out," said Burke. "It's a creative outlet that I really enjoy, but it also helps keep my body moving and feeling good."
Burke also has found a new job that isn't related to her studies but better serves her mental health. She reports being happier and even making progress on her master's project outside of work.
Face Your Reality
"This debt is something I will likely be paying off for the rest of my life, which sounds dramatic, but it's probably true," Burke said.
It might be time to have a reckoning with yourself about the reality of your student loan debt. That doesn't mean you shouldn't take advantage of financial aid or take steps to pay off your debt — you should. Accepting the reality of your financial situation can help you evaluate what you want and make informed decisions for your education and career.
---
With Advice From:
Mahir Morar
Mahir Morar graduated in May 2021 from the University of Texas at Dallas with a degree in business information systems and a minor in computer science. Morar currently works as a software engineer at a bank and serves as a college mentor with Transizion. Outside of working and mentoring, he enjoys spending time with friends and playing guitar.
Kayli Burke
Kayli Burke is a graduate student at Nova Southeastern University pursuing a master's degree in marine science with a concentration in marine biology. An avid animal lover with a passion for conservation, Burke currently works as an SEO assistant for digital marketing company Tandem in Fort Lauderdale. She enjoys dancing, working out, taking naps, eating delicious food, and being near a beach.
DISCLAIMER: The information provided on this website is not intended or implied to be a substitute for professional medical advice, diagnosis, or treatment; instead, all information, content, and materials available on this site are for general informational purposes only. Readers of this website should consult with their physician to obtain advice with respect to any medical condition or treatment.
The information provided on this website does not, and is not intended to, constitute professional financial advice; instead, all information, content, and materials available on this site are for general informational purposes only. Readers of this website should contact a professional advisor before making decisions about financial issues.