How to Advocate for Mental Health in College: Real Students' Stories
In a college mental health crisis, students are speaking up. Find out how students are advocating for mental health on their campuses.
Image Credit: FatCamera / E+ / Getty Images
If you or someone you know is considering suicide, please contact the National Suicide Prevention Lifeline: 1-800-273-TALK (8255), available 24 hours a day, seven days a week. All calls are confidential, and anyone can use this service.
---
College mental health is declining, but student advocates are speaking up.
You can join a mental health advocacy initiative or start your own.
Student advocates recommend caring for your own mental health first.
---
In 2018, Francesca Reicherter survived suicide for the first time. She credits her uncle for saving her life by talking to her about mental health. Weeks later, her uncle died by suicide, and Reicherter began a long journey of misdiagnosis and mistreatment for what she would later learn was bipolar 2 disorder.
"We don't talk enough about mental illness or grow up talking about it in a way that helps us know how to advocate," Reicherter said.
Just because we don't talk about mental health disorders or conditions doesn't mean they're not prevalent.
The National Institute of Mental Health reports that mental health disorders occur more among 18-to-25-year-olds than in other age groups. What's more, the pandemic has worsened the college mental health crisis.
But some students are leading the charge to fight against stigma. Check out their stories for examples and advice on how to advocate for mental health on your campus.
5 Ways to Advocate for Mental Health in College
Whether you're drawn to speaking, writing, or something out of the box, there are many ways college students can get involved in mental health advocacy. Here are a few ideas.
1. Share Your Story
Today, Reicherter speaks out to fight stigma. She founded Inspiring My Generation, a nonprofit with the mission to save lives by raising awareness for mental health, early symptom detection, and suicide prevention.
"What worked for me personally was sharing my story. First, it was just writing it down on a piece of paper — and then crumbling it up," Reicherter said. "It turned into posting a blog and getting responses from other people. Then I started talking about it and slowly sharing my story as I felt comfortable."
Why It Works
Reicherter said speaking out normalizes your mental wellness for yourself and promotes confidence in others to take care of themselves.
2. Write an Op-Ed
An op-ed is an opinion essay in which the writer poses an important problem and potential solution. When first-year West Chester University media and culture major Kelly Wallace had to write one for class, she had just the topic in mind.
"I knew I wanted to write about mental health since it was something that I, along with some of my friends, have struggled with," Wallace said. "I also heard word from other friends and social media that students were struggling to make [campus counseling] appointments."
Wallace's op-ed identified examples of how some colleges have made mental health services more accessible and how hers could make similar improvements. Her professor encouraged her to send her work to the school paper, The Quad.
Wallace was nervous about the feedback she'd receive. Despite her concerns, The Quad published her op-ed. Wallace said readers agreed and identified with the points she made.
Why It Works
When colleges support mental health, it makes a difference for students. Making your voice heard in an op-ed puts pressure on campuses to shape up their services.
Want to learn the basics of op-ed writing? The Op-Ed Project has you covered with tips and tricks.
3. Provide a Basic Service
When master's student and wellness coach Brandon Bond reflected on the racial injustices surfacing over the past few years, he wanted to diversify his school's wellness offerings.
Bond knew his school's health services were pretty comprehensive. However, one basic wellness offering was missing.
"As a Black man myself, getting a haircut on campus for my hair texture and everything was near impossible," he said. "We just didn't really have anyone that did it correctly."
That's where the idea for on-campus pop-up barbershops came about. Bond collaborated with other campus organizations and a professional barber to host these events. They invited male students of color to get their hair cut and discuss issues that affect their holistic well-being, like cultural identity, notions of masculinity, and healing from trauma.
"Sometimes, just starting with the basics is all we really need instead of creating this whole grand program," Bond said. "[Hair is] something that can resonate with a lot of people. It's something that everyone kind of goes through — something that is specifically important within our culture."
Why It Works
Meeting students' needs creates a sense of belonging on campus. And when students' basic needs are met, they can prioritize other important issues, like their mental health.
4. Show Your Support on Your Sleeve — or Backpack
A University of Wisconsin-Madison student started The Bandana Project (BP), a student-led mental health initiative, in 2016. Through the project, college students learn about national resources and pledge to support their peers in a crisis. BP members pin lime green bandanas on their clothes or backpacks to signal they're able to offer support.
"The simplicity … of the movement encourages people to join, creating a large body of students showing an unspoken but powerful display of solidarity and support," said UW-Madison's BP director and third-year psych major Sabine LaLiberte.
Today, BP has reached over 50 college campuses in the U.S. and Australia. See if your school has a BP chapter or start your own by contacting the BP Organization.
Why It Works
"BP allows people on campus to show their support in an easy and visual way that naturally begins those conversations," LaLiberte said. "I've seen firsthand the healing power that a supportive community can provide, and Bandana Project creates and grows it. We are changing lives at the individual, campus, and community level."
5. Don't Leave Yourself Behind
Bond and Reicherter agreed that taking care of yourself is a sure first step to helping others.
"By using my own experience and trying to support myself, I was able to create a lot of resources, programs, and initiatives that work for others, too," Reicherter said.
Some of the programs her nonprofit runs stemmed from tools she used in recovery. Those initiatives include sending "encouragement cards" — supportive letters to people hospitalized in psychiatric wards — and publishing workbooks for young people to explore and identify support for what they're feeling.
"When I did the workbooks, it started as a way to help me learn coping tools, and that turned into something that may be able to help others," she said.
Why It Works
Bond summed it up: "How can we support other people when we're struggling ourselves?"
Take Time to Prioritize Self-Care
Give yourself time and space to focus on you. Explore our collection of mental health resources to find support.
Learn More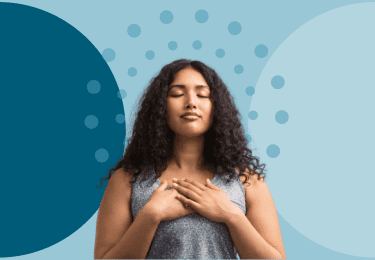 More Mental Health Advocacy Ideas
Find more ideas and inspiration from student advocacy examples below.
Volunteer as a Peer Counselor: Campuses like Bond's have formal peer counseling initiatives. Volunteers get training in supporting other students and bringing attention to available resources.
Use Your Student Government Association: You don't need to be in student government to bring them your ideas. You may be helping pay for their projects through a student activity fee. So let them know what you need!
Tap Into Technology: UCLA student Cat Wang helped design an AI-powered chatbot to better connect students to mental health services. If website or app design is your thing, consider using that in your advocacy efforts.
Contribute to Research: Find out who's researching mental health on your campus. You might discover opportunities to become a paid research assistant or participate in surveys or other studies.
Resources for Mental Health Advocacy
These national organizations provide resources specifically for college students interested in promoting mental health:
Active Minds: This organization's student chapters raise awareness for mental health issues and resources on college campuses across the U.S. Learn how to join or start an Active Minds chapter on your campus.
National Alliance on Mental Illness on Campus: Student-led NAMI on Campus clubs access national resources to educate their peers on mental health issues and advocate for campus policy change. You can join or start a club through your state's NAMI chapter.
The Jed Foundation: This nonprofit focuses on protecting emotional well-being and preventing suicide among teens and young adults. College students can get involved by becoming ambassadors or by being JED Campus resources to their school.
---
With Advice From:
DISCLAIMER: The information provided on this website is not intended or implied to be a substitute for professional medical advice, diagnosis, or treatment; instead, all information, content, and materials available on this site are for general informational purposes only. Readers of this website should consult with their physician to obtain advice with respect to any medical condition or treatment.