How to Be an Ally During Black History Month
Want to be a better ally? Learn the dos and don'ts of celebrating Black History Month.
Image Credit: miniseries / iStock / Getty Images Plus / Getty Images
---
Black History Month has been officially celebrated nationwide for nearly 50 years.
Learning to be an ally is key to supporting the Black community.
As an ally, there are ways to correctly — and incorrectly —celebrate Black History Month.
Understanding nuances and relearning history are critical components of being an ally.
---
The origins of Black History Month can be traced back over 100 years ago. In 1920, scholar and historian Carter G. Woodson gave the keynote speech during his fraternity's national meeting. He urged the men of Omega Psi Phi to promote the study of "negro history."
As a result, the fraternity initiated what became known as Negro Achievement Week, which took place in November. During this week, many Black communities celebrated the contributions of Black people across the country.
By 1924, Woodson, who also founded the Association for the Study of African American Life and History, was asked to oversee Negro Achievement Week. He changed the named to Negro History Week and moved it to the month of February, to commemorate the birthdays of activist and author Frederick Douglass and President Abraham Lincoln.
The U.S. has celebrated February as Black History Month since its official acknowledgment by President Gerald Ford in 1976. Black History Month is a time to honor Black people's achievements, history, and contributions to the country. In recent years, more communities have joined in to celebrate alongside Black Americans.
However, some efforts to celebrate Blackness can end up doing the opposite, leaning on stereotypes and harmful interpretations of Black culture that contribute to oppression.
Take some time to learn how to celebrate Black History Month as an ally with the following tips.
10 Ways to Celebrate Black History Month as an Ally
Intention does not equal impact. So what are the best ways to celebrate Black History Month as a non-Black person?
"Be open minded and aware of our rich culture and history, and be supportive and intrigued to learn more about the fighting we've done, the leadership we've done," Nakiyah Matthews, community chair of Columbia College Chicago's Black Student Union, said. "Be ready to learn and listen, be yourself, ask questions, and show you care."
Here are 10 ways to celebrate as an ally.
How Not to Celebrate Black History Month as an Ally
Now that you know how to support the Black community, make sure you know what doesn't help.
"Some things that you shouldn't do is act as if [Black oppression] does not exist or disrespect Black history," Matthews said. "That's being disrespectful to every African American, disrespectful to our history. And obviously keep any inappropriate racial slurs, remarks, or opinions to yourself."
Here are five things not to do.
Don't Think It's Just for Black People
It's crucial to recognize that even though Black History Month centers on Black people, there is still an active part for allies to play. Following the tips above is essential to supporting Black people — during Black History Month and year round.
It's a time to actively and outwardly show solidarity — not to shy away from Blackness.
Avoid Attempts to Center Yourself
Even though this month is a time for allies to participate, it is not a time for them to overtake.
Supporters of the Black community must learn the balance between being an ally and centering themselves. That means listening to and internalizing the experiences of Black people.
Be Aware of Virtue Signals
Saying one thing and acting another way is hypocritical and damaging — especially when it comes to supporting the Black community.
Being an ally means actively using your privilege to help Black people. Avoid virtue signaling — public expressions only meant to paint yourself in a positive light — at all costs.
Don't Be Thoughtless
Black History Month is not the time to be thoughtless. When celebrating friends, colleagues, or the history itself, highlight accomplishments, contributions, and key facts about the Black community — not stereotypes that build on negative characterizations of Black people and culture.
It is important that you educate yourself and know the facts before you comment. It is especially essential to ask questions, read, research, and listen.
Don't Appropriate Black Culture
Finally, allies should help, not harm. Appropriation of Black culture through hairstyles, dress, or language is absolutely inappropriate.
Speak to your own community about why vital components of Black culture are sacred and why you shouldn't appropriate these cultural artifacts.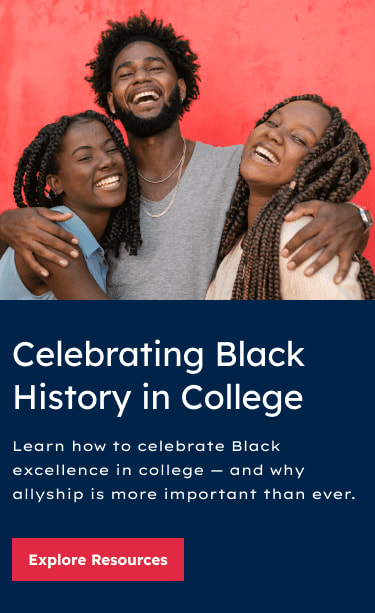 With Advice From:
Nakiyah Matthews
Born & raised in the West Side of Chicago, Nakiyah Matthews is an aspiring actress, director, and producer. She is a current student at Columbia College Chicago with an acting major and video production minor. She is the community chair of BSU, and is also a member of the Beautiful Beta Chapter of Alpha Kappa Alpha Sorority, Incorporated. Nakiyah consistently demonstrates great character, integrity, and high scholastic achievement. As she continues to evolve, she will remain an active participant in her community, and apply the exceptional skills of leadership, creativity, and strong work ethic towards her passion and each organization, field, or environment she is associated with.