10 Podcasts for AAPI Students
Want to celebrate and learn more about Asian and Pacific Islander Heritage? Check out these 10 AAPI podcasts that will keep you captivated.
Image Credit: recep-bg / E+ / Getty Images
---
Data shows that 43% of Asian Americans and Pacific Islanders (AAPI) listen to podcasts while at home, according to Nielson. And yet, Asian Americans are often marginalized and misrepresented in the media.
Tuning in to podcasts by and about the AAPI community is a great way to educate yourself about the various ethnicities that make up the umbrella term. Additionally, it can help foster stronger bonds between AAPI communities. These 10 AAPI podcasts explore history, culture, and both light-hearted and complex issues about what it means to be Asian or Pacific Islander in America.
Asian Enough
A program from "The Los Angeles Times" with hosts Jen Yamato and Frank Shyong, "Asian Enough" deals with the complexities of being Asian in America. Now in its second season, the podcast invites celebrity guests from diverse cultures and experiences to talk about their Asian identity and what it"s like to be AAPI in America. Previous notable guests include former U.S. Senator Kamala Harris, actors Simu Liu and Sandra Oh, and director Jon M. Chu. Guests are invited to share the joys and complications of being Asian American. They can even participate in a segment called "Bad Asian Confessions."
Desi Ladki Life
Featured on Forbes, Times of India, and BBC"s CDX, the "Desi Ladki Life" program (formerly known as "The Woke Desi") focuses mostly on South Asian millennials and topics that impact their lives in America. The three founders — Annika Sharma, Nehal Tenany, and Sridhar Pisupati — recognized a void in the podcast space and wanted to create a place where issues from social justice to pop culture to advocacy could find a home. Guests include both subject-area experts as well celebrities. Topics include visas, finding joy in one"s identity, child marriage, honor-based violence, surrogacy in South Asia, and finding boundaries with in-laws.
Dear Asian Americans
"Dear Asian Americans," hosted by Jerry Won, creates an authentic space by Asian Americans and for Asian Americans. This program strives to look at dual cultural identity through a down-to-earth, authentic view of what it means to be Asian in America. It focuses on storytelling rooted in identity, culture, and history. A wide array of special guests appear in each episode, showing the breadth of backgrounds, beliefs, and career paths Asian Americans come from to celebrate and inspire the Asian American community.
Daebak Show with Eric Nam
The phrase "daebak" in Korean is often used to describe something spectacular, and that is exactly what "Daebak Show with Eric Nam" celebrates. The podcast covers music, the media, and the biggest pop culture hits. Hosted by former K-pop artist Eric Nam, the host explores the K-pop genre and subculture. What 20 years ago was an underground niche on the streets of Los Angeles, K-pop has now become mainstream and is topping America"s charts. Throughout the series, Eric Nam has conversations with K-pop artists about the hustle, their influences, and the obstacles they may have faced in their careers, such as parental disapproval and toxic relationships.
They Call Us Bruce
In this program, journalist Jeff Yang and blogger Phil Yu — authors of the recently released book "Rise: A Pop History of Asian America from the Nineties to Now" (2022) — have "unfiltered conversations of what"s happening in America." Their podcast hosts high-profile guests to talk about trending topics, such as the film "Everything Everywhere All At Once" and racist voicemails. They have also hosted the owners of Seoul Sausage Food Co., who were finalists in the Food Network show "The Great Food Truck Race: All-Stars."
This Filipino American Life
The program "This Filipino American Life" is anchored by a team of hosts who explore the nuanced existence of being Filipino in America. In one episode, food critic Annabelle Tometich discussed what she learned about privilege when publishing her reviews under the pseudonym Jean Le Beouf and pretending to be a "white guy." Other episodes are less serious and more investigative, like the one exploring the problematic history of SPAM canned lunch meat and its role in Filipino cuisine.
Modern Minorities
In "Modern Minorities," Sharon Lee Thony and Raman Sehgal talk about "making it" despite not becoming the doctors their parents had wished they would be. Instead, the co-hosts embark on conversations about work and life through the lens of race and gender. Their entertaining and educational podcast welcomes guests from all walks of life, each providing a unique slice of what it"s like to be part of Asian Americana.
Explore more resources for our Asian American and Pacific Islander students
Supporting you at every step of your journey.
Discover Now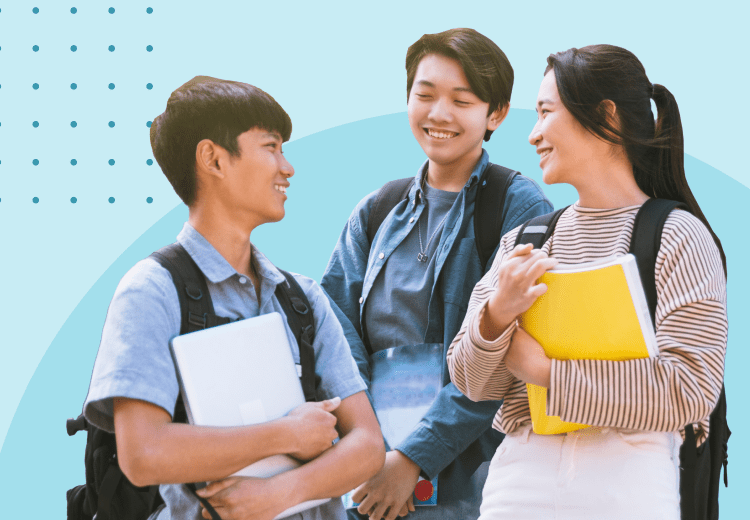 Model Majority
Tony Nagatani and Kevin Xu, two experienced grassroots organizers who worked as political organizers for Barack Obama, are an important voice for the Asian American community in their podcast "Model Majority." Interviews include a wide array of guests, from lawmakers to activists to community leaders who address serious issues like equity and representation. Nagatani and Xu"s discussions have included biracial identity, the racial dynamics of the pandemic and its direct and indirect impact on the Asian American community, food activism, and the Capitol Hill riots.
Deep Pacific Podcast
The "Deep Pacific" is a podcast launched in 2020 to share Pacific Islander views and highlight underrepresented voices. Made for and created by Pacific Islanders, this program discusses the social, political, environmental, educational, scientific, and cultural circumstances that impact Pacific Islander life. The program"s mission is to evoke conversation that may ultimately lead to ideological and social change. Episodes include discussions of what it means to be part of the Pasifika diaspora, the impact of settlers and colonization, organized religion"s effect on island life, the #LandBack Movement, and how language contributes to Pacific Islander identity.
Korean American Perspectives
"Korean American Perspectives" was created by the Council of Korean Americans with the purpose of providing a place to share inspirational stories from Korean leaders and to explore the complex issues that Korean Americans face everyday. Episodes feature successful Korean Americans, like New York Times bestseller Chang-Rae Lee. The podcast addresses topics such as healthcare, mental health, cultural identity, and civic engagement.