Counselors provide professional guidance and support to groups and individuals experiencing social, personal, and psychological troubles. Specializations in the field include vocational and career counseling, rehabilitation and mental health counseling, and marriage and family counseling. The Bureau of Labor Statistics projects that the job outlook for counseling careers in mental health, marriage, and family therapy will improve by 19% over the next decade.
A career in counseling is a good fit for those who are highly stable emotionally, have considerable physical energy, and can handle stress well. Additionally, success in the field requires advanced interpersonal skills, empathy for clients, a strong ethical compass, and a desire to help people improve their emotional and mental health. Counselors often rely on personal experience to bring understanding and compassion to their work, seeking to inspire trust and confidence in their clients while adhering to ethical standards and maintaining confidentiality with regards to sensitive issues.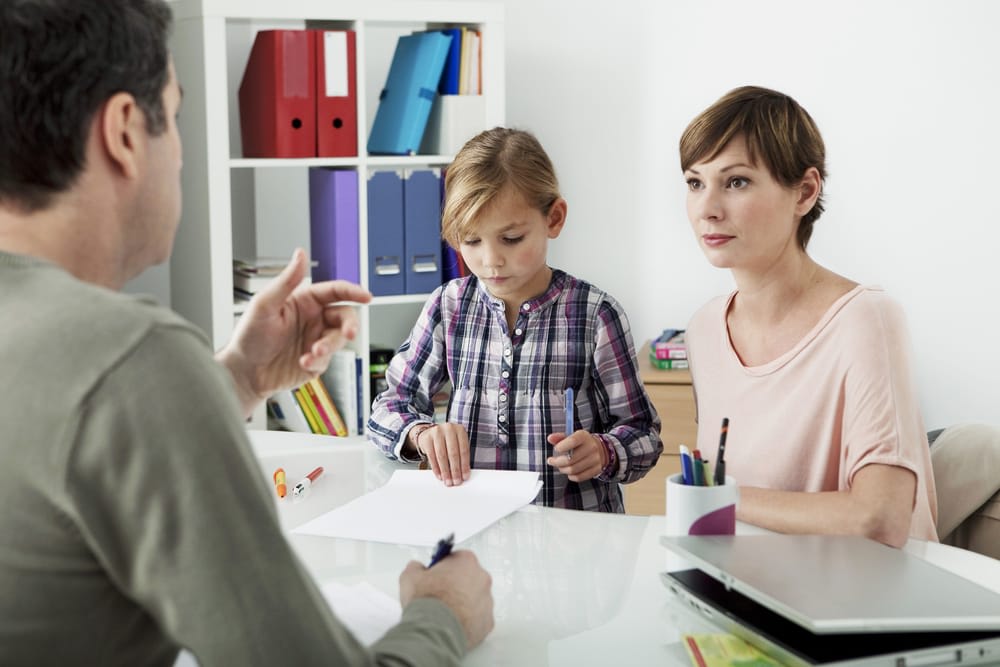 Counseling Salary by State
| State | Average Annual Salary |
| --- | --- |
| Alaska | $65,520 |
| Utah | $61,080 |
| Wyoming | $58,020 |
| Oregon | $55,670 |
| New Jersey | $53,410 |
Source: Bureau of Labor Statistics
Educational Paths to a Career in Counseling
Educational requirements vary within each counseling specialization and each state, but generally, higher-level positions require at least a master's degree from an accredited institution in addition to state- and occupation-specific licensure. Colleges and universities typically offer undergraduate and graduate counseling programs through their education, psychology, or human services departments. Furthermore, some states may require a certain number of supervised clinical hours before they will grant full licensure. Additionally, counselors can choose to seek certification from the National Board for Certified Counselors (NBCC) or other professional organizations to bolster their employability.
Undergraduate Study
A bachelor's degree endows future counselors with the educational foundation they need to succeed in a master's program. Undergraduate students in counseling, psychology, and social services develop strong communication, organization, and interpersonal skills that serve them well as they work toward a graduate degree.
Typically, students earning their bachelor's degree in counseling do not need to specialize in any one area. However, as they develop interest in a particular type of counseling, undergraduates may choose to customize their studies through specific coursework or supplement their degree with outside work experience to better prepare themselves for a master's program in that field. For instance, master's programs in mental health counseling often include psychology courses as a prerequisite, and some master's programs in educational counseling require teaching experience for admission.
Degree Spotlight: Psychology
Psychology majors study foundational concepts in ethics, statistics, cognitive science, and clinical and social psychology. As they earn their degree, students gain valuable and broadly applicable skills in analysis, communication, problem-solving, interpersonal awareness, and pragmatic evaluation. The distinction between a BA and BS in psychology is subtle, as coursework in these programs often overlaps significantly. However, BS degrees in psychology are generally more science-oriented, requiring higher-level math and additional science courses, and cater to those interested in graduate studies in psychology, medicine, and research.
BA degrees in psychology are well-suited to those interested in counseling, as they usually encompasses more liberal arts and humanities courses and provide a broader educational foundation. Prospective students should consider the core courses typical of each degree and choose the path that will better prepare them for their specific vocational interests.
Master's Degree in Counseling
Courses at the master's level are taught by skilled practitioners, and combine real world experience through internships with research and lectures. Programs fully prepare candidates by teaching them skills and knowledge found in the eight core areas defined by Council for the Accreditation of Counseling and Related Educational Programs (CACREP). Placement in master's programs is competitive, and candidates can expect to achieve the highest level of training through accredited programs. As the core knowledge base for counseling, as evaluated by CACREP, accreditation provides the highest benchmark for evaluating candidates' proficiency in this field.
The master's program allows students to fully develop their skills in a specific area of counseling. They learn to treat patients through a holistic and multi-cultural approach, combining the highest levels of ethics and confidence with the finer details of clinical research and the practice of therapy. Study at the master's level will also enable students to fully immerse themselves in the field of counseling or psychology that they wish to specialize in.
Specializations in Counseling
Within the field of counseling, there are numerous areas of specialization ranging from mental health, family, and career counseling to art therapy, addiction counseling, and college counseling. While all areas require common foundational skills, each necessitates additional focus and emphasis in coursework. Here are some of the most common counseling specializations and the core content of their curricula:
Addiction Counseling

Addiction counseling focuses on the treatment of individuals and families dealing with substance abuse problems and other addictions. Typically, these degree programs require around 60 credits of coursework to complete. Upon graduating, candidates may choose to open a private practice, work with community support groups, and/or become certified as an addictions counselor, chemical dependency professional, probation assessment officer, alcohol drug information instructor, or substance abuse prevention specialist.

Career Counseling

Students in career counseling degree programs learn to help individuals cope with issues within the interrelated fields of work, education, family, and career. Employing a multicultural perspective, these counselors assess an array of job-related issues, including sexual harassment, career planning, and workplace violence. Career counselors can function as part of career development teams, and may choose to specialize in K-12 or higher education counseling. Candidates in this field might consider becoming a licensed professional clinical counselor.

Clinical Mental Health Counseling

Graduates of clinical mental health counseling programs can become licensed professional counselors and can choose to specialize in mental health. Master's degrees in this area prepare candidates to work in hospitals, mental health clinics, residential treatment centers, substance abuse treatment centers, and group and private practices. As they earn their graduate degree, students conduct research and learn to deal with a variety of mental health issues and direct treatment in a clinical setting.

Expressive Arts Therapy

Therapists in this specialization help individuals grow and achieve positive change through exploration of expressive arts. Additionally, expressive arts therapists guide their clients to develop insights through alternative methods of communication. Expertise in psychology serves as an essential element of training, as does specialized knowledge of instruction in art, music, poetry, and dance. Candidates may become licensed mental health counselors or registered expressive arts therapists.

Gerontological Counseling

An interdisciplinary field, gerontological counseling combines knowledge of the science of aging with psychology. Coursework in master's programs covers a variety of topics, including mental health counseling, law, and ethics. Additionally, candidates typically complete fieldwork to earn their degree. Examples of issues that students might explore include elder abuse, discrimination, and substance abuse. Candidates can continue on to professional counseling roles in hospitals, churches, nursing homes, business, colleges, and government agencies.

Marriage, Couple, and Family Counseling

Students in this specialization delve into the complexities of family and interpersonal relationships, learning to treat patients with a variety of psychological, social, and interrelational issues. Graduate programs in this area feature intensive coursework and typically emphasize in-person interaction with clients.

Pastoral Counseling

Pastoral counselors provide support for faith and healing among members of their religious communities. Students pursuing degrees in this field generally have previous training in religion or theology. Pastoral counselors often work in churches, hospitals, and hospices.

Rehabilitation Counseling

Counselors in this specialization help mentally, physically, and emotionally distressed people heal and reintegrate into society. Students earning rehabilitation counseling degrees undergo extensive training in topics of multicultural counseling, medical aspects of disability, rehabilitation services, and ethical standards for treatment.

School Counseling

School counselors provide career, family, and individual guidance to children in grades K-12. Students in these graduate programs investigate support techniques and theories as they develop and assess school counseling programs. Candidates may also conduct research related to school counseling practices. This highly collaborative field draws students from diverse backgrounds in psychology, business, social work, and the military.

Student Affairs and College Counseling

Counselors in this specialization operate in diverse roles within the higher education system. Degree candidates study the theories, philosophy, and ethics of college counseling in addition to administrative and organizational dynamics. These counselors also help students with issues outside the classroom, serving in administrative, career counseling, and academic advising roles.
The Next Steps: Getting Licensed
States typically require counselors to be licensed and accredited in order to practice professionally. However, criteria for such certification vary by state. In California, for example, counselors must fulfill certain requirements as they earn their master's degree and pass multiple licensing exams in addition to completing 3,000 hours of supervised experience. Counselors seeking licensure in New Hampshire must complete two years of supervised work, while those in Washington need 36 months of supervised experience.
These standards are promulgated by the NBCC, which serves to protect the general public from substandard practitioners and establish a high level of education and training for new candidates. State licenses may differ in name, and certification may require a passing score on regional exams.
Supervised Clinical Hours
Equally important as the study of counseling theories, supervised clinical hours give graduates the opportunity to use their newly acquired expertise in practice. In completing their required hours, aspiring counselors gain firsthand knowledge of what it's like to work with clients in their chosen fields. Some graduates fulfill clinical hour requirements through internships or externships. Additionally, candidates for licensure often shadow and work with licensed professionals in a setting relevant to their career goals.
Supervision in clinical counseling serves as a practical means of peer review. The supervisor maintains a system of checks and balances to provide for patient safety and facilitate candidate improvement. This third-party "eye" reduces serious risk in the working environment and among counselor-client relationships, while maintaining an emphasis on client confidentiality. Candidates for licensure may complete their supervised hours online.
Examinations
The NBCC uses various exams to determine eligibility for national and state licensure and certification. Aspiring counselors must achieve a passing score on certain standardized tests in order to practice counseling professionally in all 50 states, D.C., and Puerto Rico. This includes two main examinations: the National Counselor Examination for Licensure and Certification (NCE) and the National Clinical Mental Health Counseling Examination (NCMHCE). The NCE, which is required for national certification and state licensure, consists of 200 multiple-choice questions about counseling services. First administered in 1983, the exam undergoes continual updating and review.
The NCMHCE, which is required for clinical mental health counselor certification and state licensure, includes 10 clinical simulations that test a range of practical knowledge. As such, the exam assesses the abilities of a candidate beyond rote memory recall. The test covers topics in client diagnosis; counseling and psychotherapy; and administration, consultation, and supervision proficiency. The NBCC weighs scores on a +3/-3 scale.
State-by-State requirements
Each state requires would-be counselors to earn a master's degree, pass certain exams, and complete a period of supervised work to gain full licensure. CACREP school accreditation requirements vary by location, and the required number of coursework and supervised clinical hours usually differ as well. These distinctions are critical; practicing without the proper credentials might disqualify a counselor from achieving licensure and may result in criminal charges. Each state maintains a counseling board that publishes requirements for certification and licensing.
Counseling Certifications
Certification differs from licensure. Some states don't require counselors to become certified in a specific field in order to become licensed, but others do. The National Certified Counselor (NCC) certification transfers from state to state; however, counselors must seek licensure in their home state.
The NCC certification shows employers and clients that the counselor meets national standards and has completed the requisite amount of work experience. Additionally, this certification serves as evidence of a counselor's professionalism, dedication, and high ethical standards, and may improve their standing and employment prospects within the profession. Mental health counseling, school counseling, rehabilitation counseling, addiction counseling, pastoral counseling, and art counseling all maintain specialized certification categories.
Continuing Education
Continuing Education (CE) opportunities enable counselors to achieve and retain specialized certifications. Many programs are available online and in home-study formats for working professionals. Some states, such as California, require CE in order to maintain and renew certifications and licensure. CE credit requirements vary by state, certification type and subject, and licensure. CE and license renewal ensure that practitioners stay up to date with their credentials and new practices, procedures, and treatments. Fulfillment of CE requirements shows clients that counselors are dedicated to providing the best care with the most up-to-date expertise.
Distance Learning Opportunities
Online education programs in counseling might begin with introductory counseling and psychology courses, often in a hybrid format, at either the bachelor's or master's degree level. There are few completely online programs available, as much of a counselor's training necessitates in-person interaction with clients and peer supervision. Additionally, state requirements may preclude earning a counseling degree entirely online.
However, once a counselor has achieved certification, they can generally complete license renewal and continuing education online. Professionals can participate in i-Counseling, an online continuing education program available through the NBCC. Other online CE platforms include:
Career Paths in Counseling
At the master's degree level, candidates focus on a specific area of study that will develop into a career path. This is often an interdisciplinary specialization, covering an array of topics through multicultural perspectives while including a balance of scientific research, practical work experience, and a firm ethical foundation. Below we have listed job data for various subfields of counseling. Within each of these categories, it is important to note that salaries may vary widely based on the working environment, client load, and professional experience.
Counseling Careers
Mental Health Counselors and Marriage and Family Therapists

Rehabilitation Counselors

School and Career Counselors

Substance Abuse and Behavioral Disorder Counselors

Psychologists
Psychologist vs. Psychiatrists
Psychologists and psychiatrists both study the brain and cognitive functions; however, the two fields differ in education, training, and salary. Psychologists usually hold an undergraduate degree in the field, while psychiatrists generally hold an undergraduate degree in science and must also attend medical school. Prospective psychiatrists perform training at hospitals, while would-be psychologists usually complete training within a private or group practice. Psychologists cannot write prescriptions, while psychiatrists can. Overall, psychiatry treats the chemical and physical imbalances of the brain, while psychology covers the emotional aspects of the mind and patients' experiences.
The Increasing Demand for Mental Health Workers
With an aging population and recent decreases in the number of trained mental health professionals available, the demand for certified counselors in this field is increasing. This is especially true among poorer communities in the United States, as poverty levels for aging Americans remains high: 15.1% of adults over age 65 are living in poverty, according to a U.S. Census Bureau report. With the Affordable Care Act requiring coverage for treatment of mental health and substance abuse disorders, the number of patients receiving treatment has increased. Unfortunately, the mental health workforce has not risen to meet the increased demand. Job growth is slow in the field, and resources are often unavailable in communities with the greatest need. In particular, there is critical need for geropsychologists, mental health counselors for older americans, and substance abuse experts.
Meet a Counseling Professional
Carolyn Esparza, LPC Chair, InterNational Prisoner's Family Conference
Please summarize your professional and academic experience.
I received my master's degree well over 40 years ago and was licensed as a professional counselor and employed as a family counselor, as well as in the field of adoption, for about 10 years. Life then directed me into a long-standing career in the field of criminal justice, where I ultimately became an administrator of various programs for prisoners. Over the past 15 years, however, I founded and have served as director for a nonprofit agency providing services to the entire prison family. While I am still licensed as a professional counselor, today I am "semi-retired," but very active as the founder and chair of the annual InterNational Prisoner's Family Conference. I also participate in the conference's Advocacy in Action Coalition to provide advocacy on behalf of the prison family for criminal justice and prison reform.
What factors should a student take into account when considering a degree in counseling?
Today, the age range of college and university students is quite broad, ranging from high school graduates to senior citizens, so the factors to be considered in selecting an area of service are essentially age-related. Unless a young person has personal experiences propelling them into a particular field, they should remain open-minded to the many areas of practice available. For example, I would never have considered working in the field of criminal justice, but this has been an exceptionally fulfilling area of work for me. To do any job well, a person of any age must have a great passion for the purpose and people they are serving. Sometimes it takes many years to determine one's true passion. The more mature student may already know their passion.
What do you find most fulfilling about counseling?
The career path I allowed myself to be open to, although initially reluctantly, has been exceptionally fulfilling, because of both the intense challenges faced daily and the many rewards that come with knowing I am fulfilling an enormous need socially, mentally, and spiritually. The rewards have also come through the amazingly wonderful and inspiring people I've met throughout this unlikely journey. Many of those amazing people are the prisoners, themselves.
What's the greatest day-to-day challenge you face as a counselor?
Daily challenges of this career path are the amount of flexibility and patience required to address the intense unmet needs of deserving people who are disenfranchised and shunned by the mainstream community. Daily challenges requiring flexibility also include the fact that just as no two people are the same, no two days are the same. There is nothing at all routine about this work. I might have a perfectly clear plan for the day ahead and one single phone call may require totally changing those plans, immediately. So, a person considering work in the field of criminal justice would benefit from self-assessment. Rigid "A-type" people become angry and bitter when they realize they cannot simply set out to achieve a goal because their plans will be repeatedly interrupted and delayed. To do this job well and effectively, patience is not only a virtue but is essential!
What type of person excels in the counseling profession?
In addition to being patient and flexible, the most successful people I've met on this journey have a great passion for their personal purpose in life and are people who are willing to persevere despite numerous obstacles. They are exceptionally confident within themselves and about their purpose and remain unflappable when confronted by numerous challenges they experience daily. Possibly the greatest attribute the most successful criminal justice career person must have is a quick wit; a great sense of humor!
What additional advice can you give to someone pursuing counseling?
Know yourself very well; be honest about your strengths and weaknesses. Of course, work to resolve those weaknesses, but learn to live joyfully and peacefully within the boundaries of your abilities and tolerances.
Additional Resources
Founded in 1952, the ACA is the largest association of professional counselors in the world. It provides various resources for counselors, including a career center and job listing site through a nonprofit educational association.
SAMHSA offers job, fellowship, and internship listings.
This free government job board lists available federal positions in psychology and counseling.
Hosted by the American Counseling Association, this publication provides easy-to-use job resources for counseling.
The ACA continuing education resource page links to online courses, learning institutes, and conferences.
The NBCC provides information on recertification, approved continuing education providers, and links to an online continuing education platform.
Through CCE, counselors and therapists have access to continuing education resources. CCE works with 100 national and state boards and associations to provide continuing education for professionals working in many diverse fields.
The APA provides access to professional development resources for psychologists and mental health professionals. The website features a searchable database of education providers by degree type and credit.
Through QUE, licensed and certified counseling professionals enjoy access to continuing education resources; financial aid, incentives, and savings plans; and 300 CEU courses and 1,000 CEU hours.
Members of AMHCA take advantage of career and education resources and advocacy specifically for mental health professionals.
The ASCA provides career development resources and community information for school counselors.
Members of AAP have access to conferences, digital resources, and certification.
This division of the American Counseling Association offers membership, credentialing, job listings, and various benefits for marriage and family counselors.
Through NCDA, professionals benefit from development resources, continuing education, advocacy, standards, publications, and membership perks.