College Planning for Parents and Students
Haga clic aquí para leer esta guía en español
Most freshman college students are recent high school graduates, but preparing for the costs and academic challenges of higher education is a process that should begin several years earlier. Parents can play a key role in their child's future by recognizing all of the necessary steps for college readiness. There are scholarships that students can apply for before they begin taking college courses. It's important for learners and their parents to be aware of such opportunities. Organized by different grade levels, this checklist highlights important deadlines and benchmarks that prospective students will encounter as they prepare for college.
Pre-High School: Savings Plans
Although the bulk of college planning generally takes place during high school, there is one obvious exception that most families invariably wish they had an earlier start on: college savings plans. With the rising cost of higher education, this has become an important part of any college planning guide for parents.
Anticipate Your Tuition Costs
College tuition in the United States has skyrocketed the past few decades: the price of tuition nationally rose by nearly 179% between 1995 and 2015, and that trajectory shows no sign of reversing. These high costs are a tremendous burden on students and their families, yielding record levels of debt, producing a full-blown student debt crisis across the country, and deterring some bright young people from even pursuing college at all. As of 2017, students graduate with an average student loan debt of $34,000.
Use regions/landmarks to skip ahead to chart and navigate between data series.
Tuition and Fees in 2016 Dollars
| Academic Year | Private Nonprofit Four-Year | Five-Year % Change | Public Four-Year | Five-Year % Change | Public Two-Year | Five-Year % Change |
| --- | --- | --- | --- | --- | --- | --- |
| 1976-77 | $10,680 | — | $2,600 | — | $1,190 | — |
| 1981-82 | $10,810 | 1% | $2,390 | -8% | $1,140 | -4% |
| 1986-87 | $14,630 | 35% | $3,110 | 30% | $1,450 | 27% |
| 1991-92 | $17,340 | 19% | $3,720 | 20% | $2,070 | 43% |
| 1996-97 | $19,920 | 15% | $4,560 | 23% | $2,250 | 9% |
| 2001-02 | $23,560 | 18% | $5,110 | 12% | $2,180 | -3% |
| 2006-07 | $26,380 | 12% | $6,860 | 34% | $2,680 | 23% |
| 2011-12 | $29,700 | 13% | $8,820 | 29% | $3,170 | 18% |
| 2016-17 | $33,480 | 13% | $9,650 | 9% | $3,520 | 11% |
While there's no forecasting the future, students and their families are wise to do all they can to anticipate their future costs. For example, parents can roughly calculate their child's total college expenses using the FAFSA4Caster survey tool on the official Federal Financial Aid website. Read on for more information about student aid and other alternative means of obtaining financial support for college.
Start a 529 Account
Fewer people can afford college costs out-of-pocket. In turn, parents find that choosing a dedicated student savings plan can be a major boon. 529 Plans (also known as qualified tuition plans) are some of the most powerful college savings options available to parents. A 529 plan is a tax-sheltered savings account specifically reserved for college funds.
Parents can choose a prepaid tuition plan, allowing them to purchase credits from higher-learning institutions in advance of their child's attendance, or a college savings plan, enabling the plan holder to set aside a portion of their salary and allow it to accrue until the monies are disbursed to the child. The U.S. Securities and Exchange Commission provides more detailed information about 529 plan options on the SEC's official website.
Make College an Expectation
In addition to saving money, parents can play an active role in their child's college preparation by discussing the importance and value of higher education, encouraging them to perform to the best of their abilities in school. The U.S. Department of Education recommends that parents use the following strategies when introducing the idea of college to their middle-school-aged kids:
Discuss different careers with your child. Try to get a sense of the possibilities that interest them most. If applicable, inform your child they will have to attend college in order to pursue the careers they find most appealing.
Encourage useful study habits by helping your child establish a regular "study time" in the afternoon or evening, maintain an organized study station, and adopt strategies for test-taking (like rewriting notes or making flashcards).
Carefully review every progress report and report card your child receives. Meet regularly with all of your child's teachers to monitor academic progress.
9th Grade
As kids begin high school, they find themselves inundated with opportunities to learn more about higher education. Although freshmen are still four years removed from high school graduation, Patti Ghezzi of School Family notes that 9th grade is a crucial year for college preparation. "[Your child's] grades will matter more than ever because they will be calculated as part of [his or her] grade-point average," she writes.
Choose Courses Carefully
College planning for high school students should begin with knowing what classes to take. Specific course requirements for student admission will vary from school to school, but the U.S. Department of Education notes that most colleges and universities impose the same set of general requirements. Your college planning checklist should include:
Four years of English
Three years of social studies
Three years of mathematics
Three years of lab science
Two years of a foreign language
Students who begin to fulfill their college course requirements as freshmen usually enjoy a much more relaxed schedule during their junior and senior years of high school. This may enable them to pursue other college prep programs and activities in their spare time.
Identify Interests In and Out of Class
Freshmen benefit from exploring potential colleges and careers. The U.S. Department of Labor maintains My Next Move, an occupation navigation tool that allows young people to browse specific careers within different industries. Once students have a few careers in mind, they can begin researching colleges and universities that offer the most reputable programs in subjects related to these professions.
Parents can assist their children during these different steps by providing anecdotal advice about attending college and securing post-graduation employment — but impartiality is key. Parents are wise to avoid overemphasizing certain institutions or career paths. Instead, parents should consider encouraging their children to pursue whatever they are passionate about. The time to discuss colleges that are within (or out of) your family's price range will come later.
Freshman Year Checklist
– Use the high school's course guide to create a four-year study plan that includes required courses
– Research potential career paths
10th Grade
A student's sophomore year is a period of transition. During this time, students should start to take formal steps toward applying for and attending college. Starting in the 10th grade, high school guidance counselors become an invaluable resource for your child. Counselors can highlight requirements for attending each school on your child's list of potential colleges and universities and they will help your student consider schools that most closely match their career interests. Guidance counselors also provide valuable information on topics like financial aid, college applications, different types of entrance exams, and other college planning guides.
Take Preliminary Entrance Exams
Most students take the Preliminary Scholastic Assessment Test (PSAT) beginning in the 10th grade (although freshmen, and even middle schoolers, may be eligible to take the exam). The PSAT, the official precursor to the SAT, mirrors the SAT by testing students in three core areas: mathematics, reading comprehension, and writing/grammar. The PSAT is administered in mid-October.
Unlike the SAT, the score a child receives on their PSAT exam will not impact their chances of college admission. However, the Princeton Review notes that relatively high scores may qualify students for a National Merit Scholarship or other financial aid awards. Students can also use the PSAT score to assess their readiness for the SAT, since both tests use essentially the same scoring formula. A PSAT score report is issued once the test has been graded. This report includes the percentile in which the student scored and a comprehensive answer key, which the student can use to see which questions they missed.
The material and format of the test is also of use to students who take the ACT instead of the SAT. Both the ACT and the SAT assess exam takers in math and reading. Additionally, the ACT includes a scientific reasoning component that covers topics including biology, chemistry, physics, geology, astronomy, and meteorology. The test also includes an optional writing section (many higher learning institutions require students to complete the writing component). The SAT and ACT exams are discussed in more detail later in the 11th grade section.
Concentrate on Academic and Extracurricular Interests
By the end of the 10th grade, college-bound students should have two years of English and one year of math, science, and social studies under their belts. Rather than shying away from subjects and classes that cause them to struggle, students should work with teachers, guidance counselors, and their parents to overcome any obstacles. This approach will ultimately allow them to excel in college and in their careers.
Many high school students become increasingly involved in extracurricular activities during their sophomore year. This is especially true of students in athletics and clubs that reserve varsity and leadership roles for upperclassmen.
The U.S. Department of Education encourages parents to investigate college nights, financial aid nights, and other school-sanctioned events that cover academic topics. These events can provide valuable learning experiences for students and their parents.
Sophomore Year Checklist
– Study for and take the PSAT, treating it as a trial run
– Attend college-related events at high school or within the local community
– Continue to take courses that satisfy college entrance requirements
11th Grade
In terms of college preparation, the second half of high school is much more intensive than the first. College-bound high school students undertake many different tasks during their junior and senior years, and the more they accomplish during the junior year, the less pressure they'll feel as seniors.
Take College Placement Exams
A majority of students will take either the SAT or ACT exam beginning in 11th grade. In the United States, most accredited colleges put equal stock in the two exams, though some schools prefer one or the other. The SAT assesses a student's critical thinking skills, while the ACT is designed to measure the bulk of core knowledge the student has accumulated.
Students must submit a score from either test in order to be considered for admission at most U.S. colleges and universities (including all accredited, four-year public institutions). For this reason, today's juniors and seniors are encouraged to study for and take both exams. They may then submit scores from the exam on which they received the most points.
Note that many high school students wait until their junior year to take the PSAT and then complete the SAT and/or ACT during their senior years. The only disadvantage to this approach is that students have less time to retake the exams if they're not satisfied with their scores.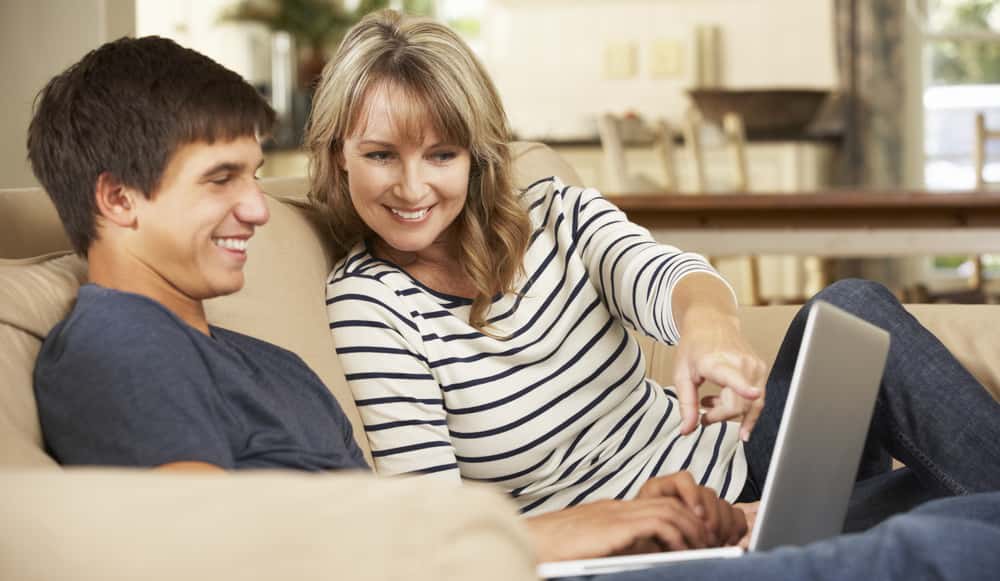 Consider Taking College-Level Courses
In addition to the SAT and/or ACT, high school juniors can prepare for college by enrolling in university-level courses. Many accomplish this by taking AP classes, which are offered at most high schools in the United States. These courses rely on a college-level curriculum, and tend to be much more demanding in terms of homework and tests than typical high school classes. At the end of the school year, students will have the opportunity to take an AP exam, which tests their knowledge of all the material they've learned over the previous eight months.
Depending on their AP exam score, students may receive up to five fully transferrable college credits that satisfy undergraduate course requirements. Course offerings vary by school, but some of the most common AP offerings include:
English literature and composition
U.S. history
Psychology
Calculus
Biology
Chemistry
Physics
Foreign language
Additionally, many high schools offer dual enrollment, an opportunity for high school juniors to enroll part time or full time at a local college or university and earn official credits. After graduation, students may choose to continue attending that particular institution or transfer their credits to another school. Learners interested in this option should speak to their guidance counselors for more information.
Students should also inquire with a potential dual enrollment school to see if the school is willing to pay for any associated costs. Many schools offer a price reduction or may even cover all associated fees for such credit-earning tests.
Start Comparing Colleges and Financial Aid Plans
Although official applications won't be submitted until the following school year, juniors should be ready to narrow down their list of potential colleges and universities. Learners can further prepare for the future by researching student loans, scholarships, and other financial aid opportunities, and by compiling all materials they need to submit a Free Application for Federal Student Aid (FAFSA) the following winter/spring. The sites below feature comprehensive financial aid databases, tips for applicants, and other information that will be valuable during this process:
Parents should assist their high school juniors during the collegiate financial planning phase. If students intend to take out federal loans, it's important for their parents to understand interest rates, repayment options, and other points associated with this type of financial aid. To help students and parents navigate financial aid, the U.S. Department of Education offers a free online guide, Your Federal Student Aid: Learn the Basics and Manage Your Debt.
Parents are wise to encourage their students to apply for as many scholarships as they can. Additionally, due to the high volume of companies that sponsor scholarship awards for their employees' children, parents should consider meeting with their employers to inquire about financial aid opportunities.
Before parents decide to pay for most or all of their child's higher education, they should meet with a financial planner and make a budget plan to ensure they can afford the many expenses associated with pursuing a college degree.
Junior Year Checklist
– Study for and take the SAT and/or ACT exams and retake them if final scores seem inadequate
– Consider enrolling in at least one AP course or pursuing dual enrollment opportunities at local colleges
– Research financial aid opportunities
– Finalize a "top schools list"
12th Grade
Senior year is a pivotal time in any young person's life. For college-bound students, the 12th grade will also be particularly busy. There are still many steps for students to complete in order to prepare for college the following year.
Prepare Application Materials
While the application deadline for most schools occurs the following spring, students are strongly encouraged to submit their materials to the top school on their list as soon as possible. The U.S. Department of Education notes that "a higher percentage of early applicants are accepted" at some colleges and universities. Every institution requires a different set of application materials, but the most commonly requested items include:
At least one official high school transcript
Official SAT/ACT scores
An application form with the following components:

Personal and basic educational information (such as name, address, Social Security Number, and high schools attended)
Extracurricular activities and student recognitions
Contact information for previous employers and volunteer coordinators
At least one personal essay or written statement of intent
Application fee
For certain colleges or major programs, applicants may be required to submit samples or portfolios

Secondary school report form from the student's high school counselor
Mid-year report form (may be requested after admission has been granted)
Letters of recommendation from teachers, coaches, youth leaders, or other non-relative adults who have spent time with the student
Students should schedule meetings with their guidance counselors if they have questions about how and when to submit college applications. Students should complete volunteer services, community service projects, and internships by the summer prior to senior year if the student wishes to include these experiences on their college applications.
File Your FAFSA
The FAFSA is another item that should be submitted shortly after forms are made available on January 1st. If a student is filing their FAFSA for the 2017-2018 academic year, the federal deadline is not until June 2018, but state deadlines vary. Students and parents who submit the FAFSA ahead of the state deadline stand the best chance of securing a sufficient amount of federal aid. In addition to federal loans, seniors should also apply for scholarships throughout the school year. (Please see the 11th grade section above for a list of comprehensive, web-based scholarship resources.)
Because the form requires information about tax statements, account records, and other financial information, parents must assist their children with the FAFSA. Parents can review IRS Publication 970: Tax Benefits for Education to learn more about tax benefits for education-related expenses. As seniors apply for scholarships and other student aid awards, it's also important to ensure that student personal information is kept safe. In an effort to combat a rise in data theft and to inform parents about strategies for protecting their child's private data, the U.S. Department of Education provides an online resource titled Student Aid and Theft.
Compare Your Options and Commit
Once a student has received a response from all the schools they've applied to, then the final decision process can begin. If a student has been accepted to more than one school, then their considerations should include institutional financial aid offerings, room and board costs and living arrangements, meal plans, and geographical distance from home. Most schools do not require accepted applicants to issue their final declaration until the following year, providing students with several months to reach their final decision.
Students should visit as many of these campuses as they can. This way they can compare campus environments. If possible, speak to students, professors, faculty members, and financial aid officers. If in-person visits aren't possible, then students should take time to contact school officials by telephone or email.
Senior Year Checklist
– Apply for all colleges and universities on "top schools list" during the fall semester
– Visit/contact all schools that award acceptance
– Contact final school of choice, as well as other schools that have awarded acceptance
– Apply for the FAFSA on January 1st (or shortly thereafter)
– Apply for scholarships and other financial aid awards throughout the year
– Maintain good grades