Diversity & Inclusion
Status Shouldn't Determine Opportunity
Education is still an option for those without documentation. Get the resources needed to overcome barriers and achieve success.
Explore resources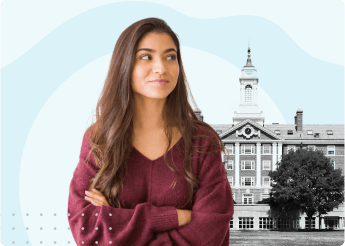 ---
Applying to College
Find out more about the application process and your educational rights with our graduate school guide for undocumented students. Read this guide to learn about the important documents and steps undocumented students must complete to apply for the DACA program. Learn the important steps undocumented students need to take to complete the college application process.
Career Development
The tech sector can offer high salaries and great perks. Learn about job search strategies, tips for success, and employment resources for women in tech. Discover the strategies college students with disabilities can use to determine a career path, search for a job, and navigate barriers to employment. Find employers that support the DACA program, and explore career resources available for Dreamers. Today, there are many career opportunities for service members and civilians. Discover military careers that offer valuable experience after college.
College Experience
Going to college as an international student? Gather the important information and resources you need to make the most of your college experience. Black students face challenges at college. But with the right resources, they can thrive — find out more by reading this Black student college guide. Check out our college guide for Indigenous and Native American students. Learn about resources and organizations that support these learners. Are you an HBCU student looking for a job? Check out this career guide for advice on entering the workforce as an HBCU graduate. Our list of resources can help aspiring and current HBCU students. Learn insider tips for applying to an HBCU and how to prepare for campus life. Many students experience food and housing insecurity. Learn how these insecurities affect students. Get tips for overcoming common barriers. Unique challenges may shape college experiences for Hispanic and Latino/a students. Learn more with our college guide for Hispanic and Latino/a learners. Many college students face food and housing insecurity. We've compiled a list of resources to help students get the help and support they need. Learn about the experiences of LGBTQ+ college students of color, and find tools and resources to help these individuals succeed. Learn about the experiences and challenges of transgender and nonbinary students, and find resources to help you choose a gender-inclusive campus. Explore common experiences and challenges of LGBTQ+ college students and learn how you can ensure your campus supports and affirms LGBTQ+ students. Thanks to advocacy and legislation, students with disabilities can successfully navigate higher education. Read this guide to learn more. For students with mental health conditions, successfully transitioning to college rests on a number of factors. Learn how to succeed. Find out what to expect and what resources are available for Deaf and hard-of-hearing students preparing for college. Students with learning disabilities sometimes find college overwhelming. Find resources, and discover different types of learning disabilities. Thanks to disability laws, students with physical disabilities can achieve a college education. Read this guide to find resources for navigating higher education. What is visual impairment? Learn more about useful visual accommodations and resources for students with visual impairments. ROTC can help you fulfill your personal and professional goals and pay for college. Check out our guide to learn more. Learn about resources for military students and student veterans available through the nation's top military-friendly colleges.
College Rankings
Online military-friendly colleges support active-duty military personnel, veterans, and their families. Find out which schools provide the best support. Women's colleges are dedicated to women's academic excellence. Check out the top women's colleges investing in the higher education of women. Learn about the best historically black colleges and universities, discover key facts, such as the tuition rate & prerequisites to graduate. Academic institutions continue to take steps to create environments and policies that meet the needs of students with LGBTQ+ identities. Here are the top-ranked schools. These colleges have a high number of Hispanic students in attendance and have programs and offerings dedicated to Hispanic and Latino/a heritage. We've ranked the top Colleges With the Most International Students. Compare schools by cost and convenience. Earn your degree today! For many incoming Jewish freshmen, the presence of a Jewish student body is crucial. Learn more about the top schools with active Jewish communities. We've identified the best colleges for LGBTQ+ students by state. Find out which colleges are making the effort to support LGBTQ+ students and set them up for success in school and beyond. These top-rated schools embrace a diverse student population, bringing together people from backgrounds as varied as the academic programs available. Women's basketball is dominated by a handful of extremely talented teams. Our rankings consider team unity, a successful coach and talented players.
General DEI Resources
Learn how to navigate the college environment as a bilingual or ELL student. Use our guide to help develop skills and find resources to succeed. Learn how to use personal pronouns to increase inclusivity and create welcoming spaces for trans, nonbinary, and LGBQ+ communities. Read this comprehensive guide for parents and families and learn how you can support and be in solidarity with your LGBTQ+ college student. Applying for college can be stressful for the parents and family of undocumented students. Read this guide and see how you can help your student succeed. Society often marginalizes students with disabilities. Read this guide to learn inclusive practices for working with disabled college students. Intended to help students build strong networks, national diversity organizations provide platforms and support for students of all backgrounds.
Language Translations
Muchos estudiantes indocumentados son víctimas de las circunstancias. Sin embargo, si un estudiante indocumentado se dedica al ir a la universidad. Explore esta guía completa que proporciona conocimientos, educación y recursos para los estudiantes universitarios indocumentados y con DACA. Consulte nuestra lista de becas para estudiantes indocumentados. Averigüe cómo puede afectar la ciudadanía y la situación legal al acceso a la ayuda financiera. Conozca los pasos esenciales que deben seguir los estudiantes indocumentados para completar el proceso de solicitud de ingreso al instituto. Descubra qué tipo de ayuda financiera está disponible para los estudiantes indocumentados. Conozca sus derechos antes de solicitarla. Aprenda a desenvolverse en el entorno universitario como estudiante bilingüe o ELL (estudiante del idioma inglés). Utilice nuestra guía para que le ayude a desarrollar habilidades y encontrar recursos para tener éxito. Encuentre empleadores que apoyan el programa Acción Diferida para los Llegados en la Infancia (Deferred Action for Childhood Arrivals, DACA) y explore los recursos profesionales disponibles para los Dreamers. No permita que las finanzas impedan al éxito de sus metas académicas. Haga clic para leer más sobre las becas y subvenciones disponibles. Con esta guía, identifique y explore los tipos de ayuda financiera con un énfasis en educarse sobre las opciones que merecen su consideración. Esta lista, organizada por grado, recalca las fechas límites y los puntos de referencia importantes para la planificación universitaria que encontrará en la educación superior.
Mental Health
Native students' mental health conditions may be rooted in historical trauma. Learn about their experiences and need for culturally competent healthcare. Learn more about Latino/a mental health, what barriers can limit care, and how to find support and resources. Asian American students are less likely to seek out mental health services. Learn more about what mental health resources are available. Mental health resources are available to student veterans on and off campus. Identify support to overcome barriers using our mental health guide. Latino/a college students come from a diverse community with unique barriers to mental health treatment. Learn more on how to take care of your mental health. Culturally connected mental health resources can help boost academic success for Native and Indigenous American students. Black and African American college students experience disparities in mental health care. Read this guide to find support, including online resources. The mental health of Asian American and Pacific Islander students needs recognition and understanding to overcome barriers. Read more for helpful resources. For students with disabilities, adequate care for mental health is a key component to academic success. Find independent support and campus services in this guide. LGBTQ+ students face barriers that negatively impact their mental wellness. This guide provides resources for finding affirming mental health support. First-generation college students face unique mental health challenges. Find out what type of support is typically available and what barriers still exist.
Scholarships and Financial Resources
LGBTQ+ students can run into institutional barriers when it comes to financial aid. Find our tips for navigating grants, loans, and LGBTQ+ scholarships. It can be hard for AAPI students to find college funding. Check out these scholarships, grants, and financial resources for Asian American and Pacific Islander students in college. Students in Texas can get money for tuition that doesn't need to be repaid. Discover how you can apply for scholarships in Texas. Community college is an excellent option for an affordable education. Learn about available community college scholarships and grants in our short guide. Are you a Hispanic or Latino/a college student looking to build financial literacy? Learn about personal financial literacy in this comprehensive guide. Learn how to improve your financial stability and independence. Check out these resources for AAPI students to build key financial education skills. Learn about a variety of resources on financial literacy for Black and African American college students and where to find education and support. Many organizations and schools offer college scholarships for Black and African American students. Learn about the top scholarships for these learners. Military service members can use veteran education benefits to pay for college. Learn how to make the most of the benefits you've earned. Learn more about available resources to help students with disabilities attend college and pay for their education. Veteran scholarships help military students overcome financial challenges to attending college. Find veteran scholarships for college. Many scholarships exist to help students with specific disabilities continue their education. Learn about scholarships for people with disabilities. Military dependents make many sacrifices for their loved ones. Scholarships and aid for military dependents can help them achieve their educational goals. Learn how HBCU scholarships and grants can help Black students pay for college. Fund your degree through alternatives to student loans. Explore this comprehensive guide that provides awareness, education, and resources for undocumented and DACA college students. Don't let finances stand in the way of achieving your educational goals. Click through to read more about the scholarships and grants available to you. Many scholarships for women are available, but finding them can be daunting. Browse our list of the best scholarships for women by field and degree. Learn about scholarships available to Native American students, and discover ways to help pay for your postsecondary education. Explore our list of scholarships for students of color. Find out who qualifies, how to apply, and where to find additional resources. As a prominent minority group, we've outlined a wide range of LGBTQ+ scholarships and financial aid opportunities available for college students.
Voting and Political Engagement
Black and African American students represent a large segment of the voting population. Dig into voting information to further increase Black voter participation. Voting is a critical aspect of political engagement for Hispanic and Latino/a students. Use this guide to gain more knowledge about the issues that matter. AAPI student voters have the power to influence elections. Use this voter guide to increase voter turnout and connect to important AAPI political issues. LGBTQ+ student voters have the power to influence elections. Use this voter guide to increase voter turnout and connect to important LGBTQ+ political issues.