The Experience of an AAPI Undocumented Student
Understanding the experiences of undocumented students can help improve their college journey. Read a first-hand account from an AAPI student to learn more.
Feature Image: The Washington Post / Contributor / Getty Images
---
Undocumented students are often the first in their families to attend college.
Almost 25% of undocumented college students identify as AAPI.
Assimilation can challenge the ability to build cultural connections for many students.
On-campus diversity programs support undocumented students new to college environments.
---
Editor's Note: Given the sensitive nature of this topic, the name of the individual mentioned in this article has been changed to protect their identity.
As of 2019, over 427,000 undocumented students attended colleges and universities in the United States. And nearly one-quarter of these college students identified as AAPI (Asian American and Pacific Islander). Understanding the diverse experiences of this undocumented student population is critical for college administrators, students, and leaders.
The experiences of undocumented AAPI students highlight an ongoing need to further develop support services in higher education. Undocumented students within the AAPI community may not personally identify as AAPI. Many instead choose to identify as Asian, Asian American, South Asian, Pacific Islander, or with country-specific identifiers like Indian or Indian American, Japanese or Japanese American, or Pakastani or Pakastani American.
This article shares a few common themes present within this community.
First-Generation Experiences
Many, but not all, undocumented AAPI students are also first-generation college students. Attending college as the first in their family may mean having less access to direct or personal accounts of college experiences. As Aurora — a college graduate of Queens University — describes, she struggled to understand aspects of college before entering and felt less prepared for certain career paths than some of her peers.
"Being a first-generation student and DACA holder, there were certainly a lot of experiences I was not aware of or struggled to learn about. Most of these were educational … I felt like I was starting from square one and that my peers had a leg up in certain areas from hearing about it from their friends or family friends. I just felt unaware and had to learn everything by myself."
— Aurora
Less than half of undocumented students in college are DACA (Deferred Action for Childhood Arrivals) eligible. And the DACA program now only accepts renewal applications. As a result, some undocumented students have limited systemic support compared to their peers.
Navigating the college application process may feel challenging for undocumented students, especially if they don't have family members who can offer experiential guidance.Undocumented students, including DACA recipients, are ineligible for federal financial aid. This can make college options feel limited. Fortunately, scholarships for undocumented students and state and local financial aid options can offer financial support.
Need for Cultural Connections
Some undocumented students feel a sense of disconnection from their country of origin and culture if they cannot experience it directly. With limitations on international travel, undocumented students may be unable to visit countries where their families hold stronger cultural ties. The ability to build a sense of identity with their country of origin is an important aspect of cultural connection for many people.
"At home, my parents always spoke in Hindi and tried to teach me about the culture as much as they could. But since I could never visit India because of my immigration status, I still felt quite disconnected from the culture and my family."
— Aurora
A heightened sense of cultural connection with one's country of origin can be built in various ways. Undocumented students may find connections through food, history and stories, social interactions, or a combination of these ideas. Finding ways to build these cultural connections can help individuals establish a stronger relationship with their country of origin.
Aurora goes on to share, "In my junior year of college during the pandemic, I started listening to Indian music, cooking Indian meals, connecting with family, and really immersing myself into the rich culture I was born in. They say that college helps you find yourself and as an Asian American in the U.S., branching out and accepting who I was helped me to embrace my identity."
Isolation vs. Assimilation
Feelings of cultural or social isolation can lead undocumented students to try to fit in with more dominant cultural norms. Being the only student of a certain identity can feel lonely in a crowd of peers, but trying to fit in can also prove challenging.
"I grew up in a small, Southern town in South Carolina where I was the only Indian American girl in my school. This was very tough sometimes and I often felt stuck between two cultures, never fitting in. I felt isolated and tried to 'Americanize' myself the best I could in order to keep up with my peers."
— Aurora
Cultural assimilation — when a member of a minority groupadoptsthe values and behaviors of the majority group — impacts many individuals on a regular basis. For some students, assimilation may feel like wiping out their culture. Nonetheless, assimilating may seem like a necessary step towards success.
According to Aurora, "As much as you want to assimilate into the culture around you to fit in and seem more appealing to others, sometimes you are meant to stand out. Ultimately, becoming close to the culture you were born in will help you find who you really are."
Some students also feel a dual sense of connection to the culture of their country origin and to American culture. Biculturalism — when two cultures are represented in a single space — is felt by many individuals in America.
Aurora also urged students to take pride in what makes them unique: "Be proud of it — being different is a blessing. All of the struggles and hurdles as a first-generation or undocu/DACA holder you may be going through will only help propel you into success. Keep going and most importantly, do not give up hope!"
Explore more resources for our Asian American and Pacific Islander students
Supporting you at every step of your journey.
Discover Now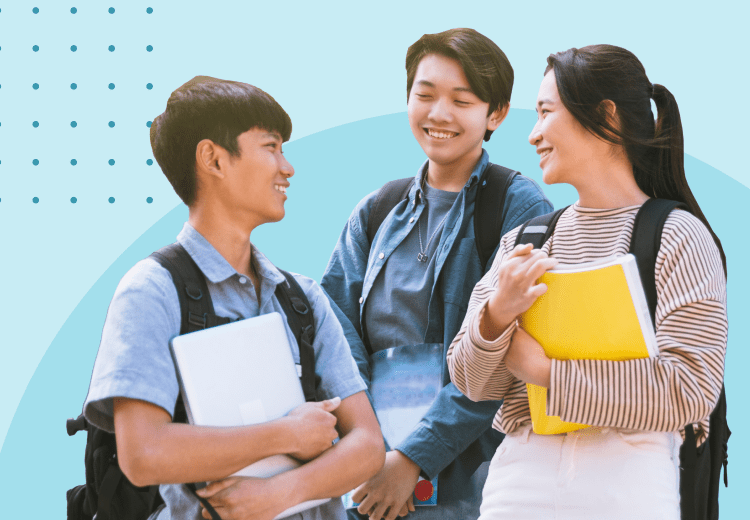 Need for Campus Support
"My college had a great diversity and inclusion program, which encouraged us to embrace our identities and feel comfortable in a large university. I actually attended a program called 'Thrive,' which was a one-week-long program right before the first year started in which students from diverse and first-generation backgrounds could ease into college life. This program and the other initiatives Queens had in place, such as a mentorship program, really helped me to feel like I belonged in a place where the majority of people didn't look like me."
— Aurora
College and university campuses can provide crucial support to undocumented students. Programs that support the needs of incoming students and soon-to-be graduates can be of particular help. Wrap-around support services may include assistance with DACA renewal, financial support, career assistance, peer mentoring, and mental health support. College programs can answer students' questions about what to expect in college and provide career and community resources that help students navigate life after college.
On-campus diversity and inclusion programs can help incoming students from diverse backgrounds find their footing. Specialized orientation for first-generation students and designated on-campus resources for undocumented students can alleviate pressure and provide learners with a stronger sense of belonging.
Conclusion
Almost 100,000 undocumented students graduate from high school each year in the U.S. Due to the growing nature of this population, it is critical to understand the experiences of undocumented students as they head into and progress through college.
The support systems available to undocumented students should reflect the needs for cultural connection and college application assistance, and they should also help address feelings of isolation. Undocumented college students' unique experiences require unique responses.
Combining aspects of American culture with their culture of origin can be difficult for some undocumented and first-generation students. The experiences of undocumented AAPI students provide a glimpse into ways colleges can better support students throughout their academic journeys.
Aurora
Aurora is a college graduate and alum of Queens University of Charlotte. She received her bachelor's degree in finance with a minor in math and data analytics. Soon, Aurora will join Bank of America as a financial analyst in the CFO group, fulfilling one of her long-term goals. She is passionate about children's rights issues and started a UNICEF club while she was a student at Queens University. In her free time, Aurora enjoys photography, cooking, hiking, and traveling.