How to Talk About Mental Health: What to Say to Students Who May Be Struggling
Learn how the right words can empower peers, professors, friends, and family members to support college students living with mental health conditions.
Image Credit: Klaus Vedfelt / DigitalVision / Getty Images
If you or someone you know is considering suicide, please contact the National Suicide Prevention Lifeline at 988 or 1-800-273-TALK (8255), available 24 hours a day, seven days a week. All calls are confidential, and anyone can use this service.
---
While some people can speak candidly about mental health, many have a hard time opening up. It can be particularly difficult — but particularly important — for college students to share what they're going through.
Lingering stigma often holds students back from speaking up and seeking help. But students and their loved ones can help dismantle this stigma by learning how to talk about mental health.
Equip yourself with language that sidesteps shame and guilt, offers a shoulder to lean on, and helps shepherd students to campus resources and mental health services.
What to Say to Someone Struggling With Mental Health
It can be hard to know how to talk to someone about their mental health. But it's less about having the perfect words of wisdom and more about showing the person that you care.
Sabine LaLiberte, a third-year psychology major and director of The Bandana Project, which spreads awareness of student mental health resources, offers three reminders: "Acknowledge, reassure, and ask."
1. "I hear you."
The first and perhaps most vital step when talking to a student about their mental health? In LaLiberte's words, it's to "acknowledge their struggle."
"Most of the time, just being there for someone and listening to them can make all the difference," she says.
You can emphasize your support by actively listening to what they're telling you about their experiences. You should also communicate that you want to know more.
Matin Firas, another psychology student and student mental health advocate, says students often underestimate the good they can do for peers by simply listening. While "people often glance over the power of listening," being a strong supporter means, in large part, enhancing your listening skills.
What's more, college students hone their active listening skills through their education.
Active listening differs from spacing out while someone vents. Give the other person your attention, and prompt them to open up further by asking follow-up questions, such as "How long have you been experiencing this?" and "How are you coping?"
Don't interrupt, but do make gestures and comments to show you're engaged.
2. "It's OK to not be OK."
You're not responsible for improving someone's mental health or talking them into a different point of view. Instead, reassure them that it's perfectly OK to not be OK.
"Mental health issues are real, common, enormously impactful on our lives and functioning, and affect people differently," says Rachel Brandoff, Ph.D., an assistant professor and counseling program coordinator at Thomas Jefferson University.
Simply acknowledging this fact "is one of the best ways to support people struggling with mental health issues," stresses Brandoff.
Share messages of acceptance about where they're at right now, like "I care about you," "I'm here for you," and "I love you just as you are."
If it's OK to not be OK, then it's also OK to seek help. Encourage students to get the help they need. You can even offer to make an appointment for them at the campus counseling center, as long as you're prepared to follow through.
Helping them get from acknowledging their issues to seeking help is especially urgent if you're concerned about their safety or if they've expressed any signs of suicidal ideation or intent.
3. "How can I help?"
Show your eagerness to help them by asking how you can best support them. And know that what they need help with may not directly relate to their mental health.
College life brings many students more adult responsibility and academic pressure than they may be used to.
Students living with mental health challenges may face difficulty with checking off simple to-do list items, such as going grocery shopping and completing homework. They may need help getting a task done, running an errand, or starting a project.
While students with mental health conditions may need your help, let them tell you what form that help should take.
"A large part of [supporting others] is really enhancing [your] listening skills, and not about problem-solving," says Firas, who teaches a peer counseling course. "One of the things that we really want the students not to do is try to go into advice-giving right away."
It's up to the person who is struggling to identify the solution that's right for them.
What Not to Say to Someone Struggling With Mental Health
The stigma around mental health is a persistent barrier to students' ability and desire to receive help — and making the wrong comments can build up that barrier even more.
Whether it's out of nerves, ignorance, or even the best of intentions, it's all too easy to stumble on some of the worst things to say to someone with a mental health condition.
1. "I understand what you're going through."
Claiming you know how someone feels isn't as helpful as you might think it is. By redirecting the conversation from their experiences to your own, this kind of comment can ultimately shut down a student's moment of vulnerability and sharing.
It may also diminish the seriousness of what they're going through. For example, say they're battling depression and their symptoms remind you of when you mourned the death of a grandparent. Memories of that time can help you empathize, but the two experiences don't merit comparison.
If you do genuinely understand what someone is going through, having experienced depression, anxiety, or a related mental health condition yourself, that can be valuable to bring up — but only once you've taken the time to listen to their story.
Opening up a dialogue about shared struggles not only shows compassion but also empowers others to seek help and continue confiding in others. Brandoff recommends sharing "messages of camaraderie" with those who may be living with mental health challenges.
By normalizing such discussions, you're also working on loosening the grip of stigma.
2. "Things aren't so bad."
Though you might be tempted to help a student stay positive, trying to force that perspective can ultimately minimize the challenges they're facing. It can also invalidate their feelings and even hold them back from getting help.
"Trying to make their situation seem 'not so bad'" is a mistake LaLiberte frequently sees in students who are attempting to support their peers.
Whatever a person's symptoms or diagnosis, their mental health challenges are real and impactful. That subjective and highly personal experience isn't one you should try to diminish.
Take Time to Prioritize Self-Care
Give yourself time and space to focus on you. Explore our collection of mental health resources to find support.
Learn More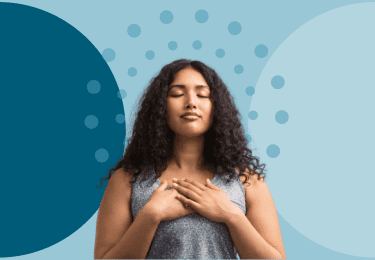 3. "You'll get over it."
"Saying things like 'It's OK' or 'This too shall pass' or any other platitude is generally not helpful," says Brandoff. "These sort of statements minimize the reality of people's struggles, their feelings, and what they may be coping with."
Like telling someone "It's not so bad," saying "You'll get over it" fails to acknowledge the impact their struggles are having on their here and now.
And in college, what happens now can have long-term effects. Many mental health conditions appear during early adulthood. College pressure can worsen the problem, but it's a mistake to assume that a student's mental health challenges will evaporate at the end of a tough term.
"If that person was really able to just shake it off, they would have done so already," emphasizes Brandoff.
Not only do many mental health complaints stick around for years, but they can also derail lives by causing grades to falter and even prompting students to drop out.
"Anything that impacts a person's ability to function optimally and live their life well is a big deal," says Brandoff, "and anything that you say that tries to convey that what someone is going through is not a big deal is only going to serve to make that person feel bad."
Frequently Asked Questions About How to Talk About Mental Health With Students
How do you support someone with a mental health condition?
The best way to support someone, such as a student or friend, with a mental health condition is to ask what you can do for them and then truly listen to what they say. Offer to connect them with campus mental health services.
You can also educate yourself about their condition to better understand their symptoms, triggers, and needs.
Don't forget to stay in contact. People with mental health conditions tend to withdraw, but they need to be kept engaged and know that support is there. Isolation is typically associated with worse mental health.
How do you encourage someone who may be struggling with their mental health?
Rather than trying to convince someone who may have a mental health condition that their situation isn't that bad or that things will look up soon, offer encouragement by telling them how much they mean to you and how valuable they are. Then, stay true to your words by staying in contact with them and inviting them to hang out.
You can also offer to accompany them to a mental health consultation or counseling appointment.
How should you respond to someone who confides in you about their mental health?
When responding to someone who has shared with you their concerns about their own mental health, think about how you would respond if they'd told you they had a physical illness, like cancer, suggests the University of Michigan's Campus Mind Works.
Sharing a physical or mental health condition both merit the same kind of response: one that shows care, compassion, and active interest in whether the person is getting the professional help and emotional support they need.
With Advice From:
Sabine LaLiberte
Sabine LaLiberte is a third-year psychology major with a certificate in global health and serves as The Bandana Project director and outreach coordinator. The Bandana Project is a student-led program to spread awareness of resources for students with mental health conditions.
After graduation, LaLiberte hopes to get a master's in public health or mental health counseling and work within the public health field. She joined the National Alliance on Mental Illness and The Bandana Project because of her passion for advocacy, supporting others through their own mental health journey, and reducing stigma.
Matin Firas
Matin Firas is an undergraduate studying psychology at the University of Illinois Chicago (UIC). He is passionate about advocating for mental health and involved in various leadership events and programs. Currently, he serves as the director of marketing and outreach of UIC's United Support Network, the event coordinator of UIC's Active Minds chapter, and a peer care intern at the Dean of Students' Office.
Rachel Brandoff, Ph.D.
Rachel Brandoff, Ph.D., ATR-BCCS, LCAT, is a registered, board-certified art therapist and credentialed supervisor, as well as an assistant professor and the coordinator of the art therapy concentration in the community and trauma counseling program at Thomas Jefferson University. She maintains a clinical practice specializing with individuals who are coming out of crises and coping with trauma. She also provides supervision and consultation to art therapists and professional counselors.
Dr. Brandoff has served on the boards of various professional organizations and is a regular presenter at regional and national conferences. Her first book, "Quick and Creative Art Projects for Creative Therapists With (Very) Limited Budgets," was published in 2019.
DISCLAIMER: The information provided on this website is not intended or implied to be a substitute for professional medical advice, diagnosis, or treatment; instead, all information, content, and materials available on this site are for general informational purposes only. Readers of this website should consult with their physician to obtain advice with respect to any medical condition or treatment.