From Admission to Graduation: Why Web Accessibility Matters for Students With Disabilities
Technology grows quickly, and colleges must catch up to meet student needs. Learn why web accessibility matters for college students with disabilities.
Image Credit: Oscar Wong / Moment / Getty Images
---
Web accessibility can impact how college students access important online resources.
Web accessibility is an especially important issue for college students with disabilities.
Colleges must make greater efforts to address accessibility issues for students.
Know where to file a complaint and when to advocate for yourself if access isn't provided.
---
Despite the importance of accessibility, colleges have yet to reach the optimal level of compliance and support for students with disabilities.
You may have heard of something being "accessible," such as a parking space or exit from a building. However, web accessibility means something very different, and it is especially important for people with disabilities.
What Is Web Accessibility?
Although much more complex than a one-sentence definition, web accessibility can be broadly defined as ensuring that websites are created to give people with disabilities the same access to digital, online content as people without disabilities.
Historically, people with disabilities have been systematically excluded from many opportunities often available to people without disabilities, including the pursuit of higher education. To help, the Americans With Disabilities Act (ADA) of 1990 mandated that people with disabilities must be allowed comparable educational opportunities as their nondisabled peers.
As internet technology advanced in the 1990s, the ADA eventually encompassed web accessibility.
Today, colleges and universities that receive any form of federal funding must publish accessible websites, according to the ADA. Accessibility features include closed-captioned videos, audible webpages, non-strobing banners at the top of pages, and more.
When people with disabilities explore which college to attend, it is likely that they look for information on the internet and the college's website.
However, many studies have found that college websites are not ADA compliant, to the point where people with disabilities may not even be able to complete an admissions or financial aid application.
Understanding this hurdle, it is no wonder that people with disabilities unfortunately cannot access higher education at nearly the same rate as their peers.
Then, if people with disabilities manage to overcome the hurdles of college websites and gain admission to a college, they are likely to encounter inaccessible learning materials when taking courses. For example, an Arizona State University student with visual impairments sued the university over inaccessible textbooks.
The lawsuit alleged that a professor assigned an electronic version of a textbook that did not include audible menus allowing individuals who are blind access to the content. As a result, students who are blind could not access the book's content.
This is far from the only example. There are hundreds of examples of colleges and universities failing to publish accessible websites and learning materials for people with disabilities.
And the COVID-19 pandemic accelerated the web inaccessibility of higher education.
As colleges needed to shift teaching, learning, and administration online in early 2020 through most of 2021, many colleges did not have the resources to ensure that all educational content was web accessible.
As a result, people with disabilities have been further excluded from higher education in recent years — unfortunately, expanding education gaps.
What Students Can Do to Address Web Accessibility Issues
Colleges should improve the accessibility of their web content on their own. There are, however, many things that people with disabilities and their families or support networks can do in the meantime to ease the web accessibility burden and reap the benefits of higher education.
Request ADA-Compliant Information
First, students with disabilities who are still attending high school should connect with their high school counselor and request ADA-compliant college information. Most colleges and universities print ADA-compliant college admissions information packets. And these colleges will usually send you this information for free.
Seek Out Disability Advocacy Organizations
If a person with a disability is initially exploring colleges, they should visit the DREAM: Disability Rights, Education, Activism, and Mentoring.
DREAM is dedicated to helping people with disabilities access higher education. Prospective students explore colleges, learn more about the accessibility of their physical and online campuses, and get assistance with admissions and financial aid applications.
DREAM also provides resources for people with disabilities to advocate for learning accommodations while they are enrolled in college.
Advocate for Yourself and Others
Finally, advocate for yourself and others. If you are a person with a disability and you experience difficulty accessing college information on a website or a learning material for a college class, connect with your dean of students or student accessibility office.
If you are not yet enrolled in college, file a discrimination complaint with the Office of Civil Rights. It is likely that if you are experiencing a difficulty related to web accessibility, other students are, too. This means that as a community, people with disabilities need to raise their voice and hold colleges accountable.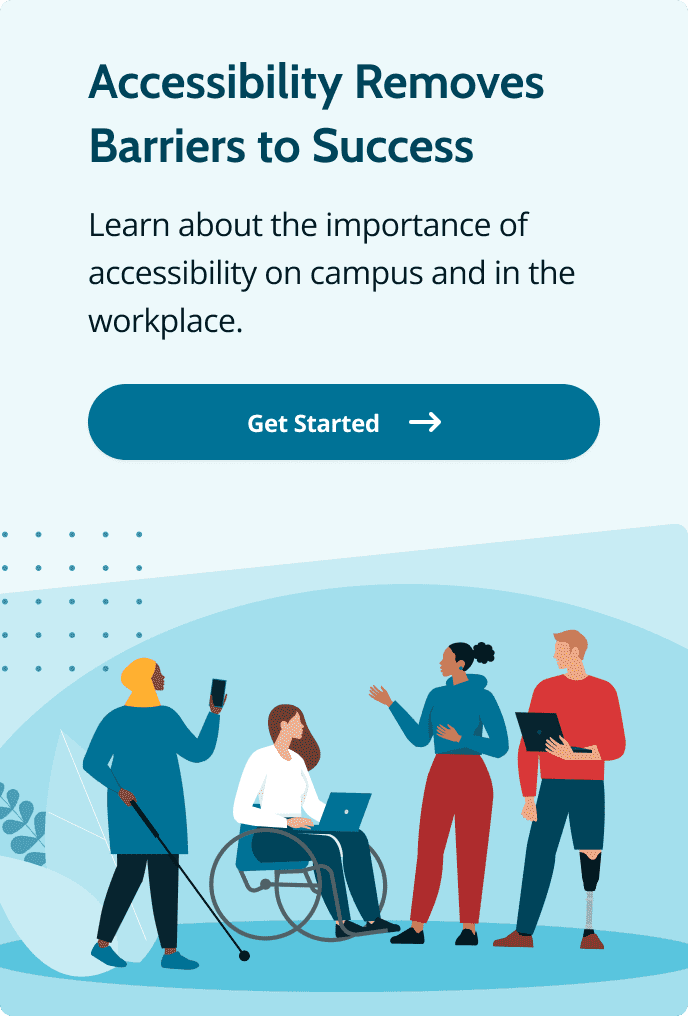 The Unfortunate Shortcomings of College Accommodations
I have worked in education for over a decade, and I have never met anyone in the profession who does not want to help students be successful. Some of the kindest, most compassionate people I know work in higher education and change students' lives every day.
However, many professionals in higher education feel burned out and are stretched too thin. Additionally, it is especially difficult to train, hire, and retain professionals with backgrounds in disability services or special education.
All told, this means that many colleges do not mean to be web inaccessible. Instead, colleges may not be aware of their web accessibility issues or may not have adequate resources to address them. Although it seems unfair (and it is), people with disabilities must continue to advocate for their educational rights and for colleges to be as web accessible as they can be.
And technology will continue to change.
Colleges have barely scratched the surface of what virtual reality will mean for the system of higher education, much less ensure that all of their YouTube videos are closed captioned and, therefore, ADA compliant. People with disabilities will continue to face challenges to access college websites and college curriculum at the same level as their peers.
If you are a person with a disability, remain positive. Continue to advocate for your rights. Pursue your dreams, and continue to put pressure on the higher education system to change. If you don't, it is possible that no one will.
In solidarity.