GRE Prep Guide
Most grad school programs require the GRE for admissions. Make sure you're prepared to tackle the exam with confidence. Click through for info on the GRE.
What is the GRE?
The Graduate Record Examination, GRE for short, is a standardized test that assesses the test-taker's reasoning and analytical skills in reading, writing, and mathematics. The exam is not subject-specific, nor does it require advanced knowledge in one specific college course. The test offers universities a broad estimate of how qualified a student is to conduct the rigorous problem solving and critical thinking required in graduate school.
The GRE is required for admission to most graduate school programs, excluding law school and medical school. The scores are assessed in conjunction with the rest of a student's graduate school application, including their college GPA, teacher recommendations, and job history. Excelling on the GRE significantly increases a student's chances of being accepted into graduate school, which in turn has a long-lasting impact on their career growth.
BestColleges.com is an advertising-supported site. Featured or trusted partner programs and all school search, finder, or match results are for schools that compensate us. This compensation does not influence our school rankings, resource guides, or other editorially-independent information published on this site.
Ready to Start Your Journey?
A graduate school degree increases the average degree holder's salary by $17,000 per year over employees with a bachelor's degree. Professionals holding graduate degrees also enjoy greater job prospects than those with undergraduate degrees. The unemployment rate for master's degree-holders, at 2.4%, is .4% lower than bachelor's degree-holders. Unemployment rates for those with professional degrees and doctoral degrees is even lower, at 1.5% and 1.7%, respectively.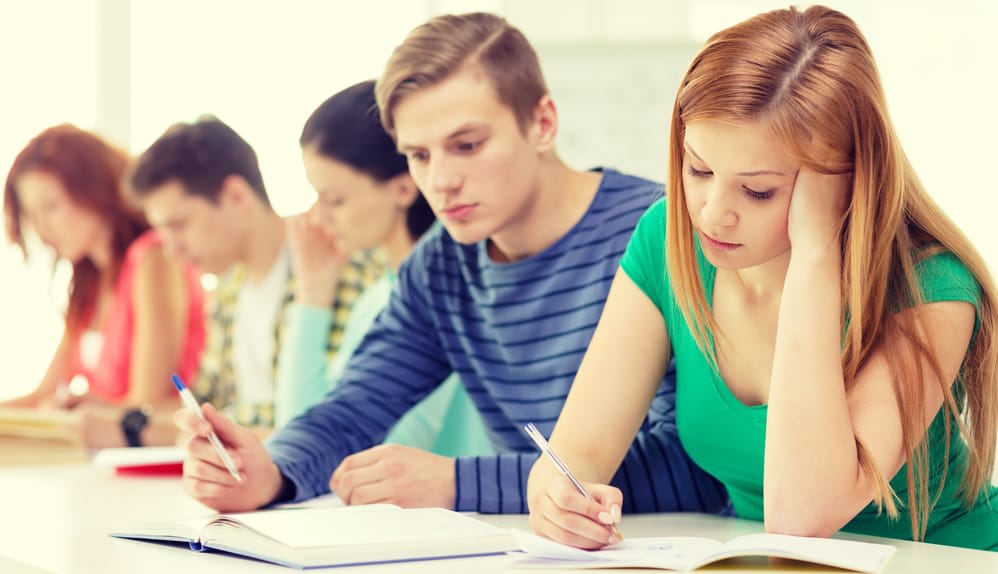 The Details
When to Take the GRE
You should take the GRE approximately one year before you intend to start graduate school. This allows for enough time to retake the exam if necessary. Your test results are valid for up to five years, so don't plan too far in advance. That said, if you are applying to a graduate school with rolling admission, you'll want to have your GRE done early to maximize your chances of being accepted.

Where to Take the GRE
You can take the GRE at any one of the 1,000 test-taking locations operating in 160 countries around the world. Typically, exams are available on college campuses or independent test centers. To find a GRE test-taking location near you, click here.
How to Register
To register for the GRE, visit ETS.org and create a My GRE Account. You will then be able to register for either a computer-delivered or paper-delivered exam. You must pick a test-taking location and test-taking date as well.
| GRE Fee Type | Cost |
| --- | --- |
| Testing Fee | $205 |
| Late Registration Fee | $25 |
| Standby Testing Fee | $50 |
| Test Center Change Fee | $50 |
| Rescheduling Fee | $50 |
You are eligible to retake the GRE exam once every 21 days, though you can only register for the exam five times within a 12-month period. You should retake the test only if you need to replace an inadequate score; if you do, spend some additional time preparing for sections you struggled with on your first try.

/resources/gre-prep/
Breaking Down the GRE
The GRE is separated into three parts: the verbal reasoning section, the analytical writing section, and the quantitative reasoning section. The test can either be taken on paper or on a computer.
The paper-delivered exam spans three hours and 30 minutes, and contains six sections. The test begins with two sections of analytical writing, each lasting 30 minutes. After a 10-minute break, the GRE proceeds with either two 35-minute sections of verbal reasoning, or two 40-minute sections of quantitative reasoning. The verbal and quantitative reasoning sections are not administered in any order.
The computer-delivered GRE consists of six sections, spanning three hours and 45 minutes. A 10-minute break occurs after the third section. The test begins with one section of analytical writing, which consists of two 30-minute long tasks. Then, in any order, test-takers proceed with two 30-minute verbal reasoning sections, and two 35-minute quantitative reasoning sections.
Test-takers may then be required to take an unscored section, a research section, or both. Students taking the GRE on the computer will complete some adaptive testing sections. For both the verbal and the quantitative assessments, the first of the two sections will not be adaptive, while the second section will. The adaptive section will respond to your progress on the previous questions, and either offer subsequently easier or more difficult questions based on your results.
Quantitative Reasoning
The quantitative reasoning section of the GRE is an assessment of the test-taker's basic mathematical skills, their grasp of simple mathematical concepts, and their ability to apply those skills and theoretical models to real-world problems.
Composition
The quantitative reasoning section consists of four types of questions: quantitative comparison questions, multiple-choice questions with one answer, multiple-choice questions with one or more answers, and numeric entry questions. The quantitative reasoning section addresses arithmetic, with topics including prime numbers, percentages, and absolute value. The section also includes algebra, along with graphs of functions, quadratic equations, and word problems that must be translated to mathematical equations.
The test includes geometry, with subjects like the Pythagorean theorem, three-dimensional figures, and parallel and perpendicular lines. The test also includes data analysis questions, ranging from basic descriptive statistics to scatterplots. Each of the two quantitative reasoning sections contain 20 questions.
Common Quantitative Reasoning Section Composition
Sample Questions
Quantitative Comparison
1. Lionel is younger than Maria
Quantity A: Twice Lionel's age
Quantity B: Maria's age
(A) Quantity A is greater.
(B) Quantity B is greater.
(C) The two quantities are equal.
(D) The relationship cannot be determined from the information given.
Source: ETS.org
Multiple-choice Questions
2. If 5x + 32 = 4 -2x, what is the value of x?
(A) -4
(B) -3
(C) 4
(D) 7
(E) 12
Source: ETS.org.
Numeric Entry
3. One pen costs $0.25 and one marker costs $0.35. At those prices, what is the total cost of 18 pens and 100 markers?
Source: Ets.org.
Click Here For the Answers
1. D; the relationship cannot be determined from the information given.
2. -4
3. $39.5.
Common Pitfalls
Many test-takers begin the quantitative reasoning section of the GRE exam thinking that they need to relearn calculus, or recall their high school geometry proofs. Fortunately for many students, the quantitative section only focuses on high school algebra and below. Students may also get caught up trying to complete the calculations for each quantitative comparison. However, each question needs only an estimation before the practiced test-taker should be able to eliminate all incorrect answers.
Tips and Tricks
Replenish your scratch paper: take advantage of the 10-minute break after the third section of the exam, and use it to ask the proctor for additional scratch paper. You'll need plenty of space to fully reason through each problem.
Save time to proof your work: many of the quantitative analysis questions have answers only one or two digits away from the right answer. Don't let sloppy arithmetic cost you points.
Refresh your basic mathematics concepts: put away the calculus textbook and focus on relearning mathematical terms from your early days of high school, like mean, median, mode, probability, etc.
Simplify each question: check for ways to simplify the question, whether by reducing an algebra term, eliminating zeros from a fraction, or something else.
Memorize equations: the best tool you can bring to the quantitative reasoning section is a fast recall of basic geometry equations.
Verbal Reasoning
The verbal reasoning section tests your ability to synthesize information from written paragraphs, understand verbal relationships between words, and identify each component of a sentence and how they interact with each other.
Composition
The questions on the verbal reasoning section can be broken down into three categories: reading comprehension, text completion, and sentence equivalence. About 50% of the verbal reasoning questions are reading comprehension, in which you must review a passage of writing and answer questions demonstrating your understanding of the information. These questions typically test your ability to comprehend and summarize a larger piece of text, craft concluding arguments based on that text, understand the perspective of the author, and extrapolate the strengths and weaknesses of the author's argument.
The other half consists of text completion and sentence equivalence questions. In text completion, you read an incomplete sentence, group of sentences, or paragraph, and must complete the missing word or words with an answer from the supplied multiple choice options. Sentence equivalence questions consist of a single sentence with one blank. Test-takers must select two answers amongst six options. The test contains 25 questions in each of the two sections, for a total of 50 questions. Each section is allotted 35 minutes.
Sample Questions
Sentence Equivalence
1. Although it does contain some pioneering ideas, one would hardly characterize the work as __________.
A. orthodox
B. eccentric
C. original
D. trifling
E. conventional
F. innovative
Source: ETS.org
Text Completion
2. Vain and prone to violence, Caravaggio could not handle success: the more his (1)__________ as an artist increased, the more (2)__________ his life became.
Blank (1): temperance, notoriety, eminence
Blank (2): tumultuous, providential, dispassionate
Source: ETS.org
Text Completion
3. It is refreshing to read a book about our planet by an author who does not allow facts to be (1)__________ by politics: well aware of the political disputes about the effects of human activities on climate and biodiversity, this author does not permit them to (2)__________ his comprehensive description of what we know about our biosphere. He emphasizes the enormous gaps in our knowledge, the sparseness of our observations, and the (3)__________, calling attention to the many aspects of planetary evolution that must be better understood before we can accurately diagnose the condition of our planet.
Blank (1): overshadowed, invalidated, illuminated
Blank (2): enhance, obscure, underscore
Blank (3): plausibility of our hypotheses, certainty of our entitlement, superficiality of our theories
Source: ETS.org
Click Here For the Answers
1. C and F
2. eminence and tumultuous
3. overshadowed, obscure, and superficiality of our theorie.
Common Pitfalls
One of the most common mistakes students make while completing the verbal reasoning section is trying to answer the question based off the answers provided, rather than based off the text of the question. The testmakers often provide tricky traps in the form of answers that logically seem correct, but actually do not match the question due to grammatical or contextual nuances. Another mistake test-takers make in the reading comprehension section of the exam is maintaining a passive approach to reading, rather than underlining important words, or actively questioning and interacting with the text provided.
Tips and Tricks
Read the entire passage: don't try to work backwards by reading the questions and searching for answers within the paragraph. Instead, read the paragraph first and be sure you understand it before addressing the questions.
Look for structurally significant words: these words can include "although," "that said," or "however". These words are crucial in understanding the argument an author is making.
Fill in the blank before consulting the answers: see if you can instinctively fill in the blanks of the question, then see if a similar option exists in the multiple-choice options.
If answering a double fill-in-the-blank question, don't answer based solely off the first word: make sure both words in the answer choice can complete the two fill-in-the-blanks. Often, the test will supply an answer which works for the first blank, but not the second.
Proof-read your answers: ensure your answers are free of grammatical, logical, or stylistic errors.
Analytic Writing
The analytic writing section of the GRE assesses your ability to think critically and to accurately articulate an argument. To succeed in the analytic writing section, you should be able to build, explain, and properly support a complex argument. This section is important for the GRE because it tests your logical reasoning, independent thinking, and ability to respond to another person's analytical arguments. The analytical writing tasks are scored based on the overall strength of the argument and the critical thinking behind its supporting evidence. Test-takers are also graded based on the strength and variety of their vocabulary, the elegance of sentence structure, etc.
Composition
The test contains two questions, referred to as "tasks". Each task spans 30 minutes, during which time a test-taker has to "analyze an issue." The test-taker is given a written "issue claim" which states a broad opinion on a specific topic. The test-taker must craft a written response. For example, they could either take a position agreeing or disagreeing with the statement, and offer reasons and evidence to support their opinion. They could also write a response specifically focused on the extent to which they agree or disagree with the statement, focusing on either examples that support their perspective, or on a few of the most important arguments in the piece.
The second task is the "analyze an argument" task. At this point, the test-taker must respond to a short paragraph in which an author makes a specific case for a certain course of action through the implementation of facts and logic. The test-taker must respond by outlining the evidence necessary to support or refute the argument, assessing the evidence employed in the argument, assessing the reasonability of the argument, or identifying counterarguments.
Sample Questions
Analyze an Issue
1. "As people rely more and more on technology to solve problems, the ability of humans to think for themselves will surely deteriorate."
Discuss the extent to which you agree or disagree with the statement and explain your reasoning for the position you take. In developing and supporting your position, you should consider ways in which the statement might or might not hold true and explain how these considerations shape your position.
Answer - See sample response here
Source: ETS.org
Analyze an Argument
2. In surveys Mason City residents rank water sports (swimming, boating and fishing) among their favorite recreational activities. The Mason River flowing through the city is rarely used for these pursuits, however, and the city park department devotes little of its budget to maintaining riverside recreational facilities. For years there have been complaints from residents about the quality of the river's water and the river's smell. In response, the state has recently announced plans to clean up Mason River. Use of the river for water sports is therefore sure to increase. The city government should for that reason devote more money in this year's budget to riverside recreational facilities.
Write a response in which you examine the stated and/or unstated assumptions of the argument. Be sure to explain how the argument depends on the assumptions and what the implications are if the assumptions prove unwarranted.
Answer - See sample response here
Source: ETS.org
Analyze an Issue
3. "The best way for a society to prepare its young people for leadership in government, industry, or other fields is by instilling in them a sense of cooperation, not competition."
Write a response in which you discuss the extent to which you agree or disagree with the claim. In developing and supporting your position, be sure to address the most compelling reasons and/or examples that could be used to challenge your position.
Answer - See sample response here
Source: ETS.org
Common Pitfalls
The biggest mistake test-takers make in the analytical writing section is not fully understanding the grading system for the issue and argument tasks. GRE prep can help you grasp which type of responses testmakers are looking for and how your writing will be assessed. Another common mistake students make is focusing too much on using advanced or complicated words. You should instead focus on clearly stating your opinion and carefully explaining the reasoning behind it.
Tips and Tricks
Write a response that fully explains your reasoning: as you build your response to the sentence statement, be sure to fully articulate your process of reasoning by considering all the options.
Review topics before exam day: practice crafting outline responses to topics so you understand the sorts of issues and arguments you'll be assessing. Many test-takers may not be aware that the ETS provides a pool all of the possible issue and argument prompts on its website ahead of time. As long as test-takers familiarize themselves with different types of potential prompts, there will be no surprises during the exam.
Save time to proofread: handing in an essay riddled with spelling or grammatical errors undermines the quality of your work. Doing a bit of housekeeping at the end ensures your work resonates for its quality, rather than cosmetic errors.
Learn to manage your time: this section of the test is often the most difficult when it comes to time management. Be sure not to spend too much time developing your thesis only to find yourself a paragraph short. Learn to stick to a schedule.
Review scoring guides from GRE test books: the best way to craft a high-scoring essay is to know what constitutes a high-scoring essay. Read through graded GRE essays, and learn what your exam scorer wants.
Scores
The GRE is scored differently for each section:
| GRE Section | Possible Score |
| --- | --- |
| Verbal Reasoning | 130 to 170, in 1 point increments |
| Quantitative Reasoning | 130 to 170, in 1 point increments |
| Analytical Writing | 0 to 6, in half point increments |
For the computer-administered exam, scores are based off of the amount of questions you answered correctly, as well as the assessed difficulty of the questions you were given. On the paper exam, your score is based only off of the number of questions you answered correctly. If you take the computer-delivered exam, you can view results for the verbal and quantitative reasoning sections directly after completing the test. Approximately two weeks later, you will receive your analytical writing score. For the paper-delivered test, your scores will be made available approximately six weeks later, online and in a mailed report. Your mailed report also comes with a percentile ranking for each section, which indicates how your score compares to the entire pool of test-takers.
Sending Your Scores
Each test-taker is given the opportunity to send four free score reports to their designated universities or fellowship programs, either online or via an admission stub. After viewing your GRE scores, you can either choose to send your most recent score, or any previous test score from the past five years, to four universities for free. Schools will not see how many times you took the GRE unless you send them multiple tests. You cannot choose to send individual section scores combined from different tests. (i.e. if you ace the quantitative reasoning section in May, and knock the verbal reasoning section out of the park in June, you would need to send a full score from each month.) That said, universities will typically consider your highest score, so it can be advantageous to send multiple scores.
What if I'm Not Ready to Apply Right Away?
If you're not ready to apply to graduate school immediately after you take your GRE test, there's no need to rush. Your GRE test score will remain valid for five years following the testing year in which you took the exam. (The testing year runs from July 1-June 30.) You are also able to cancel your GRE exam score at the conclusion of the test. You can only cancel your score for the entire test, rather than on a section-by-section basis. You are allowed to renew your canceled test scores within 60 days of your test date by faxing or mailing a Score Reinstatement Form and payment to the ETS.
Preparing for the GRE
Studying for the GRE test doesn't need to be a full-time job. That said, you can't truly prepare overnight. It requires persistence, hard work, and focusing on your weaknesses. Most GRE prep programs recommend spending eight weeks preparing for your exam. If you want to "cram," you should typically allow at least two weeks to properly do so. Most study plans recommend approximately two hours per day, six days a week for either three, four, six, or eight weeks. Naturally, you'll obtain the highest benefit if you prepare for the longest period of time possible.
Study Resources
There isn't a correct way to prepare for the GRE. The test itself might be standardized, but you should tailor your study method based on your strengths, weaknesses, and studying habits. Perhaps you prefer short-term intensive learning, and you have a particular weakness in algebra. In that case, you would be best off doing a two-week study plan with a focus in quantitative reasoning. Perhaps you'd prefer a less stressful, long-term plan that improves your reading comprehension: In that case, you should try an eight-week study plan with a focus in verbal reasoning testing.
Studying on a Budget
The best way to prepare for the GRE is to seek out the right GRE materials, many of which can be found for free at your local library. Additionally, the internet has a wealth of online GRE prep aids, ranging from iPhone apps to practice tests. Most of these resources are completely free and, if used with a rigorous schedule, can help you ace the GRE without spending a dime.
Tips and Tricks
Know exactly what to expect: memorize the structure of the exam and the subjects being examined, frontwards and back.
Relearn any high school knowledge you forgot: many GRE questions are based on simple concepts you breezed through in high school. By now, you're probably rusty on the Pythagorean theorem. Time to review!
Read your way to a high verbal analysis score: SAT preparation may not do much to help you with the verbal section of the test. The best GRE vocabulary prep is to read challenging books that force you to discern the meaning of words you don't know.
Take practice tests: it's cumbersome and time-intensive, but taking practice tests is one of the best ways to prepare you for the big day. You don't want to be figuring out the exam as you go.
Stay consistent with your preparation: make a study plan and stick to it, even if it means simply carving out small chunks of time each day. If you're not attending a prep program, diligence is especially important. You can't learn critical thinking overnight; you need to practice over a period of time and let it become second-nature.
Prepare for time restraints: it will be easier to ace the exam if you can learn to ignore the looming minute hand of the clock. Your training becomes far more strenuous when you put yourself under the rigorous time pressure of the actual exam. By test day, the time constraints won't feel cumbersome.
Learn prefixes and suffixes: hack the verbal analysis test by learning to recognize as many prefixes and suffixes as you can. That way, even if you don't recognize a long, complicated word, you'll have a basic sense of what it means.
Focus on your weaknesses: it may be a confidence boost to take a practice test in your strongest subject, but earning high scores in verbal analysis won't help you if you still can't remember geometry. The best GRE prep should center on your weak points.
Learn to manage time: this is especially critical for the analytical writing section, in which you have only 30 minutes to craft a coherent essay. Figure out how to brainstorm a response to sample questions and draft an outline in seven minutes, write the essay in 20 minutes, and proofread it in another three minutes.
The Night Before
The GRE is a four-hour marathon for your brain, and you should prepare accordingly the night before. While pulling an all-nighter cramming may have worked for a biology final in college, it won't suffice for the GRE. The night before, focus on staying relaxed, well-fed, and getting a good night's sleep so you're ready for the mental rigor of the exam.
Test taking can be nerve-racking. All too often, test-takers neglect to take care of themselves, and prepare their minds and bodies for the intensity of standardized testing. Here are a few tips to make sure you go into the test feeling clear-headed and focused.
| Do's | Don'ts |
| --- | --- |
| Get a good night's sleep | Stay up late cramming the night before |
| Dress comfortably, and be ready for any temperature | Strenuously exercise the night before |
| Know which four schools you will submit scores to | Bring your test-prep books to the testing center |
| Arrive 30 minutes early at the testing center | Abandon your usual daily routine |
| Eat a good, balanced breakfast with plenty of protein | Overload on caffeine before the exam |
What to Expect on Test Day
The testing experience is extremely controlled, and a quiet, focused environment is rigorously enforced. Typically, friends or family are not allowed to wait in the testing center for you to conclude the exam. You will likely be required to supply identification, and possibly fingerprinting or signature comparison for identity verification.
Food and drinks are not allowed in the test-taking area, and your sweaters, hats, and pockets may be subject to a search by the testing administrator upon your entrance. The proctor will assign you your seat upon entering the testing room. You will remain at that desk for the duration of the test (approximately four hours.) The only time you are allowed to leave your seat is during the one 10-minute break, after the second analytical writing section. During that time, you may exit the testing room solely for the purpose of using the restroom. At the end of the exam, you will offered the opportunity to cancel your scores.
| Things to Bring With You | Things to Leave at Home |
| --- | --- |
| Your admission ticket and personal ID | Recording devices/photographic devices/cell phone |
| A sweater | Watch alarms |
| Three or four sharpened No. 2 of HB pencils | Your personal calculator |
| A quality eraser | Mechanical pencils/pens |
Taking the GRE with Disabilities
A disability should never stop you from succeeding on the GRE test. The Educational Testing Service ensures that all students can succeed on the GRE, and maintains a commitment to providing students of all abilities proper accommodations on exam day.
The most important thing a test-taker with any disability or health-related concerns can do is address those concerns ahead of the test day, by registering any health concern or disability through the ETS Disability Service. Test-takers must have their request for special accommodations approved before registering for the GRE. You should typically allow at least six weeks for your documentation to be processed. Certain accommodations are available, depending on whether the test is administered online or not. These accommodations include extended testing time, a reading assistant, sign language interpreter, or extra breaks, which are used to take medication, eat an extra snack, or make an extra trip to the restroom.
GRE Subject Tests
Each of these tests span two hours and 50 minutes, and contain one section's worth of tests. Like the general GRE exam, every test-taker is given the option to cancel all scores at the conclusion of the testing period. The tests differ from the standard GRE in that they test specific, subject-oriented knowledge, as opposed to pure reasoning and logic skills. These can help bolster your graduate school application in a specific subject by quantifying your knowledge and skill. The test is intended for students who have either earned an undergraduate degree in one of the subjects, or those who have a comparably extensive background in one of the seven subjects available. The tests are accepted by thousands of graduate schools, though they are typically not required for admission. GRE Subject Tests are administered three times a year, in September, October, and April. Prospective test-takers can register either online or through the mail.
Biochemistry, Cell & Molecular Biology
The Biochemistry, Cell and Molecular Biology GRE test contains 170 multiple-choice questions. Towards the end of the test, a certain percentage of those questions are grouped in sets, responding to a description of a laboratory experiment or specific diagram. The exam is split into three sections. Thirty-six percent of the exam focuses on biochemistry, which ranges in subject from structural biology to major metabolic pathways.
The next 28% of the test deals with cell biology, including topics like cytoskeleton and cell division. The final 36% of the exam focuses on molecular biology, evaluating topics like genetic foundations, genomics, and DNA replication. Test-takers will receive both a general score and three sub-section scores based on the three topics tested. Typically, the test will focus on your problem-solving skills, rather than general memorization-based knowledge.
The Biology GRE exam includes 190 questions, each with five multiple-choice answers. Some of those questions are centered around a description of a laboratory or field example, a diagram, or hypothetical experiment results. The test centers around three pillars of biology, each of which take up 33-34% of the exam.
Those three sections are: cellular/molecular biology, which includes topics like genome sequence organization and immunobiology; organismal biology, which includes topics such as fungi and animal reproduction; and ecology/evolution, which includes topics about habitat selection and paleontology. Students will receive a general score, as well as a subscore in each of those three sections.
The Chemistry GRE test features approximately 130 questions, all multiple-choice. Test-takers will be supplied with a periodic table in their textbooks, and a reference table of basic constants and conversion factors. The test does not require a calculator because the problems are explicitly designed to require limited mathematical skill. The structure of the chemistry exam may vary.
Typically, the test includes analytical chemistry in 15% of the questions, with topics like homogenous equilibrium and radiochemical detectors. The next 25% of the test deals with inorganic chemistry, addressing topics like nuclear chemistry and intermolecular forces. The next 30% of the test addresses organic chemistry, with questions focusing on structure, bonding and nomenclature, and reaction mechanisms. The final 30% of the test covers physical chemistry, in topics like thermochemistry, classical experiments, and liquid dynamics.
This exam asks 230 questions, each dealing with a poem, dramatic play, biography, essay, short story, novel, or literary theory. These questions will typically cover literature from England, the U.S., and other regions of the world. They'll either address short works of English, or excerpts from longer pieces. Approximately half of the questions cover literary analysis, with questions about genre, meaning, and rhetoric.
The next 15-20% evaluate a test-taker's ability to assess the date, author, or stylistic conventions of the author. The following 20-25% of the test assess the test-taker's understanding of the cultural and historical contexts that influenced the writing. The final portion addresses the history of literary criticism, and requires the test-taker to analyze the progression and systems of various approaches to literary analysis.
This test contains approximately 100 five-choice questions split over two periods of test-taking. Some of those questions will respond to diagrams, graphs, data, or descriptions within the test-booklet. The test will devote 20% of its questions to classical mechanics. The next 18% addresses electromagnetism. The next 9% focuses on optics and wave phenomena. Another 10% covers thermodynamics, followed by atomic physics.
The next 12% features questions about quantum mechanics. Another 6% addresses special relativity, and the final 9% features questions on specific topics like condensed matter and radioactive decay. Test-takers who want to succeed should be able to apply basic mathematical concepts to their calculations, including vector algebra, matrices, and more.
Typically, this subject test contains approximately 205 multiple-choice questions, each of which offers five answers. Test-takers frequently must answer questions in response to a description of an experiment or a graph. The test addresses a basic set of knowledge that students who have studied psychology on an undergraduate level should be able to recall. The questions are usually divided into three sub-sections.
The first subsection is experimental psychology, which accounts for 40% of the questions and addresses topics like long-term memory, psychophysics, and sensory structures. The next section, centered on social science, constitutes 43% of the exam and covers clinical and abnormal psychology, personality, and lifespan development. The last section, general psychology, addresses the history of psychology, the ethics of the practice, and the design and analysis of psychological research.
Additional Resources for Test-Takers
GradSchools.com - At once a fantastic resource for detailed information about everything from combating test-taking anxiety to test-taking strategy, GradSchools.com also offers a fantastic directory of graduate school options.
GRE.graduateshotline.com - This site has tons of hidden-treasure links, like short test question practice, detailed strategies for each section, and day-of advice.
GRE.Economist.com - This subscription-based service offers a free 7-day trial. Users have access to a variety of resources, including a list of common mistakes to avoid, and a strategy section on eliminating answer options.
TestPrepPractice.net - This resource has downloadable practice tests, vocabulary word lists, and more.
TaketheGRE.com - This website creates a customizable GRE test preparation calendar for you based on how much time you have before your test, your preferred study format, and your weakest sections.
GREPrepHelp.com - This website has a free online video course to help you overcome your weakest subjects.
MajorTests.com - With a giant GRE vocabulary list and dozens of tests in every subject area, Major Tests is a one-stop solution to your GRE anxieties.
Accepted.com - This website features game-changing options like a free webinar of "5 Killer GRE Prep Tips," a break-down of the GRE grading score, and a list of the most common GRE vocabulary words.
Powerscore.com - Powerscore.com offers GRE prep courses, but the website has substantial resources for learning all on your own, including four hours of free video courses, a detailed overview of the test, and more.