Why Colleges and Universities Need Inclusive Virtual Tours
Virtual campus tours are very popular amid the COVID-19 situation. Learn more about how students and colleges can make the most out of these opportunities.
Image Credit: FatCamera / E+ / Getty Images
---
Virtual tours of college campuses are gaining popularity and can be used as a tool for assessing inclusivity.
Universities can show students their accessibility options through virtual sessions and online resources.
Making virtual experiences more inclusive can provide more beneficial student accommodations.
Students should make the most of virtual opportunities and resources that colleges offer to them.
---
Colleges and universities have used virtual tours and information sessions for over a decade. As the admissions process has moved nearly entirely to the internet, the resources and interactive elements available to students online have followed suit.
During the COVID-19 pandemic, virtual tours of colleges and universities increased significantly. There are even companies dedicated to conducting virtual tours of colleges. Two of the most popular companies include CampusTours and YouVisit, which provide tours of over 2,500 campus experiences. Virtual tours provide experiences for those who do not have access to visiting campuses in person.
Benefits of a University-Wide Virtual Tour
Virtual tours can make an institution's admissions process significantly more accessible and enhance potential student interest.
Virtual tours are cost-affordable for low-income students. Universities can accommodate low-income student populations by informing this audience of remote tours, even more so if they provide technology and connectivity as needed. In doing so, administrators may bring new, diverse audiences to their campus — potentially increasing their student population's diversity. Virtual tours can also be cost-affordable to the institutions.
Prospective students with disabilities may also benefit from virtual tours. Individuals with wheelchairs can understand what accessibility options they will have on campus, as can others who have concerns about how the facilities on campus can accommodate their mobility. People who are hard of hearing can also benefit from virtual tours that use closed-captioning.
Colleges can create an environment for more questioning and interaction from students in a virtual setting. On a physical tour, students sometimes have limited interaction with their guides — or the actual campus — because of time restraints, weather conditions, and other determining factors. Virtual tours allow the school to present its campus and resources more consistently.
Institutions create a library of resources available to current and future students when they make virtual tours. Schools can aid potential applicants by referring back to their curated catalog in their admissions process.
Ultimately, virtual tours can show applicants that the school's administration is dedicated to inclusion. When they're able to see its entirety, potential students can feel more connected to the campus. Virtual tours help build community before a learner even enrolls in classes.
How to Make a Virtual Tour Inclusive
Colleges and universities should maximize their virtual tours for accessibility. They can do so by using a digital platform's tools to ensure that their presentations focus on inclusivity and accommodate all potential students. Enabling closed-captioning and providing interpreters may help individuals with and without hearing disabilities or language barriers engage with the content fully.
Schools should also include image descriptions for graphics and photos and transcripts for videos. In addition, they should consider text legibility in slide presentations and visual media, keeping type sizes large and color contrast appropriate.
Institutions can also mention their academic accommodations in virtual tours. They can highlight captioning for lectures and test-taking, course material alterations, and other accommodations available for students.
The tour's content should also note inclusivity initiatives happening at the school. It can introduce critical figures on campus who talk about their positions and how they help students. These individuals can vary from administrators who can discuss the institution's diversity and inclusion initiatives to student leaders who show dedication to holding those administrators accountable.
Including these introductions can prompt questions that aid administrators in making more inclusivity changes. Showcasing student organizations may also help applicants understand the campus community and how the institution will support their identities and experiences.
Schools can also survey current students to ensure that they have included all resources that learners find helpful in their educational experience.
Legal Ramifications of Non-Accessible Virtual College Tours
The Americans with Disabilities Act (ADA) ensures colleges don't discriminate against students with disabilities. One ADA standard university websites must meet is effective communication, meaning communication has to be as effective for students with disabilities as it is for everyone else.
There are tons of lawsuits that claim universities are ADA non-compliant and discriminate against students with disabilities. Having ADA-compliant virtual tours could potentially save a college or university from a legal battle.
According to Kenneth Shiotani, senior staff attorney at the National Disability Rights Network, colleges must have ADA-compliant websites, including virtual tours. Shiotani said a compliant virtual tour should include:
Live captioning
ASL translation
Video descriptions for blind students
If a college doesn't include these features, Shiotani says it could leave them vulnerable to complaints and lawsuits.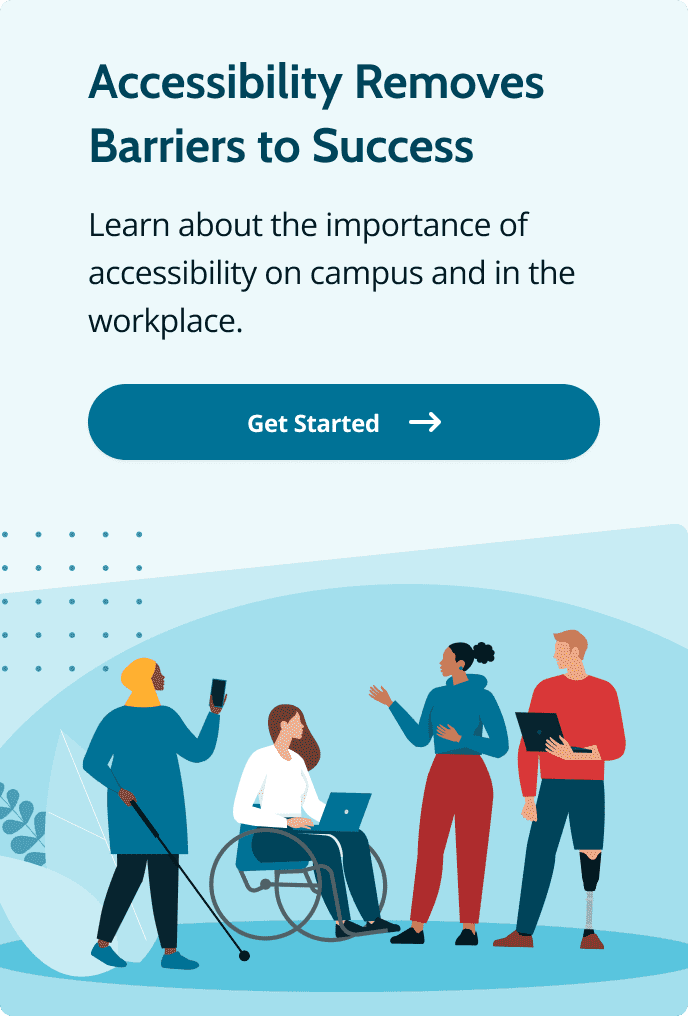 Colleges and Universities Ahead of The Curve
Frequently Asked Questions About College and University Tours
Are virtual college tours worth it?
Yes. Virtual tours allow students to understand their potential college. These experiences let applicants see what colleges can offer them, learn what they value in an institution, and preview what is in store for them when they arrive on campus.
Before enrolling at an institution, students must understand the environment and culture they are walking into. Knowing what resources are available, what people to contact, and what opportunities to take advantage of can help students choose a college virtually.
Are virtual college tours free?
Yes. Nearly all virtual tours are free and open access. However, some colleges may feature tours for certain student populations and require non-public access privileges. Typically, these more stringent specifications are only restricted to applicants.
Potential barriers to virtual tours may include no internet connection or device to access the tours. However, admissions counselors often work with students to find options that suit their needs. Applicants can also use public technology access available to them, such as schools and public libraries.
What are virtual college visits like?
All virtual visits differ. Some visits may be more interactive than others and offer different levels of access to campus resources. However, a virtual college visit generally consists of a tour of the campus grounds and a brief introduction to each building's purpose.
Virtual tours provide a good measure of a college's inclusivity. The effort an institution puts into its virtual sessions might show how much support learners of all types can receive as enrolled students. Degree-seekers should also remember that when assessing a college's virtual tour, they should also consider its accessibility and values.