Pursuing a career in illustration allows professionals to explore their creativity in drawing, design, and animation. Illustration students develop diverse skills that lead to many career options. Upon graduation, degree holders can pursue positions like cartoonists, graphic designers, theatrical set designers, and book illustrators.
Before completing their degree, students collect their best work from classes and outside projects to create a portfolio. This portfolio serves as a professional representation of work that potential clients or employers can look over. Many students reach out to local businesses for freelance illustration work to build their portfolios outside of school. The more experience and high-quality work examples a student has before graduation, the better their career prospects. Beginning an early search sometimes sets students up with a job before they even graduate.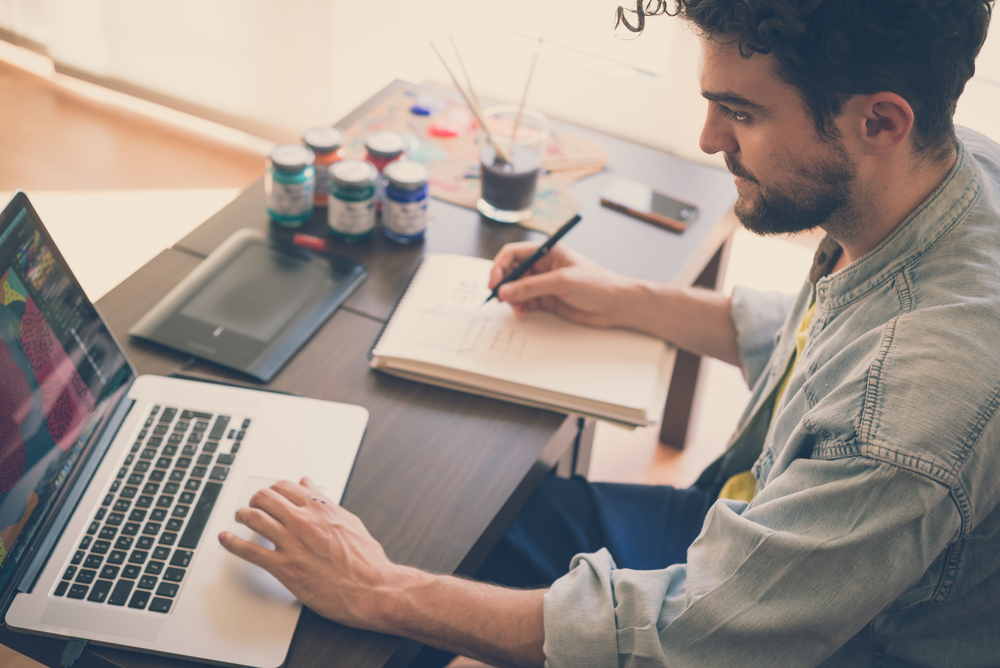 Skills Gained in an Illustration Program
Careers in illustration art require individuals to develop several skills to ensure success. Although some necessary abilities vary depending on the specific job, there are some skills every illustrator needs. These include creativity, time management, artistic ability, adaptability, and communication. These skills allow illustrators to produce quality work and keep their employers happy. Many of these abilities can be developed throughout school and during on-the-job training and don't require any additional certification.
Creativity

Illustrators need to regularly put out fresh ideas that entice and excite their audience. Successful illustrators develop a unique style and portray their art in a novel and interesting way. While crafting innovative art, these professionals must also remember to appeal to their clients and consumers.

Time Management

Professional illustrators work within strict deadlines to complete projects, often juggling multiple projects at once. Prioritization and strategic budgeting of time and resources are integral to a successful career in this field.

Artistic Ability

The ability to create an appealing product that clients and consumers respond positively to is imperative to an illustrator's career. This requires significant skill and attention to detail, which students develop while studying illustration. Creating interesting and thought-provoking work that people appreciate pushes illustrators ahead in their careers.

Adaptability

With constantly changing practices and trends, an illustration career requires the ability to adapt as consumers' needs change. This doesn't mean illustrators must sacrifice their style or integrity, but they must learn to integrate their style into the current market to maintain relevance. These needs also vary depending on the industry, meaning illustrators with a diverse variety of clients must stay up to date with multiple fields.

Communication

As illustrators make progress on projects, they must communicate updates to their clients and employers. Occasionally, illustrators will receive revisions or edits on their work and must make these updates in a timely manner. Clients are more likely to continue working with illustrators who communicate clearly and efficiently. Maintaining a professional reputation helps illustrators find success.
Why Pursue a Career in Illustration?
Illustrators can find successful and satisfying work in a variety of career paths and industries, as businesses in many fields have a need for graphic designers and creative directors. As illustrators advance in their field, they may desire to develop a new or existing skill. Luckily, plenty of educational opportunities exist for motivated artists.
Illustrators at all levels can participate in workshops or classes that build up their abilities in specific areas, making them even more valuable to their employers. Professionals that have completed an undergraduate program may also pursue a graduate degree in their field. This sets them up to obtain better jobs or even teach illustration at the collegiate level.
How Much Do Illustration Majors Make?
Factors that influence an illustrator's pay include the industry and location of their specific career. Larger industries typically have the means to pay more, and more populous cities pay higher wages to match their higher costs of living. Illustrators also typically earn more money as they increase their experience and education level. Many careers offer opportunity for promotion and pay raises. The chart below shows the average salaries for a few illustration roles according to job level.
Average Salary for Illustration Professionals by Occupation and Job Level
Job Title
Entry-Level
(0-12 months)
Early Career
(1-4 years)
Midcareer
(5-9 Years)
Experienced
(10-19 Years)
Illustrator
$40,000
$43,000
$51,000
$56,000
Graphic Designer
$38,000
$41,000
$47,000
$50,000
Art Director
$48,000
$54,000
$66,000
$73,000
Source: Payscale
How to Succeed in Illustration
Education Required
Receiving an education in illustration sets students up for success. Although having a successful career as an illustrator with only a high school diploma is possible, many employers only consider hiring graduates with a bachelor's in an illustration-related field. A bachelor's degree teaches students basic fundamentals and helps them fine-tune their craft. Students wishing to choose a concentration and hone in on a specific medium can also pursue a master's degree.
Experience Required
The amount of experience an illustration professional needs varies depending on their desired career. Most careers require a bachelor's degree in illustration or a related field. Even freelance artists or designers who don't necessarily need a bachelor's degree should consider going through school to sharpen their skills. Obtaining a bachelor's degree also helps illustrators build their portfolio, which is key to a successful career. During school, students can complete internships or pursue freelance work for local companies to gain more experience. Upon graduation, students with more experience have a higher likelihood of landing a quality job.
Licensure and Certification
Although some fields require additional certification or licensure, illustration grads don't necessarily need to worry about this. Illustration professionals often find employment with only a bachelor's degree and a respectable portfolio that shows experience.
However, graphic designers may benefit from earning an editing software certificate; this additional education can help them stand out among other professionals. Additionally, some software vendors offer certificates, such as Adobe's training courses. The illustration field requires continuous growth and development, and professionals also benefit from participating in workshops or classes.
Concentrations Available to Illustration Majors
Choosing a specific concentration in a broad field like illustration can lead to more career opportunities; however, keep in mind that concentrations vary from school to school. Students should look for a program that offers their desired concentration to gain the most from their degree.
Digital Illustration: Students who prefer creating art on the computer should consider a concentration in digital illustration. Digital illustration prepares students for careers in fields like commercial art and graphic design. Learners develop the medium's skills and fundamentals while studying techniques artists use to create digital masterpieces.
Art Direction: Art directors lead a team to create campaigns and branding for businesses. Through a concentration in art direction, students develop skills related to storyboarding, design, photography, and typography.
Graphic Design: Companies need strong graphic designers to create successful marketing campaigns and promote products or services. Students who choose a concentration in graphic design can go on to work in a variety of fields, including tech design and book publishing.
3D Modeling and Animation: Students who pursue this concentration receive hands-on experience creating and directing animated stories and crafting the 3D structures used to model ideas. Graduates with skills in this field can go on to work in areas like architecture and product design.
What Can You Do With an Illustration Degree?
The illustrator careers available to you largely depend on the level of education that you hold. Most careers require students to hold at least a bachelor's degree in illustration. Because this field is highly competitive, students without the proper experience or education may have difficulty finding a good job.
Choosing a specialization like graphic design or digital illustration may help graduates gain an edge in the job market, and numerous certificates and master's programs exist that provide additional training and experience. Professionals who practice lifelong learning stand the best chance of finding success in their desired career track.
Associate Degree in Illustration
An associate degree in illustration serves as a starting point for many future illustration professionals. Students learn the field's fundamentals and take basic art courses. Although many students transfer directly into a bachelor's program after earning their associate degree, several jobs exist for graduates of an associate program in illustration.
Some graduates pursue freelance careers in illustration or graphic design, making their way as self-employed professionals. However, individuals can also pursue entry-level careers and internships in the fields of art publishing and graphic arts.
Freelance Graphic Designer

Although many full-time graphic design careers require a bachelor's degree, graduates of an associate program have opportunities to work as freelance graphic designers. These professionals work on smaller projects for various clients, meaning their day-to-day tasks change regularly.

Salary: $46,000

Production Artist (Graphic Arts)

A production artist in the graphic arts field designs and creates specific materials for clients. These materials may include pamphlets, posters, signs, and banners. Production artists create initial designs to share with their clients. After discussing changes and edits with their client, an artist creates a final product that fits their client's needs. Individuals may be able to qualify for some of these positions with an associate degree.

Salary: $50,000

Fine Artist

Fine artists work in many industries, including marketing, web design, publishing, and fashion. Illustrators in this field use their talents to contribute designs for packaging, advertisements, and websites used by their company. Although entry-level workers may not receive as many big projects, more experience and higher education can lead to more responsibilities.

Salary: $48,000
Bachelor's Degree in Illustration
Careers in illustration art are competitive, and many employers expect substantial experience, high levels of talent, and an excellent education. Earning a bachelor's degree in illustration prepares future professionals in these areas. Students receive feedback from quality educators, helping them develop their skills. Students also have opportunities to pursue internships and complete freelance work for nearby organizations.
Graduates can expect to find many illustrator careers opened to them by completing a bachelor's degree in illustration. Firms hire these professionals as book illustrators, graphic designers, animators, and commercial photographers.
Illustrator

Commercial Photographer

Animator

Web Designer

Art Gallery Curator
Master's Degree in Illustration
Students in a master's program enroll in courses specific to their medium, allowing them more opportunities to grow as illustrators, improve their craft, and add to their knowledge base. A master's degree can also open up more career opportunities -- many of which lead to increased pay -- including positions as creative directors and senior graphic designers.
Medical Illustrator

Senior Graphic Designer

Creative Director

Art Director
Where Can You Work With an Illustration Degree?
An illustration career doesn't follow just one set path. Factors that affect an individual's job duties include their industry, job setting, location, and surrounding populations. These factors determine the audience for a product or campaign, what a worker's day-to-day tasks look like, and the type of team surrounding an illustration professional. Continue reading below for more information about these factors.
Locations
Location can have a large influence on an illustrator's career. Where a person works might determine their salary, available industries, clientele, and quality of life. Larger cities often pay more to make up for their higher cost of living, and some professionals work remotely for companies in larger cities while living in an area with a lower cost of living. Additionally, larger cities often hold more competition, but small towns don't generally have as many lucrative opportunities for illustrators. Looking into which industries are prominent in a region can help you learn about potential job prospects.
Industries
Many different industries benefit from the work of illustrators. The chart below outlines five different industries and their average salaries; however, keep in mind that many more industries also exist. Additionally, these salaries largely depend on a worker's level of education, and most positions require at least a bachelor's degree. Opportunities for higher pay in these fields often become available for individuals who earn an advanced degree.
Freelance and Independent Artists

Freelance artists set their own hours and schedule, relying on art commissions and assignments from clients and customers. Their work weeks fluctuate regularly, but they enjoy the ability to work from just about anywhere.

Average Salary: $57,110

Motion Picture and Video Industries

The motion picture and video industry offers plenty of opportunities for illustrators. Some illustrators work closely on a movie's overall design, while other artists work on promotional materials or package design.

Average Salary: $86,650

Advertising, Public Relations, and Marketing

Illustrators work in this industry using illustrations and graphic design to communicate messages to consumers. Professionals can either lead a team of artists to create media for a campaign or create the art themselves.

Average Salary: $72,610

Newspapers, Magazines, and Other Periodicals

In the media world, illustrators can contribute art for stories or front covers. They may also work as an art director, deciding the overall design of a magazine and leading a team to create material for each issue.

Average Salary: $65,620

Architecture and Design Services

Illustrator careers in the architecture and design field involve turning ideas into reality. These professionals create digital designs or physical models of projects to create tangible representations.

Average Salary: $77,130
How Do You Find a Job as an Illustration Graduate?
Major competition exists in the illustration world, meaning professionals must find ways to stand out. Building a resume and portfolio that showcases several significant achievements can impress employers, leading to more job offers. Resumes should be clear and concise, highlighting only necessary information. Internships, certifications or specializations, and special projects all make for excellent additions to a resume.
Networking and making meaningful relationships with other professionals in your field can also provide new opportunities for employment. Whether you form connections with a potential reference or future employer, staying connected in the illustration field positively affects job prospects. Many organizations offer networking resources, such as job boards or conferences. Some illustration organizations that offer these resources include the Society of Children's Book Writers and Illustrators, the Society for Animation Studies, and the DIA Art Foundation.
Professional Resources for Illustration Majors
---
The AOI -- a professional organization for illustrators -- offers several membership packages. Available packages include discounted student, illustrator professional, and agent memberships. Members gain access to digital resources that connect professionals and allow them to share their work.
---
Founded in 1946, the NCS is the largest network of professional cartoonists in the world. This organization accepts established professionals and extraordinary young talent to join its ranks. Members enjoy exclusive features and can help lead the charge in the latest cartooning developments. For those not yet ready to become members, the organization puts out a magazine that serves as a handy resource for cartoonists at all levels.
---
With chapters across the United States, the Graphic Artists Guild promotes the profession through networking events, free webinars, member portfolios, and advocacy efforts with local government. Members enjoy a community filled with other graphic artists, connecting with colleagues. Members also gain access to discounts and insurance.
---
One of the largest and oldest organizations for design, AIGA is a useful resource for designers at all levels. Resources provided for members include a job board, webinar access, and discounts on certification courses and competitions.
---
Since 1986, ASAI has represented the needs of architecture designers. The organization hosts competitions and exhibits featuring designers from all over the world. Members can also engage in various networking opportunities, taking part in local and regional chapters.
---
This organization aids cartoonists at all levels and professional stages. Each June, AAEC hosts a large conference that offers networking opportunities, guest speakers, and panel discussions. In addition, members may participate in regular online discussions related to the field.
---
The Society of Illustrators promotes the growth of professionals as artists, advocating for the field and hosting exhibits and networking events. Organization meetings have hosted some of the last century's most prominent illustrators as guests.
---
This global community serves those who work in the medical industry creating visuals that improve scientific understanding. Representing over 800 members, AMI offers professional development and networking opportunities, helpful publications, and field certification.
---
Based in the United Kingdom, ISTD is a professional organization comprising typographers, teachers, and students. The organization promotes high standards and provides educational opportunities for industry workers to remain at the top of their field.
---
Members of NAEA enjoy regular conventions that provide networking opportunities and professional development, as well as helpful tools and community resources. In addition, the organization advocates for the arts in education.
---