How to Make Your Virtual Meetings More Accessible
Make virtual meetings more accessible by learning the value of accessibility and best practices for creating accessible and inclusive meetings.
Image Credit: Luis Alvarez / DigitalVision / Getty Images
---
Virtual meeting participants should keep accessibility best practices in mind to foster inclusion.
Focus on accessible materials, inclusive environments, and engagement of all participants.
It's important to seek out feedback about accessibility to improve procedures.
Prioritizing accessible meetings shows your employees they are valued and respected.
---
Virtual meetings aren't a new workplace feature for some employees. They have, however, become significantly more common since the coronavirus pandemic. RedRex research about digital productivity estimates that 77% of workers attend virtual meetings as part of their jobs, up from 48% at the start of 2020.
These virtual meetings have helped connect remote workers all over the world. They have also increased meeting accessibility for employees with disabilities as they lower transportation, mobility, and safety barriers for this population. Unfortunately, they also present new accessibility challenges that companies must be aware of and address if they are going to support their employees with disabilities.
BestColleges.com is an advertising-supported site. Featured or trusted partner programs and all school search, finder, or match results are for schools that compensate us. This compensation does not influence our school rankings, resource guides, or other editorially-independent information published on this site.
Ready to Start Your Journey?
What Virtual Platforms Are Available?
Zoom
Zoom is one of the most popular video conferencing software packages, with 300 million daily meeting participants. The free version allows users to host 40-minute meetings, and the paid plans can host up to 300 people. Zoom allows users to screen-share, record meetings, and chat within the meeting. It also has options for automatic captioning, adding a professional captioner, transcribing meetings, and creating breakout rooms.
Microsoft Teams
Teams is popular for its video conferencing capabilities and its focus on collaboration. It lets users share files and gives its members access to web-based Microsoft Office products. It can host meetings with up to 300 people and integrates well with calendars.
Google Meet
Meet is Google's conferencing software. It's free, and anyone with a google account can start a meeting quickly. The free version has many features, but it becomes more robust when paired with paid services like Google Workspace.
Whereby
Whereby is another free video conferencing service. It's web-based and requires no download. It also has a record function and allows users to collaborate on Google Docs and other project platforms.
What Makes a Virtual Meeting Accessible?
Accessibility means that a person, regardless of physical, emotional, or cognitive ability, can get the same value out of a product or space as everyone else. Without accessibility, multiple populations get excluded.
Virtual meetings increased accessibility by removing transportation and physical needs barriers. But there are other concerns to address before a meeting can be considered accessible.
Meeting facilitation is critical to this effort. Slides should be presented so those with visual and learning disabilities can still access the information. The meeting should be transcribed or captioned for neurodiverse participants and those who speak English as a second language. Real-time captioning should be provided for Deaf and hard of hearing persons.
It's important to be conscientious of meeting length and frequency of breaks to ensure employees can take mental and physical pauses without missing any of the meeting's content.
Best Practices for Accessible Virtual Meetings
Several best practices ensure that virtual meetings are accessible to all employees.
Ask attendees about accessibility needs before the meeting. The invitation should include information on what accommodations will be available and clear instructions for requesting more adjustments if needed.

Choose an accessible platform for the meeting. If no one has tested the platform, make sure it's usable. Ask for help from disabled employees beforehand to get their assessment.

Create information in accessible formats. Provide Alt Text/Image descriptions for all images. Describe all relevant images and charts, use readable fonts and layouts, and provide participants with accessible materials before the meeting.

Create an accessible environment. Make sure people take turns speaking so employees and software can keep up. Check that there are no flashing lights or intense movements. Have someone facilitate the discussion to keep the conversation orderly.

Record and transcribe meetings. Being able to rewatch a meeting can help people who struggle to focus. Transcriptions ensure the Deaf and hard of hearing community is included.

Assign other colleagues to monitor the chat and even take notes so that people can engage with and receive information in whatever way works best for them. Also, if there are accessibility problems during the meeting, there are backups to get information.

Prioritize universal design. An accessible meeting should have plenty of accommodations. But if you focus on universal design — meaning that the standard layout of the meeting has accessibility built in — you are taking a proactive step towards inclusive virtual meetings.

These best practices focus on accessibility for employees with disabilities. But it's also important to consider language and technology access when designing your virtual meeting space. All employees should be able to engage and benefit equally from the meeting.
Use This Checklist for Your Virtual Meetings
Send meeting invitations out well ahead of time, with information and instructions about disability accommodations.

Verify that your software is accessible, and ask employees to test it.

Send out all materials to people before the meeting so they can read them and organize them in the best way possible.

Make sure all materials included in the meeting are accessible. Describe all images and use readable fonts.

During the meeting, provide captions. Make sure that if the software captions automatically, they are accurate and understandable.

Set clear communication rules for everyone in the meeting to avoid cross-talking and make sure all can be heard distinctly.

Ensure presenters and other speakers are visible on camera. Consider not forcing others who are just observing to have cameras on so they can do what they need to in their space.

Ask a colleague to take notes during the meeting so all the information not included in the materials is available.

Record the meeting with updated captioning so that people can go back and rewatch it if necessary.

Pay attention to all participants and make sure accessibility barriers aren't preventing them from engaging in the meeting.

Ask for feedback after the meeting so the next meeting can run more smoothly. Be sure to put accessibility suggestions in place promptly.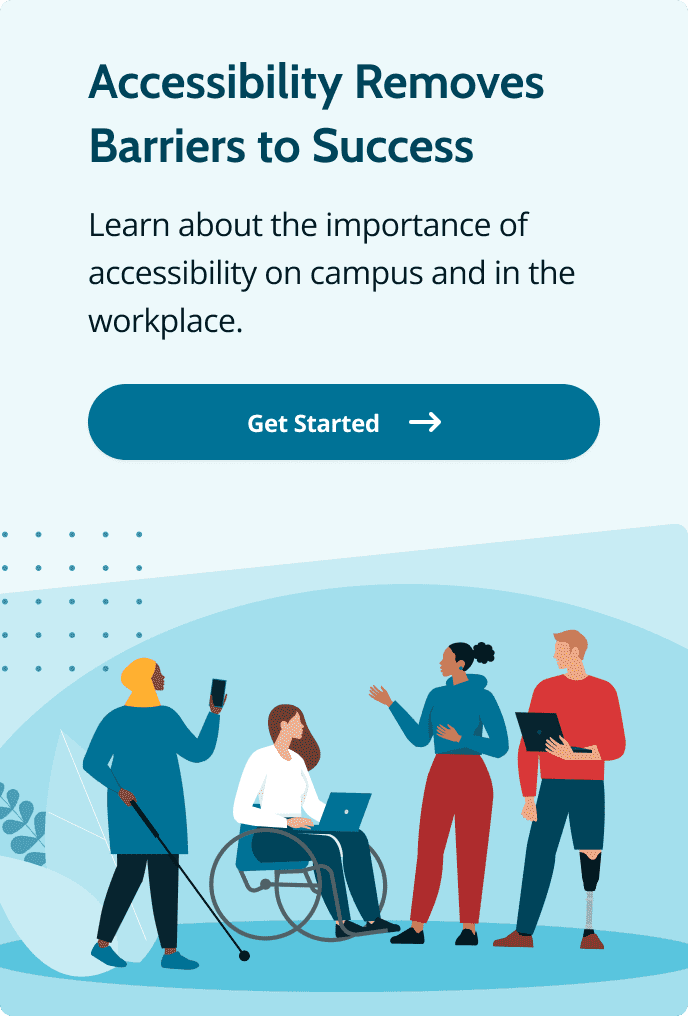 Bottom Line
If your organization has virtual meetings, it's critical they are accessible. This means frequently communicating with employees to learn their needs and constantly evaluating your procedures.
Accessibility is a fundamental human right. An employee with a disability has valuable contributions, and accessibility barriers shouldn't prevent them from sharing their ideas.
Ensuring that your meetings are accessible and inclusive to all participants shows your employees that you respect and value them. It also creates a more productive environment for everyone.