Will Colleges Require COVID-19 Booster Shots?
Higher ed is re-examining COVID-19 vaccine policies as the delta variant of COVID-19 surges and the omicron variant spreads.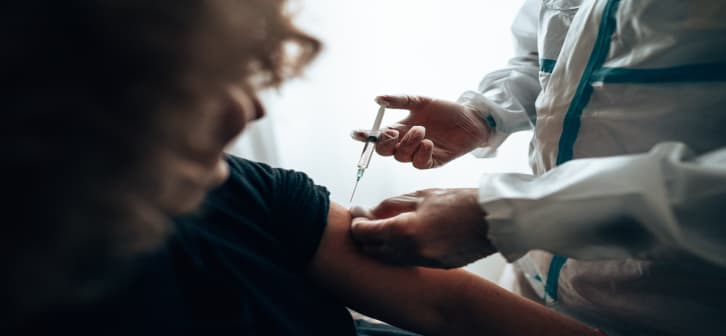 franckreporter / E+ / Getty Images
---
More than 1,000 colleges require their students to be vaccinated against the COVID-19.
A handful have pivoted to also require vaccine boosters.
The emergence of the omicron variant has more colleges considering a booster requirement.
---
A handful of colleges and universities now require COVID-19 vaccine booster shots, and many more schools are considering similar mandates as variants continue to spread and vaccine effectiveness appears to wane.
"Omicron has definitely increased the number of colleges thinking about requiring boosters," Gerri Taylor, co-chair of the American College Health Association (ACHA) COVID-19 Task Force, told BestColleges. "Certainly, schools are strongly recommending them, as ACHA is doing."
"Some of that may depend on the omicron, and some may depend on the uptick we are seeing in the delta," she added. "We're not done with delta yet, that's for sure."
The uptick in cases is likely due to the arrival of cold weather and people doing more indoor activities, Taylor said. But decreased vaccine effectiveness may also play a role. Research has shown that the coronavirus vaccine's protection drops after six months, and Taylor said that's reason for concern.
"Think about the students who did get vaccinated," Taylor said. "They probably got vaccinated over the summer prior to coming back to school for in-person classes in September. If you calculate that out, they won't be at the sixth-month point until January or February, and at that time their immunity may wane. So, I am concerned about that."
Schools that recently announced booster mandates include Syracuse University, Wesleyan University, Smith College, Hampshire College, the University of Massachusetts Amherst, Bowdoin College, and Bentley University. All of these schools are located in the Northeast — New York, Massachusetts, Maine, and Connecticut — where the delta variant transmission is high and cases of the omicron variant have been reported.
Wesleyan President Michael S. Roth said in a video announcement to the school's community that Wesleyan has done a great job managing the pandemic. Despite having "a pretty normal semester in most respects," Roth said the school needs to do more to "keep the pandemic in check."
"It gives us a great feeling of security to know that the vaccines are working so well. And that's why we're going to ask everyone on campus to get a booster," Roth said in the video message. Under Wesleyan's mandate, eligible students, staff, and faculty must get a booster shot by Jan. 14, 2022.
Other schools with booster mandates are imposing similar timelines. Syracuse University is requiring all eligible students, faculty, and staff to get booster shots prior to the start of the spring semester on Jan. 18, 2022. Smith College is calling for eligible students, faculty, and staff to get booster shots by Jan. 21, 2022. The deadline at Hampshire College is March 21, 2022, and UMass Amherst students must get their boosters by Jan. 25, 2022. Bentley University students should get booster shots by Jan. 24, 2022 for their spring semester. Bowdoin College has set a Jan. 21, 2022 deadline.
Students at these schools appear unfazed by the booster mandates.
"I think the reaction that I have seen, and that we have seen, is that people aren't surprised by it," Wesleyan senior Emma Smith told BestColleges. Smith works as the editor in chief at Wesleyan's student newspaper.
"We are a campus that has a really high vaccination rate, and I don't personally know anyone who was not inclined to get vaccinated," Smith said. "I think we expected this to happen, just like the flu vaccine requirement."
Smith added that she got a booster shot over the Thanksgiving break.
Schools are issuing their mandates as the Centers for Disease Control and Prevention reports that the omicron variant has spread to at least 23 states as of Dec. 9, 2021. Meanwhile, the delta variant also continues to spread and remains the dominant strain in the U.S..
In response to the changing conditions, ACHA released updated COVID-19 guidelines to its more than 800 members on Dec. 6. The new guidelines urge members to remain vigilant, noting that schools have done a great job of expanding access to vaccines despite vaccine hesitancy, misinformation, and disinformation.
Currently, more than 1,000 colleges require their students to be vaccinated against the coronavirus. ACHA noted in its guidelines a new White House mandate requiring students who work in connection with or on a federal contract, or who work in a covered contractor workplace, to be fully vaccinated by Jan. 4, 2022.
"I think the colleges have done an amazing job," Taylor said. "These communities have really done the best job of pandemic response and planning in terms of testing, vaccination, contact tracing, isolation, quarantine, and as a result, their cases have been pretty low. I hope they continue their great work in the spring, and I don't see any reason why they would not."