Remote GI Bill® Recipients to Lose Part of Housing Allowance
Without legislative action, students on the GI Bill who are unable to attend classes in person will lose out on a key part of their benefits.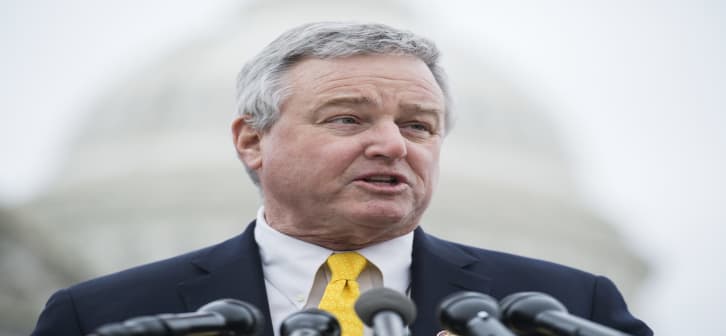 Tom Williams / Contributor / CQ-Roll Call, Inc. / Getty Images
---
GI Bill recipients get a monthly housing allowance based on their enrollment status.
Pandemic-era changes allowed all students, even online learners, to get max funds.
Those provisions would expire for next semester, however, without congressional action.
---
Many GI Bill recipients are in line to see their monthly housing allowance cut by more than half without swift congressional action.
Dru Macasieb, a student at California Institute of Arts & Technology (CIAT) in San Diego, is one such student.
Macasieb is a military veteran who recently learned his school will be transitioning to 100% online at the start of next semester. That poses a major problem for his financial situation, he told BestColleges. Without in-person classes, his housing allowance will be cut by over 70%, and it will no longer be enough to cover his rent.
To understand why this problem could soon affect tens of thousands of students across the U.S., it's important to jump back to the start of the COVID-19 pandemic.
A Temporary Waiver — And A Lifeline
A GI Bill recipient's housing allowance is largely dependent on whether they are taking in-person or online classes. But, as universities went fully remote due to the pandemic in March 2020, Congress moved to grant the maximum allowance to all recipients, distance-learning students included.
The Student Veteran Coronavirus Response Act of 2020 first granted this waiver for the rest of 2020, and it was again extended until Dec. 21, 2021.
That waiver is set to expire soon. This leaves students like Macasieb whose schools are still online, or students reluctant to return to campuses for fear of contracting the virus, potentially struggling to pay rent in January.
According to the U.S. Department of Veterans Affairs' GI Bill benefits calculator, an on-campus student at CIAT is eligible for $2,949 per month for housing. A remote student, however, would get just $871 per month through the Post-9/11 GI Bill.
Macasieb said even with a roommate, his rent is over $1,000 per month. Plus, with classes fully remote, expenses like the internet would become a necessity to stay enrolled.
"If I had known this school would go fully online, I would have gone to a different school for this very reason," he said.
Potential Solution for GI Bill Recipients
There has been a renewed effort in Congress to extend this waiver, granting the full housing benefit once more.
U.S. Rep. David Trone of Maryland, introduced the Responsible Education Mitigating Options and Technical Extensions (REMOTE) Act in early October. This bill would extend the waiver's deadline from Dec. 21 to June 1, 2022. It would give veterans another semester of full housing allowance and the chance to potentially transfer schools if their institution has no intention of returning to in-person learning.
The REMOTE Act would extend the waiver's deadline from Dec. 21 to June 1, 2022
The REMOTE Act did not move for nearly two months, but it finally passed in the U.S. House of Representatives on Dec. 8. It would need to pass the U.S. Senate and be signed into law by the president within the next week in order to beat the Dec. 21 deadline.
Without an extension, Macasieb has very little time to make a decision that could have major effects on the future of his education and his living situation.
He said his school has recommended that its veteran students seek concurrent enrollment with a nearby community college in order to capitalize on the full housing allowance. CIAT identified four schools that have confirmed a willingness to support these students. However, Macasieb said he has no desire to add classes from another institution to his course load.
Remote Learning Increased Significantly During Pandemic
Newly released data from the National Center for Education Statistics (NCES) shows just how much online learning expanded due to the pandemic, even by the end of 2020.
Last year, 72.8% of students enrolled in distance education courses nationwide, according to NCES data.
Online instruction differed greatly by the type of institution.
At public institutions, the percentage of students enrolled in exclusively online courses shot up from 13.2% in 2019 to 45.5% in 2020. Private nonprofit schools saw a similar change with a jump from 21.3% to 38.7%.
For-profit private schools already reported the highest rate of exclusively distance learning before the pandemic at 50.7% in 2019. That rose to 54.2% the following year, according to NCES data.