Hope Chicago Announces College Partners for Scholarship Program
The charity aims to provide $1 billion in college scholarships for Chicago Public School students and their parents or guardians over the next decade.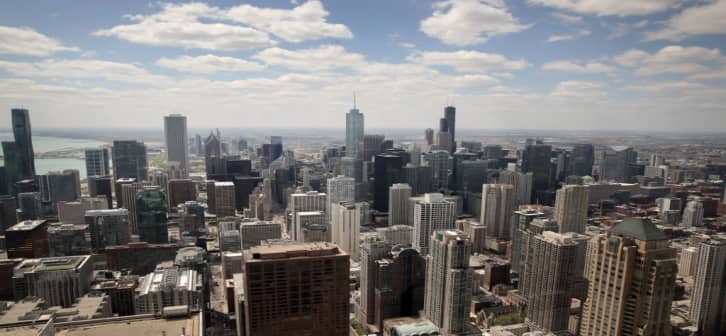 Scott Olson / Staff / Getty Images News / Getty Images
---
A Chicago charity committed to providing scholarships for thousands of Chicago Public School students and their parents has now partnered with 23 Illinois colleges to support its first cohort.
Earlier this year, Hope Chicago made headlines when it announced it would not only provide college scholarship opportunities for the student body at five Chicago public high schools but also for one parent or guardian of each scholarship recipient.
This week, it announced its first higher education partnerships, which include every public four-year college and university in Illinois, as well as all City Colleges of Chicago and four private institutions. Students in its first scholarship cohort — more than 4,000 Chicago Public School students — will be able to apply their scholarship towards tuition at the partner institutions.
Hope Chicago says that it intends to invest $1 billion in scholarships for students and their parents at Chicago Public Schools over the next decade.
"The transition for any scholar into a new postsecondary setting is a critical moment in time," Michele Howard, the chief program officer for Hope Chicago, said in a press release. "That's why we have developed such deep relationships with our partner colleges and universities that ensure a bridge of support ahead of high school graduation for our first cohort of Hope Scholars enrolling this fall."
To be eligible for the program, students must attend both 11th and 12th grade and graduate from one of Hope Chicago's five partner high schools, according to the program's website. Schools currently included in the program are the Benito Juárez Community Academy, Farragut Career Academy, Noble-Johnson College Prep, Al Raby School for Community and Environment, and Morgan Park High School.
The scholarship doesn't just cover tuition: Hope Chicago describes the program as a "gap-closing" scholarship that covers "the full cost of attending college after any grants or scholarships a student receives." In addition to tuition, it includes room and board, fees and surcharges, the cost of books, and a "small annual stipend" for other needs. Hope Scholars will also receive a laptop and will be able to apply for additional funds in case of an emergency.
Jackson, who was previously the chief executive officer of Chicago Public Schools, described a college degree as "the most powerful tool our students can use to maximize their career opportunities."
Hope Chicago's initial 23 partners represent a wide array of higher education institutions from both rural, suburban, and urban areas, including:
Arrupe College
Chicago State University
Eastern Illinois University
Governors State University
Harold Washington College
Harry S. Truman College
Illinois Institute of Technology
Illinois State University
Kennedy-King College
Loyola University Chicago
Malcolm X College
National Louis University
Northeastern Illinois University
Northern Illinois University
Olive-Harvey College
Richard J. Daley College
Southern Illinois University Carbondale
Southern Illinois University Edwardsville
University of Illinois Chicago
University of Illinois Springfield
University of Illinois Urbana-Champaign
Western Illinois University
Wilbur Wright College
Hope Scholars can also attend colleges outside of that network and will be eligible to receive up to $1,000 toward their tuition per semester. The organization hopes to expand the program to more high schools each year, according to the organization's website.