College Planning Timeline
BestColleges.com is an advertising-supported site. Featured or trusted partner programs and all school search, finder, or match results are for schools that compensate us. This compensation does not influence our school rankings, resource guides, or other editorially-independent information published on this site.
Ready to start your journey?
College Planning Timeline
---
High school students should begin planning for college applications as early as they can.
Students should pay attention to test deadlines, financial aid deadlines, and application deadlines.
Colleges look for extracurriculars on applications. Students should choose activities that excite them and demonstrate their leadership skills.
Students who miss application deadlines can explore taking a gap year or enrolling in a community college.
---
Many students begin college planning in high school — choosing schools, taking standardized tests, and writing application essays. This page helps high school students navigate the college application process. Readers can find a downloadable college planning checklist and a college planning timeline describing how to prepare for college.
College Planning Checklist
Frequently Asked Questions
When should you start planning for college?
High school students should begin preparing for college in ninth grade. During their first year of high school, students should consider which classes will meet college admission requirements and determine which extracurricular activities they want to pursue for the benefit of their college application.
When should students start preparing for the ACT and SAT?
Students should prepare for the ACT and/or SAT in 10th grade. Many sophomores take the Preliminary Scholastic Assessment Test (PSAT) in 10th grade, allowing them to gauge which areas they need to improve in to prepare for the SAT.
Is sophomore year too early to visit colleges?
No. Visiting campus early can help students determine if they like a school enough to apply. Students can narrow down their application list and figure out which aspects of each college excite them.
When should you start filling out college applications?
High school students typically fill out college applications in 12th grade. As seniors, high schoolers know how they scored on their standardized tests and have a complete list of their extracurricular activities, awards, and other resume-builders that supplement an application.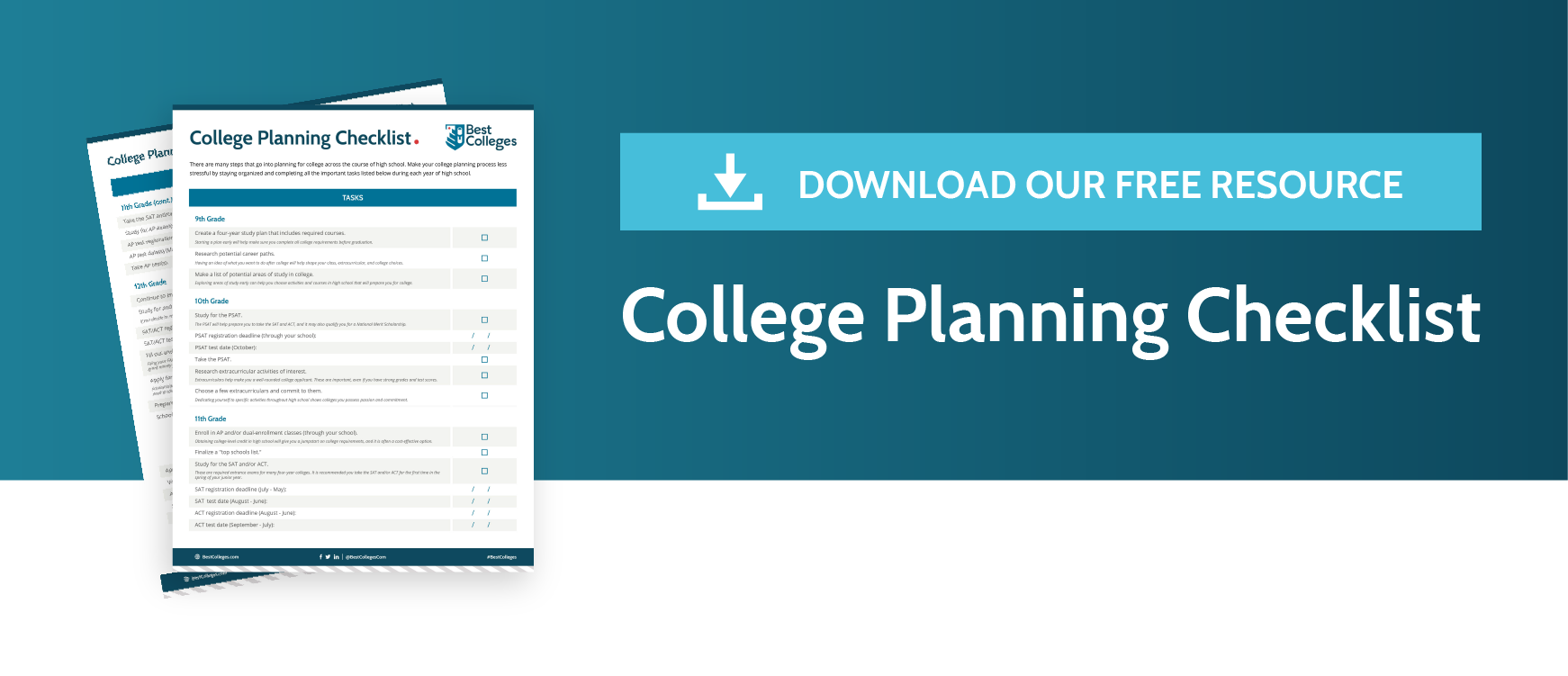 Ninth Grade
As students begin high school, they find themselves inundated with opportunities to learn more about higher education. Although new high schoolers are still four years removed from graduation, ninth grade is a crucial year for college preparation because it is the first year that grades count toward their GPA.
Plan Courses Carefully
College planning in ninth grade focuses on choosing which classes to take to fulfill prerequisites for college. Most colleges and universities maintain the same set of general requirements. Your college planning checklist should include the following courses:
Four years of English
Three years of social studies
Three years of mathematics
Three years of lab science
Two years of a foreign language
Students who begin to fulfill their college course requirements in ninth grade often enjoy a much more relaxed schedule during their junior and senior years of high school. As such, they can pursue other college prep programs and activities in their spare time.
Identify Interests In and Out of Class
Students in ninth grade can also spend time exploring potential colleges and careers. The U.S. Department of Labor operates My Next Move — an occupation navigation tool that allows young people to browse specific careers within different industries. Once students have a few careers in mind, they can begin researching colleges and universities that offer the most reputable programs in subjects related to these professions.
Tenth Grade
Starting in 10th grade, students should begin meeting with their high school guidance counselors to discuss college planning. Counselors can explain each school's requirements and help students consider schools that most closely match their career interests. Counselors also provide valuable information on topics like financial aid, college applications, different types of entrance exams, and other college planning guides.
Take Preliminary Entrance Exams
Most students take the PSAT starting in 10th grade. The PSAT — the official precursor to the SAT — mirrors the SAT by testing students in three core areas: mathematics, reading comprehension, and writing/grammar. The PSAT takes place in mid-October.
Unlike the SAT, the score that students receive on their PSAT exam does not impact their chances of college admission. However, high scores may qualify students for a National Merit Scholarship or other financial aid awards. Students can also use their PSAT score to assess their readiness for the SAT; both tests use essentially the same scoring formula. The material and format of the test is also useful to students who take the ACT instead of the SAT.
Concentrate on Extracurricular Activities
Colleges evaluate each applicant's extracurricular involvement. High school students should begin participating in extracurriculars in 10th grade at the latest. Many students begin their extracurricular activities in ninth grade. Some sports and activities even offer camps for ninth graders before school officially begins.
Most colleges look for extracurriculars that demonstrate leadership, community service, and/or exceptional ability. While sports remain a popular activity, students should feel free to explore other options, such as debate and student government. High schoolers should also consider engaging in ongoing service opportunities to give back to their community.
Students should worry less about the number of activities they participate in and more about the passion they show toward the activities they do choose. Colleges often prefer students who choose an activity and stick with it to the end.
Eleventh Grade
In terms of college preparation, the second half of high school is much more intensive than the first. College-bound high school students must complete many different tasks during their junior and senior years. The more they accomplish during their junior year, the more pressure they can take off themselves as seniors.
Take College Placement Exams
A majority of students will take either the ACT or SAT starting in 11th grade. In the United States, most accredited colleges put equal stock in these two exams, although some schools may prefer one or the other. The SAT attempts to assess a student's critical thinking skills, while the ACT measures the core knowledge each student has accumulated.
Many schools in the U.S. still require students to submit a score from one of these tests to be considered for admission. As such, juniors and seniors should study for and take both exams. They can submit scores from the exam on which they earned the best score.
Additionally, many high school students wait until their junior year to take the PSAT and then complete the ACT and/or SAT during their senior year. The only disadvantage to this approach is that students have less time to retake exams if they are not satisfied with their scores.
Consider Taking College-Level Courses
In addition to the ACT and/or SAT, high school juniors can prepare for college by enrolling in college-level courses. Many students take AP classes, which are offered at most high schools in the United States.
These courses rely on a college-level curriculum and tend to be much more demanding in terms of homework and tests than typical high school classes. At the end of the school year, students have the opportunity to take an AP exam, which tests their knowledge of the material they learned over the previous eight months.
Depending on their AP exam score, students may receive up to five fully transferable college credits that satisfy undergraduate course requirements. Course offerings vary by school, but common AP offerings include:
English literature and composition
U.S. history
Psychology
Calculus
Biology
Chemistry
Physics
Foreign languages
Additionally, many high schools offer dual enrollment — an opportunity for high school juniors and seniors to enroll part time or full time at a local college or university. After graduation, students may choose to continue attending that particular institution or transfer their credits to another school. Learners interested in this option should speak to their guidance counselors for more information.
Students should also look for scholarship opportunities that target dual-enrollment learners.
Start Comparing Colleges and Financial Aid Plans
Juniors should narrow down their list of potential colleges and universities. Learners can further prepare for the future by researching student loans, scholarships, and other financial aid opportunities. Students should compile all materials they need to submit the FAFSA the following winter/spring.
The following websites feature comprehensive financial aid databases, tips for applicants, and other information that is valuable during this process:
CareerOneStop
FinAid!
Scholarships.com
Federal Student Aid
Twelfth Grade
Senior year of high school is a pivotal time in the lives of young people. For college-bound students, 12th grade is particularly busy. There are still many steps for students to complete to prepare for college the following year.
Prepare Application Materials
While some application deadlines are in the spring, students should submit application materials to the top school on their list early. The U.S. Department of Education notes that "a higher percentage of early applicants are accepted" at some colleges and universities.
Each institution requires a different set of application materials, but the most commonly requested items include:
At least one official high school transcript
Official ACT/SAT scores
Secondary school report form from the student's high school counselor
Mid-year report form (may be requested after admission has been granted)
Letters of recommendation from teachers, coaches, youth leaders, or other non-relative adults who have spent time with the student
An application form with the following components:
Personal and basic educational information (such as name, address, Social Security Number, and high schools attended)
Extracurricular activities and student recognitions
Contact information for previous employers and volunteer coordinators
At least one personal essay or written statement of intent
Application fee
For certain colleges or major programs, applicants may be required to submit samples or portfolios
Students should schedule meetings with their guidance counselors if they have questions about how and when to submit college applications. Students should complete volunteer services, community service projects, and internships by the summer prior to their senior year.
Students can submit the FAFSA as early as October 1. Students and parents who submit the FAFSA ahead of the state deadline stand the best chance of receiving a sufficient amount of federal aid. In addition to federal loans, seniors should also apply for scholarships throughout the year.
Compare Your Options and Commit
Once students receive responses from all the schools they applied to, their final decision process can begin. If they have been admitted to more than one school, they should consider variables like institutional financial aid offerings, room and board costs, and geographical distance from home. Most schools do not require accepted students to make their final declaration until the following year.
Students should visit as many campuses as they can to compare campus environments. If possible, speak to other students, professors, faculty members, and financial aid officers. If in-person visits are not possible, students should take time to contact school officials by telephone or email.
What If I Start Preparing for College Late?
Late planners should not panic, but they may need to do more work to meet college application deadlines. The following section explores what students should do if they miss key deadlines or fall behind in college planning.
What if I wait until senior year of high school to prepare for college?
Students who begin college planning in their senior year can <a href="https://www.mycollegeoptions.org/Core/SiteContent/Students/Advice/College-Resource-Center/Getting-in
The president confirmed free community college had been scrapped from his Build Back Better plan and proposed an increase in Pell Grant payments instead. Trade education is on the rise. Colleges should embrace transferrable and stackable credentials so students can transition easily between educational paths. Discover the strategies college students with disabilities can use to determine a career path, search for a job, and navigate barriers to employment.
BestColleges.com is an advertising-supported site. Featured or trusted partner programs and all school search, finder, or match results are for schools that compensate us. This compensation does not influence our school rankings, resource guides, or other editorially-independent information published on this site.
Compare your school options.
View the most relevant school for your interests and compare them by tuition, programs, acceptance rate, and other factors important to find your college home.