Celebrating AAPI Heritage History Month
AAPI Heritage Month celebrates the diverse histories and cultures of Asian American and Pacific Islanders. Learn how you can honor the holiday this May.
Reviewed by
Angelique Geehan
Our Review Network
BestColleges is committed to delivering content that is objective and accurate. We have built a network of industry professionals across healthcare and education to review our content and ensure we are providing the best information to our readers.
With their first-hand industry experience, our reviewers provide an extra step in our editing process. These experts:
Suggest changes to inaccurate or misleading information.
Provide specific, corrective feedback.
Identify critical information that writers may have missed.
Our growing Review Network currently consists of professionals in fields like business, nursing, social work, and other subject-specific industries; professionals in higher education areas such as college counseling and financial aid; and anti-bias reviewers.
Reviewers typically work full time in their industry profession and review content for BestColleges as a side project. Our reviewers are members of the Red Ventures Education Freelance Review Network and are paid for their contributions.
Image Credit: Satoshi-K / iStock / Getty Images Plus / Getty Images
---
Over 1 million college students identify as Asian American and Pacific Islander.
AAPI Heritage Month began in the 1970s with a week-long celebration.
AAPI Heritage Month honors the contributions of AAPI communities to U.S. history.
Join local AAPI Heritage Month celebrations like festivals, exhibits, and restaurant feasts.
---
Every year in May, AAPI Heritage History Month is celebrated across the United States. The Asian American and Pacific Islander (AAPI) community joins together with allies and supporters to honor AAPI cultures and contributions to American history.
About 1.1 million college students identify as AAPI. Celebrating AAPI Heritage History Month on college campuses uplifts the diverse cultures of the AAPI community.
The History of AAPI Heritage Month
In 1978, the U.S. Congress officially began to recognize the AAPI community with Asian/Pacific American Heritage Week. This week-long observance was celebrated for 12 years before becoming AAPI Heritage Month.
The first Japanese person to immigrate to the United States arrived on May 7, 1843. The completion of the transcontinental railroad, worked on primarily by Chinese immigrants, occurred on May 10, 1869. These two major events in Asian American history led to the selection of May as AAPI Heritage Month.
AAPI communities, allies, and supporters now celebrate AAPI Heritage Month every May. Honoring AAPI contributions to American society, celebrating cultural diversity, and teaching the histories of AAPI communities are integral components of the holiday.
Why Is It Important to Recognize AAPI Heritage Month?
AAPI Heritage Month recognizes the contributions, histories, and cultures of AAPI individuals and communities. Acknowledging this month of cultural celebration is important to more than just the AAPI population.
Individuals who do not identify as AAPI can increase their advocacy for AAPI community members during AAPI Heritage Month. Educating yourself on AAPI histories and cultures is an important way to show support and appreciation as an ally.
The anti-Asian hate movement supports the learning and support of AAPI culture and history — just as AAPI Heritage Month works to do. The recent rise in anti-Asian hate crimes reported highlights a collective need to uplift the AAPI community.
How to Celebrate AAPI Heritage Month
Support AAPI restaurants, shops, and entrepreneurs. Buy from local businesses and online retailers within the AAPI community during AAPI Heritage Month and throughout the year. Enjoy the foods of AAPI cultures at local restaurants and spread the word about AAPI businesses that others can support.
Educate yourself on AAPI cultures and histories. Self-education of AAPI heritage can build your awareness and expand your ability to honor AAPI people and communities. Books, documentaries, and museums can provide a wealth of information about AAPI histories to increase your knowledge.
Join local cultural celebrations throughout AAPI Heritage Month. Attend festivals, events, and learning activities in your area that uplift AAPI cultures. Invite friends and family to celebrate and provide support with you. Learn about the culture, traditions, and histories from people within the AAPI community.
Advocate against anti-Asian hate. Recent surges in anti-Asian hate crimes impact AAPI communities nationwide. Discrimination, bias, and hatred cause harm to individuals directly affected and the population at large. Speaking out against anti-Asian hate and supporting initiatives that uplift Asian Americans and Pacific Islanders can help build a positive foundation for AAPI celebrations.
Educational Resources About AAPI History And Culture
Explore more resources for our Asian American and Pacific Islander students
Supporting you at every step of your journey.
Discover Now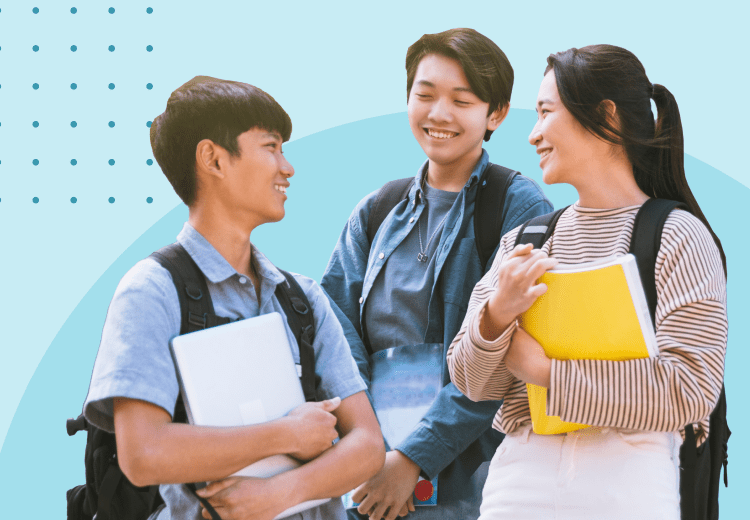 Frequently Asked Questions About AAPI
When was the first AAPI Month?
AAPI Month originated in 1978. It began as a week-long celebration of Asian American history and later expanded to include Pacific Islanders. In 1992, the holiday was extended to a month-long celebration. Today, AAPI Heritage Month honors the diverse histories and cultures of all Asian and Pacific Islander descendants in America.
Why is it important to recognize the differences between cultures and ethnicities?
A diverse mix of cultures and identities make up the American population. The AAPI community includes more than 50 different ethnicities. This creates a collection of diverse backgrounds, histories, and cultures. Understanding the differences between cultures and ethnicities builds an awareness of the complexities that exist within the AAPI population.
Where are Asian Americans and Pacific Islanders from?
Asian Americans and Pacific Islanders are descendants of people from over 50 countries. Asian Americans descend from the continent of Asia, comprising 48 countries and three territories. Pacific Islanders descend from 15 nations and thousands of islands.
Some of the most common countries that Asian Americans and Pacific Islanders come from include China, India, the Philippines, Japan, Korea, Native Hawaii, and Vietnam.