15 Books by Asian American Authors That Teach You About AAPI History
There is so much rich AAPI history to explore in books by Asian American authors. Here are 15 books that can teach you about AAPI cultural experiences.
Advertising Disclosure: Our team independently selected these products. If you purchase a product through one of our links, we may collect compensation. Pricing and availability are accurate at the time of publication.
---
May is Asian Pacific American Heritage Month. With the increasing hostility and violence toward Asian Americans, many are eager to learn and educate others about the experiences of Asian Americans and Pacific Islanders (AAPI) while striving to recognize their historical, cultural, and literary contributions.
BestColleges.com is an advertising-supported site. Featured or trusted partner programs and all school search, finder, or match results are for schools that compensate us. This compensation does not influence our school rankings, resource guides, or other editorially-independent information published on this site.
Ready to Start Your Journey?
Representation of these cultural experiences continues to diversify. So we must take advantage of opportunities to acknowledge the harmful stereotypes embedded within mainstream American culture. And we must work to understand our unique differences.
One important way people, including college students, can expand their thinking is by exploring contemporary works of Asian American authors.
In honor of Asian Pacific American Heritage Month, here are 15 notable books by Asian American authors that all college students should read to expand their awareness and understanding of different experiences.
15 Books by Asian American Authors That Teach You About AAPI History
$ = Under $10 | $$ = $10-$25 | $$$ = $26-$50 | $$$$ = Over $50
By Maxine Hong Kingston
---
It's been over 45 years since the publication of Maxine Hong Kingston's "The Woman Warrior" (1976), a memoir of a young Chinese girl growing up in California living between two languages, two cultures, and two traditions.
Noted by The New York Times as one of the best 50 memoirs in the last 50 years, this work beautifully blends Chinese mythology and autobiography, expressly articulating the changing nature of inhabiting two separate worlds.
A literary pioneer, Kingston paved the way for Asian American immigrant stories to be accepted by mainstream publishing houses, helping to open the door for today's writers to expand our understanding of AAPI history and what it means to be Asian in America.
By Celeste Ng
---
If you love Kingston's "The Woman Warrior," you'll thoroughly enjoy "Everything I Never Told You" (2014), the debut novel of Celeste Ng, a Chinese American, New York Times bestselling author. Though Ng's name may be more familiar to students who've seen the small-screen adaptation of her second novel, "Little Fires Everywhere" (2017), her first work is a must read.
Through its main characters, "Everything I Never Told You" addresses the complexities of being a multiracial Chinese American and of family dysfunction — an often ignored topic in Asian American communities.
The novel opens with lines revealing the drowning of Lydia, the favorite daughter of Marilyn and James Lee. As the secrets of Lydia's life are revealed, the shroud covering her family's deepest, darkest secrets is also lifted.
By George Takei
---
Written by George Takei, an American icon known primarily for his role as Mr. Sulu in the original "Star Trek" TV series, "They Called Us Enemy" (2019) is a graphic novel and memoir that recounts Takei's childhood, exploring what it was like to grow up as a Japanese American living in internment camps during World War II.
The book's vivid illustrations bring Takei's experiences to life and shine a new light on America's dark history. The depiction of a barbed-wired childhood, as well as the economic and social impact of internment, helps readers understand the egregious loss of freedom experienced by many Japanese Americans.
By Erika Lee and Judy Yung
---
Offering compelling insight into Asian American history, Erika Lee and Judy Yung's "Angel Island: Immigrant Gateway to America" (2010) addresses the forgotten past of Angel Island, the "Ellis Island of the West." Nestled in San Francisco Bay, Angel Island served as an immigration station primarily for Asian immigrants to restrict their entry following the 1882 Chinese Exclusion Act.
This work draws fascinating comparisons between Ellis Island, the poetic symbol of the American Dream, and the treatment of Asian Americans on Angel Island who were subjected to harsh scrutiny and hostility due to being perceived as a threat.
By Jhumpa Lahiri
---
"Interpreter of Maladies" (1999) is a collection of short stories by Indian American writer Jhumpa Lahiri. It received the Pulitzer Prize in 2000 and also made Oprah Winfrey's Top 10 Book List.
This work explores the theme of identity — that is, what it means to be Indian in America, and what it means to be an Indian American returning to India. It also addresses the complications that arise when one tries to locate "home" based on elements of their heritage they find sacred. Each protagonist attempts to forge a new identity and make sense of two cultures.
In the titular short story, Mr. Kapasi, a tour guide, narrates the Das family's return to India as they take in the sights connected to their heritage. Mr. Kapasi soon gains the trust of Mrs. Das after he reveals he is also a medical interpreter for several Indian languages. This story, like the others in this collection, highlights the stark differences in cultural experiences — in this case, the lives of two seemingly disparate people trapped in marriage.
By Alexander Chee
---
"Edinburgh" (2001) is the semiautobiographical debut novel by award-winning novelist Alexander Chee. In this engaging book, Chee delves into the the difficult topic of sexual abuse, a topic further complicated by cultural conventions of silence and shame.
The protagonist, a young Korean American teen nicknamed Fee, is molested by his choir director after being promoted to section leader. Unable to speak out — even with his own friends at risk — he remains silent, resulting in the death of someone he cares for dearly. What ensues is Fee's attempts to shape his own identity while dealing with childhood trauma.
This poignant novel provides an alternative view of Asian Americans as something other than a "model minority," demonstrating how harmful stereotypes can cast a lasting shadow on those in need.
By Allen Gee
---
Celebrated as the 2020 Pushcart Prize winner for his essay "Old School," Allen Gee is an expert on the lives of Asian Americans living in the margins. In his collection of essays titled "My Chinese-America" (2015), Gee addresses complex issues that are often shrouded in Asian silence, such as masculinity, immigration, adoption, racial profiling, and the model minority myth.
By thoughtfully exploring what it means to be Asian in modern-day America, Gee gives readers clear insight into the complexities of how some Americans simultaneously bestow racial privilege on Asians while harboring negative stereotypes that promote racial division among minorities.
By Ocean Vuong
---
"On Earth We're Briefly Gorgeous" (2019) is the debut novel of Ocean Vuong, a Vietnamese American poet and 2014 MacArthur Foundation Fellow. This coming-of-age story opens as a letter that the main character, Little Dog, pens to his mother, Rose. Though knowing she'll never read it, Little Dog writes anyway, inviting his mother to tumble through time with him.
This private-letter-made-public recounts Little Dog's life growing up as the son of a Vietnamese refugee in New England, and the complexities of their tenuous mother-son relationship. The novel lyrically slips in and out of memories that tackle issues such as abuse, culture clash, drug addiction, PTSD, and sexuality.
With these fragmented stories, Vuong invites readers to explore an often untold side of the Vietnamese American experience.
By Kevin Kwan
---
Written by Singaporean American Kevin Kwan, The New York Times bestseller "Crazy Rich Asians" (2013) was so popular that it was adapted into a 2018 movie and quickly emerged as a renowned blockbuster. The romantic comedy is the first novel in a trilogy, followed by "China Rich Girlfriend" (2015) and "Rich People Problems" (2017).
The novel explores the life of Rachel Chu, a Chinese American woman who travels across the globe to Singapore, the homeland of her boyfriend, Nicholas Young. There, she encounters obstacles many second-generation Asian Americans face, such as not being considered Asian enough.
Through humor, Kwan's characters contend with issues like wealth, parental expectations, masculinity, and filial piety. Within the book's lush landscape, Kwan also highlights the beautiful blending of Southeast Asian cultures that makes this island-country so unique.
Explore more resources for our Asian American and Pacific Islander students
Supporting you at every step of your journey.
Discover Now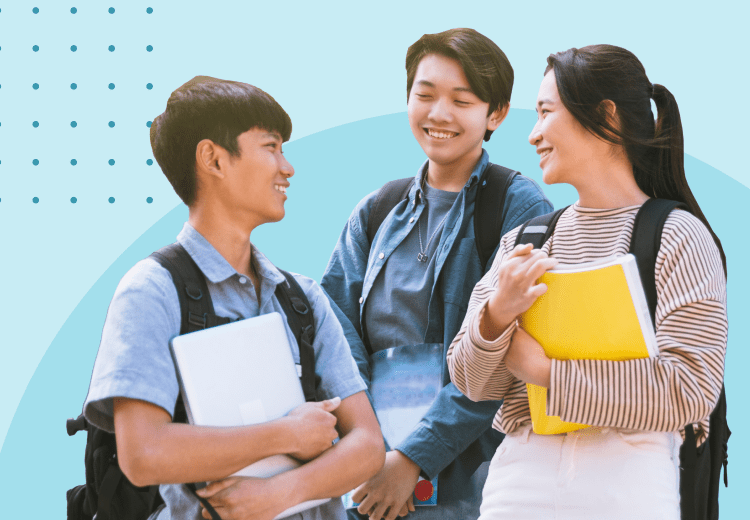 By Chitra Banerjee Divakaruni
---
"Arranged Marriage" (1995) by Chitra Banerjee Divakaruni is her first collection of short stories. It earned the American Book Award. The work chronicles the life of young girls and women of South Asian descent and their immigration journey to America. They are impacted by their experiences crossing the ocean and the various life circumstances they encounter.
This collection mirrors the real internal struggle many immigrants face.
It specifically highlights the complications that occur when the characters' "perfect" marriages fall apart or end, causing each woman to forge a new identity for herself.
By Jean Kwok
---
"Searching for Sylvie Lee" (2019) is the third novel by New York Times bestselling writer Jean Kwok. In this mystery, Kwok subtly delves into the difficult topic of favoritism in Asian culture and addresses the taboo subjects of mental health, family secrets, and being "enough."
The protagonist, Amy Lee, searches the Netherlands for her successful, favored older sister who has vanished while abroad visiting her dying grandmother.
What follows is Amy's attempt to piece together what she now sees as her sister's not-so-perfect life and family secrets that were swept under the rug. This dispels — for readers — the stereotype of Asians as the "model minority."
By Jeff Yang, Phil Yu, and Philip Wang
---
Reaching The New York Times Best Seller list the first week it debuted, "Rise: A Pop History of Asian America from the Nineties to Now" (2022) is a fresh new look into Asian American history. This essential collection contains infographics, articles, graphic essays and illustrations.
This work offers an eye-opening journey through pop culture as readers explore how this country began embracing Asian Americana — like sushi, boba, anime, and BTS — while simultaneously discussing sociopolitical and cultural shifts that have occurred in the last 30 years.
By Michelle Zauner
---
A memoir by indie rock artist Michelle Zauner, "Crying in H Mart" (2021) is a heartfelt exploration of her life as she comes to terms with her mother's terminal cancer diagnosis. She talks about her multiracial heritage and how she attempts to reconnect to her Korean identity through food, stories, and family history.
This touching work is about finding yourself while dealing with immense grief. Zauner recalls the different ways growing up that she attempted to gain her mother's approval. She also explores how many first-generation Asian Americans connect to their heritage — through food culture.
By Nidhi Chanani
---
"Pashmina" (2017) is a graphic novel written by Nidhi Chanani — an Indian American freelance illustrator, cartoonist, and artist. It follows teenage protagonist Priyanka Das as she uncovers her family's history.
On her journey, she yearns to learn why her mother moved to America and left her father back in India. But this is met with silence from her mother.
The work's striking illustrations bring the magic of the pashmina to life as Pri attempts to bring light to the shadows of her family's history. Many can easily relate to the journey of self-discovery while being caught between two cultures and two worlds.
By Eddie Huang
---
If the book title "Fresh Off the Boat" (2013) rings a bell, you would not be wrong. In 2015, ABC began a six-season run of a sitcom inspired by Eddie Huang's New York Times bestselling book. This memoir recounts Huang's life growing up as a Tawianese American in a household where he is viewed as less than a model Asian.
The lighthearted memoir takes you through the trials and tribulations of being an immigrant youth trying to fit into mainstream culture. Huang ultimately finds a place to anchor his identity.
Feature Image: Oscar Wong / Moment / Getty Images