5 Afro-Latino/as Who Had an Impact on Black History
Blackness and Latinidad are not exclusive. Take a closer look at how Afro-Latino/as have changed the course of Black history.
Image Credit: FG Trade / E+ / Getty Images
Though many believe Black culture and Latino/a culture are truly separate, there are many intersections of Blackness and Latinidad. In fact, the impact that Afro-Latino/as have on both Black and Latino/a history is inexhaustible.
Not only have they made great contributions to history, but they have also adopted fundamental roles within both Black and Latino/a cultures.
Despite needing more visibility and validity as a community, the legacy of Afro-Latino/as is lively, prevalent, and much more familiar than the public may perceive.
What Does Afro-Latino Mean?
Afro-Latino/as infuse the traditional indigenous practices of their region with the customs of their African ancestors. Their cultures have penetrated mainstream Latinidad in every aspect. Some of the most influential music, art, and other significant cultural contributions exist because of Afro-Latino/as.
Concurrently, the population of Afro-Latino/as is not insignificant. Their largest populations are Brazil and Venezuela, with 97 million and 14.5 million, respectively. Following closely behind are the Dominican Republic, Colombia, and Cuba.
Afro-Latino/a culture actively contributes to the mainstream. However, there is a perception that Latin people cannot be Black based on the present Latino/a representation, who usually have lighter skin tones, in the media.
Racism is also rampant in the Latino/a community. The phrase "mejorar la raza" — which translates to "better [or whiten] the race" — is a prime example of this fact.
Afro-Latino/as can face invalidation of their Black and Latino backgrounds, forced to pick one instead of embracing both identities.
5 Afro-Latino/as to Know in Black History
Though their identity isn't given much visibility, Afro-Latino/as have been crucial figures in Black history.
Here are five Afro-Latino/as who should be honored for their contributions to society.
Victoria Santa Cruz
Image Credit: "Victoria Santa Cruz" Radical Women: Latin American Art, 1960-1985 Digital Archive / Los Angeles: Hammer Museum, 2019
A choreographer and all-around artist, Victoria Santa Cruz is the mother of Afro-Peruvian dance. Born in 1922 to a family that encouraged creativity and expression, she founded the first Black theater company in Peru — Cumanana. She co-directed the company with her brother until 1961.
She also produced a play called "Malato," which depicted the relationship between enslaved people and their oppressors. The play was met with extreme controversy.
In 1978, she choreographed, composed, and recorded her most notable work — "Me Gritaron Negra." The poem is about the othering of Afro-Peruvians and conquering the hatred they experience because of their social status. Santa Cruz was celebrated until she died in 2014.
José Celso Barbosa
Image Credit: BlackPast.org
José Celso Barbosawas a Puerto Rican physician and scientist. He moved to the U.S., applying to the College of Physicians and Surgeons (now Columbia University's medical school) to become a doctor. However, he was denied admission because he was Black. So he attended the University of Michigan instead.
After receiving his medical degree, he returned to Puerto Rico to practice medicine for poor Black and Indigenous people, gaining their trust and admiration. He was also a political leader and force for change. His ultimate goal was statehood and independence for Puerto Rico and its people.
Barbosa served as the only Black member of the Executive Cabinet from 1900-1917. He left to become a member of the Puerto Rican Senate, serving until his death in 1921.
Celia Cruz
Image Credit: Frans Schellekens / Contributor / Redferns / Getty Images
Born in Havana, Cuba, Úrsula Hilaria Celia Caridad Cruz Alfonso — also known as Celia Cruz — is widely deemed the Queen of Salsa. Though she originally intended to teach literature, she left this career path to become a singer.
Cruz established herself as the frontwoman of La Sonora Matancera and eventually left Cuba with the group to tour Mexico and eventually moved to New York in 1961. Though it took time for Cruz to gain popularity, she eventually did after taking on salsa, known for its use of Afro-Caribbean sounds, as her signature.
Cruz was a role model and inspiration for Afro-Latino/as in the U.S. during the 1960s till her death in 2003. Her contributions to music solidified the importance and highlighted the influences of the African Diaspora on popular music.
Miriam Jiménez Román
Image Credit: Melissa M. Valle / AfroLatin@ Forum
Miriam Jiménez Román built her career bringing attention to Afro-Latinidad culture and experiences. Born in 1951 in Aguadilla, Puerto Rico, Roman and her family soon immigrated to East Harlem, New York, in 1952. She completed her B.A. and Ph.D. in sociology before relocating back to Puerto Rico in the late 1970s.
There, Roman noticed the anti-Blackness in her community and set out to spread awareness and build collaborative relationships with Afro-Latino/a and Black American communities. Alongside her organizing, she co-edited "The Afro-Latin@ Reader," a book analyzing the social divisions between Blackness and Latinidad and affirming the Afro-Latino/a experience.
Roman turned the book's namesake into a movement, founding the Afro-Latin@ Forum, an organization that advocates for the visibility of Latin American and Caribbean Afro-descendants.
She died in 2020 as an incomparable scholar, author, journalist, and activist.
Lorena Borjas
Image Credit: TransLatin@ Coalition
Transgender activist Lorena Borjas was born in Veracruz, Mexico, in 1960. After running away to Mexico City at 17, she fled to the U.S., hoping to receive hormonal therapy. Borjas settled in Queens, New York, and soon after established herself as a guiding figure for other trans people who needed resources.
Borjas provided essential services at the risk of her safety. She even turned her home into a weekly HIV testing clinic for those who needed it. Her advocacy for her community turned into the Lorena Borjas Community Fund, an organization fighting the same cycles of injustice that she did for decades.
Though Borjas died in 2020 due to COVID-19 complications, she continues to be known as the mother of the trans Latino/a community.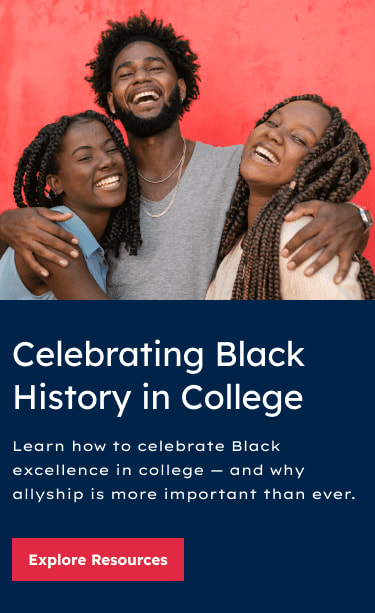 Final Thoughts
Being Black and Latino/a both come with their own triumphs and complications. But when the identities combine, the intersection gives birth to a complex and vibrant experience.
Students with both Black and Latino/a heritages have access to a rich history and resources that honor their experiences and background. As students learn more about the depth of Black history, they will find that it is much more of an intersectional experience than people perceive.