Online Learning Trends: The 2019 OLC Accelerate Conference
Online education is constantly evolving. The Online Learning Consortium (OLC) is an organization that helps education leaders and e-learning professionals advance online education through quality measurement, research, and peer collaboration. Each year, the organization hosts the OLC Accelerate Conference, where members connect and share insights in real time.
Education expert and instructional designer Melissa A. Venable, Ph.D., attended and presented at OLC Accelerate 2019 back in November. Melissa spoke to BestColleges about key conference takeaways and current online learning trends.
BestColleges.com is an advertising-supported site. Featured or trusted partner programs and all school search, finder, or match results are for schools that compensate us. This compensation does not influence our school rankings, resource guides, or other editorially-independent information published on this site.
Ready to Start Your Journey?
Melissa also authors BestColleges' annual Online Education Trends Report. The newest volume, which expands on the trends discussed below, will be published this spring.
Interview With Melissa Venable
Online Education Advisor
Melissa A. Venable, Ph.D.
Melissa A. Venable, Ph.D., is an online education advisor for BestColleges. In this role, she leads and writes the annual Online Education Trends Report. Melissa is an adjunct faculty member and course designer at Saint Leo University and the University of South Florida; she is also a certified career coach with a background in career development services. Melissa earned her doctorate in instructional technology at the University of South Florida with research interests in distance education and support services for online students.
What is the Online Learning Consortium (OLC) Accelerate Conference?
I would call it the premier conference in online education. It's one of the largest online learning conferences — this year with about 1,600 participants on site and another 1,000 virtually. There is a mix of attendees: instructional designers, faculty members, and administrators. There are also attendees from e-learning and technology companies.
The conference is all about how to teach and learn online. If you're going to one conference a year in education technology or online learning, this is the one.
How was OLC Accelerate 2019 different from prior years?
With this conference and others I've attended, this has been a pivotal year in education events. These events are usually academic, but more business topics are being discussed now by a broader range of people. I'm hearing people like instructional designers talk more about branding and marketing. That used to be a real no-no, but that's really changing. Marketing is now part of the conversation.
You're an instructional designer. What instructional design trends are you seeing?
There's a shift going on. In the past, instructional designers have been in service to faculty members and academic departments. Now, instructional designers are in partnership with faculty.
As an instructional designer, you used to be assigned to a project — "here are your tasks; get these done." Now, instructional designers are helping shape what the project will be. We're sitting at the table as part of the process and a partner in building quality, online education opportunities.
Instructional design and instructional technology is a young field, but we're seeing more schools invest in their own instructional design groups now.
What other online learning trends did you see at the conference?
One of the buzzwords this year is "predictive analysis" — in other words, collecting and assessing the data that's being drawn from online learning management systems so that there can potentially be flags that go up before a student gets behind or fails a test. Predictive analysis has been part of the conversation for years, but this year it seems to be something the industry is pacing toward faster.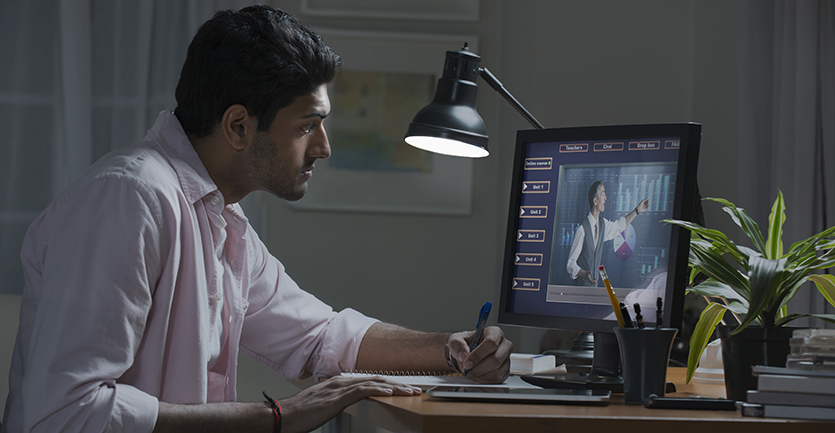 How can students benefit from predictive analysis in online education?
Interventions can happen to keep students on track. One of the quotes I took down was "learners are owning their own experience." Students are able to not only have the learning experience tailored to them, but they have choices — choices in the type of assignments to meet an objective or demonstrate their competency, choices in how they combine online and face-to-face components in a course or program. It also lets instructors know — right there on the front lines — which students they need to nudge.
What about trends in education technology?
If you gaze through the presentation titles, you see a lot of things like, "How to have more engaging asynchronous discussions." Choosing the right iInstructional strategies to meet the right learning objectives — that's the continuous challenge for online educators. As the tools and technologies change, we're challenged to find out if new tools are actually going to help instructors do what they need to do better.
There is also more of an understanding that technology is here and it can help us, if we want it to. It's less of a trend and more becoming a core part of what we do. Technology is becoming a part of all courses and all classes in all of higher education — not just online programs.
In your opinion, which trends in tools and technology will benefit students the most?
Tools that are integrated. So, if students are already using tools like Skype, Zoom, or GoogleDocs — those tools will be integrated into coursework and learning management systems. These systems are becoming more intuitive and don't require tutorials.
What was your favorite presentation at OLC Accelerate 2019?
The speaker at the last general session was a futurist. He's the third futurist I've seen in keynotes this year. Some futurists spin a really unpleasant look of the future — democracy is failing, robots are taking over our jobs, etc. But this man had some interesting things to say about the future of work and how it's not necessarily that robots are taking over, but that the future will change the context of our jobs and how we view work. He gave a broader look at how education and work are linked.
The role of education is preparing students for the future world of work, which will be a combination of expertise, creativity, imagination, and developing relationships.
About OLC Accelerate
OLC Accelerate is an event for OLC members, education leaders, and e-learning peers to learn from each other and accelerate innovation in education. The annual event agenda includes a curated list of keynote speakers, research insights, workshops, and thought-provoking talks. OLC Accelerate 2020 will take place Nov. 17-20, 2020, in Orlando, Florida. For more information about the event or membership levels, visit the OLC website.