International Students' Guide to Studying in California
More international students choose to study in California than any other state. Learn about student visas, costs, and how to choose a college.
Feature Image: martin-dm / E+ / Getty Images
The U.S. is one of the most popular destinations for international students, with almost 1 million enrolled in a U.S. institution or working in OPT in 2021. Students choose to study in the U.S. for many reasons, including its top-ranked universities, international-friendly programs, and internship opportunities.
In 2021, over 130,000 international students attended California colleges. In addition to some of the sunniest weather in the nation, California also boasts a diverse culture, many of the top research universities in the U.S., beautiful national parks, and hundreds of beaches along its 840-mile coastline.
BestColleges.com is an advertising-supported site. Featured or trusted partner programs and all school search, finder, or match results are for schools that compensate us. This compensation does not influence our school rankings, resource guides, or other editorially-independent information published on this site.
Ready to Start Your Journey?
However, this beauty and academic excellence often have a high price tag. According to the National Center for Education Statistics (NCES), full-time nonresident students attending four-year schools in California pay about 10% more than the national average for tuition, fees, room, and board.
Use this guide to help you determine if California is the right destination for your academic goals and learn about California colleges' admission and application requirements.
Why Study in California?
During the 2021-2022 academic year, more than 130,000 international students attended colleges in California, making it the number one state in the U.S. for hosting international students. Historically, California routinely carries the top spot, followed by New York, Texas, Massachusetts, and Illinois.
California's popularity among international students is due, in part, to its diverse culture, making it a relatively welcoming state for those from other nations. In addition to exploring the various events, food, and art other cultures offer, students can also ward off homesickness by finding activities and groups sponsored by people from their country.
California also boasts several of the nation's top universities, including Stanford University; the University of California, Los Angeles; the University of California, Berkeley; and the California Institute of Technology. Students come from all over the world to attend these prestigious universities.
In 2019, California was home to three of the top 10 universities that hosted the most international students. The University of Southern California was one of these, enrolling more than 17,300 international students. If studying in California is worth it, consider the pros and cons and learn about the potential benefits of studying in California.
Studying in California: Pros and Cons
Pros
Cultural Diversity: By many metrics, California is the most culturally diverse state in the U.S.
Academic Opportunities: The state offers several of the top universities in the nation, including several with world-renowned STEM programs.
Economic Opportunities: California boasts the largest economy of any state. It would have the fifth-largest gross domestic product globally if it were a country.
Outdoor Recreation: California offers many activities, from surfing top-rated beaches to hiking Yosemite's famous trails.
Cons
High Tuition Costs: The tuition and required fees for out-of-state students at California's public four-year schools rank as the sixth highest in the U.S.
High Cost of Living: Although some areas are relatively affordable, California's average cost of living is about 50% higher than the national average.
Large population: California is the most populous state in the nation, and many of its metropolitan areas are congested and crowded. For example, about 4 million people live in Los Angeles — a popular city for international students.
Transportation: California typically has the highest gas prices in the nation, and many areas with ineffective public transportation systems.
How Much Does It Cost to Study in California?
Some of California's top private research universities have hefty tuition fees. For example, Stanford's tuition rate for the 2021-22 school year was about $55,000.
The average tuition and fees at California's public universities in 2020-21 were more than $34,000 for out-of-state students, according to NCES, and the average tuition at private California colleges was more than $38,000. The average tuition and fees in the U.S. for the 2020-21 school year were about $27,000 for public universities and roughly $33,000 for private institutions.
More specifically, in 2021, attending one of the nine campuses in California's UC system cost nonresidents $43,900 in tuition and fees. Additional costs to consider when studying in California include room and board, books and supplies, health insurance, and personal transportation. In total, the UC system estimates these additional costs add up to about $27,300 for those living on campus and $23,600 for students living off campus.
Although California ranks third in the nation for the highest cost of living, the state is also the third largest in the U.S. and offers colleges in numerous cities with varying living costs.
How Do I Choose a College in California?
As of 2021, California's higher education system featured more than 450 colleges and universities. That represents a lot of choices. Choosing schools with regional accreditation assures high academic standards and can help narrow your options. Then, consider the following steps to help you choose the right university for studying abroad.
Identify Your Interests
International students often travel quite a distance to attend school in California. You should make sure the journey is worth the effort by attending a school that aligns with your interests and passions. Once you've narrowed your focus, create a list of schools offering programs that fulfill your interests.
Research Your Options
While conducting research, consider variables like a school's enrollment, retention, and graduation rate to help determine student success rates.
Once you've begun to narrow down your list, start researching schools via their websites or by using college rankings. Look at each program thoroughly, including its professors, courses, and degree requirements. Some programs offer specializations, while others may require internships. These differences can play a significant role in finding the school and program that best aligns with your academic and career goals.
Determine Location
There are vast differences in California's many cities and towns. For example, Los Angeles represents the mega entertainment industry, while San Jose and Palo Alto find themselves in the high-tech mecca known as Silicon Valley. Other colleges find homes in small college towns like the northern city of Arcata or centrally located San Luis Obispo.
International students should consider the size of potential colleges and cities to find an environment that appeals to them.
Evaluate Your Eligibility
International student requirements vary by school. These include minimum GPA requirements, previous academic coursework, and other admission requirements specific to your home country. International applicants may also be asked to demonstrate English-language proficiency by taking an exam, such as the TOEFL or IELTS. Make sure to determine your eligibility before applying.
Consider Cost
While international students in California cannot apply for federal financial aid from the U.S. government, some private and corporate scholarship funds serve these students.
Living expenses can also mount up. The College Board estimated that the average room and board in the U.S. at a four-year college or university was $11,620-$13,120 during the 2020-21 school year. However, the UC system estimates that its students pay $15,000 or $18,700, depending on whether they live on or off campus.
Review Support Services
Make sure to review student support services, which can play a critical role in a student's success. A few examples include:
Student Mentoring: These services match future international students with current students.
International Student Orientation: International students may be picked up at the airport, receive tours of the area and campus, and attend ongoing lectures and talks on campus.
Academic and Career Advisement: Students work with advisors who offer educational and career advice.
How Do I Apply to College in California?
While the undergraduate application process varies by college, students typically start by filling out the school's application form. Applicants usually need to submit official academic records from each school they attended since ninth grade. Because it can take time for colleges to receive documents, making photocopies is a good idea. Schools may use these unofficial records to determine eligibility while requiring official records before awarding final admittance.
Students who sat for international exams, such as the IGCSE, must also report the scores they received. Additional documents may include 2-3 letters of recommendation and a college application essay. Most schools also require applicants to submit SAT or ACT scores. These college entrance exams are offered internationally.
Many colleges also accept applications through the Common App — an online application portal that enables international students to apply to multiple schools simultaneously.
How to Obtain a Student Visa to Study in California
International students in California need a valid nonimmigrant visa status. The F-1 visa is the most common international student visa. To apply, students must have the I-20 certificate of eligibility from the school they will be attending.
They present this along with documents demonstrating sufficient financial resources, a letter of admission, the DS-160 nonimmigrant visa application form, and a valid passport to the nearest U.S. Embassy or Consulate. Most visa applicants also need to schedule an interview.
When entering the U.S., students must present their visa, passport, and form I-20 at the port of entry. International students with an F-1 visa must depart the U.S. within 60 days of the end of their program. The F-1 status also allows for on-campus, part-time employment and practical training.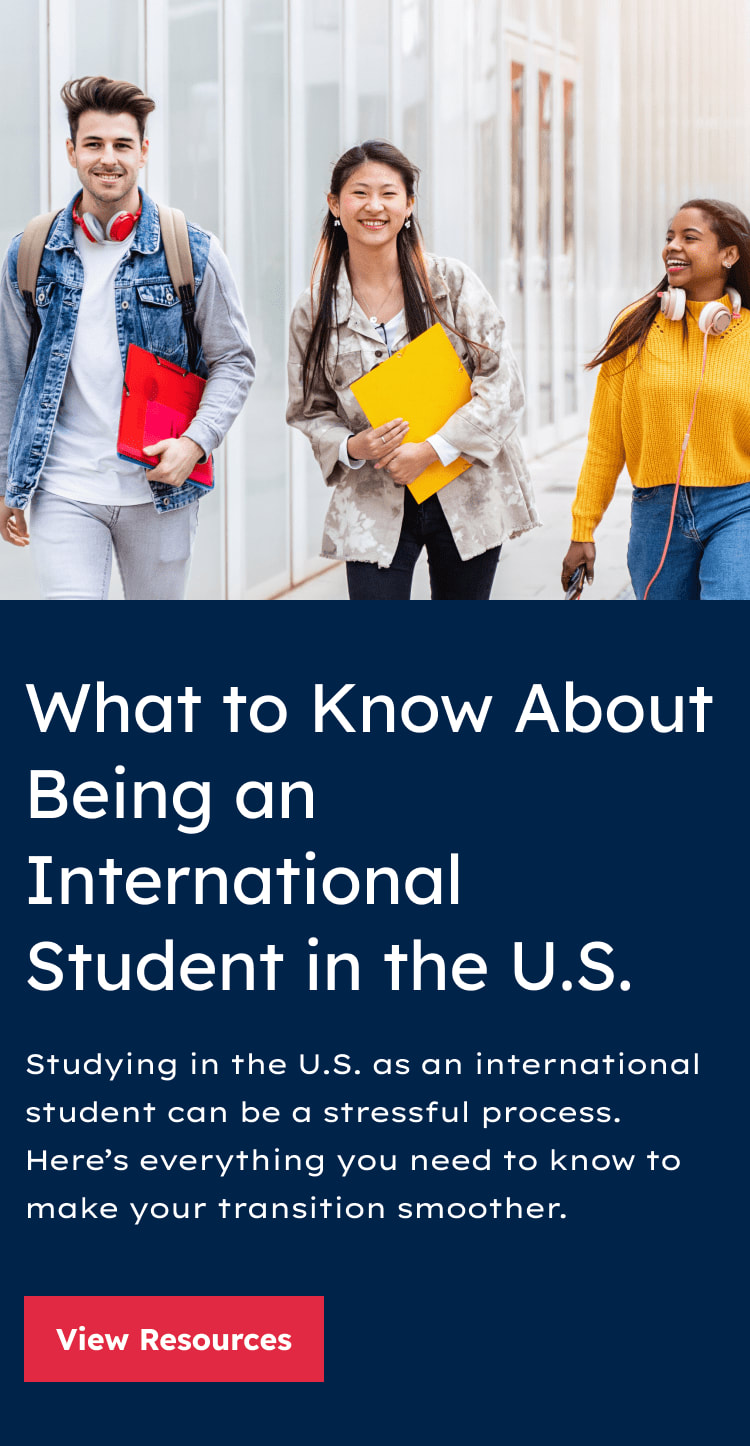 Frequently Asked Questions About International Students Studying in California
Is California good for international students?
There's a reason why more international students choose to study in California than any other state. Some of the top research universities in the U.S. call California their home. In addition to world-renowned science and engineering programs, students can also find top-rated cinematic arts and music schools.
California also offers diverse cultural opportunities, allowing students to experience events, food, languages, and people from around the world. In addition, the varied landscape enables learners to explore nine national parks, breathtaking coastlines, and activities like skiing, surfing, scuba diving, and rock climbing.
Is California expensive for international students?
California's tuition and fees for nonresident undergraduates are about 10% higher than the national average, with average tuition rates ranging from roughly $32,000-$37,000 during the 2019-20 school year, depending on the institution type. However, California is a big state — the total cost of college can vary significantly depending on the region.
For example, PayScale reports that the cost of living in Los Angeles is 43% higher than the national average, and much of this increased cost of living is due to high housing costs. On the other hand, the cost of living in Fresno is only 6% higher than the national average.
What are the best colleges for international students in California?
The best colleges for international students in California depend on their interests. Because of the state's size and large population, students can find just about any academic program in California, with some schools excelling in STEM and others known for their liberal arts options.
One of the most popular colleges for international students is the University of Southern California. International students make up more than a quarter of the student population at USC — about 12,500 international learners — and hail from about 135 countries. Additionally, the University of California, San Diego enrolled almost 9,000 international students in 2019, who made up almost 25% of the school's students.
What are the cheapest universities in California for international students?
Some of the cheapest universities for international students in California include San Diego State University, Sonoma State University, and Humboldt State University. Yearly undergraduate tuition and fees at these colleges range from roughly $17,500-$20,000.
However, with additional expenses added, such as housing and food, books, supplies, transportation, and health insurance, the total estimated cost of attending school can be more than two times the listed tuition rate.
How do I get a student visa for California?
The F-1 visa is the most common student visa issued to full-time students in California. First, international students must apply and get accepted to a university. Most schools recommend starting the application process at least six months before your first term is scheduled to start. Once accepted, the school sends students an I-20 certificate of eligibility form.
Students must also complete the DS-160 online nonimmigrant visa application form. Additional documents include proof of sufficient financial funds for tuition and cost of living and a demonstration of strong ties to their home country. Students then take these documents to the closest U.S. Embassy or Consulate in their country.