11 Courses You Can Take in College That Discuss Women's History
Women's history classes explore the leaders, laborers, and thinkers that have shaped our past. Learn more about the most exciting college courses in women's history.
Image Credit: Juliya Shapoval / EyeEm / Getty Images
From Egypt's first woman pharaoh to today's female presidents and prime ministers, women have played a major role in history. And women's history classes look at more than the most famous women in history. They also look at female scientists, women laborers, and accused witches.
College classes on women's history, women's studies, and gender studies challenge our understanding of history. They also shine a light on women writers, thinkers, and change-makers often left out of the narrative.
Dr. Erin Kenny, an associate professor and head of the gender studies program at Missouri State University says gender studies programs today aim to be more nuanced, inclusive, and social justice-oriented.
"Our current cultural climate has allowed us to think more clearly and critically about biases inherent to cultural standards of heteronormativity and binary thinking," Dr. Kenny said. "Exploring these categories, with a careful eye on the changing elements within the social construction of power, is perhaps the future of women and gender studies."
Here are eleven courses you can take in college that cover women's history.
1. U.S. Women's History
Women have shaped American history from the colonial era to today. Courses on U.S. women's history offer a survey of women in America, the role of gender in American politics, and the experiences of women from different classes and races.
Most colleges offer U.S. women's history courses, with some dividing these lower-division courses into early American history and history since 1865. Some may also offer specialized courses like 19th century women's history or 20th century women's history.
Examples of U.S. women's history courses include:
2. Women Making History: Ten Objects, Many Stories
Taught by Harvard scholars Laurel Ulrich and Jane Kamensky, this women's history course shows how ordinary women have contributed to recent history. Learners examine iconic objects from Harvard's Schlesinger Library. By taking an object-based approach, the class provides a unique overview of women in the 20th century. Topics include the role of new technologies, the fight for women's rights, and women taking on more public roles.
Students can enroll in the course through edX, choosing either a free option or a $139 verified track to receive a certificate upon completing the self-paced course.
3. African American Women's History
Women of color often fail to appear in the pages of history textbooks. Many college-level women's history courses aim to correct that imbalance by focusing on the history of Black women in the U.S.
For example, Northwestern University offers a course on African American women's history. The course examines the role of Black women in the abolitionist movement, labor movements, and the fight for civil rights. By examining letters, poetry, music, and speeches, the course asks how Black women constructed identities and shaped public life.
Students can also seek out classes in African women's history, Indigenous women's history, and Asian American women's history.
William Peace University offers a course on the psychology of the Black experience. Clinical psychologist and women's studies professor of over a decade, Dr. Kayce Meginnis-Payne started teaching this course a couple of years ago.
"Although the primary lens that we use in that course is race and ethnicity, we still look at how the culture's response to identity, and in some cases the intersection of racial and gender identity, creates unique experiences for individuals and groups," Meginnis-Payne said.
4. Medieval Women Writers
Women contributed to history in many ways, including as artists, musicians, and writers. MIT's course on medieval women writers looks at the nuns, royals, and professional writers of the medieval era. Topics include the religious and cultural movements that shaped new literary traditions, well-known figures like Joan of Arc, and the social context for medieval women writers.
Many colleges offer courses on women writers and women in literature. Other options include courses on women writers of China, African women writers, and Latin American women writers.
5. Women Have Always Worked
We often think of working women as a relatively new phenomenon. Columbia's course challenges that idea. The class draws on primary sources to examine how women participated in the American economy — and their exclusion from the workplace. Learners explore women's experience working in the home as well as outside the home.
In addition to looking at labor history, the class asks how race and class have shaped women's experience with work. Students can sign up for the class through edX. Other colleges also offer courses on women's labor history.
"Women and gender studies courses are critical at the university level to give students a sense of what they can do to optimize their work and family experiences across their own lives," Meginnis-Payne said.
6. History of Women in Science and Engineering
Courses on the history of science, medicine, technology, and engineering are popular with college students. And undergrads can study the history of science while also learning about women's history by taking classes like MIT's course on the history of women in science and engineering.
The class looks at the scientific contributions of women in diverse disciplines. While exploring technological advancements, learners also investigate the role of gender in scientific inquiry. In addition to courses on women in science, students can also look for college classes on the history of women in medicine or gender and science.
7. Witch Trials
Across Europe, women made up 80% of those on trial for witchcraft in the early modern period. Why were women associated with magical harm, and how did the trials affect communities? Many colleges offer courses on witch trials, including specialized classes on the Salem witch trials. These courses examine the social dynamics of witchcraft accusations, the role of gender in magic systems, and the impact of the trials on accused women.
Examples of witchcraft and witch trial courses include:
8. Feminism and Social Justice
What is feminism? What roles does feminism play in women's studies? And how has feminism shaped women's history? Courses on feminism look at the social movements and theories that arose out of the feminist movement.
University of California, Santa Cruz offers a course on feminism and social justice that looks at key moments like a 1950s labor strike that involved women, the trial of activist Angela Davis in the 1970s, and the #MeToo movement. Learners can enroll in the course through Coursera. Students can also take courses about the history of feminism, feminist theory, and gender and intersectionalism.
9. Gender Studies
Gender studies looks at the intersection of gender with other identity markers such as sexuality, ethnicity, and race. Misssouri State University offers a course on sex, gender, and the self that explores power inequities in terms of race, age, beauty, sexuality, violence, and health.
"The course examines contemporary gendered experiences," says Dr. Kenny, "specifically, the nature of power and patriarchy and the social construction of bodies and identities as sites of human potential rather than as fixed 'givens.'"
Other courses cover the economics of gender, sociology of gender, and gender in a global community.
10. Women and War in the 20th Century
War shaped 20th century history — and women played a major role in these wars. Women fought in 20th-century wars, led resistance movements, endured hardships, and rebuilt after wars ended.
MIT offers a course on women and war in the 20th century. The course examines women's experiences during war and in the period following a war. It also looks at women in 20th-century revolutions and genocides. The class primarily focuses on Europe, North America, and the Middle East. Other courses that touch on the topic include women, war, and nation and gender and war.
11. Introduction to the World's Goddesses
Are you curious about mythology and goddesses? The University of Hawaii at Manoa offers a course called Introduction to the World's Goddesses. The class analyzes the iconography and beliefs surrounding female deities around the world. Topics include goddesses in Polynesia, the Americas, Asia, Africa, and the Middle East from the ancient era through 1500.
Students interested in women and religion can also explore other options, like classes on women's spirituality, women in mythology, and the role of gender and sexuality in religious history. For example, learners can check out classes on women and religion and women in classical mythology.
Women's History Courses Are For Everyone
Courses centered around women's history are for everyone.
"Gender equality benefits folks who identify as male and folks who are non-binary. Fundamentally, gender justice benefits families and communities, and the workplace — so it's for all of us," Meginnis-Payne said. "Only once we understand how certain folks have maintained privilege while others have been denied those privileges can we become a part of the solution."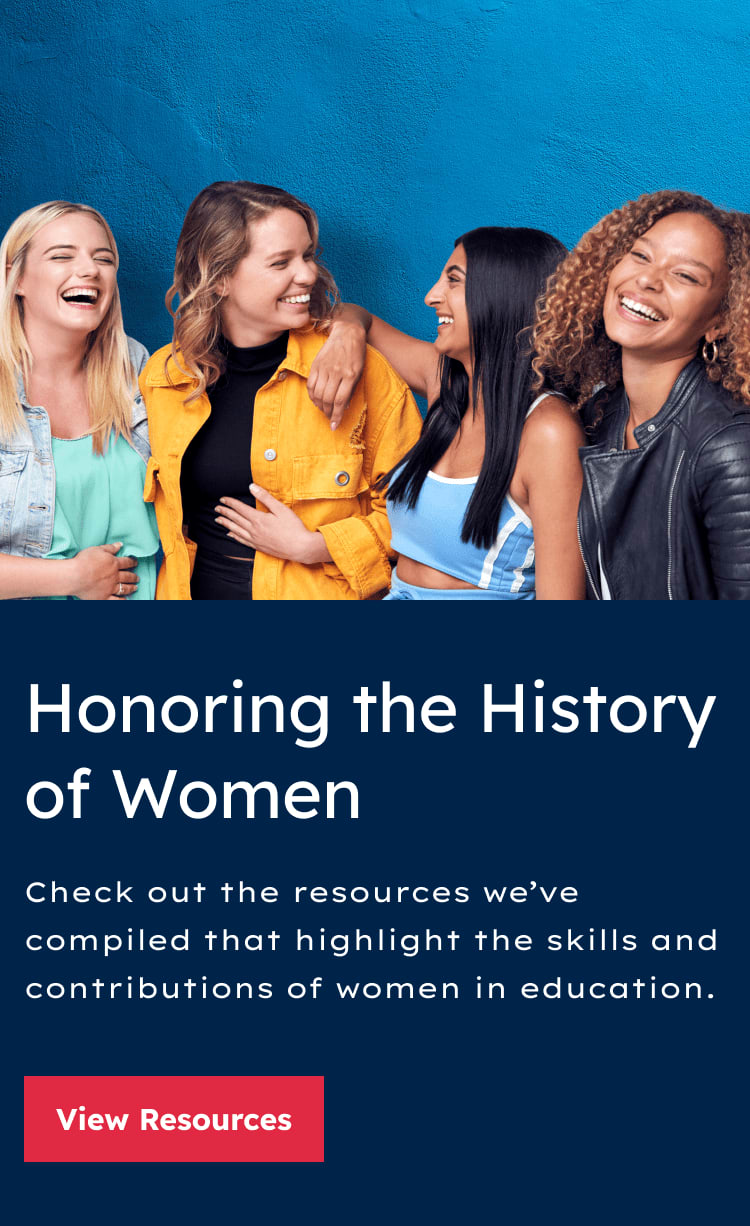 Frequently Asked Questions About Women's Studies
What can I do with a degree in women's studies?
A women's studies major strengthens critical thinking, analytical skills, and communication skills. Like other liberal arts majors, women's studies prepares graduates for careers in diverse fields like education, social services, journalism, public relations, and human resources. Women's studies majors work as human rights advocates, teachers, social workers, victims' advocates, editors, and researchers.
Completing an internship while earning a women's studies degree helps graduates on the job market. Women's studies majors may also pursue graduate study to become a lawyer, clinical social worker, nonprofit director, or another role that typically requires a graduate degree.
Is gender studies a good major?
Gender studies is a great major for undergraduates interested in sociology, history, literature, and other humanities and social science disciplines. The major offers an interdisciplinary look at gender, theory, and the construction of ideas like femininity and masculinity.
Gender studies programs emphasize strong research and analytical skills. Majors strengthen qualitative and quantitative research abilities through projects and research papers. The major also encourages critical thinking. After earning a gender studies degree, graduates pursue careers in business, education, the public sector, the nonprofit sector, and social services.
How much can you make with a gender studies degree?
As with other bachelor's degrees, the earning potential with a gender studies degree depends on your career path. According to Payscale data from Jan. 2022, gender studies majors report an average salary of $53,000. They work as project managers, program coordinators, legal assistants, case managers, marketing managers, and development managers.
In some of these roles, gender studies majors earn six-figure salaries. A gender studies degree also prepares majors for graduate-level study in law, social work, counseling, and other fields. A graduate degree often increases earning potential.
With Advice From:
Erin Kenny, Ph.D.
Dr. Erin Kenny received her Ph.D. in cultural anthropology from the University of Kentucky in 2005. She is now an associate professor of anthropology at Missouri State University, where she heads the gender studies program.
Kayce Meginnis-Payne, Ph.D.
Dr. Meginnis-Payne is a clinical psychologist who specializes in the treatment of adult depression, anxiety, and relationship issues. She teaches a variety of classes at William Peace University, including general psychology, abnormal psychology, counseling theories and techniques, introduction to women's studies, and psychology of the Black experience. Her academic interests include the intersectionalities of identity (race, class, gender) and the impact of oppression and trauma and how these shape individual and collective experience.