My Top 7 Tips for Finding College Scholarships in High School
Applying for scholarships can be a confusing process. Discover one student's tips for finding and securing college scholarships in high school.
Image Credit: Pheelings Media / iStock / Getty Images Plus / Getty Images
Toni Morrison once said, "If there's a book that you want to read, but it hasn't been written yet, then you must write it."
I'm no author, but I do know that finding a student who was once in my position and asking for tips about applying for scholarships would've been so helpful. I personally couldn't find anyone or any one webpage that honestly explained what I needed to do in order to get scholarships for college.
So here I am, a junior in college, still applying and accepting scholarships, giving you the scoop. Here's all the information I wanted to read in high school that hadn't been written yet.
1. Start Early
To set yourself apart and set yourself up for as many scholarships as possible, start searching for scholarships as early as ninth grade. You don't necessarily need to apply for them that early, but familiarizing yourself with the things scholarships ask for will help you in the future.
Searching for scholarships in ninth grade can also expose you to things you might want to get involved in throughout your high school career.
This could be a downfall for some, as lots of people don't even know whether they want to go to college during their first few years in high school. (To be honest, even many people in college still don't know whether they want to be in college or not.)
But that's OK — there are still many opportunities for those who realize they want to attend college later.
2. Earn a High GPA
For the students who know early on that their next step will be college, build your GPA. Your GPA matters the most in your first year of high school, and luckily that's when classes are generally the easiest.
Your first year is most important because it sets the foundation for your GPA. Starting off with a high GPA gives you more cushion for when classes get harder. It may also be easier to keep up your GPA during high school if it starts off higher, rather than trying to raise it over the years.
GPA is critical for scholarships because almost every single scholarship application will want to know what your GPA is. And the higher your GPA is, the higher your chances of securing a scholarship.
If you're already in your junior or senior year of high school and your GPA isn't exactly where you want it to be, that's OK! There are a lot of scholarships out there for students with lower GPAs. Remember that your grades do not define you.
3. Join School Clubs
Like academics, getting involved in school clubs and organizations is vital for securing scholarships.
Start as soon as you can. Join school clubs like Beta, the National Honor Society, student government, yearbook, etc. Try to join as many clubs as you can and be as active as possible. As your years in high school go on, you'll figure out which clubs fit you best — those are the ones you'll want to stick with and try to gain leadership roles in.
Being in a club is good, but holding a leadership role in a club is great!
If you're an athlete who may not have time to be active in other clubs, that's OK — sports are considered clubs as well. If you're team captain or a starter for your team, for example, that would count as a leadership position.
4. Don't Overlook Outside Organizations
If you can, try to join organizations outside your school as well. These groups often award scholarships to students who are really involved and show a good work ethic.
Even if the organization doesn't offer scholarships, it's still good to get community service experience.
Don't think too hard on this. If you're really involved at your church, add that to your resume. If you work at the Boys & Girls Club after school, add that to your resume. All of these activities add up!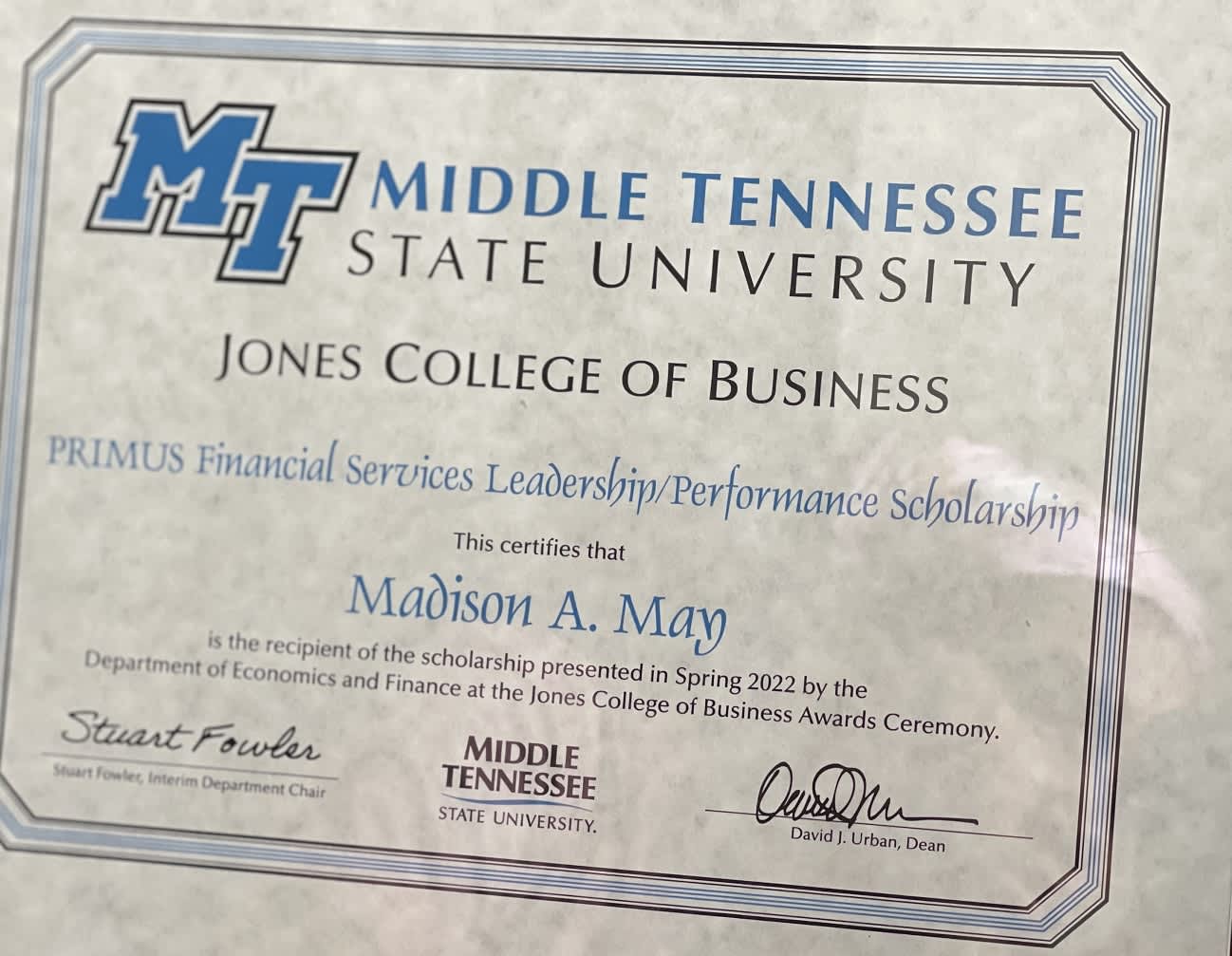 5. Craft an Impressive Resume
If you're anything like I was, you might be putting off starting your resume because it sounds too hard or too mature for your situation. I thought resumes were to get a job — not to get scholarships!
But resumes are the easiest way for scholarship programs to see who you are as a student, what you're involved in, and the titles you've earned. Also, a lot of scholarships will want you to upload or attach a resume to your application.
Resumes can be hard to start, so get a teacher to help you out. You can also look up templates online or ask a family member who already has a resume of their own to lend you a hand.
Put it all on your resume — whether you got on the principal's list, got perfect attendance, were named student of the month, were president of the yearbook club, served as team captain, or mentored other students.
Don't be afraid to ask for help. Teachers and mentors can show you how to write about your roles in a way that's concise and sounds professional.
6. Get Help From Others
Your teachers and high school guidance counselor can help you look for scholarships and craft your resume, in addition to being great resources for letters of recommendation.
Most scholarship applications require 1-3 letters of recommendation, so it's best if you can build solid connections with a few staff members or administrators at your school, church, or job.
Also, don't wait until it's too late to apply for scholarships! If you wait too long and the scholarship application requires you to submit letters of recommendations, your procrastination may cause whoever is writing your letter to rush.
7. Know Where to Look for Scholarships
I've talked a lot about the groundwork needed before you apply for scholarships. But the real struggle can be knowing where to look for scholarships.
Start off by looking locally. Banks, churches, car dealerships, and even your parents' jobs may offer scholarships. Local scholarships usually don't get many applicants, either, so applying for these will increase your chances of winning money for college.
If you have an idea of which colleges you want to apply to, go to their websites and search for institutional scholarships. These are scholarships that are specific to that school. A general web search can also help.
There are so many scholarships out there for things other than academics. For instance, you can find scholarships for students of color, specific majors … even left-handed people!
Just remember: You should never have to pay to apply for a scholarship. Those are most likely scams, and you won't receive anything back from them.
Recap: How to Find Scholarships in High School
Looking for scholarships can seem overwhelming at times.
Just remember to start as early as possible. I recommend that you begin applying for college scholarships toward the middle or end of your junior year of high school.
In terms of tips, keep your GPA as high as possible, craft your resume early on, join clubs and organizations, build connections with your teachers, and start by looking for local scholarships.
Even if you don't get as many scholarships as you wanted for your first year of college, that's OK. I'm a junior in college and I still apply for scholarships every year!
There is so much money out there to be awarded to young adults who want to better themselves. Do not give up — keep the course!
Meet the Author
Madison May
Madison May is a junior at Middle Tennessee State University (MTSU), where she is studying accounting with a minor in marketing. At MTSU, Madison serves as a senator for the Jones College of Business, a student ambassador, and a mentor for incoming students.
Madison is also the founder of Pro Cura, an organization on MTSU's campus that provides workshops for students to learn how to practice all forms of self-care while in school, whether it be through hair care, skin care, learning how to wear professional attire for internships, or strategies to relieve stress.
Madison is embracing her journey of learning herself while in college and embarking into the business world.
DISCLAIMER: The information provided on this website does not, and is not intended to, constitute professional financial advice; instead, all information, content, and materials available on this site are for general informational purposes only. Readers of this website should contact a professional advisor before making decisions about financial issues.