How to Improve Retention for First-Generation AAPI Students
Minority student retention is a major concern for colleges. Learn how to help first-generation AAPI students thrive in a college environment.
Image Credit: Drazen_ / E+ / Getty Images
---
Learn who qualifies as a first-generation AAPI college student.
Understand the myths that impact the success of first gens in the AAPI community.
Learn about the ways colleges can provide support for first-gen AAPI.
Access resources to support first-gen AAPI students.
---
Though the Asian American and Pacific Islander (AAPI) community makes up 7% of the U.S. population, they have always faced one form or another of discrimination — ever since the first Chinese people came to the United States in the 1850s. Whether Chinese, Japanese, Filipino, Pacific Islander, or any other identity that belongs within the AAPI community, AAPI people share many trials and tribulations.
Many have been the subject of or know another AAPI person who has been subjected to discrimination. It often happens when AAPI people seek housing, employment, and college admission. The pandemic has resulted in an uptick in reported discrimination, resulting in the need for campaigns like Stop AAPI Hate.
Who Are First-Generation AAPI College Students?
One critical but often unintentional mistake made is treating members of the AAPI community as a monolith. The umbrella term represents diverse heritages — East Asian, South Asian, Southeast Asian, and Pacific Islander, each with varying needs and concerns. The AAPI population in the United States is projected to increase exponentially to over 40.1 million by 2060. It's important to understand their identities as both individuals and as a group.
An AAPI student is considered a first-generation student when their parents or legal guardians have not completed a bachelor's degree at a four-year college or university. This is of great importance as many universities have instituted first-gen programs to provide social, academic, and sometimes even linguistic support for these students. This is crucial — 93% of Asian American college students are either first or second-generation immigrants, compared to the 23% of undergrads in a four-year college.
What Do We Know About First-Generation AAPI Students?
The reported mean income for Asian Americans and Pacific Islanders is $85,800, surpassing the national average of $61,800. However, this data is misleading. This does not hold true for many AAPI subgroups, including Burmese Americans, who come in at $44,000. Data shows that there are far more AAPI students in need of financial assistance, yet they are often excluded in the discussion of financial aid and support for racial and ethnic minorities in higher education.
Another myth about Asian American students is that they are more successful academically. Many AAPI groups have college degree completion rates far below national averages for non-AAPI student groups. In a national survey about college completion rates, only 43% of Laotian, 39% of Hmong, and 23% of Burmese respondents who had enrolled in college completed it. By recognizing this disparity, universities can support these groups on campus and help these groups enter the national discussion.
Ways Colleges and Universities Can Support AAPI Students
Provide mental health services for AAPI students. College mental health professionals must receive training on recognizing AAPI trauma. By addressing the issues of students living under the shadow of the model minority myth and dealing with the increasing incidents of hate, universities can help students be at ease and deal with challenges they may face.
Review the college curriculum to determine where there is misrepresentation or a lack of representation. By re-evaluating the curriculum, determining where cultural gaps exist, and infusing the course with better multicultural representation, learners will be more connected to the coursework. For example, easy modifications can be made to humanities courses to help AAPI students feel more connected to their learning.

Provide a mentorship program for first-generation AAPI students. One way to help first-gen students is to provide them with faculty mentors. These are crucial lifelines to their success on a college campus. Navigating the university model can be daunting. A faculty advisor who understands the challenges these students face will alleviate stress and lead to better degree completion rates.

Florida Atlantic University (FAU) established the Kelly/Strul Emerging Scholars Program in 2017. Miller Ngo, a current scholar and first-generation college student, says he's not sure what his college life would look like without this scholarship:

"I've been connected to many mentors that I wouldn't have been as a first-generation, low-income student," Ngo said. "Through the Kelly/Strul program, I've met peers with similar backgrounds who will become my lifelong friends. I've been exposed to numerous cultures, and it's made me realize that different cultures are quite like mine; there's just a little variation."

Fund Asian American Studies programs on college campuses. This can help educate the college community about Asian Americans and Pacific Islanders. It can also allow AAPI students to see themselves reflected in the course offerings. It can help AAPI students foster a stronger connection to the university, leading to better retention.

Klark Balay, a first-generation college student at FAU, says that their college experience has been greatly influenced by their identity as an Asian American.

"The Asian Student Union has been the root of almost all my connections in college," he said. "It is the only Asian-focused community at FAU, and that attracts other Asian Americans to congregate and form the family we have now."

Colleges can work to recruit underrepresented members of the AAPI community. There are ethnic subgroups within the Asian American and Pacific Islander community whose college completion rates fall well below the national average. Colleges should make a concerted effort to recruit and provide continual support for these students to grow the core campus community.

"An important aspect of college readiness, regardless of race, is making resources, support, and mentorship available for students before they even apply," Balay said. "Not only will this make for an easier transition into college, but it can also help the student build confidence and a better relationship with the institution."
Explore more resources for our Asian American and Pacific Islander students
Supporting you at every step of your journey.
Discover Now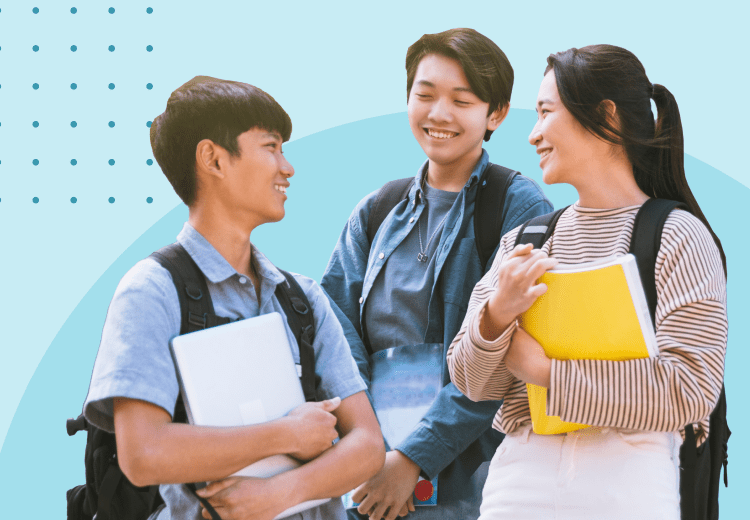 Resources for First-Generation AAPI Students
Frequently Asked Questions About AAPI Heritage Month
What is AAPI Heritage Month?
AAPI Heritage Month is an annual celebration in May when the United States officially pays tribute to the historical and cultural contributions of people of Asian and Pacific Islander descent. The purpose of the month is to highlight cultures from East, Southeast, and South Asia.
This month reminds us of the historical impact AAPI people have had over the past 200 years in the United States. It also highlights the current societal contributions they are making. This month invites others to learn about the various cultures that form part of the AAPI community and welcomes them to find a common bridge of understanding.
When was the first AAPI Month?
The first celebration of Asian American and Pacific Islander Heritage Month was in May of 1992. It was an extension of the week-long celebration first recognized by Congress in 1979. It all began when Rep. Frank Horton submitted a House Joint Resolution to proclaim a week of May as "Asian/Pacific American Heritage Week." The resolution was passed by both the House and Senate and ultimately signed by President Jimmy Carter in October 1978.
How do you celebrate AAPI Heritage Month?
There are several ways you can celebrate AAPI month to enrich your knowledge of the culture, history, and heritage of Asian Americans and Pacific Islanders. You can investigate the histories of these communities in the U.S., attend local cultural events, or even dine at local restaurants owned by Asian Americans and Pacific Islanders.
Another way to celebrate AAPI month is to read books written by Asian Americans and Pacific Islanders, view films exploring AAPI themes, or listen to podcasts that address AAPI culture. Any one of these can truly enrich your understanding of these cultures.
With Advice From
Miller Ngo
Born and raised by his single mother in Boca Raton, Florida, Miller Ngo relied on his large network of extended family. He always looked up to his older cousins, who provided guidance on everything from college applications to financial literacy. When they couldn't help, Ngo turned to YouTube and books to fill in the blanks. He is now a first-year architecture student at Florida Atlantic University.
Klark Balay
As a child, Klark Balay looked up to his father, admiring his strong work ethic, dedication, and hard work. Attending college was always a clear goal; however, Balay could not help but worry about the financial burden it would bring his father. With his parents' support, Klark focused his time and energy on schoolwork and extracurricular activities, with the goal of securing scholarships to help offset college costs. A junior and Kelly/Strul Emerging Scholar, Balay is merging his passions for science and technology as a Computer Science major. Balay believes his journey can inspire other first-generation students to try their best and plans to give back to his community.