Status Shouldn't Determine Opportunity
Education is still an option for those without documentation. Get the resources needed to overcome barriers and achieve success.
Explore resources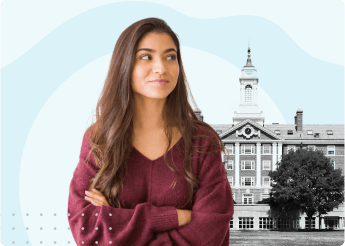 Second chance programs help people who are or were incarcerated earn degrees –– and they help reduce recidivism. Learn more about these vital programs. Native students' mental health conditions may be rooted in historical trauma. Learn about their experiences and need for culturally competent healthcare. Leaving the military and going to college isn't easy. We've compiled a list of what schools can do to create student veteran inclusive campuses. Access to free period products impacts the mental and physical health of college students nationwide. Join the movement for equitable access. Reducing Black suicide rates means discussing Black mental health. Learn more about suicide rates in the Black community. Learn more about how Asian American students are held to higher academic standards than their peers, and how colleges can rectify this. AAPI college enrollment has grown 36% since 2000. Learn more about what colleges can do to support this rapidly growing demographic. Asian American students are less likely to seek out mental health services. Learn more about what mental health resources are available. Minority student retention is a major concern for colleges. Learn how to help first-generation AAPI students thrive in a college environment. Discover the collective accomplishments and histories of APIDA communities and APIDA queer and trans people during AAPI Heritage Month. The Day of Silence is a time to honor LGBTQ+ people impacted by bullying and harassment. Learn how you can take action for LGBTQ+ students on this day. Want to celebrate and learn more about Asian and Pacific Islander Heritage? Check out these 10 AAPI podcasts that will keep you captivated. Want to celebrate and learn more about Asian American and Pacific Islander heritage? Check out these 10 AAPI movies that will keep you captivated. Read this article to learn strategies for creating inclusive learning environments for autistic college students. Immigration policies often impact Asian international students. Learn about the history of Asian international students in the U.S. and enrollment trends. People of color disproportionately face issues at the polls. Learn how some voting laws promote an unjust political process and voter disenfranchisement. The AAPI population is an expanding and culturally diverse community. Improve your understanding of the fastest-growing ethnic group in the nation. Virtual campus tours are very popular amid the COVID-19 situation. Learn more about how students and colleges can make the most out of these opportunities. Colleges often fail to meet trans and nonbinary students' mental health needs. Read more to learn how colleges can better support TNB students. Asian Americans and Pacific Islanders are often portrayed as a "model minority." Learn why this is such a harmful myth and how we can work to dispel it. The recent surge in anti-Asian hate crimes plays a major role in AAPI students' lives. Understanding the impact is critical to showing support. Like HBCUs center Black students, AANAPISIs support Asian American and Pacific Islander students. Learn more about AANAPISI-designated colleges. AAPI Heritage Month celebrates the diverse histories and cultures of Asian American and Pacific Islanders. Learn how you can honor the holiday this May. There is so much rich AAPI history to explore in books by Asian American authors. Here are 15 books that can teach you about AAPI cultural experiences. Explore the top professional associations for Black and African American students across a variety of fields and industries. Learn about why mental health is important to Black women, and gather mental health resources. The 2022 Midterm Elections will have a direct impact on students of color. Learn about the top political issues students of color care about. Student activists must understand voting, legislation, and other processes to be effective advocates. Learn why social justice starts with political engagement. Ramadan is celebrated by millions of Muslims every year. Understanding the holy month's importance helps support Muslim college students. The history of voter suppression has had an enduring impact on the Black community. Learn how it impacts Black students and why Black voter participation is important. The 2022 midterm elections will have a direct impact on college women. Learn about the top political issues college women care about. Historically, AP classes have lacked diversity and created barriers for students of color. Learn about the importance of closing equity gaps in AP classes. Advanced Placement courses are a common way to earn credit for college, but they're not accessible to everyone. Consider these options for AP success. Many high school students use IEP accommodations for a disability. Learn why IEPs don't work in college and what your options are. Deaf History Month celebrates the accomplishments of deaf and hard of hearing community. Learn more about how queer and trans community navigate disability. In this guide, first-generation college students can learn what factors to consider when applying to colleges and choosing a school to attend. The increasing AAPI population in the U.S. and a recent increase in racially motivated incidents have unified more of the AAPI community. Learn how colleges and students can better support Muslim students on and off campus. Find resources that build understanding and connection. Critical disability studies dissects the ableist structures that rule society. Read more to understand the vital perspective this growing field offers. This Women's History Month, learn about the accomplishments of 10 women in STEM who changed the course of history. Almost all colleges have a chief diversity officer. Learn about their role and challenges they face to build an equitable and inclusive college campus. The 19th Amendment extended voting rights to women. Learn about the suffragists who fought for women's right to vote and the history behind the movement. Women-owned businesses support economic development and community connection. Discover small businesses to shop this Women's History Month — and beyond. Learn about the different ways colleges and universities can celebrate Women's History Month. When studying American history, consider taking time to explore the feminist movement. We've included some key points to help jumpstart your learning. Women's history classes explore the leaders, laborers, and thinkers that have shaped our past. Learn more about the most exciting college courses in women's history. The gender pay gap has stayed the same since 2004. College-educated women face an even larger pay gap. What can women do about the wage gap? Institutions do not always give students with disabilities the tools to succeed in college. Discover why prioritizing educational equity is essential. Ruth Bader Ginsburg fought for women's rights throughout her career, earning a spot among the most important women in modern history. TikTok recently banned deadnaming and misgendering on its platform. Read more to discover what this means for LGBTQ+ students and users. Learn about the reasons for the decline in the enrollment of Black men and how colleges can support their retention. Women's history hasn't always included the voices or contributions of women of color. This Women's History Month, learn about these changemakers. International Women's Day celebrates the achievements of women worldwide. Discover its history, its importance, and ways to celebrate. Learn more about the "Me Too" movement and see how it's impact has helped to shape the history — and future — of women. Representation in media is crucial to the advancement of women in society. Read to discover 10 films to watch during Women's History Month. Discover the history of Latino, Latinx, Hispanic, and Latine. Learn why these differences matter and which term may be best to use. Celebrate brilliant minority women authors, and explore some amazing books. These 10 books should be on your must-read list this year. Learn about the credit gap and why credit literacy is important for Black and Hispanic students. Learn about a variety of resources on financial literacy for Black and African American college students and where to find education and support. Asian American studies thrives with the support of the AAPI alumni community. Read more to learn what it will take to sustain these programs. Generational wealth can have an impact on all students seeking a college degree. Discover wealth-building resources for first-generation students. Uplift diversity and support local economies by shopping at Black-owned businesses — a great way to celebrate and honor Black History Month. History is made by those who break the rules, and queer women have broken many. Learn more about these trailblazers during Women's History Month. Sexual violence on campus affects all students. Learn more about why men need to pay attention to campus sexual assault. Want to make the most of your GI Bill benefits but aren't sure how to maximize their usage? Keep reading to learn our tips and tricks. Financial literacy can improve students' ability to accumulate wealth and feel financially stable. Discover resources to build financial literacy. The racial wealth gap creates inequities in higher education and beyond. Discover the ways colleges can help close the gap and support students. Blackness and Latinidad are not exclusive. Take a closer look at how Afro-Latino/as have changed the course of Black history. Discover modern Black inventors and their history-making inventions. Celebrate African American inventors across the U.S. and throughout history. Two billion people worldwide will celebrate the Lunar New Year in 2022. Learn more about holiday traditions and how you can join the fun. Growing in popularity, podcasts can shed light on the Black experience. Here are 10 Black podcasts for students to learn about Black history and culture. Check out this year's Black History Month film selections. Dive deeper into Black culture and history with these 10 movie recommendations. Black LGBTQ+ activists have changed the course of Black history as a whole. Learn more about how these individuals have been integral to progress. Discover ten books by Black female authors that continue to shape Black history and culture. Black history is American history. Read on to learn why we celebrate Black History Month and why this holiday matters now more than ever. The Black student union has played an important role in the college experience for Black students since the 1960s. Learn more about its history. Black History Month celebrates the wide breadth of Black history and achievements. Learn 10 Black History Month facts you may not know. Black history isn't just found in books — it is also honored in music. Learn more about how artists have narrated the Black experience through song. Countless Black pioneers have transformed Black life in America. Learn more about their lives and contributions to Black history and culture. Black History Month is a time to celebrate the history and culture of Black people. Learn six ways you can celebrate Black History Month this year. The Pan-African flag has a rich cultural history. Take this opportunity to learn about the symbolism and power behind this piece of iconography. Martin Luther King Jr. led a revolution for civil rights in America. Explore beyond the speeches to learn more about what made Dr. King a historical icon. HBO's "Insecure" exposes the realities of inequity. Read more to discover the lessons students can learn from the show. Campus closings during winter break impact students experiencing homelessness. Learn how to ensure the safety and wellbeing of all students this year. Dave Chappelle's new stand-up special is a reflection of modern-day transphobia. Learn why his rhetoric causes harm. Diversity has become increasingly important in the tech industry. Learn how two Black industry leaders are paving the way for representation in the field. Learn about the challenges first-generation college students experience in school and after graduation, and how colleges can support these learners. A recent report found that HBCUs are driving the social mobility of Black graduates better than other institutions. As we celebrate Native American Heritage Month, learn the true origins of Thanksgiving and how our modern understandings of the holiday really began. There's been a rise in women in education over the last 40 years, but during the same period, men have increasingly dropped out or avoided enrolling entirely. Discover top books for trans and nonbinary students written by trans authors, and learn more about diverse experiences of gender identity. Learn about underrepresentation in STEM. Find out how schools can better support Hispanic students in their pursuit of STEM careers. Enrollment at tribal colleges and universities is growing. Learn about tribal colleges and their impact on higher education and tribal communities. Supporting student veterans first means understanding their diverse experiences. Find out what drives student veterans to academic success. Learn how the multiracial population is growing and how schools can better support students who have a multiracial identity. The college completion gap for Latino students is a complex issue that has systemic roots. Read more about the impact of this phenomenon. Learn what it means to be neurodivergent. Discover strategies neurodivergent college students can use to navigate higher education. Even as issues of campus sexual assault continue, rarely are universities and perpetrators of violence held accountable. Find out why this must change. Celebrate the lives of your loved ones with Día de los Muertos. Get tips on how to respectfully honor this traditional holiday with family and friends. Understand the history and importance of Indigenous Peoples' Day. Discover ways to respectfully celebrate the holiday and spread the word. Learn about the history and purpose of International Transgender Day of Remembrance. LGBTQ+ students shape the HBCU landscape. Dig into the experiences of LGBTQ+ students, and learn how to support inclusive practices at HBCUs. Title IX protects students from sex discrimination on campus. Learn about the history of Title IX, what the law prohibits, and how it impacts sports. With over 100 HBCUs across the country, there are many options for students to choose. Learn why from current HBCU students. Student debt is a significant issue for HBCU students. Learn how to use HBCU Wall Street's tools and resources to combat financial challenges. There are many facets to advising and supporting college students. Learn from an expert how they approach advising HBCU students and set them up for success. HBCUs have a rich athletic tradition. Learn more about the history and role of athletics at HBCUs and the challenges HBCU student-athletes face. Do the latest trends in HBCU funding offer promise for the future? Learn more about the financial history and potential financial future of HBCUs. Sexual violence disproportionately affects the queer community. Read more to learn about the dating violence LGBTQ+ people face. College diversity initiatives are not satisfying many students. Learn what students want DEI to look like on campus and why it's important. The critically acclaimed Netflix series "Dear White People" ended with a bang. Read more to explore how it portrayed race, privilege, and social justice. Learn about the unique challenges college students with ADHD face and strategies these students can use to succeed. Understanding the experiences of undocumented students can help improve their college journey. Read a first-hand account from an AAPI student to learn more. If colleges work to boost educational outcomes for people of color, their livelihoods and society as a whole will benefit, according to a new report. Explore the history of Title IX and how it has impacted equality for women in college athletics. A new BestColleges survey finds that students are eager to get involved in campus DEI efforts, though they're not always sure how. New state laws have an impact on students' access to abortions. Learn how students can advocate for reproductive justice on campus. There are many HBCU graduates who have developed fruitful careers after graduation. Learn how their experience at an HBCU impacted their journey. Marching bands are an integral part of the student experience at HBCUs. Read on to learn more about their legacy and impact on HBCU culture. Discover top HBCU brands creating fashionable apparel for students, alumni, and supporters. Uplift HBCU alumni who founded these apparel brands. Talented HBCU alumni are in high demand among leading national and international employers. Explore 10 of the top employers of HBCU students. HBCU students have paved the way for student activism on campuses nationwide. Learn more about their impact and legacy. Undocumented undergraduates are eligible for full-ride scholarships to prestigious colleges. Applications for Golden Door now open through Oct. 10. Learn about some myths associated with HBCUs and how these institutions are working to dismantle these stereotypes. Discover the history and culture behind HBCU homecoming and its significance to HBCU students and alumni. Learn about the history of fraternities and sororities at HBCUs and Greek life's importance to the Black community on campus. This article covers employment resources for individuals with disabilities and what college students with disabilities can do to prepare for the workforce. Students are advocating for social justice on college campuses. Learn more about why these issues matter to student activists. Climate change is an urgent issue that impacts all of us. Learn what students are doing to push their campuses towards a positive, more sustainable future. Despite inclusion efforts, disparities still exist for women in college. Learn why this matters for representation and gender equality. Learn about the history of LGBTQ+ centers and the central role they play in student development, leadership, and college activism. Learn about the significance of International Celebrate Bisexuality Day and how to show up and promote visibility for bisexual people. Learn about the history of Hispanic-Serving Institutions and why their designation is important to the success of Hispanic and Latino/a students. Learn about the history of Hispanic Heritage Month and discover how to celebrate with activities and useful resources. College students across the country are protesting for voting rights and social justice. Here's why and how you can get involved. Discover the top 10 books written by, for, and about undocumented immigrants. Undocumented college students may find these books especially appealing. Learn how student affairs professionals on campus approach advising and supporting undocumented student experiences. Learn from a legal expert about important tips and legal resources for undocumented students attending college. Learn from an expert about how Hispanic-Serving Institutions (HSIs) support the needs and educational success of Hispanic and Latino/a students. Explore mental health challenges for undocumented students and get tips to help manage stress, anxiety, and marginalization. Learn about the concept of hyperdocumentation and how undocumented students navigate belonging, worthiness, and intolerance in college. Discover why some HBCUs are canceling student debt and what other institutions can learn from HBCUs about college affordability. When it comes to race and status, Black undocumented students encounter many challenges. Read this interview to learn more about their experiences. Gain valuable insight and practical career tips from DACA college graduates about how to succeed in graduate school and careers after college. The pandemic presents unique challenges to students. Teachers who employ these four culturally responsive teaching strategies can help students succeed. Explore emerging data on the political attitudes and voting behaviors of LGBTQ college students and the social issues they care about most. Learn how to gain access to college disability services to get the support you need to thrive. The Harvard admissions case before the Supreme Court involving Asian American students draws a historical parallel to the treatment of Jewish students 100 years ago. Learn how to navigate the U.S. college system as an international student, and figure out what to pack for your first year. Transgender students face heightened risk of sexual assault and harassment on campus. Biden's team takes a contested shortcut to extend Title IX protection. Learn more about the history of women's colleges and their impact on women pursuing a quality college education. Learn about the history and interdisciplinary field of queer studies and why it is important for exploring gender, sexuality, and identity. Learn about the important laws and policies that shaped the history and progress of diversity in higher education. Higher education has a history of exclusionary policies and practices toward students of color that schools must address moving forward. As institutions push biased measures to penalize trans youth, learn about different ways colleges can reaffirm their support for trans student-athletes. As language evolves, new terms emerge to describe the experience of race. Read on to learn how the meaning of BIPOC impacts diversity and inclusion efforts in college. The student debt crisis affects many college students but especially Black students, who are more likely to take out loans and struggle to pay down debt. As states implement harmful anti-trans legislation, colleges must do all they can to support and advocate for trans college students. As more colleges bring critical race theory into their core curricula, Republican leaders take steps to ban the theory from being taught in public classrooms. Juneteenth is an important holiday that recognizes and honors Black history. Here are five ways colleges and students can celebrate Juneteenth in 2021. Learn about the five factors to consider when choosing an LGBTQ+-friendly college, from campus support and advocacy programs to gender-inclusive facilities. To better understand the history and contributions of Asian Americans, here are nine compelling books every college student should make time to read. Learn about the different federal TRIO programs that assist historically underrepresented students with preparing for and succeeding in college. COVID-19 is hurting Latino/a students' education gains. After decades of growth, fewer Latinos/as went to college this year, and fewer plan on going next year. STEM fields are highly lucrative and in demand, but Black, brown, and female students face unique barriers to receiving a STEM education in college. Learn how the Violence Against Women Act (VAWA) impacts college students and how students can raise awareness about violence on campus. Learn about the unique challenges facing minority students entering the workforce, and discover some of the best tips for easing this transition. Universities can promote equity for women and combat gender discrimination in the workforce by holding workshops and highlighting women's accomplishments. Many students of color experience racism on campus. In order to combat hate crimes and racial microaggressions, colleges must promote a culture of anti-racism. For centuries, higher education excluded women. These 13 trailblazers forged a path for women everywhere to earn college degrees, not to mention respect. Women must tackle unique obstacles in STEM careers. Learn about the factors that contribute to the lack of women — especially women of color — in STEM. For hundreds of years, women were banned from practicing medicine. Thanks to these brave pioneers, women can now pursue rewarding careers in the medical field. College students of all backgrounds should read these 11 books by Black authors, from young adult fantasy novels to memoirs of social activists. More and more people are recognizing the value of an HBCU education. Learn about the unique benefits these institutions offer from an HBCU alum and professor. HBCUs were established to provide avenues to higher ed for Black Americans. Today, these schools continue to offer critical support and guidance. Student evaluations show a bias against female professors, which hampers efforts to increase diversity among college faculty members. Female online students, who far outnumber their male peers, face more challenges than men in online education but continue to excel academically. After several colleges made diversity coursework a graduation requirement, Trump now threatens to pull funding from schools teaching diversity and inclusion. Black male students face unique challenges at predominantly white colleges, including feelings of invisibility, microaggressions, and a dearth of Black faculty. More colleges now require students to take an ethnic studies course, but barriers like COVID-19 may decrease the number of students of color at these schools. Students of color continue to face racism and hate crimes on campus. Some colleges offer better support than others through special policies and groups. Affirmative action was created to improve access to jobs and higher ed for women and people of color — but many still debate its effectiveness and ethics. More students of color are going to college, but graduation rates remain low. Many colleges fail to support and retain Black and Hispanic students. Many students today are challenging racism in higher education by demanding colleges rename buildings and remove statues honoring racist historical figures. American higher education today promotes learning for everyone, but in the past it exclusively benefited wealthy, white, male, Christian students. Sam Wein discusses his transformative experience with the LGBTQ+ campus group "Safezones" as an undergraduate at Washington University in St. Louis. Pressed by protests, some colleges are responding to student activists calls to cut ties with police and better foster the success of students of color. Campus closures due to COVID-19 pose a unique challenge for LGBTQ+ college students. One expert weighs in on how the pandemic has affected this population. The COVID-19 pandemic has sharpened challenges for underserved college student populations. One expert discusses the challenges these students face. From space flight to computer science, women have made outstanding contributions to the tech industry. Learn about 10 women who pioneered tech.